DESCRIPTION
Acrylic, mixed media on canvas | 2020
"Living on Water" is a series of works made during March of 2020 during Hall's time at the Varda Artist's Residency in Sausalito, California. Since the late '40s the SS Vallejo houseboat has been a meeting place for artists and intellectuals to create and be inspired. During her stay, Hall explored painting, drawing and watercolor studies referencing elements of water, reflections, circular windows and shapes found nearby. The abstract works are a continuation of the inspired landscapes that surround her.
DIMENSIONS
30 x 30 inches 
AUTHENTICITY
Signed by the artist. 
Studio Visit
Q. Describe your work in three words...
A. Physical, textural and immersive.
Explore
We invite you to explore our curated collection of abstract artworks by Tappan artists.
"A material is never what it appears to be."
-Sara Marlowe Hall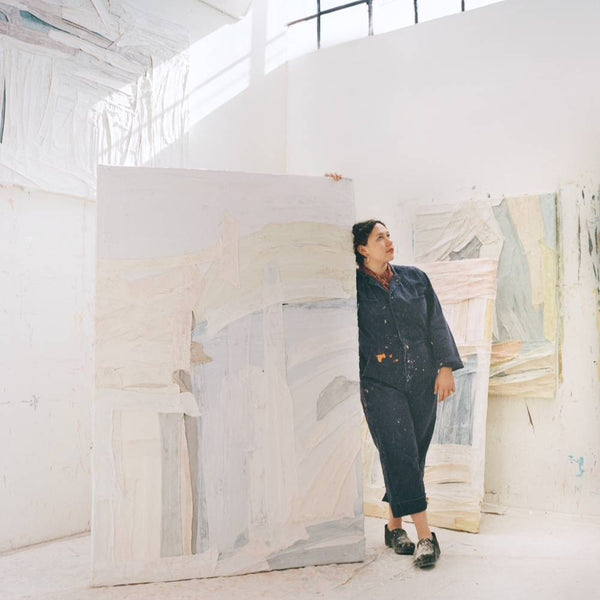 About the Artist
Sara Marlowe Hall
Los Angeles artist Sara Marlowe Hall's complex, textured, abstract paintings use acrylic, plaster, and fabric to create their unique look. Her work has been featured in domino, Bon Weekender, LoQ, dwell, Vogue, Veranda, Imboldn, Artforum, and VoyageLA. In 2021, Marlowe Hall completed a residency in Oaxaca, Mexico and works from that residency are available on Tappan. Marlowe Hall has exhibited in London, Los Angeles, Abu Dhabi, Leipzig, Lisbon and Oaxaca.
In the Studio
Choose options