JUST ADDED TO YOUR CART
Qty: 1
VIEW CART (

0

)
Continue shopping
I Pull Myself into Myself to Kiss Your Repetition (Pluck My Grieve from My Body)
Painting
<!- Product Available -><!- Product Sold Out ->
This work is on hold for a collector
Click "contact to purchase" to register interest in this work and we will notify you if it becomes available.
DESCRIPTION
​​Watercolor and dry pastel on paper | 2021
My body rises and falls.
My body swims and dives.
My body grows and decays.
My body remembers and forgets.
My body closes its eyes to meet you.
My body opens its eyes to meet itself.

In Alymamah Rashed's new collection, "When I Met Your My Allusions", the internationally-celebrated Kuwaiti artist explores the expansion of her body through living with the state of eternal yearning. Usually appearing to her the moment before she falls asleep, the images she renders in watercolor, dry pastels, and clay are vivid and alive. To Rashed, they capture the moment when her spirit leaves her body before falling asleep. In Islam, the spirit then returns to the body the moment it wakes up. Rashed's work considers where her spirit travels during her sleeping hours, and whom (or what) it attaches to—the ornaments in her studio's carpet, for example, or in the palm trees that line the highway to Kuwait City. Then, as she awakes, the linkage between her body and spirit enables the return to Earth. She awakes, having returned to her body while not knowing where she's travelled during her sleep. Rashed explains that this experience differs from a dream—a state that is activated through belief rather than a remembered vision. As Muslim mystic and philosopher Ibn Arabi discusses the Freudian concept of unconsciousness, al-la-shu'ur, in his famous book, "The Bezel's of Wisdom," Arabi interprets reality as a dream and frames it as an objective illusion. Through Rashed's bold new series, she explores the timescape and spiritual experience of the traveling spirit once we sleep.

My spirit might be traveling into the light and dark.
My spirit might be meeting itself or other repetitions of itself.
My spirit might be swimming within its remembrance.
My spirit might be intertwined with yours.
My spirit is rooted between the mud of my skin the mud of the earth.
My spirit is yours mine.

(I have met my allusions/Isharat)
DIMENSIONS
47.5 x 30 inches
FRAMED DIMENSIONS
Floated: 52.5 x 35 x 2 inches
AUTHENTICATION
Signed by artist.
The work comes with a Certification of Authenticity signed by the Co-Founder of Tappan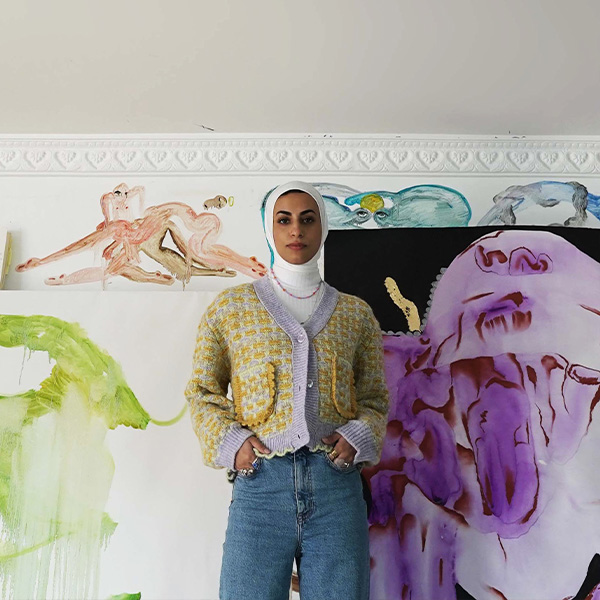 Studio Visit
Q. Describe your work in three words
A. Fluctuant, Rawhani (Spiritual in Arabic), Caressing.
Explore
We invite you to explore our curated collection of abstract artworks by Tappan artists.
Framing & Mounting
Framing
Our frames are produced from the best quality wood, primarily from Italy.  Each is custom cut and assembled by hand to fit your art. Hanging hardware included!
THIN GALLERY FRAME
This modern profile was designed for artists and photographers. Narrow on the front and deep on the sides, our slim mouldings provide a clean, sharp frame for your art, and allows all focus to be on your gorgeous work.
3/4" wide; 1 1/8" deep
UV - PROTECTIVE ACRYLIC
Our acrylic is more expensive than glass, but we use it because it's clearer, far more impact resistant, and protects your art against UV rays. Framing-grade acrylic has become a new standard in framing because of its "clear" benefits.
THE FULL BLEED
Works are framed flush with the edge of your print without a mat.  Request border modifications and spacers, which keep the work from touching the glass.
THE MAT
Adds a white core mat with a bevel cut opening to the edge of your print. If your work has a signature or edition numbering, we will automatically mat around it unless otherwise specified.
We use 4-ply, conservation-grade, acid-free mat board. We match whites and off-whites to your exact piece. Acid-free materials protect your art from yellowing or becoming brittle.
THE FLOAT
Floating a piece allows for a full view of the face and sides of the artwork.  Floating is recommended for original drawings and paintings or any piece produced on specially trimmed paper.
Shipping & Returns
Shipping
Shipping rates are calculated by the size of the package, and shipped via FedEx. Please reach out to info@thetappancollective.com for any specific shipping and handling questions.

Returns
We are dedicated to providing our collectors with accurate descriptions and visuals of the artwork featured on our site. However, if you are displeased with your acquisition please email us at info@thetappancollective.com. We'll gladly offer you a store credit within 10 days of receipt of the artwork. Custom framed pieces and originals will have a 20% processing fee.
If your works arrive damaged, please ensure Tappan is notified within 10 days of delivery.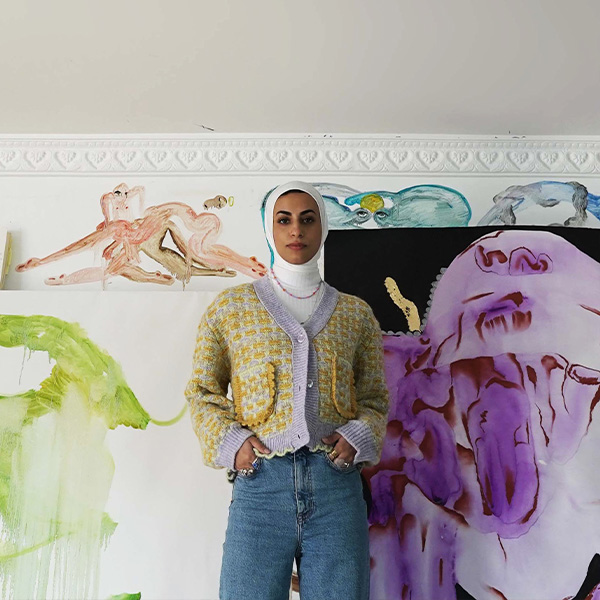 About


Alymamah Rashed

Featured in Vogue and Harper's Bazaar Arabia, Alymamah Rashed's surrealist paintings investigate the discourse of her own body as a Muslima Cyborg of the post-internet generation, fluctuating between the east and the west.