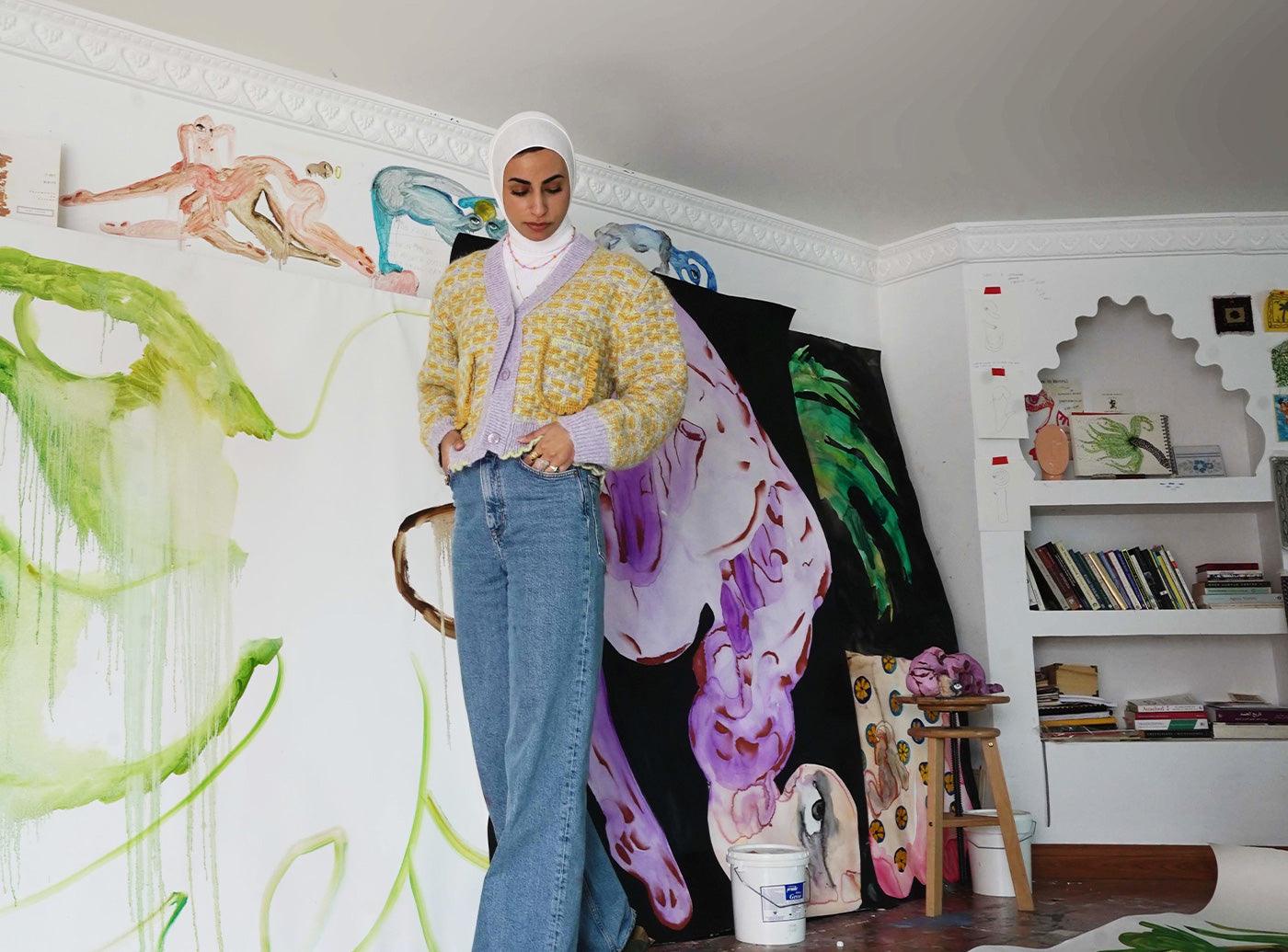 In the Studio | Alymamah Rashed
With features in Vogue and Harper's Bazaar Arabia, Kuwaiti artist Alymamah Rashed is taking the art world by storm through her paintings that explore the relationship between body and spirit. Learn more about the artist's inspiration and philosophies, and what she sees coming next.
TAPPAN
Tell us about this body of work launching on Tappan.
ALYMAMAH RASHED
I am presenting a watercolor series exploring the moment before one would fall asleep — the pre-dreamscape. I explore the separation of the earthly body from the spiritual body (Earth) and the union of the spirit with associations that can be influenced from memory, personal history, and the unknown. In Islam, the spirit is believed to depart the body when one goes to sleep and returns to them the moment they wake up. I want to explore the various bodies that I attain as a Muslima within these liminal spaces that stem from faith, the imagined, and the real.
TAPPAN
Describe your work in three words.
ALYMAMAH RASHED
Fluctuant, Rawhani (Spiritual in Arabic), Caressing.
TAPPAN
What is your creation process like, how are you conceptualizing and thinking about each of these pieces?
ALYMAMAH RASHED
I saw this theme expanding through the fluidity and the celebration of chance that takes place within watercolors. Gestures are formulated through pools of water that transform within a few hours into markings of their own. This element of surprise correlates to the traveling of the spirit during sleep. Both the medium and the spirit construct themselves in liminality and return as a changed image and sensation. The pieces were then refined with ornamental details in order to ground the fleetness of a dream with earthly associations that derive from my external and everyday surroundings found in Kuwait. These references range from the folk stories of the Sedra tree to the ornament found on the ceiling of my grandmother's bedroom.
TAPPAN
Would you say you have a studio philosophy?
ALYMAMAH RASHED
I gift myself a sense of openness every time I enter into my space. I believe that my purpose lies in opening myself up within my own ideas of what freedom feels like within my practice and my being. My work is personal and I need to offer myself a duration of time that flows with how I feel on that day. This act is automatically linked to my conceptual process of envisioning the image for the next work. The image is only birthed because of the patience I am able to offer myself everyday. This took me years of practice to finally be able to write this with certainty.
TAPPAN
Regarding your method of making, is it a case of the material or method dictating the idea of the other way around?
ALYMAMAH RASHED
They are intertwined with one another. My methodology is intangible. It's a union of emotions, memories, and theories deriving from my personal life, my healing journey, and my relationship to faith. Methodology decides to converse with materiality through the chosen medium, a flower planted in the parking lot of my workplace, or a sighting of a demolished building in the heart of Kuwait city. The union of method and material is an unspoken language led through intuition.
TAPPAN
What's the first thing you do when you begin formulating an idea for a piece?
ALYMAMAH RASHED
I always start with a loose wash of silhouettes. I always start with the figure since it is the root of my earth. I explore the figure's anatomy, expansion, and compression. I then proceed with the associations I have been fond of while creating the work; sightings, objects, and sensations. The space is constructed from pure perception. The selections I decide to orchestrate determine the speed in which my figures operate within. I am currently exploring the diverse plays of motion that exist within the works. I am exploring stillness captures within transformation and a metamorphosis found within a paused memory.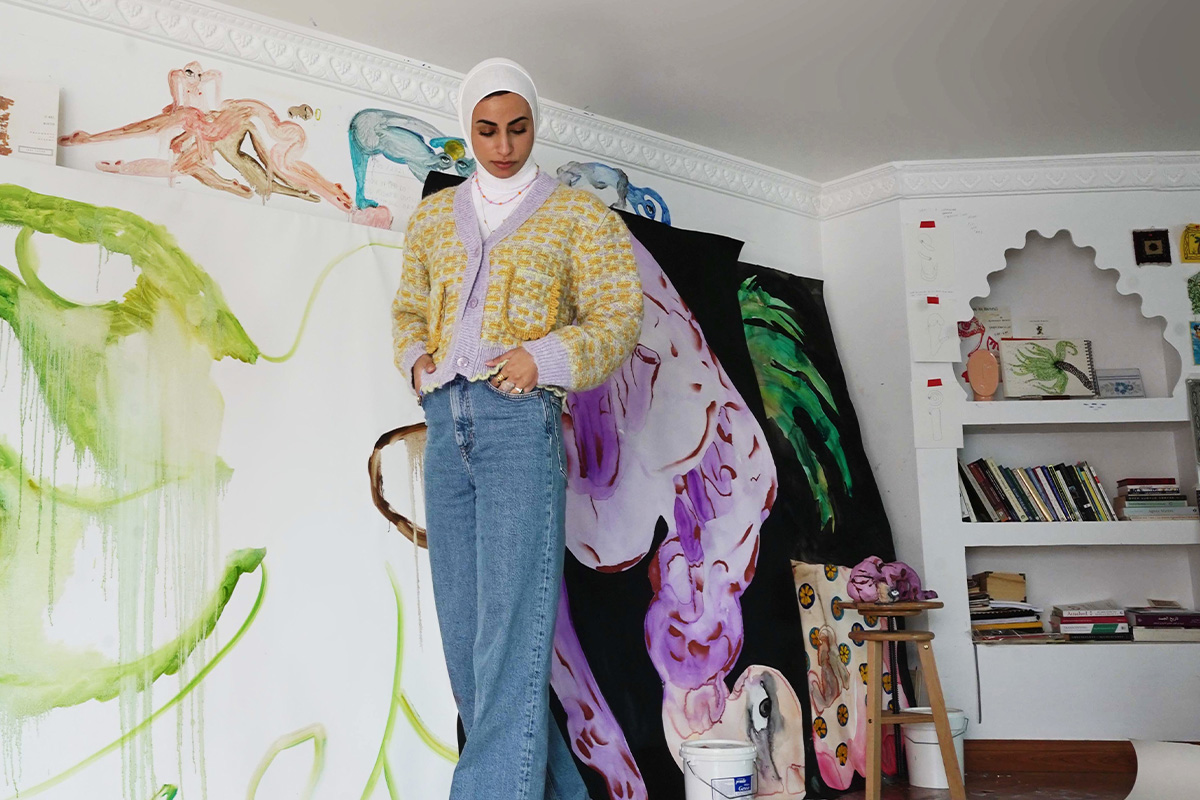 Alymamah Rashed says:
"My purpose lies beyond my practice. It is to help others and myself expand by vocalizing their essence in all of its glory and hurt. We heal though one another. We love through one another. We extend our lifetime by choosing to be present for one another."
TAPPAN
Tell us about an artist whose career you admire.
ALYMAMAH RASHED
I am eternally inspired by Francis Bacon's career and life. His works are a clear example of the leakage of personal history, a yearning for love, and a desire to reveal the truth of the body's vulnerability.
TAPPAN
What was the last gallery show you went to?
ALYMAMAH RASHED
The last show that left a mark within me was the "Picasso and Paper" exhibition at the Royal Academy in London. This show not only opened my eyes towards Picasso's paper works but also to rethink my relationship with using paper and drawing as a medium. I always draw before I create the work. I never sketch the work. I let the medium dictate the drawing and lead my chosen concept to create sensation.
TAPPAN
Have the cities you've lived in influenced your practice? If so, tell us a bit about that, and what elements in particular steered you in certain directions.
ALYMAMAH RASHED
New York: I lived in New York for 7 years and without that experience I would not be creating the work that I am birthing today. My experiences rid me of my underlying censorship and helped me marry my potential every single day. New York gifted my self liberation, contemplation, and an expansion of faith.

Kuwait: my hometown, my birthplace, and my nationality. I still try to figure out what Kuwait means to me beyond these terms and I do that by gifting it the act of a second glance. I question what is familiar and open my eyes to see it in a different light. I break boundaries and liberate myself, my loved ones, and my community.
TAPPAN
What is the arts community like in your city? Do you spend your time around other creatives?
ALYMAMAH RASHED
The art community in Kuwait is growing day by day. We have a clear split between the public and the private. There are many practicing artists who are active within their practice but choose to display it among their acquaintances within private settings. The same applies to collectors. I believe this exists by choice that stems from a place of exploring freedom on a different spectrum or through the fear of judgment from society. On the other hand, there are artists, collectors, and creatives who are fully practicing their disciplines publically. When I moved back to Kuwait in 2019, I was very delighted and surprised to see the multidisciplinary spirit that a lot of artists practice, whether it be something that they actively chose or something that they are obliged to do for financial or personal reasons. However, it's refreshing to see how their external influences leak into their practice subconsciously. I see a sense of non restrictive freedom that embodies their souls and a yearning to expand beyond their limits.
TAPPAN
If you could travel anywhere to create for a while, where would you go?
ALYMAMAH RASHED
Iznik, Turkey. I would love to be within the town where ottoman ornaments were born and work with local craftsmen and artisans.
TAPPAN
What are your other hobbies?
ALYMAMAH RASHED
Reading, going on architectural tours and walks within Kuwait, photography, and drinking endless cups of coffee with a good company. They are all forms of reflections that leak into my practice and beyond.
TAPPAN
If you could have a drink with one artist, who would it be?
ALYMAMAH RASHED
Etel Adnan
TAPPAN
What influences you?
ALYMAMAH RASHED
The element of chance and surprise that hides or presents itself clearly within myself, my relationships, and my everyday life. I expand through a self constructed typology that is formulated through my journey as a human; an eternal work in progress.
TAPPAN
What motivates you?
ALYMAMAH RASHED
Realizing that my purpose lies beyond my practice. My purpose is to help others and myself expand by vocalizing their essence in all of its glory and hurt. We heal though one another. We love through one another. We extend our lifetime by choosing to be present for one another.
TAPPAN
Silence or sound while creating? If sound, what?
ALYMAMAH RASHED
Sound. My music moves with my energy. Lately, I have been listening to TV Girl, Phil Collins, Wild Nothing, Knowledge, and a song or two from Mohammed Abdulwahab. The spectrum is vast.
TAPPAN
Tools or mediums you're dying to experiment with?
ALYMAMAH RASHED
I want to work again with a monotype printmaking press and AI programs.
TAPPAN
What work took you the longest to complete?
ALYMAMAH RASHED
"I Tasted Your Love Until You Didn't Exist Anymore (I Am Home)", 59 x 118 inches, oil on canvas, 2021
TAPPAN
What's one thing you still have from your childhood?
ALYMAMAH RASHED
A ceramic plate painted with a flower and my name in Arabic.
TAPPAN
What's next?
ALYMAMAH RASHED
Colliding my writing practice with my visual practice. I will be doing a residency in Failaka island in Kuwait where I will be focusing on the island's history, folk tales, and artifacts. I have been working within the island's archive through my daytime job as an archivist in the Kuwait National Museum and I am thrilled to be able to bridge a direct link between my practice and my archival experience.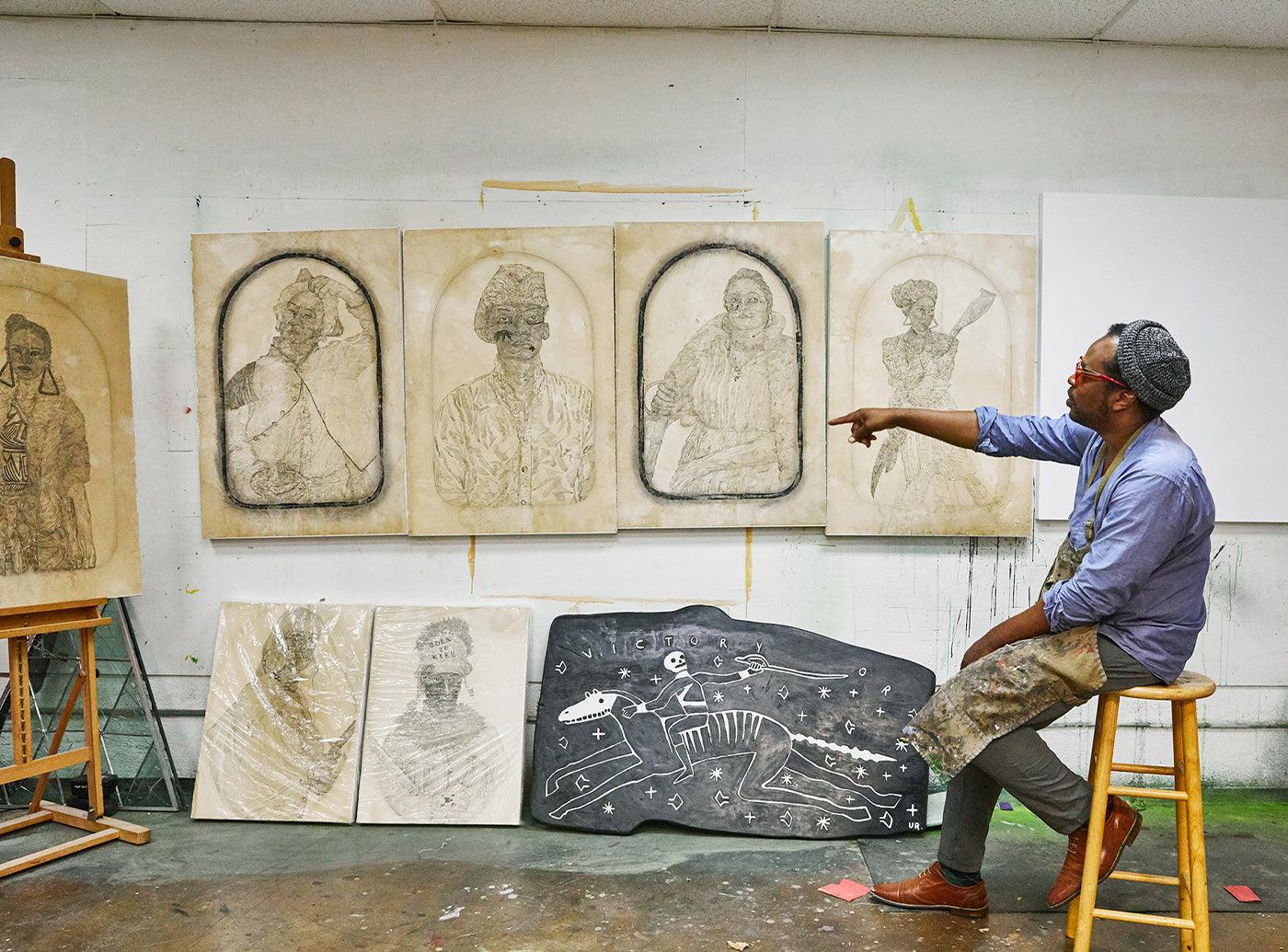 In the Studio
Umar Rashid resides Los Angeles, working in a studio in Lincoln Heights that he's had for years. The walls are covered in multiple series of his work; the purposefully aged canvases and histori...
Read more