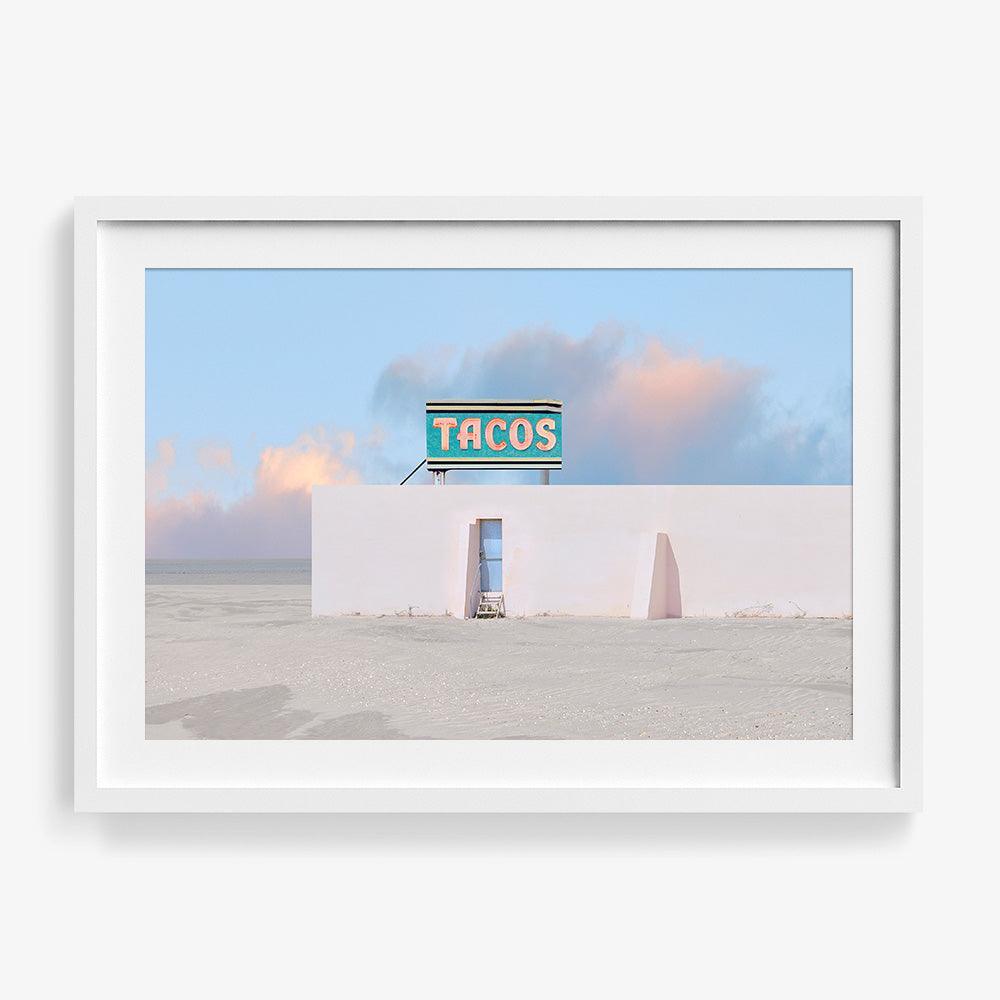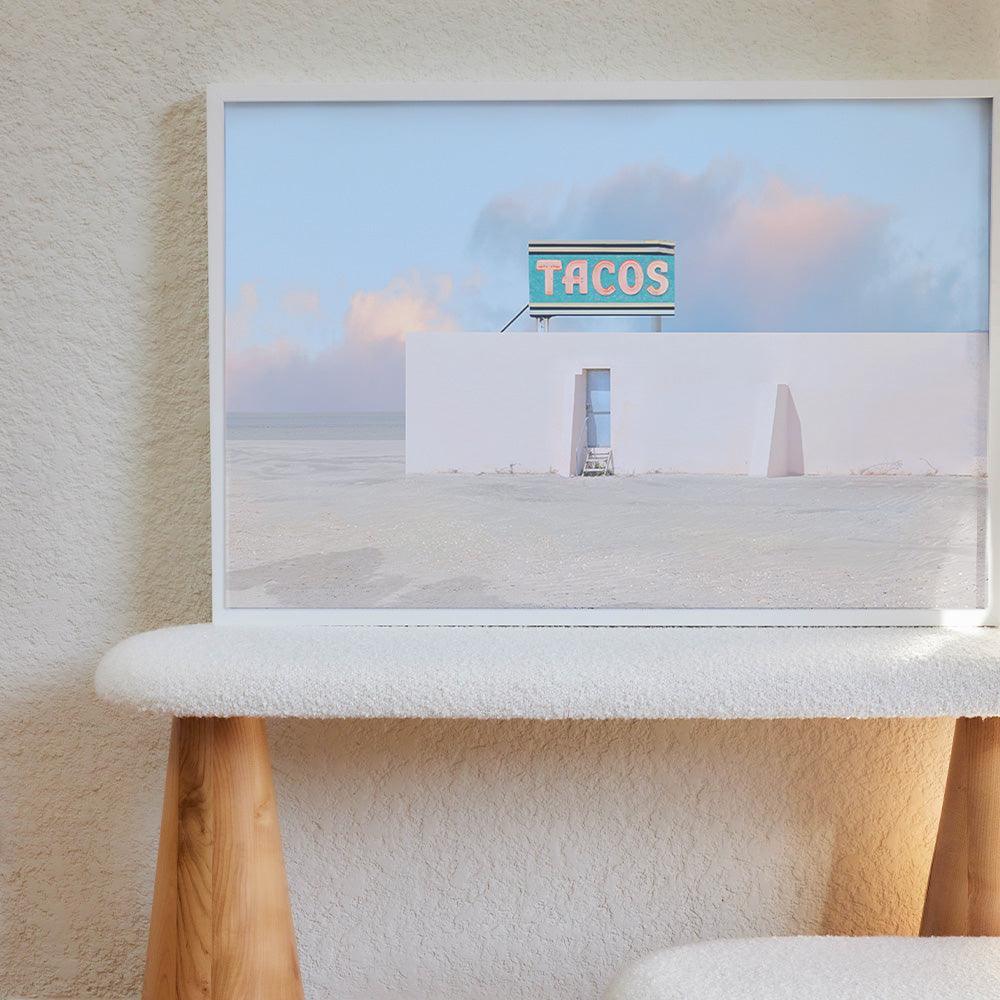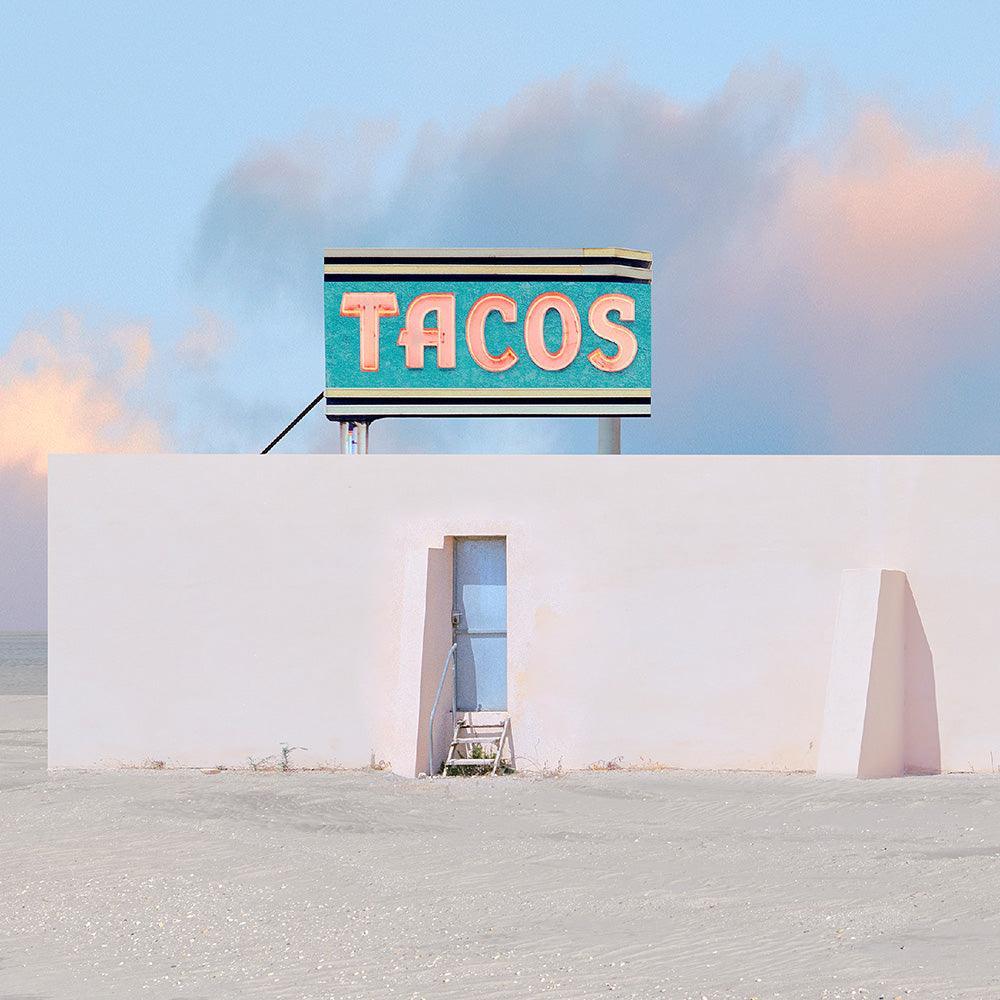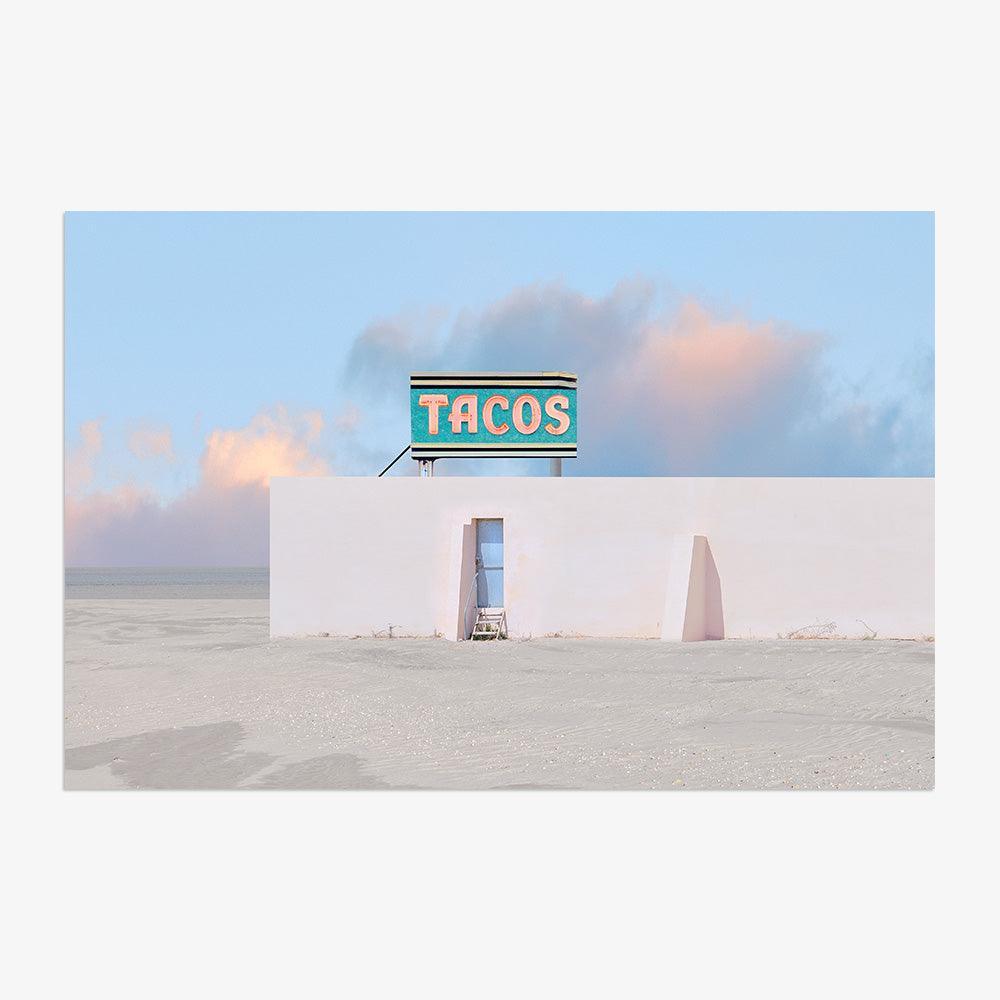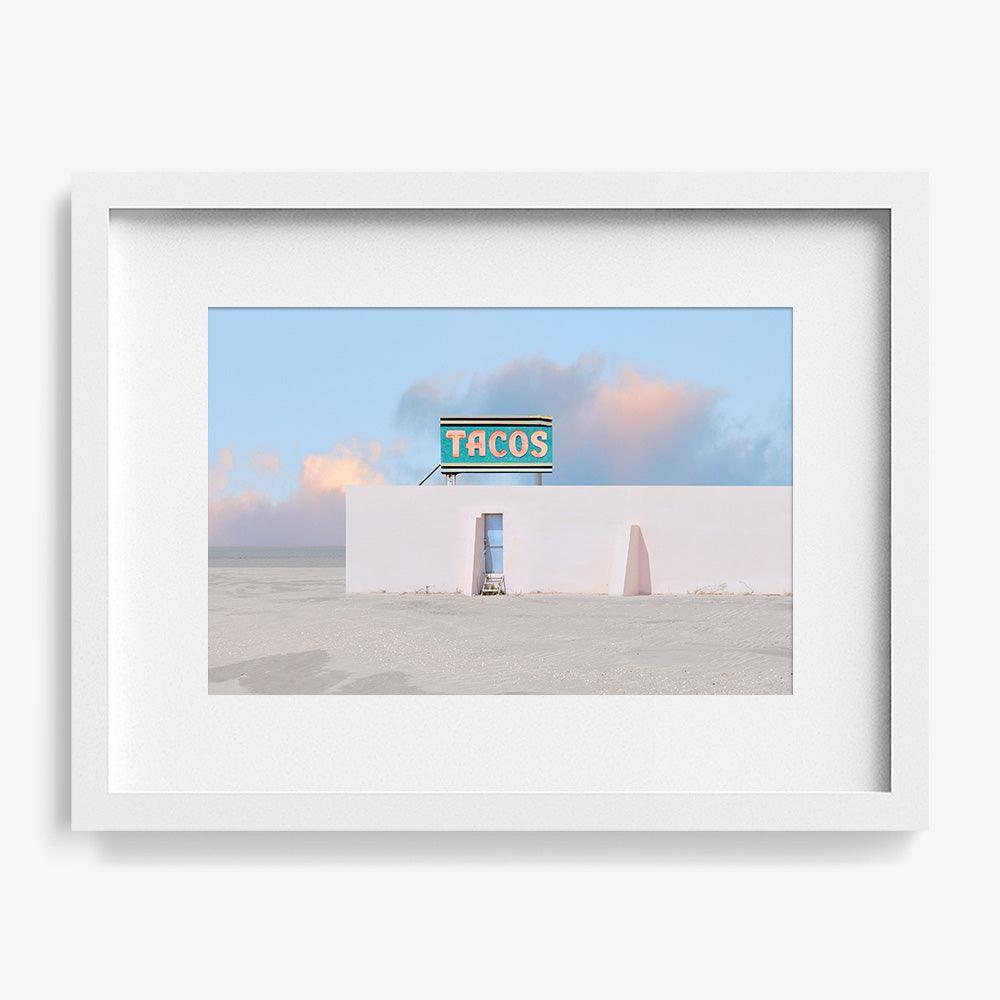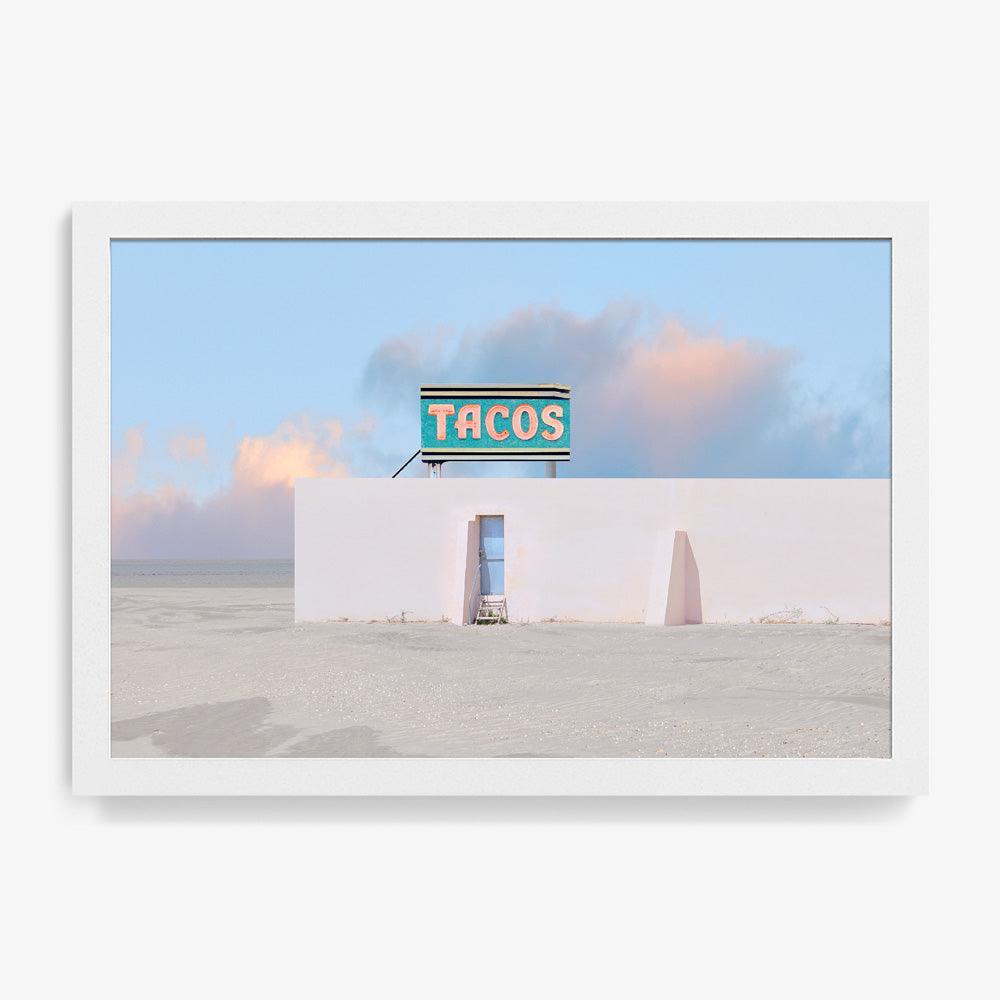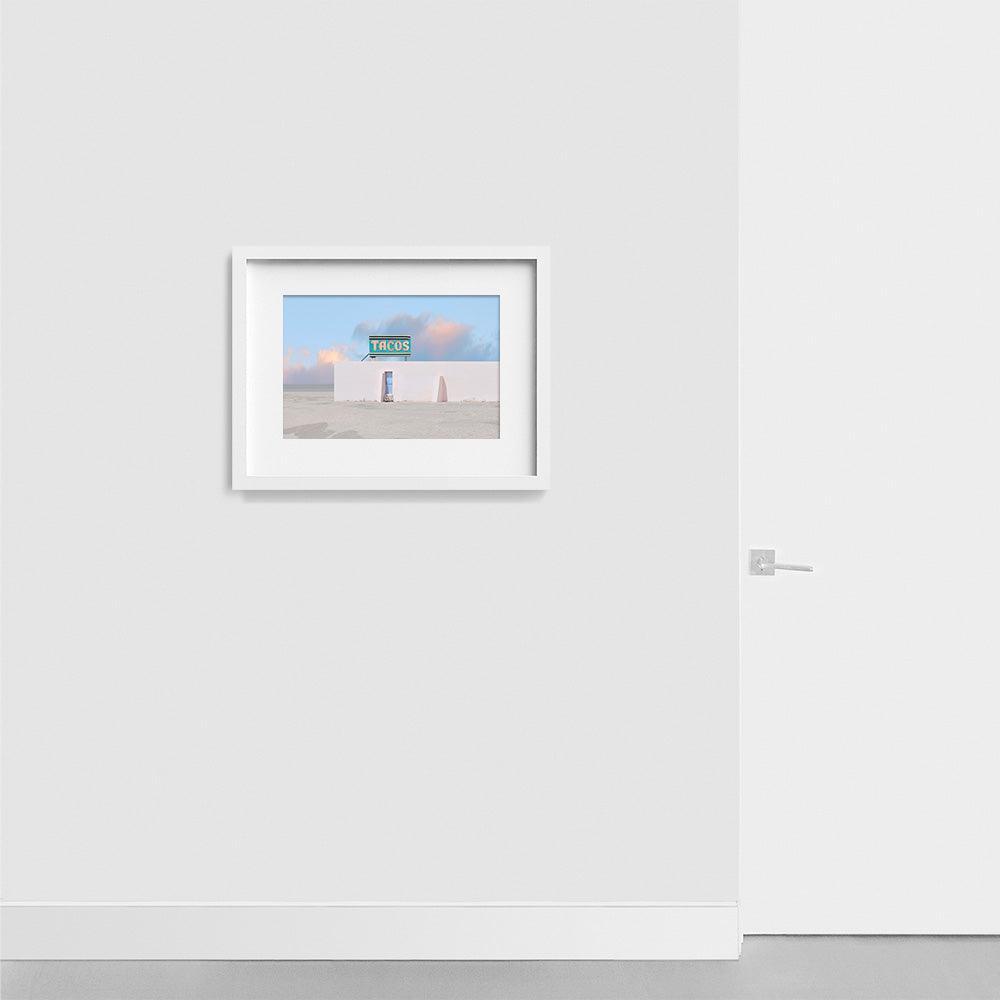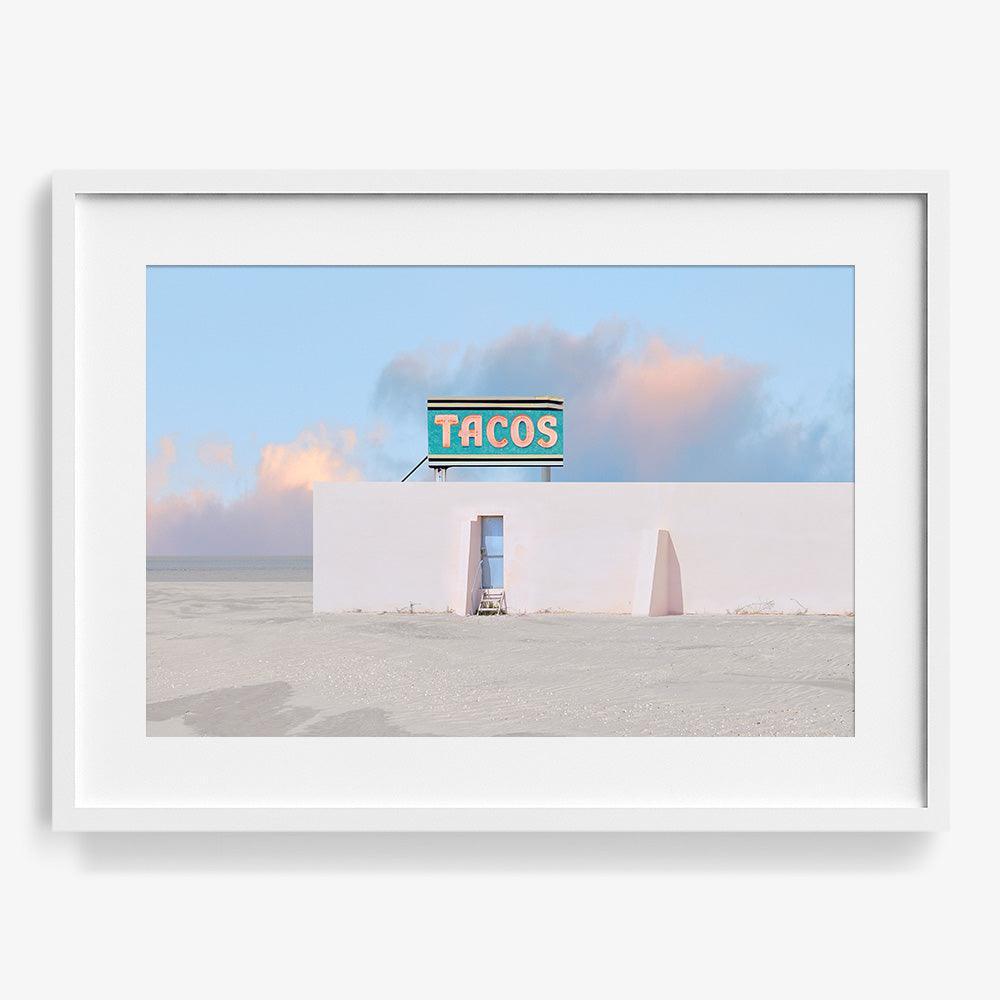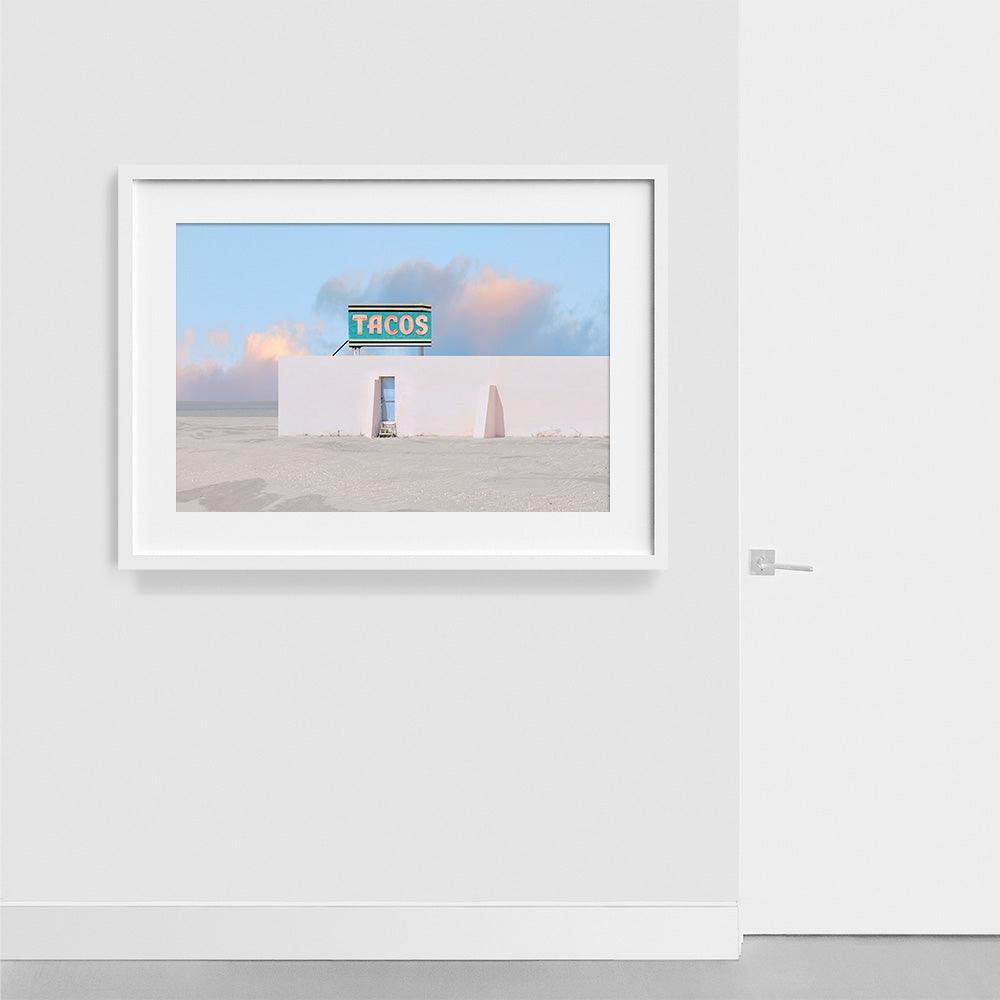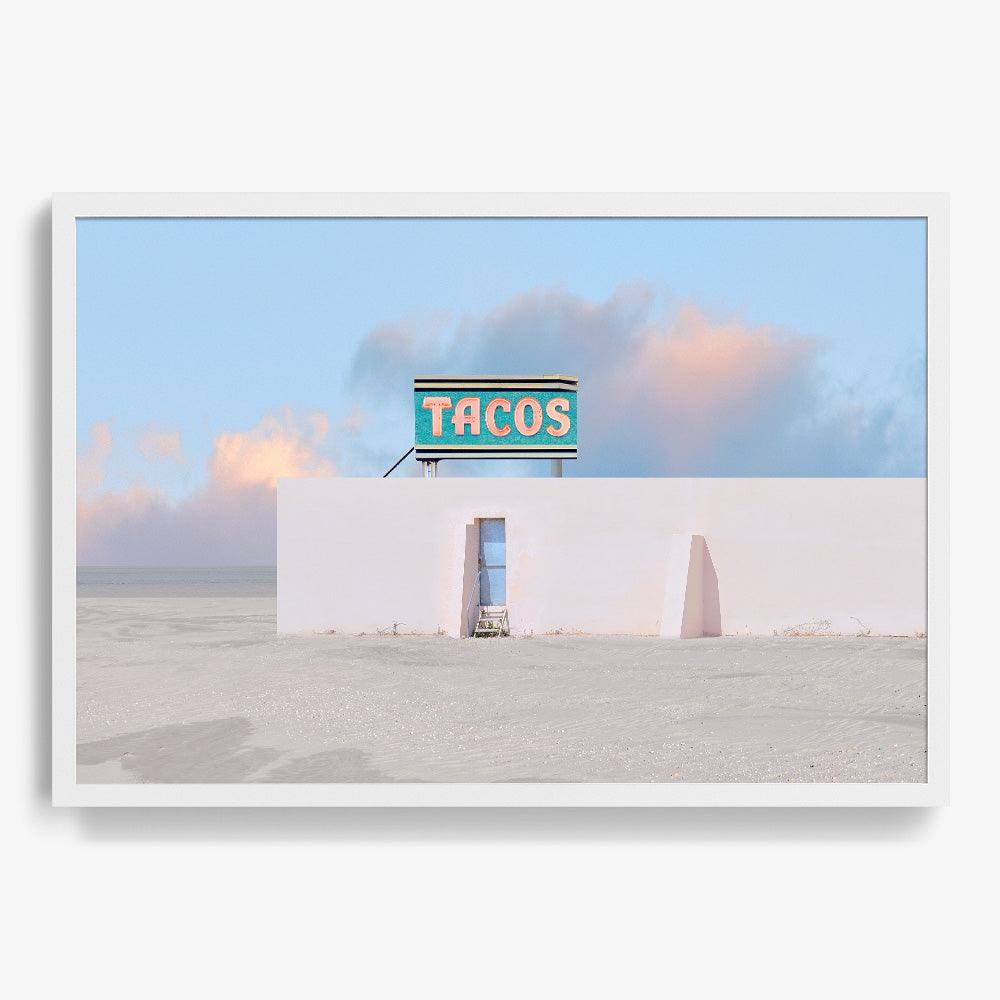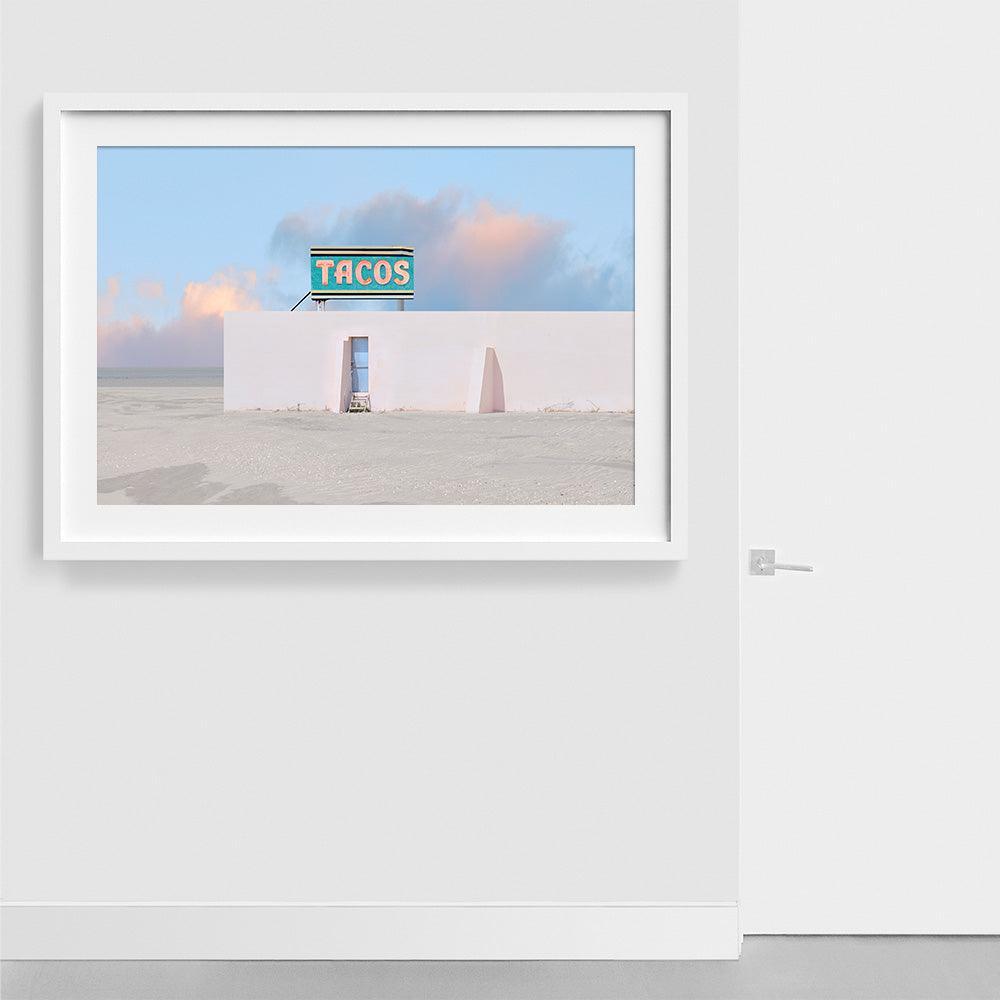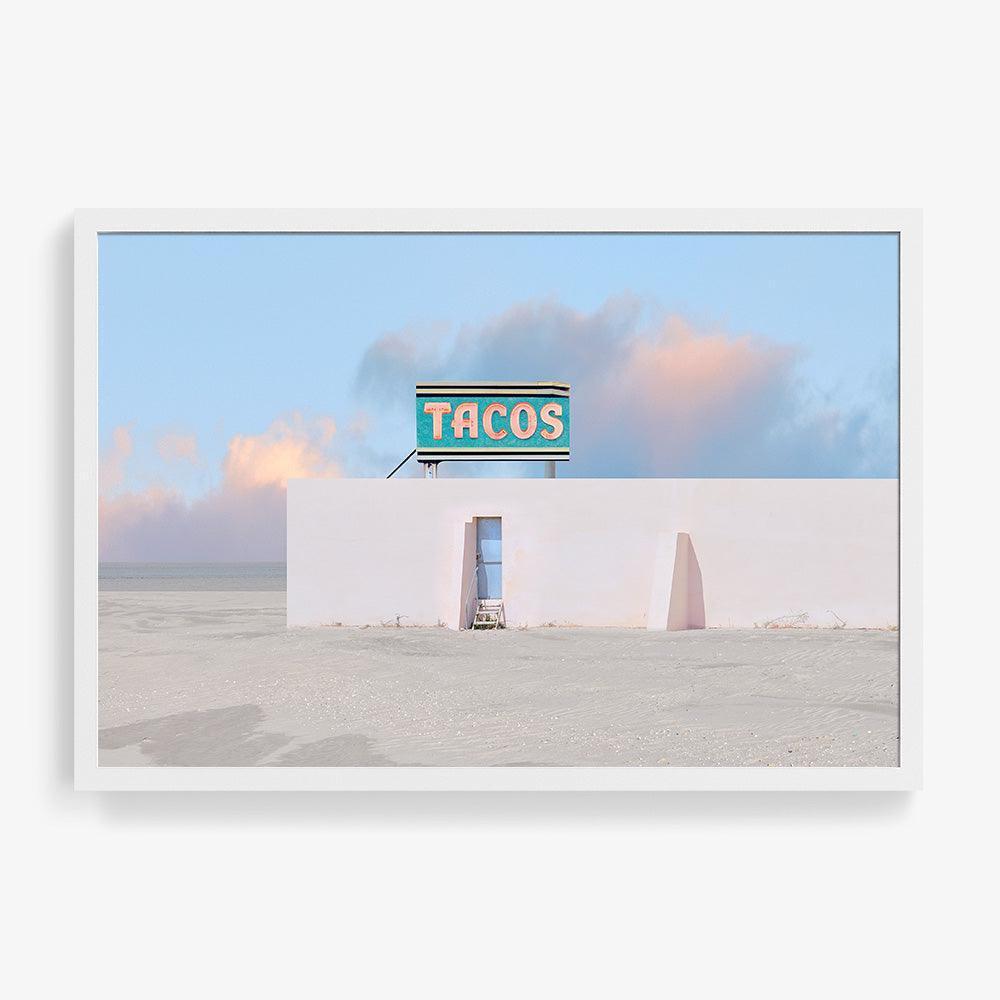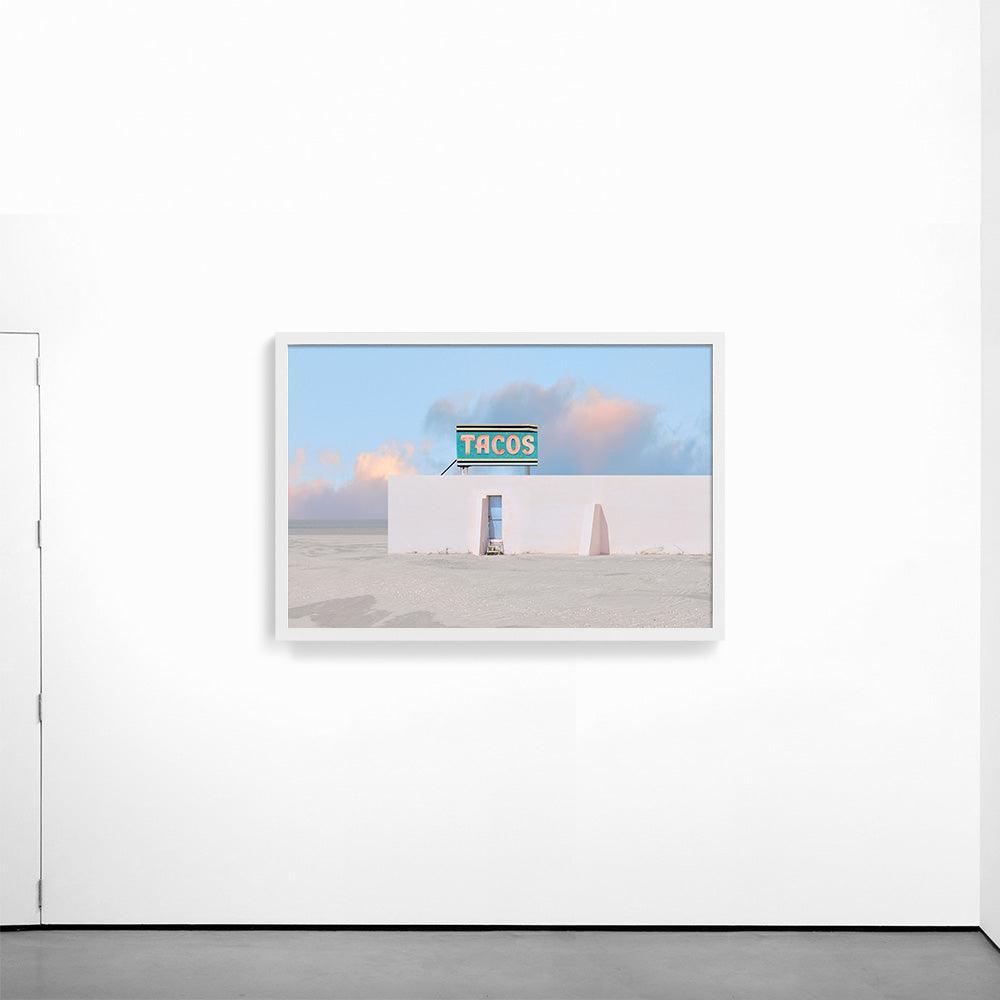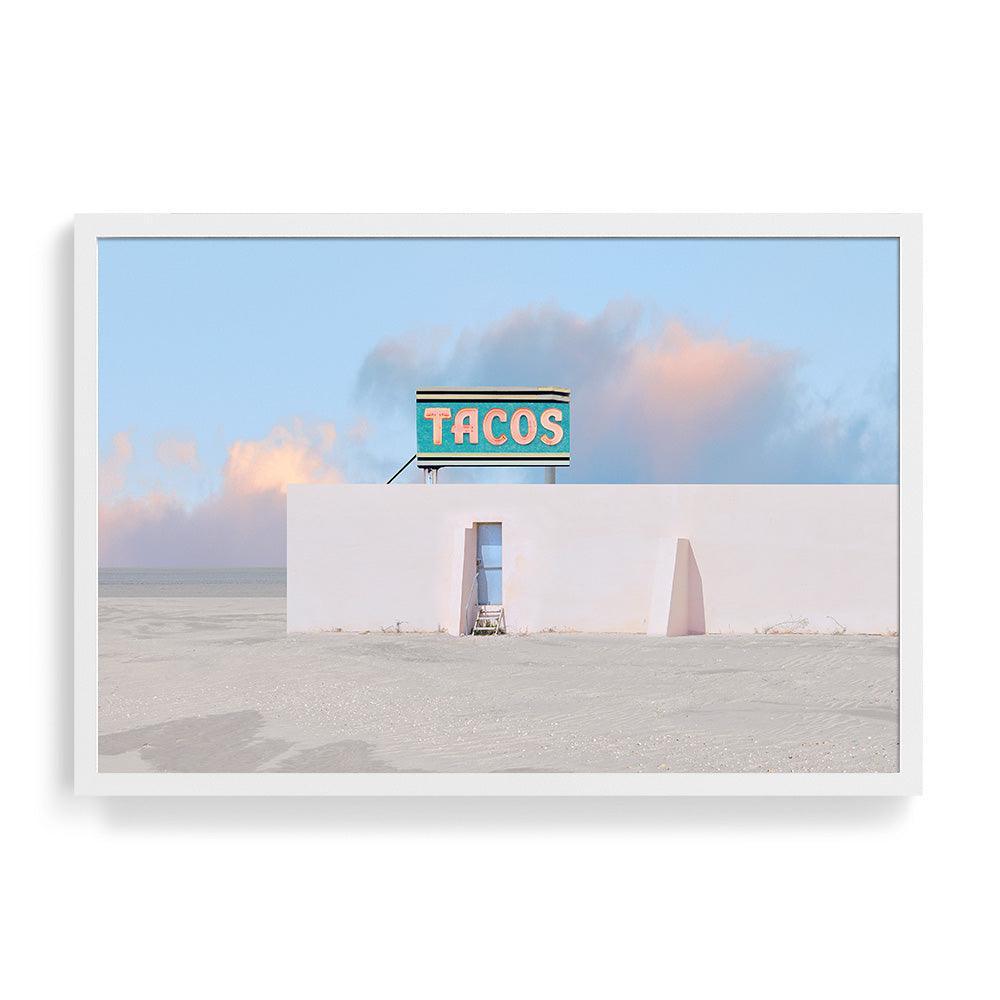 DESCRIPTION
Archival ink on museum-quality cotton rag paper | 2022
Being on the road, taking photos, is a lonely part of James Needham's process. For his new series, Traveling Home, Needham drove and walked in chosen directions, photographing anything that caught his eye. For the Australian photographer, it is akin to a pleasant meditative state where the goal is to block out anything but small glimpses of beauty. The result, he says, is a lot of trash and the occasional treasure.

One such treasure, Taco Stop, the first offering from the upcoming Traveling Home series, is offered in four sizes and is reminiscent of Edward Hopper's colorful city scenes, each one deliberately composed to create a mood. Taco Stop is a quirky photo collage that takes an image of a Coney Island sign—actually photographed in Boston—and places it on a building photographed in Spain in front of a Texas sky. Photography is typically thought of as a medium that captures one location during a single moment in time, Needham explains. The internationally-lauded photographer loves that he can combine images of multiple moments and places into one photograph—telling a complete story, not simply a fraction of one.

In editing this series, Needham saw so many pieces of his wife in the photographs he had taken on the lonely road. Images of mailboxes and phone booths—symbols of communication—reflected his desire to reach out to her. Most notable was the recurring theme of food in the photographs, an incredibly powerful image of love between Needham and his wife that he seeks out when away from home. In contrast to previous series in which Needham removed himself entirely from the image, focusing instead on the structural elements of line, shape, and color, Traveling Home is a deeply personal reflection of love and loneliness. A desire to travel coupled with a need to return home.
DIMENSIONS
12 x 18 inches
24 x 36 inches
30 x 45 inches
40 x 60 inches
FRAMED DIMENSIONS
12 x 18 inches
Matted: 19.5 x 25.5 x 2 inches
Full Bleed: 13.5 x 19.5 x 1.5 inches
24 x 36 inches
Matted: 32 x 44 x 2 inches
Full Bleed: 24.5 x 37.5 x 2 inches
30 x 45 inches
Matted: 38 x 53 x 2 inches
Full Bleed: 32 x 47 x 2 inches
40 x 60 inches
Full Bleed: 42 x 62 x 2 inches
AUTHENTICATION
The work comes with a Certification of Authenticity signed and numbered by the Co-Founder of Tappan
This artwork has sold out
Follow James Needham to get updates on their practice and upcoming exhibitions
Be in the Know About Artwork Launches & Artist News
"There's a limited amount of space within a viewfinder or on a canvas and what someone chooses to fill it with says so much about them and what they were feeling at the time. It's like a Rorschach test we create ourselves."
-James Needham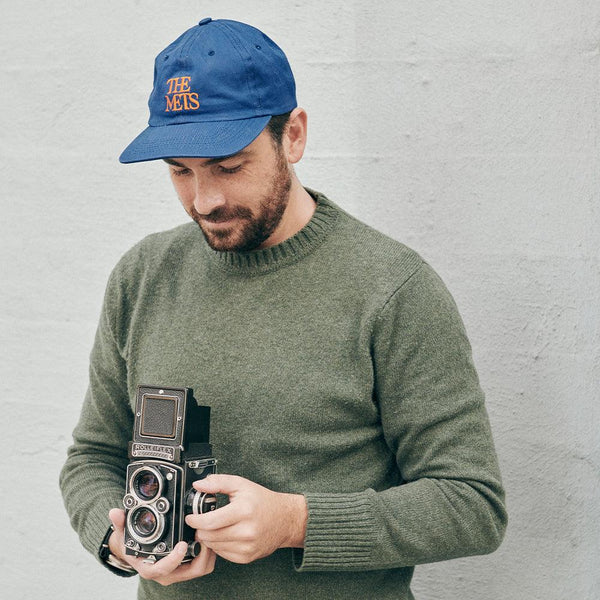 About the Artist
James Needham
Australian photographer James Needham crafts digitally-collaged urban landscapes with images taken in New York, Los Angeles, Route 66 and Roswell New Mexico in compositions reminiscent of Edward Hopper's colorful city scenes. His work has been featured in Architectural Digest, Paper Journal, Nylon Korea and Art Maze Magazine.
In the Studio