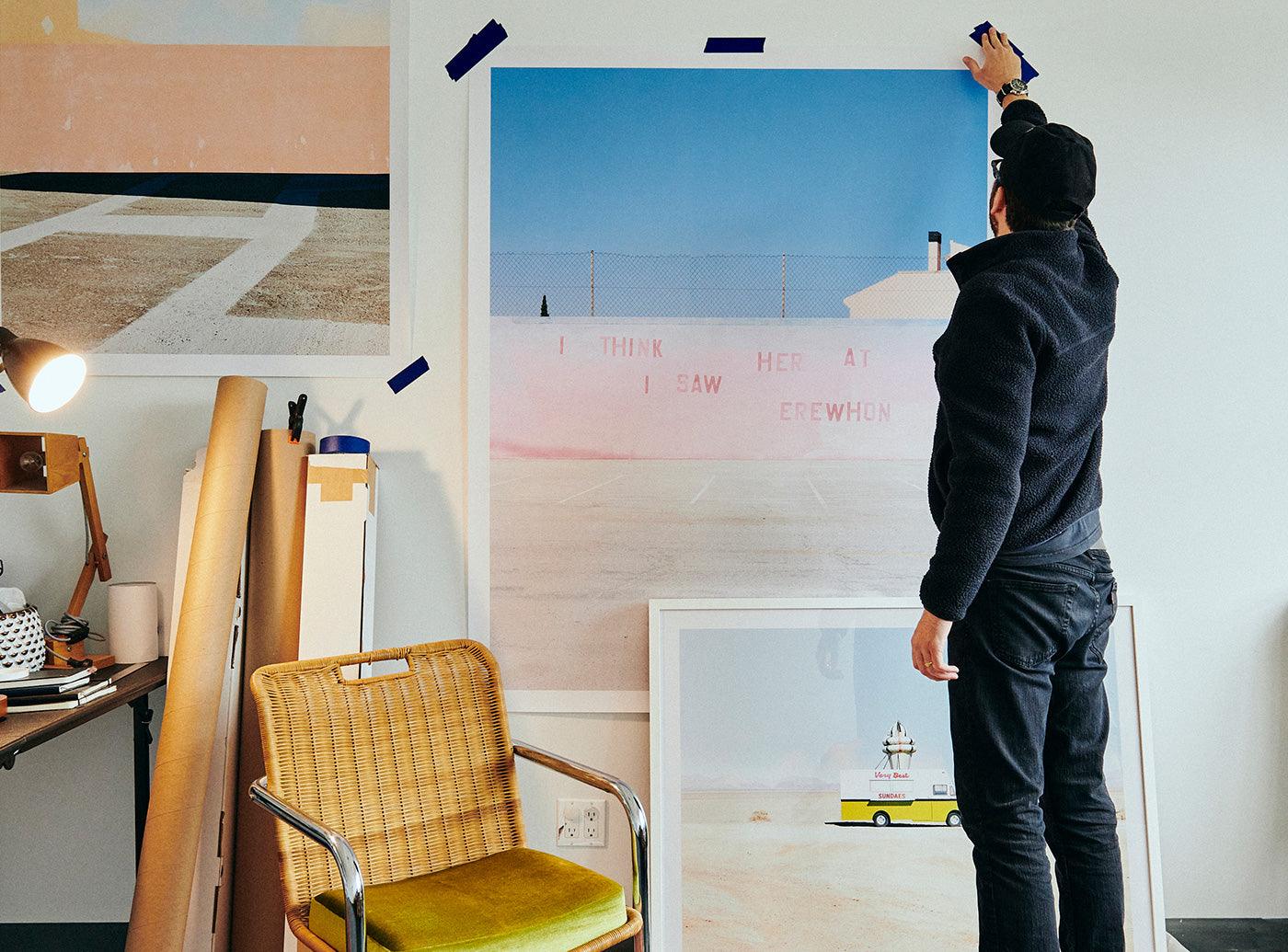 In the Studio | James Needham
We are thrilled to introduce James Needham to the Tappan family! Needham's unique photographic practice explores image construction, and hyper-realistic portraits of the urban landscape. Read on to explore his work and philosophy...
TAPPAN
Tell us about yourself and how you came to be an artist.
JAMES NEEDHAM
My mother gave me the OM1 that she used to teach high school art classes and shoot with herself. After that photography was just always a part of my identity. Photography club, work experience at a print lab, art school and after that almost every job I had, from painting Cycloramas to lighting to digital tech, had to do with photography.
TAPPAN
Describe your work in three words.
JAMES NEEDHAM
Line. Shape. Colour.
TAPPAN
What is your creative process?
JAMES NEEDHAM
If I was to break it down in to 3 steps, they would be. Shoot. Edit. Compose. I find a location I like and then photograph it in various states. I change crop, angle, include different figures and wait to see how the shadows change. Then I go through the images back at my studio and select which elements I like. I combine from different photos or subtract parts I find too distracting. I have no interest in documentation. I want to create images.
TAPPAN
Digital or film?
JAMES NEEDHAM
Digital. I'm too impatient for film these days
James Needham says:
"I FIND COMPOSITION AND THE CHOICES PEOPLE MAKE BEHIND IT CAPTIVATING. THERE'S A LIMITED AMOUNT OF SPACE WITHIN A VIEWFINDER OR ON A CANVAS AND WHAT SOMEONE CHOOSES TO FILL IT WITH SAYS SO MUCH ABOUT THEM AND WHAT THEY WERE FEELING AT THE TIME. IT'S LIKE A RORSCHACH TEST WE CREATE OURSELVES."
TAPPAN
You have lived in lots of different cities across the globe. How do your surroundings affect you work?
JAMES NEEDHAM
I don't move my home as much as I used to but my work is based entirely on exploring new environments so I do travel a lot. I never appreciate home as much as when I've been traveling and I always get restless when I've been home for too long… Basically I can only be content in 2 week increments.
TAPPAN
What impact does modern technology have on your photography?
JAMES NEEDHAM
It has definitely shaped my entire work flow, or at least, reduced the amount of equipment required by it. It allows me to create work at a faster rate which I'm happy about because my favorite photograph is always the one I'm going to take next.
TAPPAN
What are you favorite subjects to shoot?
JAMES NEEDHAM
My friends. Shooting for such a small audience is pure joy.
TAPPAN
Explain the concept of image construction?
JAMES NEEDHAM
Combining elements from different images to create the most pleasing one.
TAPPAN
Where do you draw inspiration from?
JAMES NEEDHAM
Anything visual. I find composition and the choices people make behind it captivating. There's a limited amount of space within a viewfinder or on a canvas and what someone chooses to fill it with says so much about them and what they were feeling at the time. It's like a Rorschach test we create ourselves
TAPPAN
How do you balance your commercial and artistic practices?
JAMES NEEDHAM
By constantly missing deadlines.
TAPPAN
What messages or emotions do you hope to convey to your audience?
JAMES NEEDHAM
Mmmm… Can I get back to you on that one? I'm moving apartments at the moment and I'm having a hard time thinking of anything but boxes. My life now consists solely of boxes. Buying boxes, assembling boxes, stacking boxes. They stretch to the horizon and beyond. There is no light, there is no truth, there are only boxes.
TAPPAN
Who are some contemporaries or figures in art history who have influenced you?
JAMES NEEDHAM
William Eggleston, Stephen Shore, Saul Leiter but they're the heavy hitters who's archives are well established. I like discovering photographers on Instagram. Dino Kuznik, Devin Lunsford, Lark Foord, David Mirete. It's amazing to watch them produce a constant stream of new work, to see which elements change and which remain fixed, the new directions they take and the conceptual ground they return to. It's like watching someone discover their artistic style in real time.
TAPPAN
Are there any quotes or mantras that you particularly connect with?
JAMES NEEDHAM
More anecdotes than quotes. There's one about Hitchcock shutting down production of "Dial M for Murder" to make a paper mache phone. Another about Marlon Brando refusing to wear pants during a scene in Apocalypse Now. Both stories are of people who went to incredibly self destructive lengths to fulfill their vision. I can't get in to them now but buy me a beer and I'll be happy to tell them to you.
TAPPAN
What makes you laugh?
JAMES NEEDHAM
The people I love.
TAPPAN
What makes you nervous?
JAMES NEEDHAM
Horses. It's a long story.
TAPPAN
What makes you excited about the future?
JAMES NEEDHAM
Insane political climate aside the simple pleasures of a warm sunny day and a cold rainy one… Also, I'd love to be able to experience space travel one day.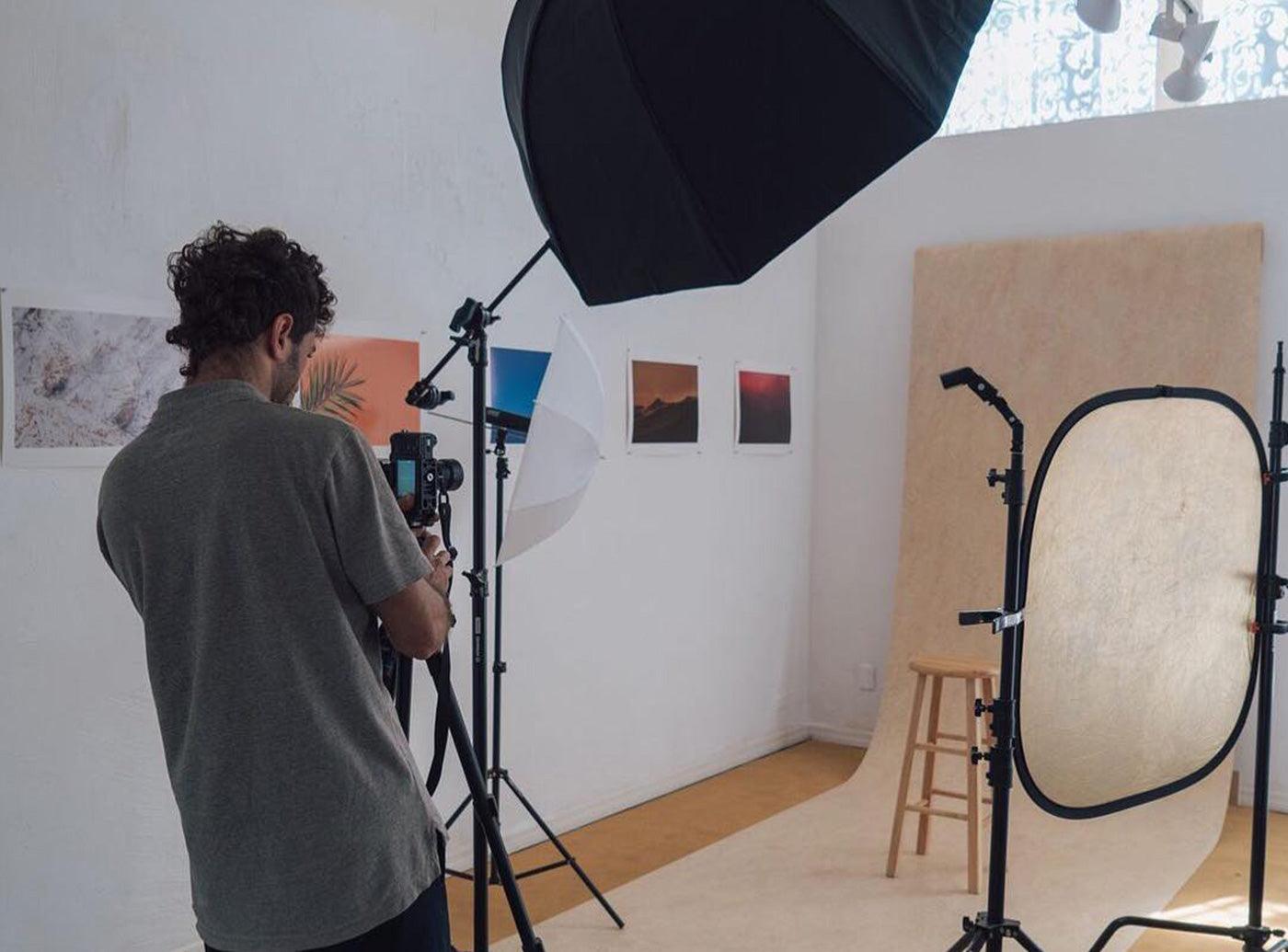 In the Studio
With the release of new photographs, LA based Marc Gabor sat down with Tappan to discuss his own work as well as discuss the role of art in the world. We loved his honesty and unique perspectiv...
Read more