JUST ADDED TO YOUR CART
Qty: 1
VIEW CART (

0

)
Continue shopping
La colcha X
Sculpture
<!- Product Available -><!- Product Sold Out ->
Be in the Know About Artwork Launches & Artist News
DESCRIPTION
Mixed media on panel (plaster and paint on panel) | 2022
The "Herencia" collection consists of works made through Monica Curiel's signature process of layering plaster on a wooden panel, mimicking the techniques the artist picked up while working alongside her father. The pieces are a reflection of her inheritance—'herencia' in Spanish—which she views as two-fold: in the Mexican culture and traditions that were passed down through her parents, and also the embodied knowledge that comes from the skills and work ethic they taught her. These works are the artist's most sculptural to date as she challenged herself to use plaster in a way that would evoke more delicate materials like cloth or paper, which in turn evoked childhood memories. But 'Herencia' is not just about looking to the past, it's also been about looking forward. At 19, Curiel was diagnosed with cancer and told she would be unable to conceive, which forced her to reconsider how she viewed her lineage. Now, her works are her lineage and what she wishes to pass down through her collectors. If care is shown to them they can be passed down long after she is gone.
DIMENSIONS
10 x 8 x 1.5 inches
CARE INSTRUCTIONS
Artist recommends, depending on the work and how textured it is, using a compressed air duster can with a spray nozzle. If dusting off a flat painting with no plaster on it, you may use a wax cloth and gently rub off any excess dust.

Although each work is created with the intention to last, natural elements and time can change the pigmentation of a work. Works on this site are made to be hung indoors.
It is not recommended to place any work outside or in direct sunlight. The sun may damage artwork, it can lighten a color several tones or in extreme temperatures, a wooden panel can warp.
AUTHENTICATION
Signed by artist.
The work comes with a Certification of Authenticity signed by the Co-Founder of Tappan.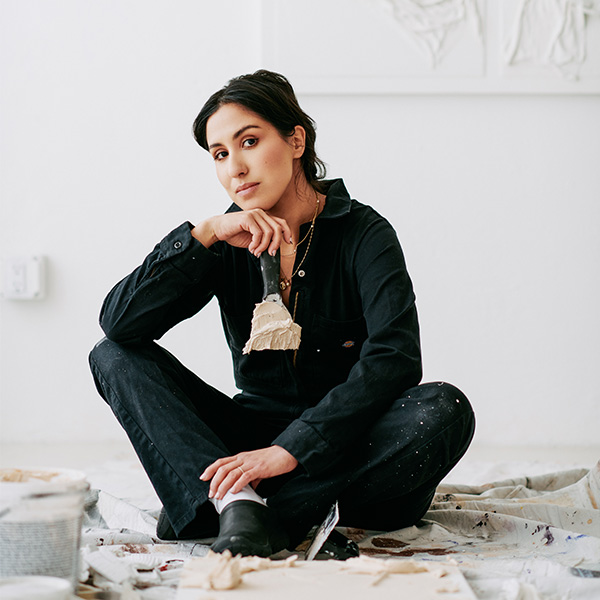 About


Monica Curiel

Born in Texas to immigrant parents from Jalisco who made their living as labor workers, Curiel spent her formative years assisting them on job sites, where she was introduced to construction materials like plaster, house paint, and grouting tools. These materials form the basis of her palette, drawing the artist back to her cultural roots via medium and process. 

Curiel's work has been featured in Architectural Digest, The New York Times, The Sight Unseen &*Wallpaper.