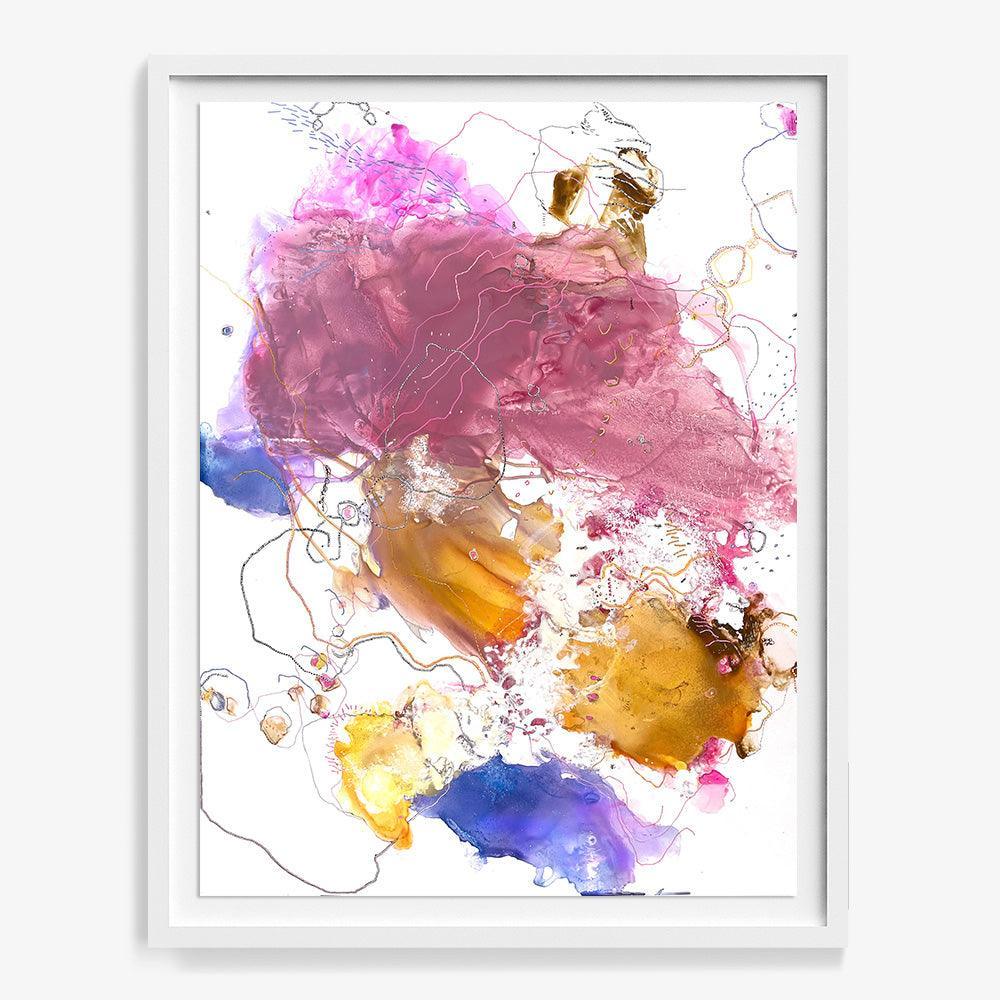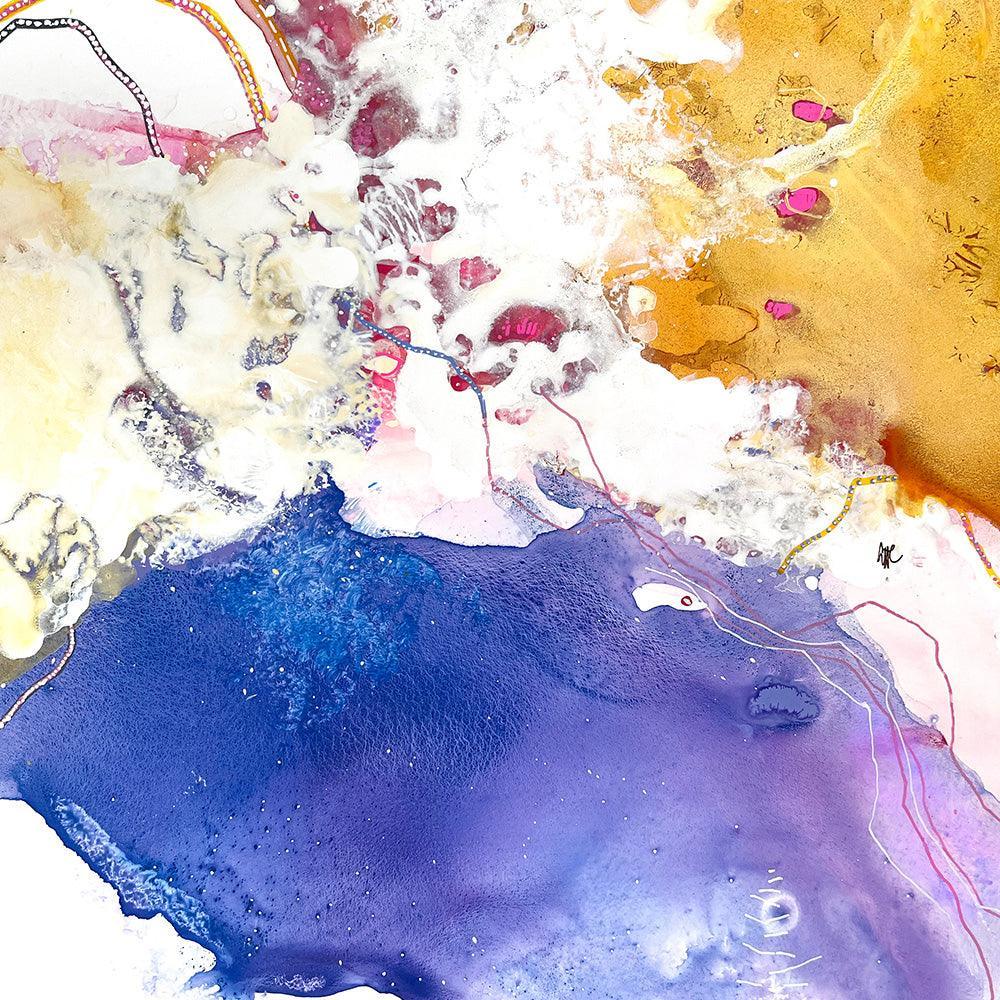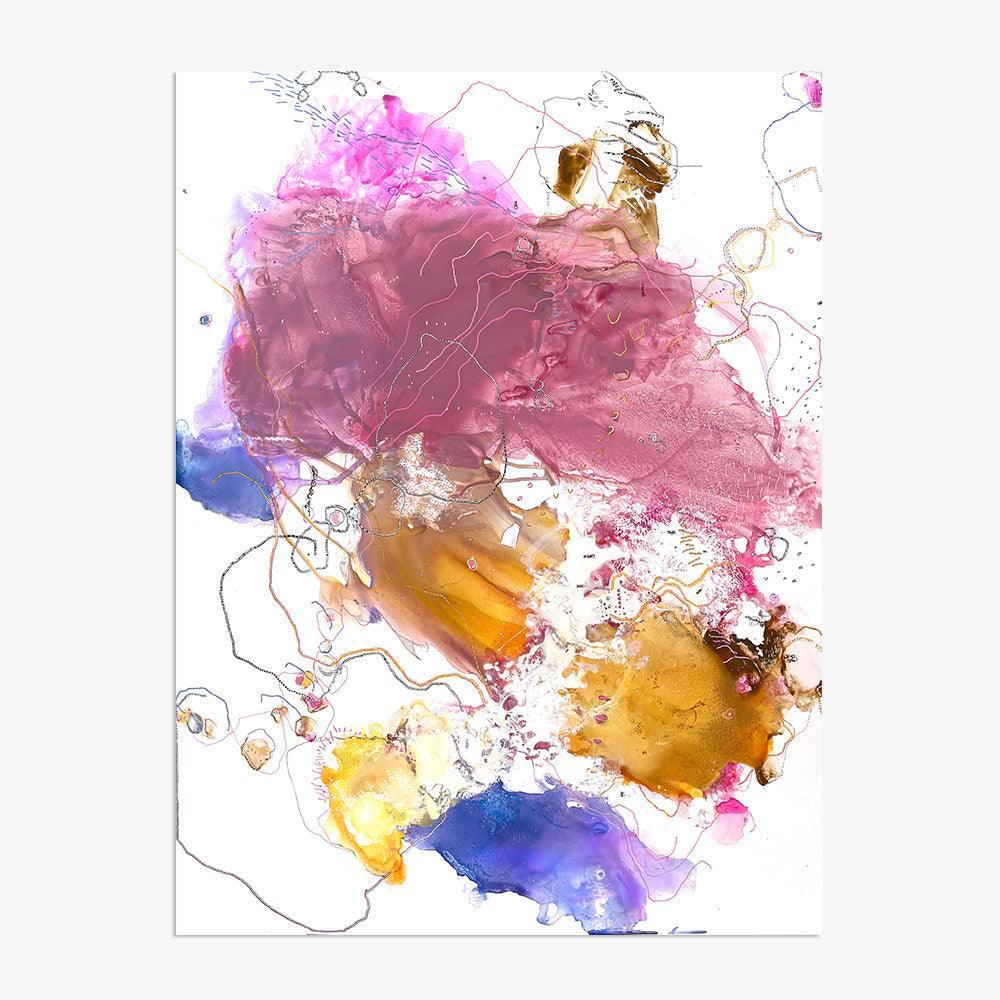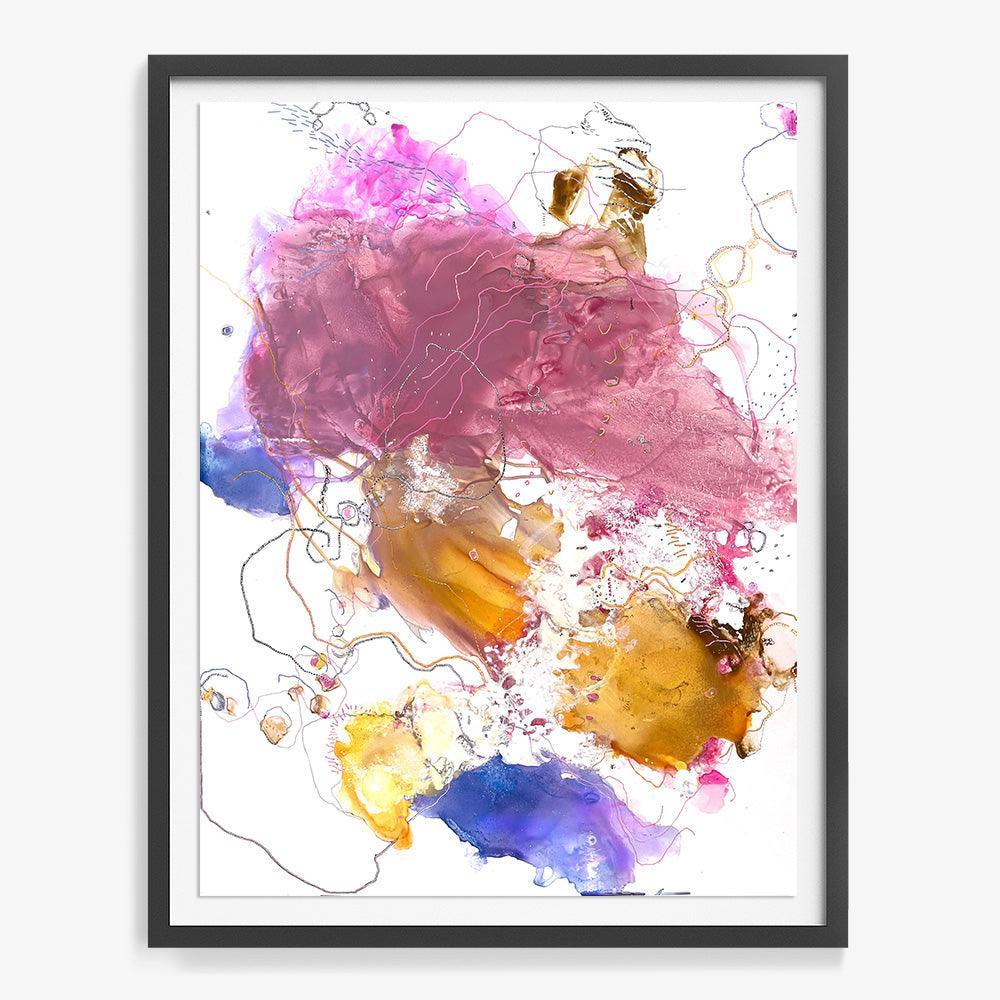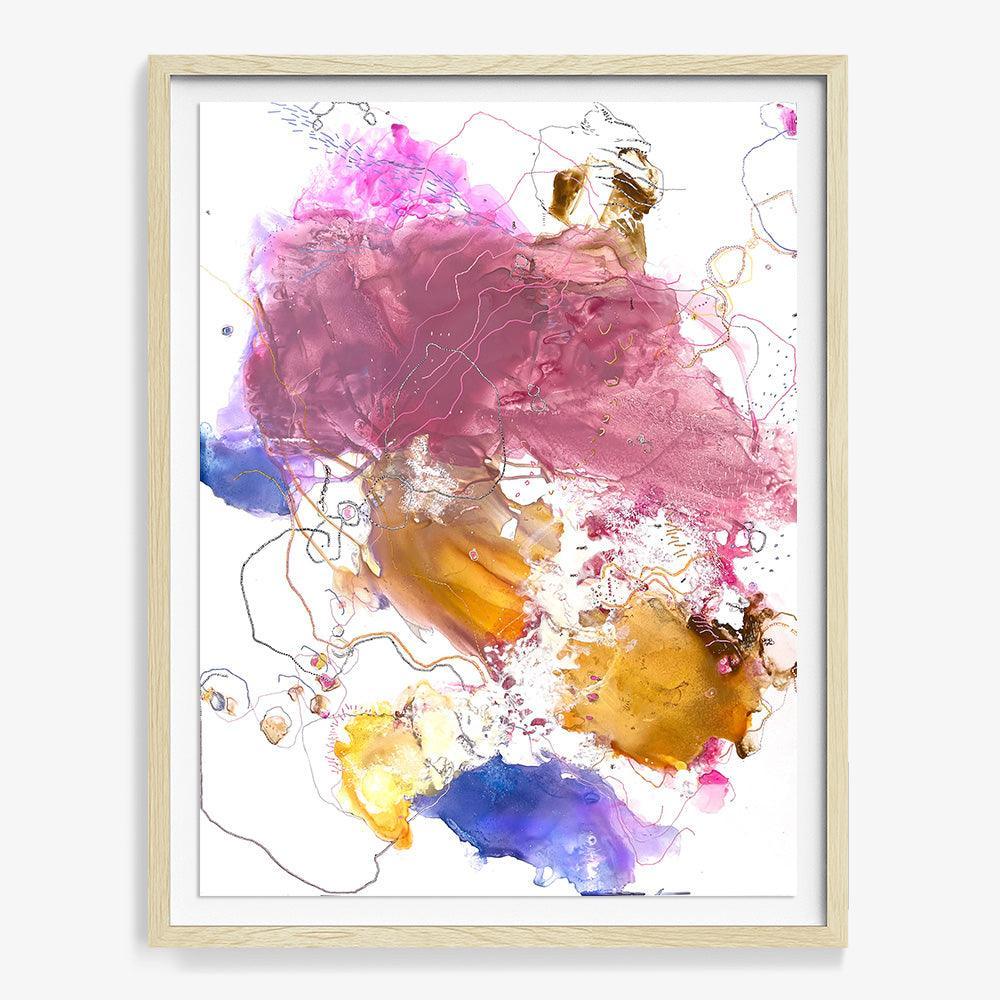 Celestia (Lost Stars) 20000x
DESCRIPTION
Mixed media on Yupo paper | 2023
Cooley's work continues to represent a way to connect to a presence larger than ourselves through the natural world and an encouragement to protect the source.

The Celestia paintings explore the infinite possibility of what we cannot see. The work was sparked in many ways by a string of evening lightning storms that happened this summer. The sun had just set, and the sky was dense, glowing with pink and violet clouds, illuminated every few minutes with orange electricity. They were fleeting skies — absolutely magnetic but over quickly. It led Cooley to think about what we experience in nature when we are connected but also what might happen when we are not observing or are unable to observe. What does the sky look like when we are asleep? What do stars look like? What is the shape underneath ice? Humans have a deep visual foundation for seeing the world and technology has introduced the depths of the sea to the cosmos, but there is still the unknown. These pieces consider what lies beyond the immediate living world and imagine an uncharted environment.

These pieces begin with pools of water into which different types of water-based paint are dripped, dropped, squeezed or floated. The stacking effect begins a process of interaction and organic forms begin to emerge. Some areas remain untouched, others are coaxed into new spaces with brushes and more water. The washes take on unexpected qualities as the paint dries exposed to the elements, dotted with falling leaves and twigs, or morphing together into new shapes. The uneven ground surfaces allow the ink pools to seep and slowly slide across the surface leaving pigment and sediment in its wake. The process is meditative. Reflections of leaves and trees flicker in the liquid, active work constrained by the natural cycle of light. Even more than previous work, these pieces are contemplations on releasing control and allowing the mysterious to emerge.
DIMENSIONS
40 x 30 inches
FRAMED DIMENSIONS
Floated: 45 x 35 x 2 inches
AUTHENTICATION
The work comes with a Certification of Authenticity signed and numbered by the Co-Founder of Tappan
"You are your best self and worst enemy in the studio... Find the space right on the edge and go with it."
-Alison Cooley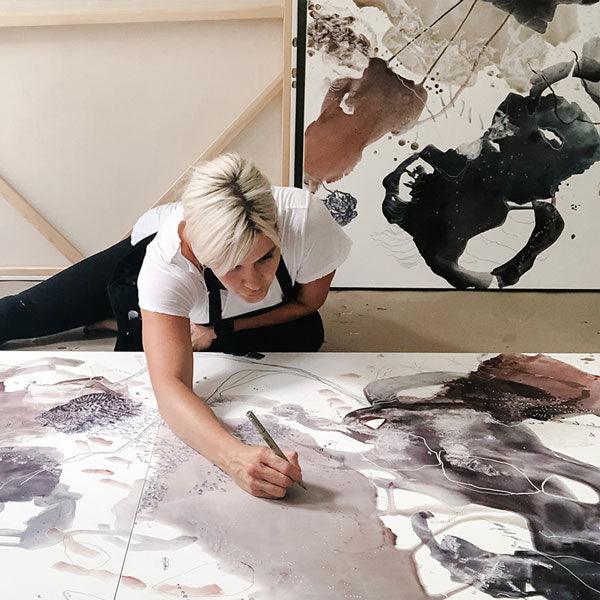 About the Artist
Alison Cooley
Cooley's large, expressive abstract paintings use layered color and powerful gestures to render her recollection of specific places and times in her life. Her work has been featured in Domino, DC Modern Luxury, and The Georgetowner.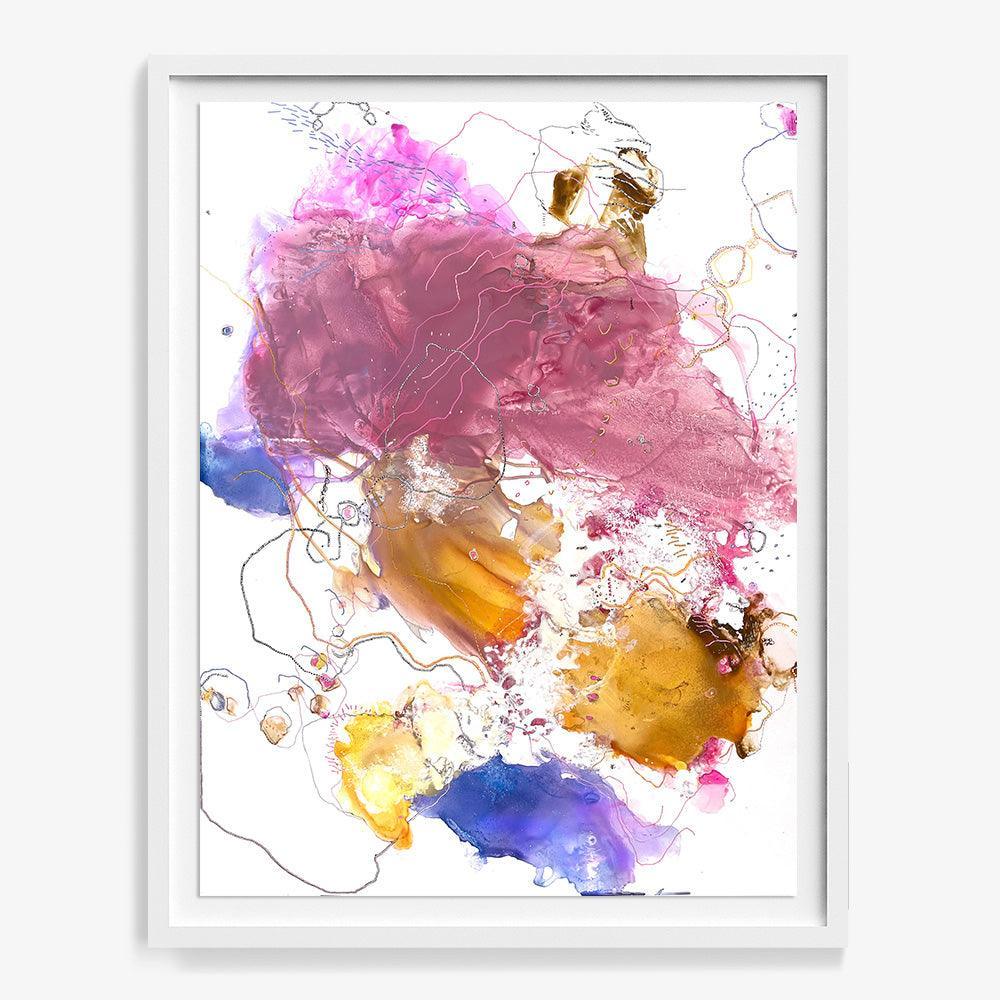 Celestia (Lost Stars) 20000x
$ 1,350
Choose options