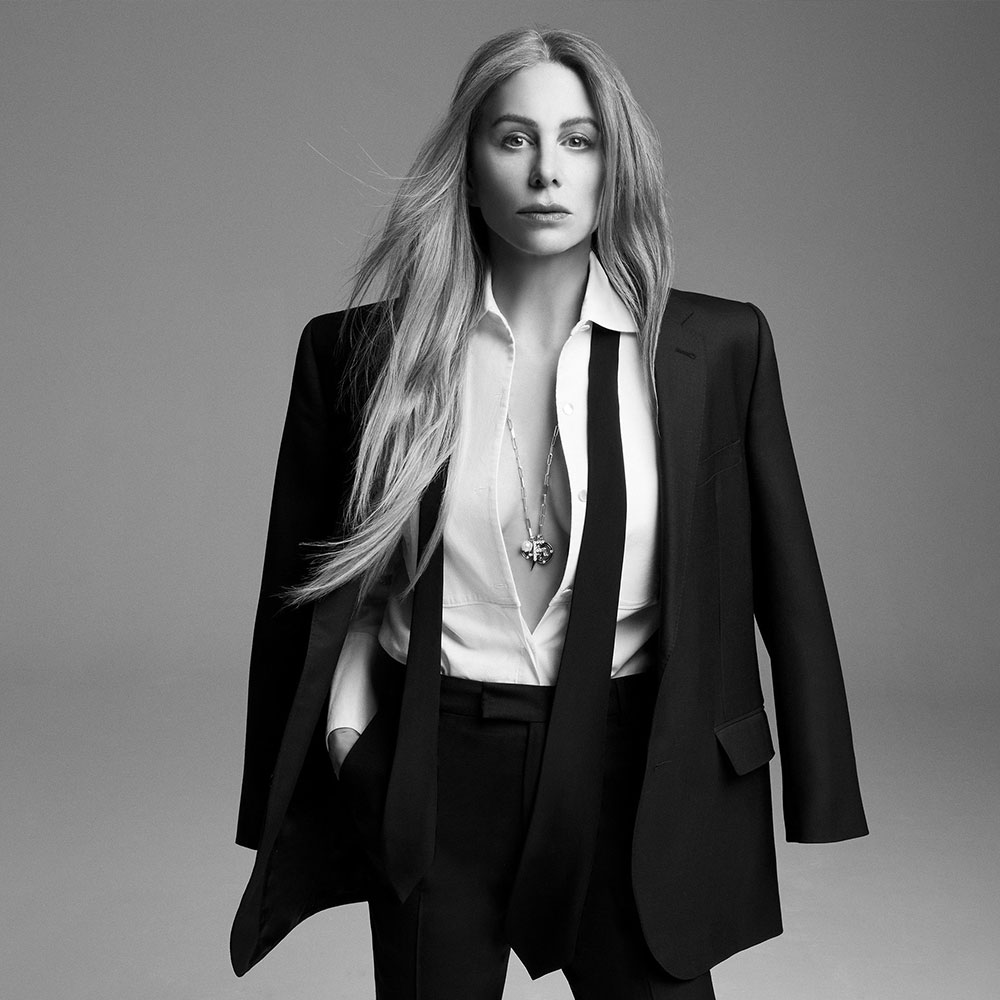 Jennifer Fisher is a modern master of disciplines who has reshaped the landscape of American jewelry by redefining what sentimental fine jewelry looks like in the 21st century. Fisher's modern approach extends to her fashion jewelry collection, which is crafted to the same degree as the luxury market. Uninspired by the traditionally feminine personal jewelry that permeated the market, Jennifer began her foray into jewelry in 2005 with a single piece: a stamped dog tag with her first born's name. Jennifer soon found herself inundated with requests for her necklace from industry insiders and stylists, culminating in the launch of her eponymous line in 2006.
Since then, every collection that Fisher designs, across fine and fashion jewelry, evokes a sense of feminine strength and boldness. Dubbed "The Queen of Hoops" by the New York Times, her unapologetic approach to the art of jewelry has garnered the attention of celebrities such as Michelle Obama, Hailey Bieber, and Jennifer Lopez as well as jewelry lovers worldwide.
Fisher's love of home, family, and food has become a natural extension of her brand. She is consistently working to create solutions for gaps in the market. Her trio of specialized salts, life-hacks for nutritious, family-friendly food, and a fragrance of blended essential oils all bloom from Fisher's personally identified needs. This, paired with her uncanny ability to connect with her audience in a sincerely authentic way through her wildly popular jewelry collections, social media, and videos, has solidified Fisher's as a multi-dimensional, boundary-breaking brand.
Fisher is a member of the Council of Fashion Designers of America (CFDA), a nominee for the 2019 Accessory Designer of the Year at the annual CFDA Awards, a recipient of the 2018 Town & Country Jewelry Award for Retail Innovation, the 2016 Influencer of the Year at the annual Accessories Council Excellence (ACE) Awards and was a nominee for the CFDA Swarovski Accessories award in 2014. She speaks frequently about strategic leadership, brand building and empowering the next generation of fashion entrepreneurs, most recently at Harvard Business School, MIT Sloan, Columbia, and Savannah College of Art & Design. In October 2020 at the height of the Covid-19 pandemic, Fisher opened her first flagship store on the West Coast in Beverly Hills. In June 2022, Jennifer unveiled a brick-and-mortar store located in the heart of Soho on West Broadway and marked a return to the neighborhood where the eponymous label was born.
Follow us @jenniferfisherjewelry, Fisher's day-to-day and vibrant, healthy recipes made with Jennifer Fisher salt at @jenniferfisherkitchen, and two stores at @jenniferfisherbeverlyhills @jenniferfishernewyork.
"It's really what I'm naturally drawn to. It's not about who it is, where it's from or how much it costs. It's about visually what will add a specific element to a room in my home." Q&A:
What is your earliest memory of art, and what led you to start collecting it?
I remember going over to one of my best friend's houses, looking at the Warhols, the Ruschas and being in awe of all the parents' pieces. It was the first time I respected considerable contemporary art. That was when I knew I would want my home to be filled the same way.
How has the sentimentality of your collection evolved over time?
I started off only collecting photography, which I still pretty much do. I'm not really a painting kind of gal. I do love this print that I just got from Marleigh Culver that is hanging in my kitchen. I'm typically a heavy photography collector.
Where and when do you feel the most creative?
In my kitchen. I actually come up with most of my jewelry ideas and designs while I'm cooking.
How do you go about finding new pieces to expand your personal art collection?
It's really what I'm naturally drawn to. It's not about who it is, where it's from or how much it costs. It's about visually what will add a specific element to a room in my home.
For new collectors, do you have any advice you wish to impart; Do you have a collecting ethos or philosophy that you want to share?
Yes, collect what you want and not what other people tell you to buy.
Describe your collection in three words.
Playful, broad, and striking.