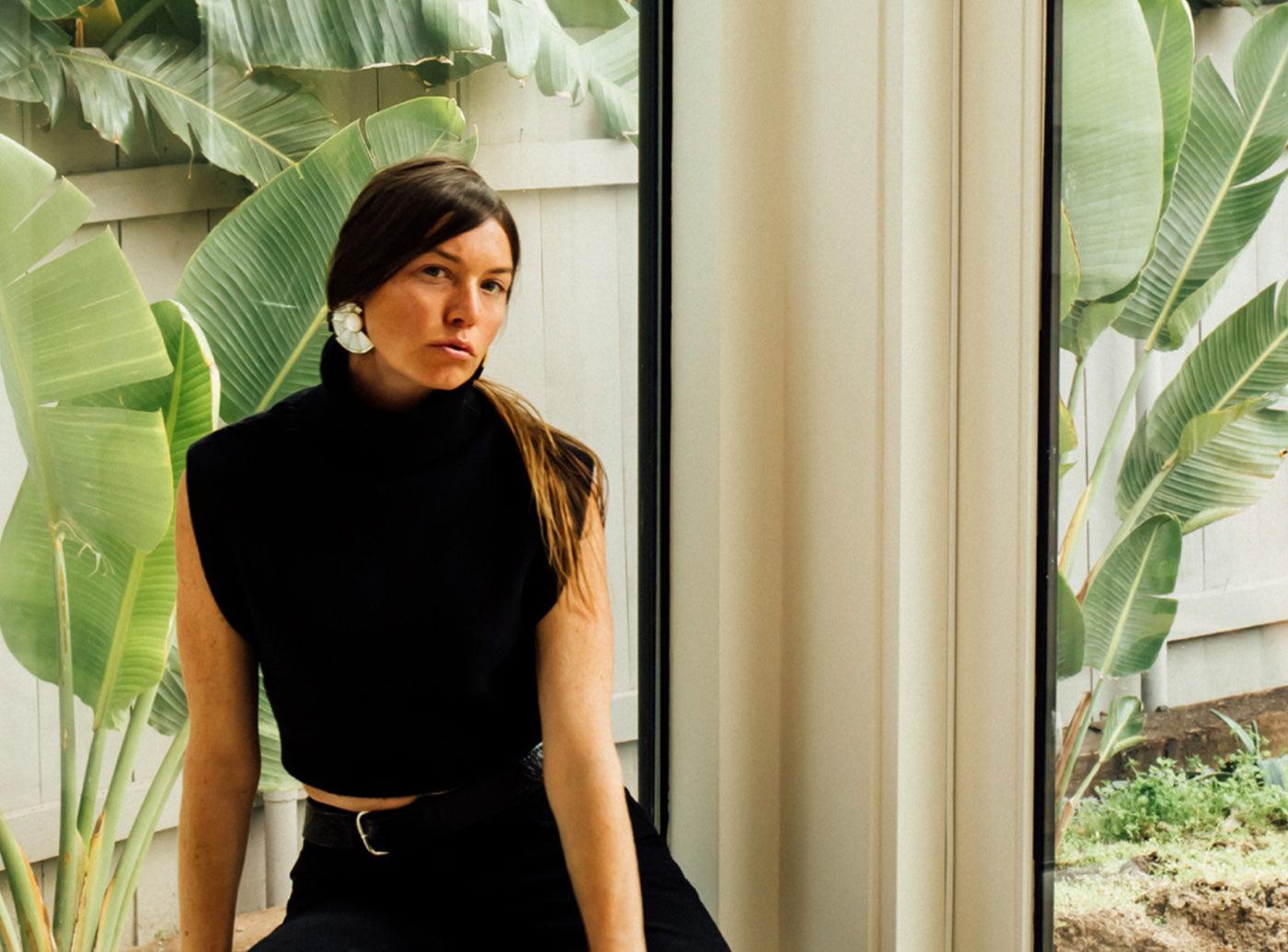 In the Studio | Ali Beletic
Working in a variety of mediums, Ali Beletic is a conceptual artist whose diverse bodies of work reflect her connectedness to the earth and a desire to explore, simplify, and bring viewers closer to the simple beauty and overwhelming power of nature.

We spoke to Beletic about her artistic practice and explored some of the rich human traditions that she draws upon for inspiration in her work. Read on to explore...
TAPPAN
You're very obviously incredibly creative. Are your music and art ever in conversation?
ALI BELETIC
Thank you! In 2008, I was involved in recording the drum group, AFI, in Cape Coast, Ghana. Kweku, the bandleader, and I talked about Ghanaian history. He told me about about how their ancestors would use drums to communicate distances. For example, when you wanted to enter a village, you would send communication via drums. And the drummers from the village would drum back. Anthropology also tells us stories about fire communication and other examples of ancient long distance communication. I was very inspired by this and wanted to include this experience in my ceremony that accompanied the work Pray for Rain – to see what it would insight in modern people. To me, this has a beauty to it. But also, I believe this helps us get in touch with who we are, some of our deep strengths and qualities that relate us all as humans.

The ceremonial aspect of Pray for Rain began at dusk. We had several drummers by the sculptures near the audience, however unbeknownst to the attendees, most of the drummers were hidden throughout the desert. Our drummers with the attendees started a drum beat, and one by one the drummers across the desert began a call and response performance. The mountain at the location had almost a whole second delay, and added a mysterious personification to the performance. By the end of the performance it was last light and the full moon just rising. The drummers throughout the landscape created an intimidating and cacophonous drum experience. The ceremony continued using lights and the familiar fragrance of the creosote desert plant released by rain.
TAPPAN
Can you identify and describe a person, event or a photograph that changed your life?
ALI BELETIC
I studied photography at Parsons in Paris, when I was in highschool. The Magnum agency came and spoke to the students about the passion we have as artists. I think from then on I looked at art as a form of journalism, and took it rather seriously.
TAPPAN
How has your art changed from when you first started creating?
ALI BELETIC
I am more of a conceptual artist now. When I first started working, though I was very interested in ideas, I was still more experimental in my methods.
Ali Beletic says:
"I TRY TO BE A NATURALIST, AN ANIMIST, AND A HUMANIST. THAT BEING SAID, I DON'T BELIEVE THAT LOGIC SOLELY EXPLAINS THE UNIVERSE, IN FACT I'VE COME TO BE A FAN OF MANY OTHER UNDERSTANDINGS OF THE WORLD THAT HAVE TO DO WITH STORIES, SENSUAL AWARENESS, AND THE NATURAL WORLD. I LOVE CREATING MY CONCEPT OF THE WORLD FROM THE VARIED PERSPECTIVES THAT EXIST GLOBALLY. ABOVE EVERYTHING, I SEEM TO VALUE LIFE AND ENGAGE IN A LIFE OF CELEBRATION."
TAPPAN
What is your creation process like?
ALI BELETIC
Usually, I start by drawing. I have a notebook, kind of likened to a lyric book for singers. Whenever I feel inspired, I will spend my time drawing in my oversized notebook. I have many ideas in there - everything from sketches to fully fleshed out ideas. Later I will revisit those ideas, and individually work on the idea, working out the aesthetic, the right environment, the poetry, and the experience. Then usually, I will start to produce the work, sourcing materials, finding the exact location, assembling a team, and researching the idea more. Generally, these different aspects of the work start a dialogue that continues until the work is shown or installed for a collector.
TAPPAN
Do you remember the first time a work of art affected you? The last time...?
ALI BELETIC
There have been so many times that art has affected me, it's hard to recall the first. That said, I remember being really moved when I heard of Tony Shafrazi spray painting Picasso's Guernica. I loved the idea that art could be a living statement, and I remember feeling empowered and wanting to participate in the conversation. I also have fond memories of time spent at the Met as a student, and spending time with artifacts and artwork of Oceania, Egypt and ancient Mexico. The remnants of early civilizations have had a big impact on my work, looking to the anthropological perspective on art as a sense of understanding other ways of seeing.

I was most recently really moved by the Resist flag that Greenpeace hung on the crane behind the White House. For me, art has broad contexts. And I felt very connected to the spirit of that work. It felt un-afraid and empowering. And whatever one believes, I think it best to approach it without fear.
TAPPAN
Regarding your method of making, is it a case of the material or method dictating the idea of the other way around?
ALI BELETIC
This is a great question and something I intend to explore further in my career. I usually start with the concept, and then source materials that work within the context. That said, I have another series of sculptures, titled Reflections on Artifacts where the concept draws its source in artifacts left remnant from our shared ancestral past and the materials and processes associated with them. In those works, occasionally both the material and the process are the starting point, and the sculpture develops out of the material.
TAPPAN
Do you remember the first piece you created which you felt was a "work of art," and what was it?
ALI BELETIC
When I moved to the Sonoran, I began working from a quiet studio on the edge of the desert. Having left the frenetic art-noise of New York and the scene in Brooklyn, I felt for the first time, as an adult, I could work from a place where I was listening to my own ideas. Sort of letting my life's history soak in, and broadening my palette from a place of quiet contemplation. My work grew to scale then. And the body of work I created there, became the foundation for much of my work to come since.

The first pieces that really represent that time, are a series of works using fire. I remember I had a small opening in the desert for one of the pieces, and I remember seeing this side of people come out at the opening, a sort of celebrational tone, a sort of spirit that comes out of people when they have crossed some sort of boundary. I knew this side of self very well, it's a side I find myself passionately trying to evoke in those around me in my daily life. Having known this archetype so well, I knew I had stumbled on a life's work.
TAPPAN
How do you move past a creative block when you run out of ideas?
ALI BELETIC
I am a person who is easily inspired. I get inspired spending time in wilderness, talking with other artists or intellectuals, reading history or a new philosophy. I own a century's worth of National Geographic magazines and regularly keep my mind learning new ideas, so I don't find creative blocks to be much of a concern. I am pretty good at looking at blocks as hurdles that you just have to find a way over.
TAPPAN
What's one thing you still have from your childhood?
ALI BELETIC
My sense of independence. My family instilled in me a passion for finding your own way in the world - a rogue, rugged individualism, that is a major gift that allows me to have my own intact identity. I am deeply grateful for this.