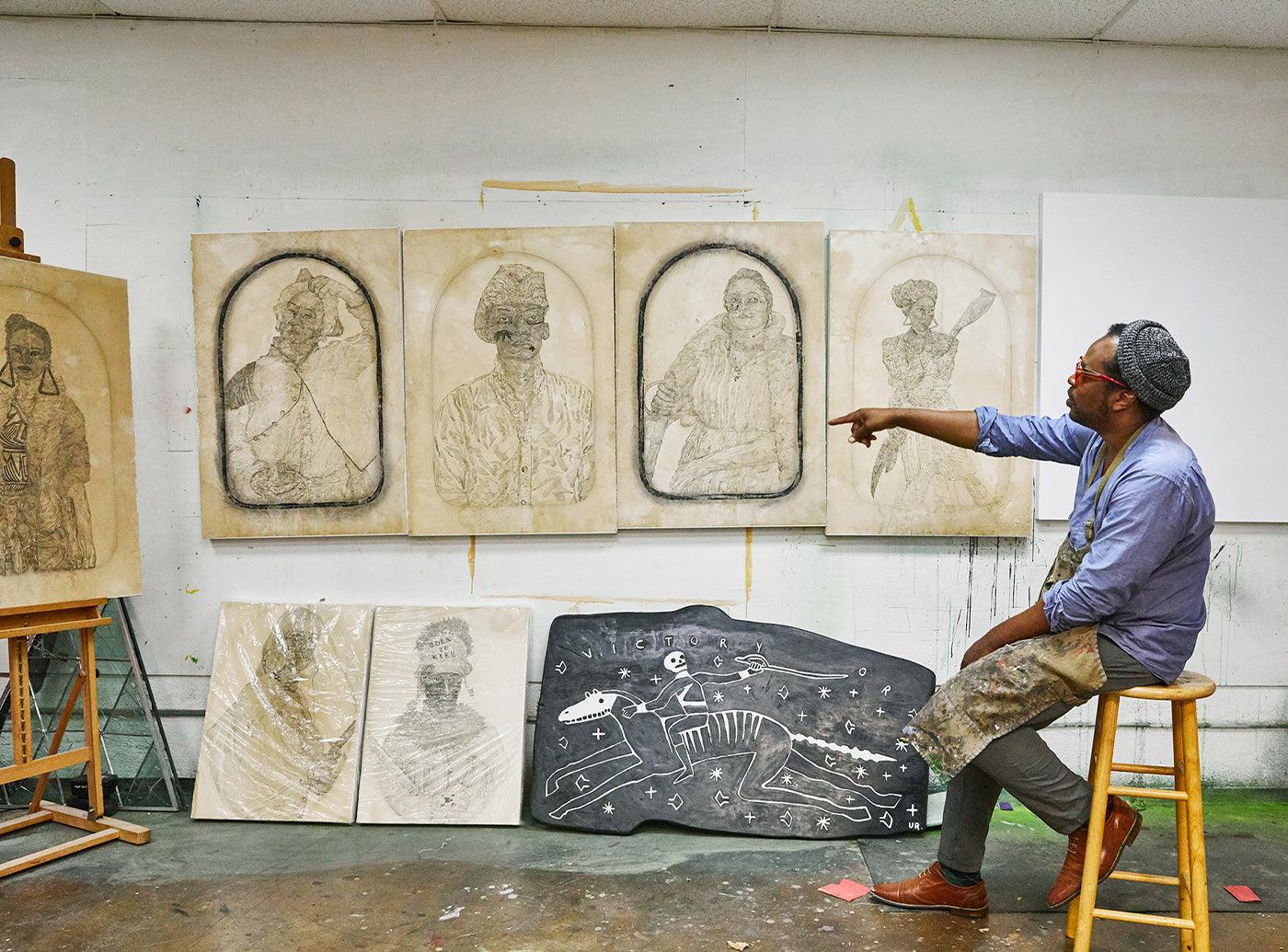 In the Studio | Umar Rashid
Umar Rashid resides Los Angeles, working in a studio in Lincoln Heights that he's had for years. The walls are covered in multiple series of his work; the purposefully aged canvases and historical relics make up the framework for Rashid's word, awaiting the next chapter of his storytelling practice by way of brushstroke or drawing. Originally from Chicago, Rashid studied photography with inspirations that spanned the likes of Malik Sidibe and James Van Dee Zee. He would later come to his style of painting by way of his move out West, exploring the otherness he felt in his new landscape through more historical parallels like the expansion of the West and the ability of human beings to acclimate when they encounter alien environments. His works for Tappan are limited edition prints of works on paper that act as vignettes to what is the "book" of his full narrative. Read on to explore the mind of artist Umar Rashid.
TAPPAN
What does the process of creation look like for you?
UMAR RASHID
It starts with a lot of research. So many books. What's interesting is that history is always written by the victor. There's all these different stories, and as a black person or African-American, as you will or whatever, I haven't figured out how I really fit into this history. All I know is slavery, slavery, slavery. Yet there's other groups that you rarely read about where they fought their way out of slavery and killed all their masters, and still live that way to this day. So, there are moments, but if you want to control people, you have to tell people this prescribed narrative.
TAPPAN
You've said your work takes human history into consideration but paints a different future for it. How do the cycles of human behavior inspire your work?
UMAR RASHID
My work is global narrative, and yeah, I do focus on the people of color for the most part. But it's a global narrative. It's for everybody. Anybody can look at this, and it's not like I'm making this shit up. I just take it directly out of the history books, and modify it. My stories are heavy because of this, but they also hold moments of levity. People fall in love, play sports, have good meals. If you're telling a story, you don't want to burden people with misery, because everybody has their own pain. Whether they choose to broadcast that pain or not is a different question, but everybody has their own pain. And then, even within the pain, there's always a happy moment. This creates the full picture.
TAPPAN
What sparked your interest in bringing history into your work?
UMAR RASHID
As a kid I was always interested in history. My dad would take us to the art museum, but I wanted to go see the swords, shields, and tapestries because I was more interested in the heroism of human beings, our best bright shining moments.
Umar Rashid says:
"EVERYTHING IS SO POLARIZING TODAY. AND I DON'T WANT MY WORK TO BE THAT WAY, BECAUSE I WANT TO CHANGE SOME MINDS. I MEAN, IT'S NOT WHAT I'M SETTING OUT TO DO. I'M JUST SETTING THAT TO TELL THE STORY BETTER. I MIGHT WANT TO INFLUENCE SOME THINGS. I MEAN, OF COURSE, I WANT TO INFLUENCE SOME THINGS, BUT YOU KNOW THAT'S NOT MY MAIN IMPETUS."
TAPPAN
Colonialism is something that is prolific in how it has impacted the modern lives of most people in the world today. Can you speak to how you depict it in your work, and what visual messages the viewer is getting regarding that theme?
UMAR RASHID
It's all pretty tongue in cheek. I use a lot of comedy in the work, because when you're dealing with something as heavy as colonialism, I think it's necessary. Again, because people won't understand it. I mean you will, but I'm a Libra. I think about justice, and everything is slow, and most things are grey. I tend to see the world in shades of grey, and not black and white, because there's always going to be duality. We need duality. As human beings, if we didn't have duality, nothing would make any sense. What would good be if there was no bad? What would love be if there's no hate?
TAPPAN
How does modern culture affect your work?
UMAR RASHID
It's interesting to look at today in comparison. We're not better, but we can acknowledge wrongdoing. Yet I think the reason we see a rise in so many mental illnesses and diseases, and things like this, is because we are literally fucking stuck in our current culture. We have this big wide natural world out there, that we don't even engage with anymore. We're so focused on computers and phones, and technological devices. We're just fucking up the world and we lost that connection with nature. And I think that losing that connection to nature has definitely put us in a bit of a bind.

Everything is so polarizing today. And I don't want my work to be that way, because I want to change some minds. I mean, it's not what I'm setting out to do. I'm just setting that to tell the story better. I might want to influence some things. I mean, of course, I want to influence some things, but you know that's not my main impetus.
TAPPAN
The digitalization of photography changed your perspective on continuing in that medium. Can you speak to your time learning photography and your adversity to continuing it?
UMAR RASHID
I started off because I wanted to be a portrait photographer. I was inspired by Richard Avedon, Diane Arbus and Gordon Parks, Jr., this African-American photographer in the '60s and '70s. After everything went digital I could not get a job. I needed a new medium. It helped me find where I am today.
TAPPAN
What inspires your painting style?
UMAR RASHID
Because I began doing portraits, it is a natural evolution of that. Most of them are people I know, made into the characters of the future, each that begin with a 15 to 20 page short story that go along with the work. Many have face tattoos, and all the tattoos were supposed to be a map. They talk about what military order you belong to, who do you love, who did you kill, what would you die for. And I actually came up with the imperial tattoo system, which is in those boxes over there.

You can see the paper and canvases look weathered. It's stained with tea and coffee, which are colonial commodities, to give it an appearance of piece in antiquity.

Because my art is already a mystery I try to stew it down to the most pure form. So this is me, even condensing something as heavy as this to these small moments feel like purest form, but ultimately I'm just writing chapters of a book.
TAPPAN
What about the works with snake imagery?
UMAR RASHID
With the snake worshipers there are a lot of symbols to unpack here, like the six eyes, the six serpent eyes, and the snake is above them. The multiple "school 'S'" characters make a -sss sound, like a snake. Snake worship is prevalent all around the world actually. There's a, I mean it's not the best source, but there's a Wikipedia entry on snake worship. But we probably shouldn't talk about that too much in this Puritanical Christian nation… Snakes represent primordialism, which is what came before. When you're in your room late at night and you're trying to think about what came before God, or the planets, snakes kind of were always there. They were the first beings who emerged in the primordial soup. Both vignettes speak to a larger narrative but I felt these spoke to the most recent exploration of my work.
TAPPAN
Do you have inspirations you want to speak to that helped you create the series and collection that is with Tappan?
UMAR RASHID
I took elements from larger paintings and I just condensed when I created these smaller works. "The Dead Run" is something I came up with in Miami, when I was doing this narrative in my retelling of the history of Florida. I had this idea about this Greco-Roman like-piece. Also, "The Dead Run" is from Gil Scott Heron's seminal work, "The Revolution Will Not Be Televised." It goes like, "You will not see that shopping cart stop on the dead run." For me, that's where I first heard the phrase, and then I researched the phrase, the etymological origins of the phrase, and then it became this. But, it's also pretty cool because the dead are running.

The soldiers, with their red and yellow high top fades, which is a modern phenomenon, similar to modern rappers of the age kind of mark that modernity. The pit bulls are indicative of the hood. You know, people having pit bulls, rottweilers, and shit. The wrestlers... This references the whole homo-eroticism of Greco-Roman wrestling. Although, it's just wrestling. I talk about a great many things in the narrative to what race, class, gender mean within my work. And I like to address these topics in the smaller moments throughout the series, just so it's not so overt. Because I think the reason why we have, especially in the United States, a resistance to change is because it's always so very overt. My philosophy is you slip in things here and there. You're not really hitting people over the head, but you're letting them know. You're still informing them.
In the Studio
Jacques Brun is a Paris-based photographer originally from Switzerland. His work, which focuses around natural subjects and everyday objects, captures light and structure in its most romantic f...
Read more