In the Studio | Jacques Brun
Jacques Brun is a Paris-based photographer originally from Switzerland. His work, which focuses around natural subjects and everyday objects, captures light and structure in its most romantic form. Inspired by dreams and mythology, the artist is continually seeking to take the viewer on a journey of the mind. Explore his background philosophies below.
TAPPAN
Tell us about yourself and how you came to be an artist.
JACQUES BRUN
I think I always wanted to be on the other side of the shore to get new point of view, to observe and to feel the universe differently. Before photography, I studied law in Switzerland. During a period of revisions, I saw through the window at the back of the library this monumental tree that was enthroned in the park. Its dense foliage let dappled light ripple on the brown carpet of the room. The contrast between the infinite reading of the judgments of the federal court system and this opening to a world where I embraced my visual curiosity invited me to get up from my Formica chair to observe, feel and reveal all its beauties. After this experience, I quit law school and I've decided to put all intensity in becoming an artist.
TAPPAN
Describe your work in three words.
JACQUES BRUN
Dreamy, natural and seeking.
TAPPAN
What is your creative process?
JACQUES BRUN
Look at it, live it, feel it, learn about it and spread it. The first stage is the impetus, the desire to do something from nothing and everything. After that comes the things I like or I prefer, and that I chose to create. I find them in my everyday life, my dreams, my memories, my imagination, and construct on my experience and the feelings of the world through my senses. Then comes the opportunity, the randomness and moments that come to me. I select them and I put more or less value on them. At this stage, I try to tell my story, my vision and my feeling about these things happening around me. I tell them with colors, forms and light. Those ways of expression are very important for me. They allow me to tell the vibration of a subject with a very emotional and personal approach.
TAPPAN
What's your philosophy in the studio?
JACQUES BRUN
My work is so instinctual that I haven't really thought of a specific philosophy. But I do believe that connecting with higher consciousness helps me make my work.
Jacques Brun says:
"I THINK LIGHT IS THE MOST IMPORTANT ELEMENT IN MY VISUAL LANGUAGE. LIGHT IS USED IN MY WORK TO SPEAK ABOUT SHAPES, TIME AND FEELINGS. THIS ALLOWS ME TO SUBLIMATE THINGS INTO A UNIQUE SCULPTURE OR TRANSFORM ANECDOTIC MOMENTS INTO TIMELESS DREAMY STORIES."
TAPPAN
What draws you to photography?
JACQUES BRUN
Light. I think light is the most important element in my visual language. Light is used in my work to speak about shapes, time and feelings. This allows me to sublimate things into a unique sculpture or transform anecdotic moments into timeless dreamy stories. For me, light is at the center of my artistic approach. It's my clay. It also has the role of a personal melody which the notes can be played in several different ways. I think it has defined my style more than the choice of my subjects.
TAPPAN
Where do you draw inspiration from?
JACQUES BRUN
From everything my senses can feel. From the familiar, the ordinary of everyday life, from confrontation and contrast. In the curve of the lake, in the nostalgia of the fruit, in the melody of the flower, in the dreams of an inner life, in the memories of my childhood...
TAPPAN
When do you make your best work?
JACQUES BRUN
When I work alone, I do my best work. When I follow my instincts and I don't listen to anyone. When I follow what I feel and I don't listen to my brain. When I work in a team, I think the best work is always done when the process of creation is beyond any ego. When we find the perfect balance of confrontation and sharing.
TAPPAN
What is your relationship with social media?
JACQUES BRUN
Hate and love. It's not a very fair relationship, I depend too much on it in my work to leave it, and I'm very happy when I have the opportunity to create distance with it.
TAPPAN
What influence does living in Paris have on your work?
JACQUES BRUN
It's where I met love, my greatest inspiration and influence.
TAPPAN
What messages or emotions do you hope to convey to your audience?
JACQUES BRUN
The nostalgia of a lost paradise. The quest for true nature. To make people see something dreamy with the familiar. I want to show the dream of a child seeking a shooting star.
TAPPAN
Who are some contemporaries or figures in art history who have influenced you?
JACQUES BRUN
I love the sea, sunsets, old myths, light and abstraction. J.M.W Turner combined all of that in his work. I feel close to his sensibility. In other ways, my Swiss origin allows me to discover Fishly and Weiss, Roman Signer and TONK. They bring out a minimalism, irony and sculptural approach in me. My greatest references are drawing from movies. "In the Mood for Love", "Days of Heaven","L'Avventura" "Blade Runner" and "Dead Man" are greats movies I get deeply inspired by.
TAPPAN
Are there any quotes or mantras that you particularly connect with?
JACQUES BRUN
Breath in, breath out.
TAPPAN
What do you listen to when creating?
JACQUES BRUN
Niels Frahm, Orchestra Baobab, The KVB, Dorothy Ashby, Alton Ellis… My taste in references are like my taste in music. I could be really into Philippe Glass, and listen to a post punk band directly after.
TAPPAN
What makes you laugh?
JACQUES BRUN
Absurdity and irony
TAPPAN
What makes you nervous?
JACQUES BRUN
To be trapped in a loop. To find no hope. To lose my optimism.
TAPPAN
What makes you excited about the future?
JACQUES BRUN
All original ideas, scientific discoveries, visual arts, poems, music, memories and dreams waiting to be created that can save our planet.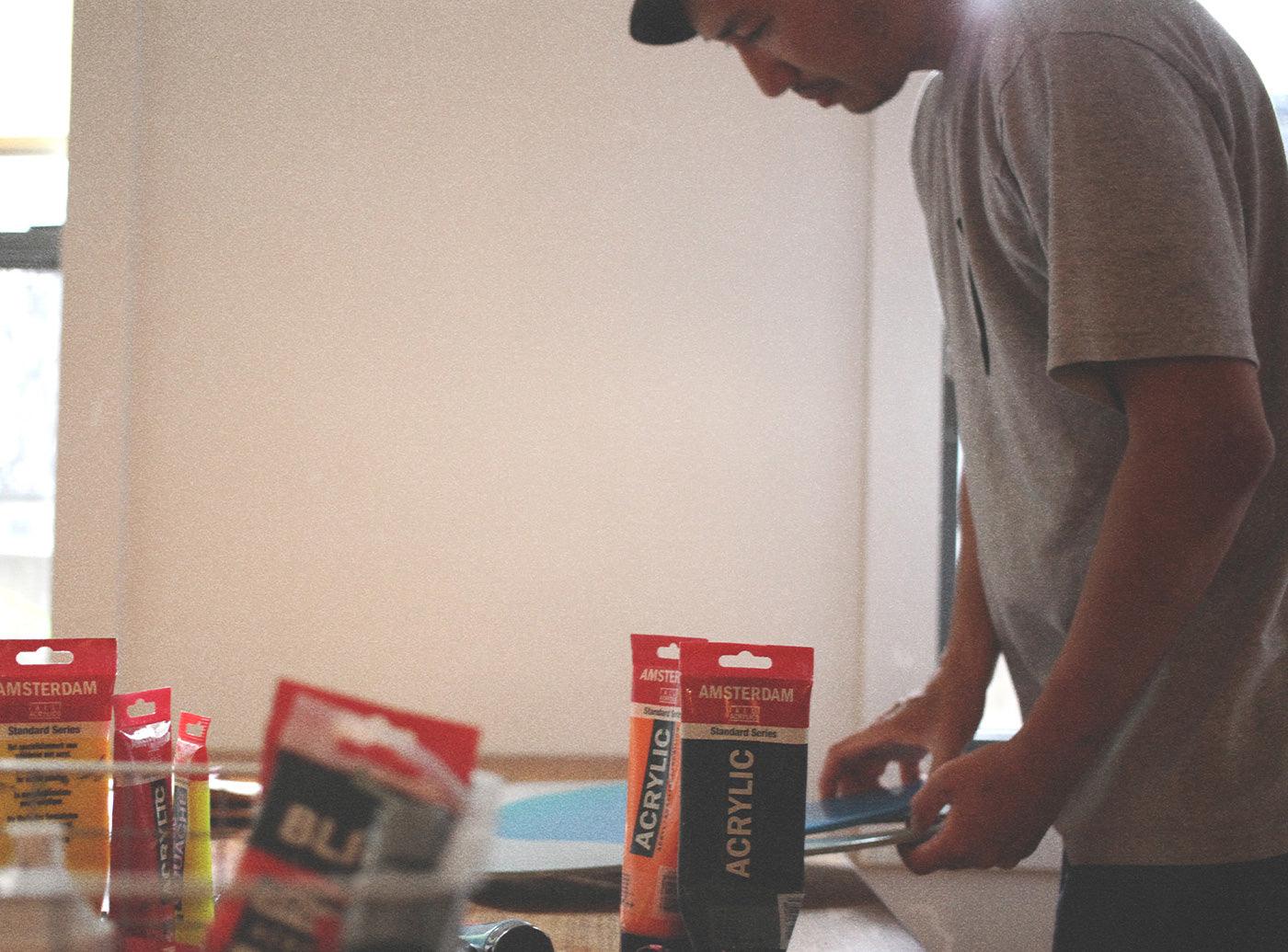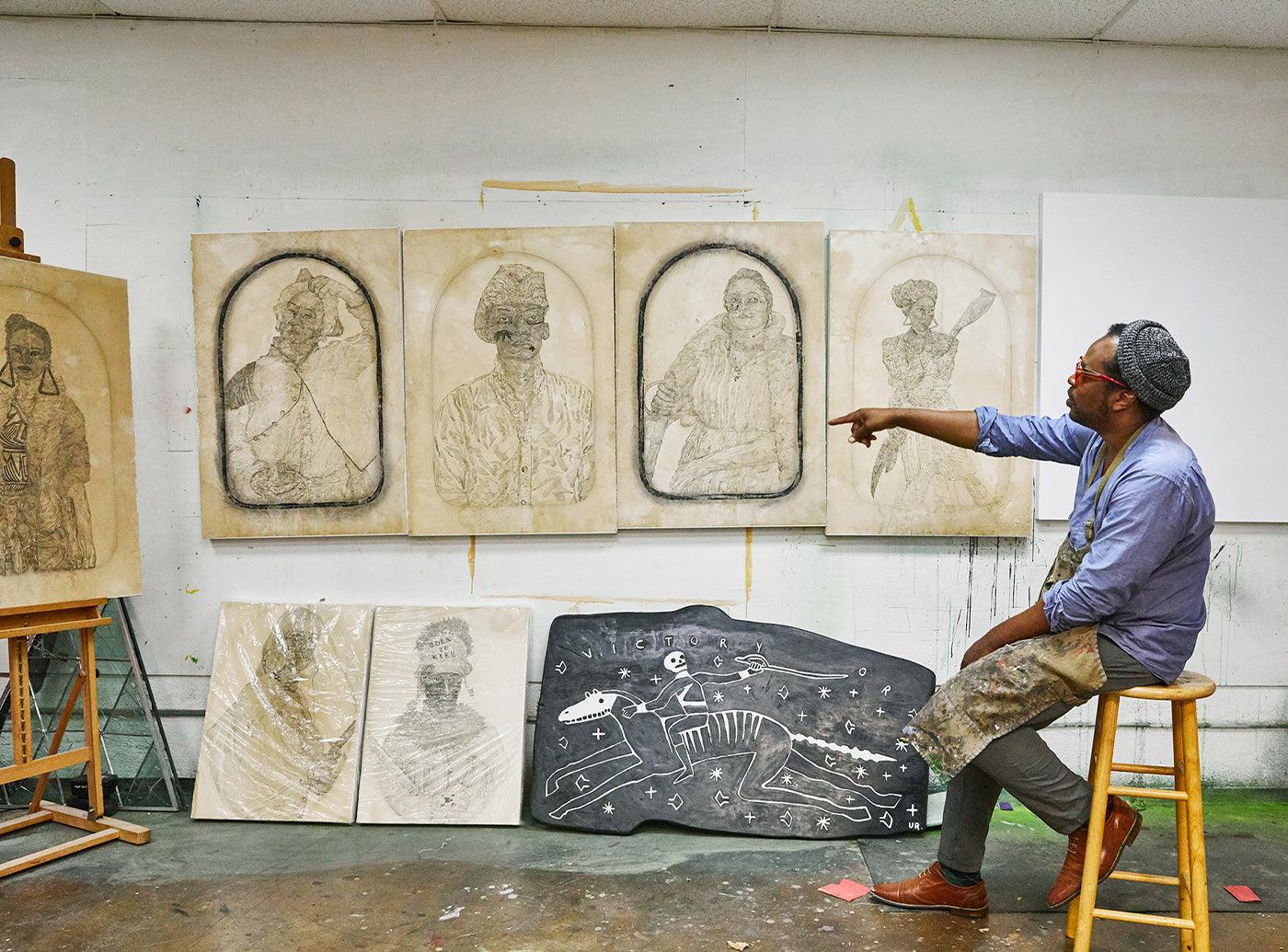 In the Studio
Umar Rashid resides Los Angeles, working in a studio in Lincoln Heights that he's had for years. The walls are covered in multiple series of his work; the purposefully aged canvases and histori...
Read more