Arvin Olano | Collector Profile
Content creator, designer and stylist Arvin Olano shares his design journey with a mission of blending the lines of luxury interior design, affordable style and fashion. He shares fun, lighthearted design content with 270k+ followers on his YouTube channel. Finding humor in his design mistakes while also celebrating his design wins is what keeps his audience coming back. Check out his profile, and see his picks from Tappan for his new home office design!
Tell us a little about yourself.
Nobody asked but my name is Arvin Olano. I am a Content Creator sharing my design journey with my audience with a mission of blending the lines of luxury Interior Design, Affordable living, and Fashion.

I worked in the Luxury Fashion industry before I started my YouTube journey in January 2020. And now I create content that's fun and lighthearted where I share design and decorating tips. We always have a good laugh in my videos where I share some of my design mistakes and decorating mistakes to avoid in your home.

My goal is for my audience to have a great time, learn, and translate luxury design in an affordable way. I want to share a new perspective in design where you can have a beautiful home no matter your budget by creating beautiful moments using the power of meaningful objects and styling.
Where do you live and what makes it a home to you?
I live in Las Vegas, Nevada with my partner Andrew and our two French Bulldogs Marble and Sage. This is home for us because our family is here, we bought our first home here, but if I can be honest we are looking to move somewhere a bit cooler!
What are some of the most sentimental or meaningful pieces in your collection?
My commissioned piece by Cassidy Avalo of Art De Avalo. It's my very first commissioned piece from her Solace series. If I can be honest, I am quite new to collecting art and Cassidy's textural work really spoke to me early on in my design journey.
What is the most recent piece of art you added to your collection and why?
Through Her Eyes by Sepideh Ilsley. The abstract, organic shapes have inspired my office design. I see furniture and decor as sculpture and I started collecting pieces that boast sensuous curves and abstract shapes. So this piece by Sepideh Ilsley is a perfect fit.
Arvin Olano says
"I want to collect and share the work of emerging artists because I know what it's like when you are starting a new venture and putting yourself in your work for the world to see."
How would you describe your personal art collecting style?
I let the pieces come to me rather than actively searching for them. It feels more authentic to me that way!
What inspires you to collect the work of emerging artists?
I want to collect and share the work of emerging artists because I know what it's like when you are starting a new venture and putting yourself in your work for the world to see.
What was the first work of art you fell in love with?
I fell in love with the Ethan Cook's Line's Colour Patches series. The simplicity of his work draws me in and has caused me to love all things abstract.
For new collectors, do you have any advice you wish to impart? Do you have a collecting ethos or philosophy that you want to share?
Take. Your. Time. Most of my walls are empty right now because I am only collecting pieces that are meaningful to me.
Three inspiring artists to watch?
Vanha Lam, Alexandra Valenti, and Kieu Tran.
What part of collecting do you love the most?
The thrill of finding an unexpected treasure is the best part of collecting. While most people dread this, I absolutely revel in the hunt and the process of filling a home with beautiful pieces.
Describe your collection in three words.
Minimal, earthy, textural.
Is there a particular type of art you collect?
Abstract art has my heart!
Top three pieces of advice for new collectors.
1. If you love it, buy it. Don't wait because it won't be there tomorrow.
2. If it doesn't spark joy right away then it doesn't belong in your collection.
3. Support emerging artists, support your friends, support small businesses.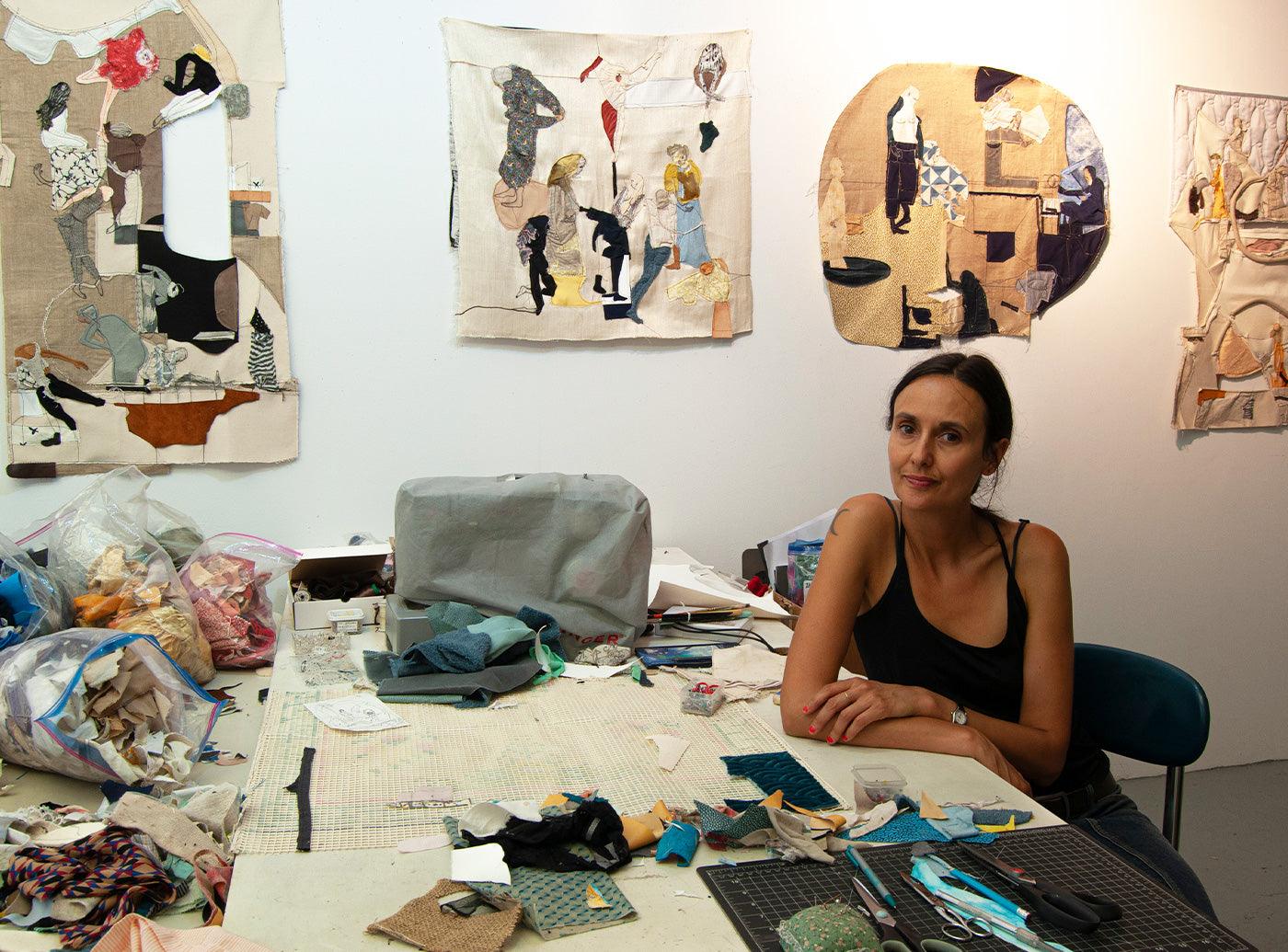 In the Studio
French artist Fanny Allié's work focuses around figures, often in pieces or partial state, which she places in minimal neutral structures and environments that are created from found fabric and...
Read more