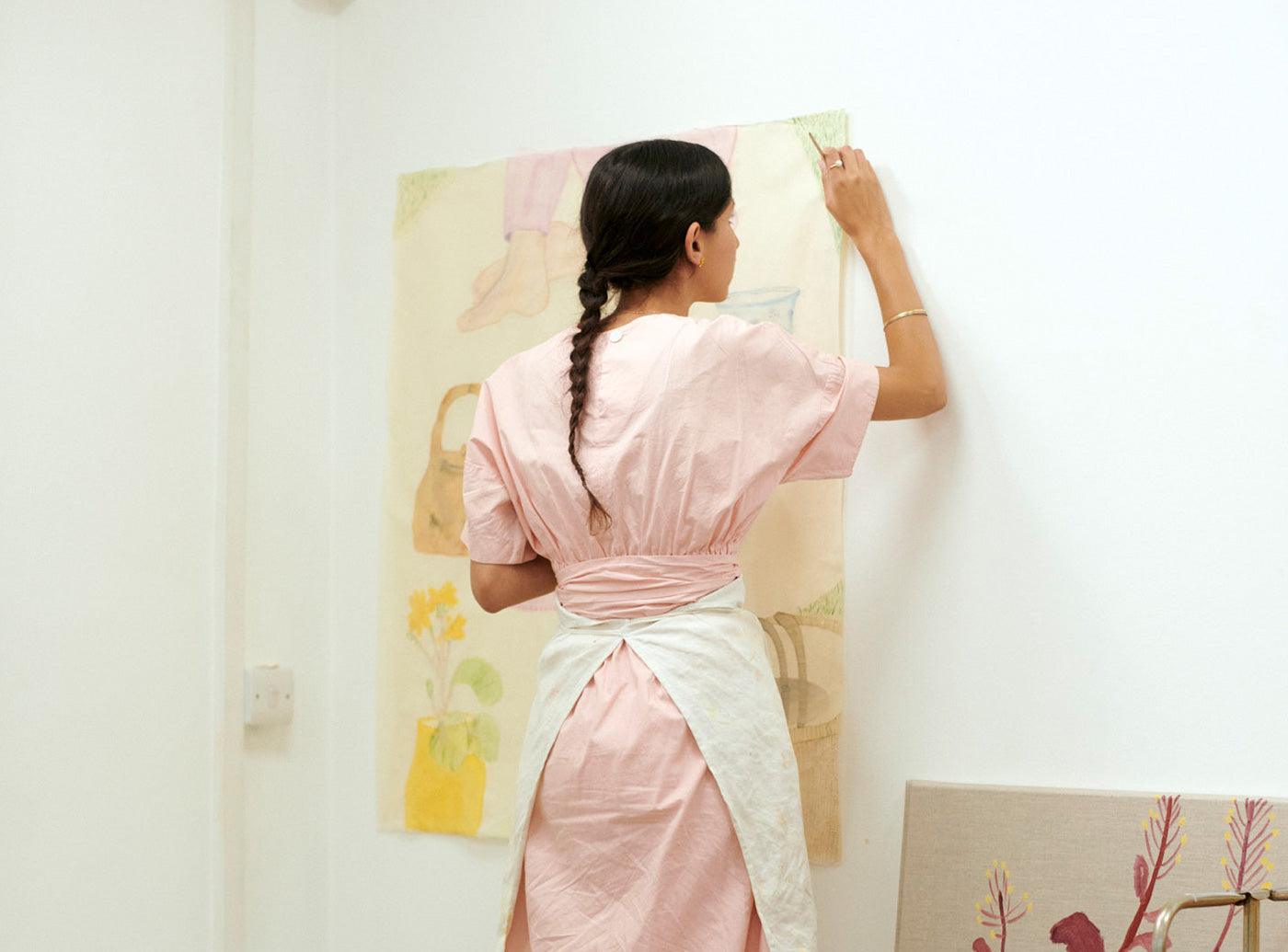 In the Studio | Johanna Tagada Hoffbeck
Welcome to Johanna Tagada Hoffbeck's studio. Tagada Hoffbeck's work reflects her respect and love for the simplistic beauty in the the natural world around her. Explore more below.
TAPPAN
Tell us about your process when you're creating.
JOHANNA TAGADA HOFFBECK
Musicologist and writer Veronica Muchitsch has summed it up very well when she wrote of my practice - "the notions of unity and simplicity determine both, processes of production and reception" (Imaginary Sounds, Poetic Pastel Press, 2016).

Colours, forms and textures are the languages I use through my entire practice to communicate positive feelings.
The selection of colour is a very important process, so it is this one I will talk about.
There are three important steps in my colour selection process.

First comes a patient and daily observation of nature, either in a rural / outdoor context or in a domestic environment (example looking at bouquets and potted plants at home). I capture these observations via my analog photographs.

Secondly, looking at the photos I created small collages using a part of the colours present in the images which I believe compliment each other. These collages would be defined as being abstract, they are my direct translations of feelings and colours.

At last, after putting the collages, which are references and intermediate stage colour selections, next to each other, I observe, and create the final piece, which might be a painting, publications, textile etc.

At time the colours also directly derived from the vegetables I eat, the flowers / plants picked.
TAPPAN
Describe your work in three words.
JOHANNA TAGADA HOFFBECK
Kind, Gentle, Mindful.
TAPPAN
What's your studio philosophy?
JOHANNA TAGADA HOFFBECK
Relax, Play, Learn.
My work is rather intimate so is my atelier.
It is soft, warm, welcoming and homely.
TAPPAN
What influences you?
JOHANNA TAGADA HOFFBECK
Nature, Love, Smiles, Rhythm, Daily Life, Tea, Feelings, Oneness.
Johanna Tagada Hoffbeck says:
"WHEN I EXHIBIT THESE PIECES I ENCOURAGE VISITORS TO TOUCH THEM, BRING THEM TOGETHER AS FAMILIES, ALLOWING THE MIND TO REST."
TAPPAN
Tell us about one of your formative series of work, Rose et Jaune?
JOHANNA TAGADA HOFFBECK
Rose et Jaune is a commonly rooted series of paintings and analog photographs.

The series was created in the Summer of 2015, shortly after our wedding. My husband, Jatinder, and I went on for a small journey to South Wales. An afternoon spent on a sandy beach, flowers, the trees, all the seasons seemed to come together. Returning to London, my paintings evolved. The organic shapes I used to communicate transformed into figures of flora.

At first I did not really know what to do; keep this series of paintings a secret? Jatinder and Maureen Doherty encouraged me to present them. With time I also realised there was not - as I initially thought - opposition between my older works and this series; rather they are conversations. My abstract paintings seem to be close and meditative views of flora.

These recent paintings also are more confidently telling my deep attachment to nature and request for us to take care of it instead of repetitively destroying it.

The modular sculptures were directly derived from my paintings and the idea of playing. When exhibited I encourage visitors to touch them, bring them together as families, allowing the mind to rest.
TAPPAN
Tell us about how you moved into the Deep Ecology series.
JOHANNA TAGADA HOFFBECK
I began to paint on found papers that I've gathered over the years. The series is also inspired by Arne Naess who coined the term "Deep Ecology. Naess is an important intellectual figure within the environmental movement of the late twentieth century. His writings have found a way into my work. If it is not my own research and words, the titles in this series are quotes taken from Naess' books. The flora within the paintings are ones that I've seen in my family's garden in rural Alsace, or my home in London, as well as plants that I have come across in daily life and from traveling. I also reference plants from a collection of books on botany, which I inherited from my grandfather when he passed away. He was a gardener with a lifelong interest in ecology and in peaceful living.
TAPPAN
What influence does modern culture have on your work?
JOHANNA TAGADA HOFFBECK
Communication and collaboration are central to my practice. Poetic Pastel (www.poeticpastel.com) and Journal du The - Contemporary Tea Culture are two cultural initiatives I'm involved in. Projects such as Penser, Manger, Partager (French for to think, to eat, to share) are open invitations to reconsider certain aspects of our modern and frequently globalised cultures where one might feel compelled to fiercely consume non-renewable goods. I respond to modern culture by addressing food consumption, textile production, waste, social inequalities, ecology and animal rights. Modern culture is extremely fast and ever changing, and my practice engages with committed tasks and depicts slow activities such as growing plants, preparing and sharing tea, gardening, etc . I assemble a lot in my practice.
TAPPAN
What are your other hobbies?
JOHANNA TAGADA HOFFBECK
Reading, gardening, cooking, tea, cinema, learning languages, traveling, walking.
TAPPAN
Silence or sound while creating? If sound, what?
JOHANNA TAGADA HOFFBECK
Both.
Sound: my husband Jatinder Singh Durhailay practicing (he plays Dilruba, Piano, Guitare, Taus and sings) And for years Alice Coltrane, Haruka Nakamura, Nujabes, Christian Scott, Takagi Masakatsu, ...
TAPPAN
Tools or mediums you're dying to experiment with?
JOHANNA TAGADA HOFFBECK
I would like to work with a contemporary dance company in order to create a scenery. I have a background of contemporary dance studies and it is something I feel it is time to intertwine in a more obvious way with my current practice. Hereby I do not mean myself dancing, rather creating for / with dancers and choreographers.
TAPPAN
Regarding your method of making, is it a case of the material or method dictating the idea of the other way around?
JOHANNA TAGADA HOFFBECK
The feelings dictate the choices of techniques and materials.
TAPPAN
Have the cities you've lived in influenced your practice?
JOHANNA TAGADA HOFFBECK
I believe everything leaves a mark, sometimes big others nearly inexistent. The marks, or influences as your referred to, are there.

Zürich perhaps taught me to keep practicing the discipline learned in dance. Berlin I'm not so sure. London encourages my interdisciplinary practice.

The most important lessons and influences are not being taught to me not by cities but by villages, by rural lives in close contact wit nature, by Nature I mean people, fauna and flora.
TAPPAN
What's one habit you wish you could break?
JOHANNA TAGADA HOFFBECK
Forgetting to wear my glasses.
TAPPAN
What do you see yourself doing in 5 years?
JOHANNA TAGADA HOFFBECK
Hopefully the same, surrounded by people I admire and love. Communicating the same message of love, respect and compassion for nature and all living beings.
TAPPAN
An artist whose career you admire?
JOHANNA TAGADA HOFFBECK
Wolfgang Laib, who was recently awarded the Praemium Imperiale. His speech brought tears to my eyes.
TAPPAN
What is one artist living or dead you feel a great connection to?
JOHANNA TAGADA HOFFBECK
Jurgen Lehl
TAPPAN
What's one thing you still have from your childhood?
JOHANNA TAGADA HOFFBECK
My milk tooth in a tiny wooden box.
TAPPAN
If you could travel anywhere to create for a while, where would you go?
JOHANNA TAGADA HOFFBECK
South Korea and Taiwan.
TAPPAN
What motivates you?
JOHANNA TAGADA HOFFBECK
Everything.
TAPPAN
What makes you laugh no matter what?
JOHANNA TAGADA HOFFBECK
Jatinder and my grandmother's laugh.
TAPPAN
How many hours do you try and work in the studio per week?
JOHANNA TAGADA HOFFBECK
I don't count. No need to count when you love my dad says.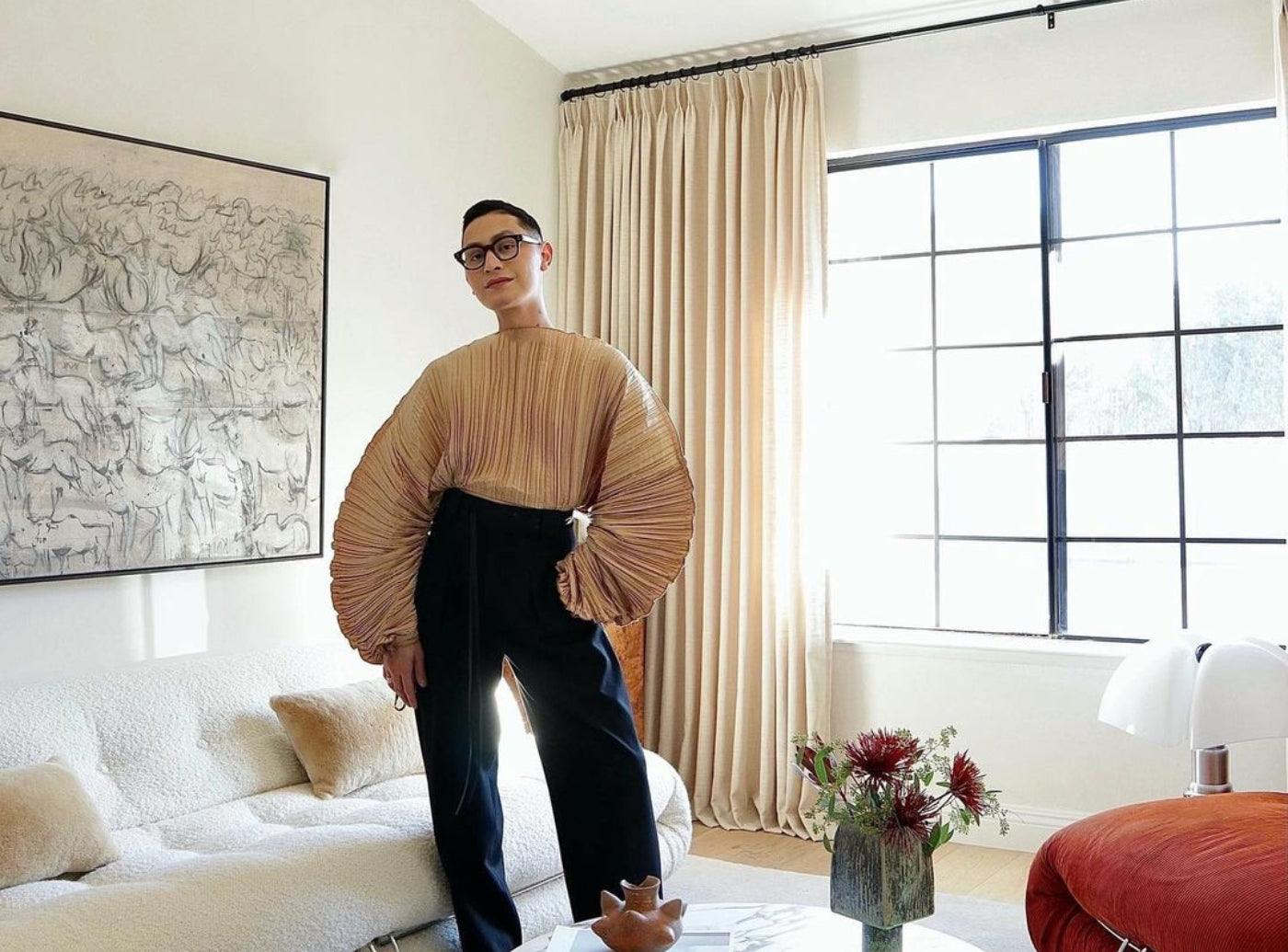 Profiles
Arvin Olano | Collector Profile
Content creator, designer and stylist Arvin Olano shares his design journey with a mission of blending the lines of luxury interior design, affordable style and fashion. He shares fun, lighthear...
Read more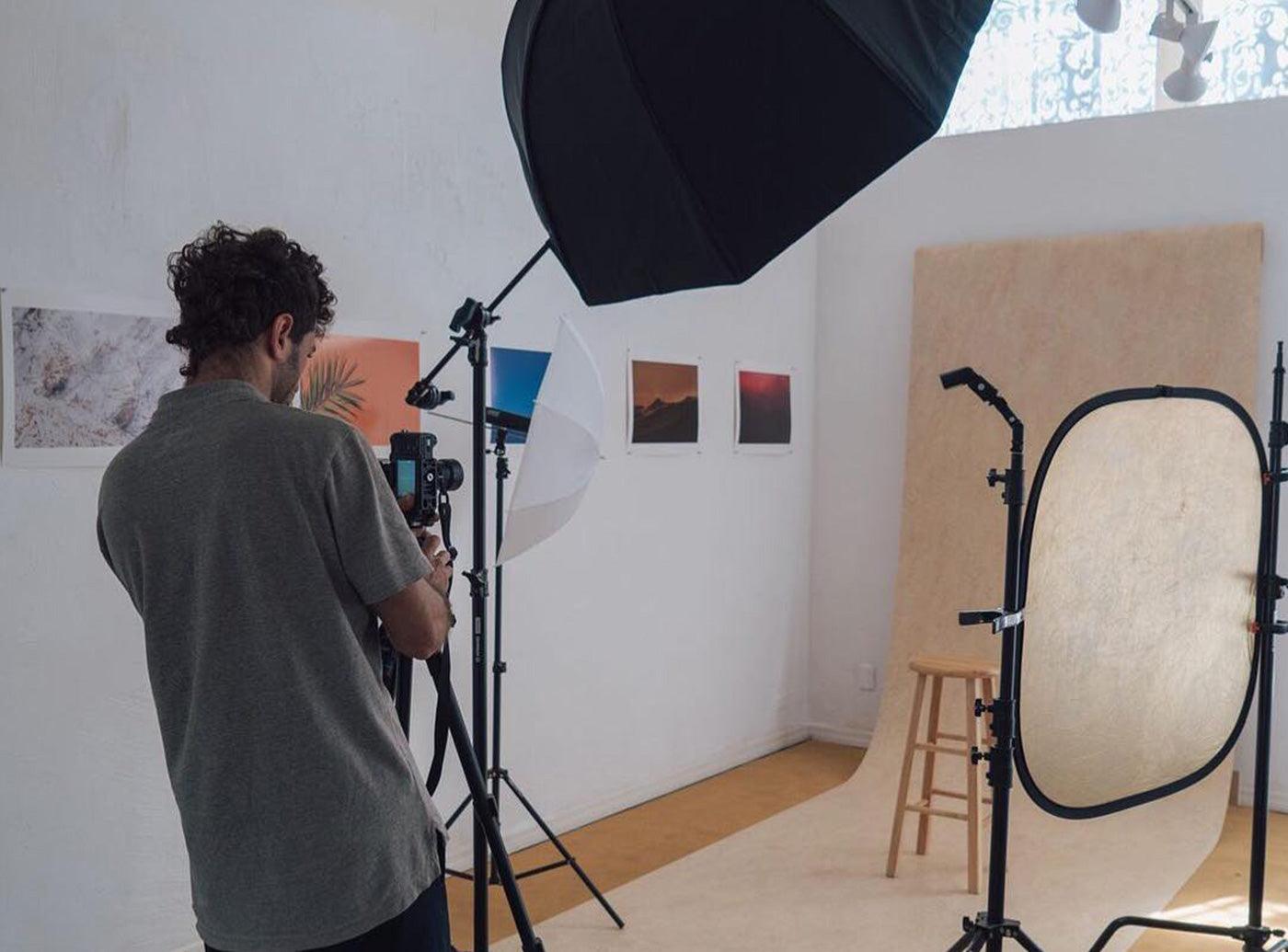 In the Studio
With the release of new photographs, LA based Marc Gabor sat down with Tappan to discuss his own work as well as discuss the role of art in the world. We loved his honesty and unique perspectiv...
Read more