Studio Visit
Lisa Dengler
From her studio in Mexico City, multidisciplinary artist Lisa Dengler looks at creation as meditation and utilizes her background in design and architecture to create works that explore her experience as a woman.
Q.
Tell us about this body of work launching on Tappan.
A.
This series is all about experiences. The paintings themselves are like blueprints of a memory, and all the moments and experiences leading up to it. With my sculptures I like having a dialog about the female experience and the female from from the female gaze. There's something so beautiful yet painful about being a woman and yet I wouldn't change it for the world.
Q.
Describe your work in three words:
A.
Intuitive, Emotional, Material.
Q.
What is your creation process like, how are you conceptualizing and thinking about each of these pieces?
A.
I'm in my head a lot, I'm not sure if it's an occupational hazard or where it comes from, but I do love conceptualizing. These concepts I mostly have for future gallery shows (and are collected over several notes on my phone), as the experience can be completely controlled in that environment. I may have some vague ideas about specific pieces I want to make, but once I start making them, my mind goes blank and the body takes over. Like a form of meditation. It's very intuitive, and once I'm out of that state, I step back and observe from an almost neutral standpoint, and then keep going if a piece doesn't feel finished. Sometimes something can be done in one sitting, or sometimes it takes months.
Q.
Would you say you have a studio philosophy?
A.
My studio is my safe space. There's no judgment on myself or what I create. I think it helps to experiment which puts less pressure on creating a perfect finished piece.
Q.
Regarding your method of making, is it a case of the material or method dictating the idea of the other way around?
A.
The material and method most definitely dictates what I create. Maybe it's this formula that allows me to abstract something while still having a sense of control and allow myself to be a little methodic. If there were no structure, my emotional mind perhaps wouldn't be able to reach its meditative state as easily and thus, be able to let go.
Q.
What's the first thing you do when you begin formulating an idea for a piece?
A.
Think about materials probably. If it's a sculpture, sometimes I'll play with forms in clay, or if it's 2D, get out some paper and just start exploring.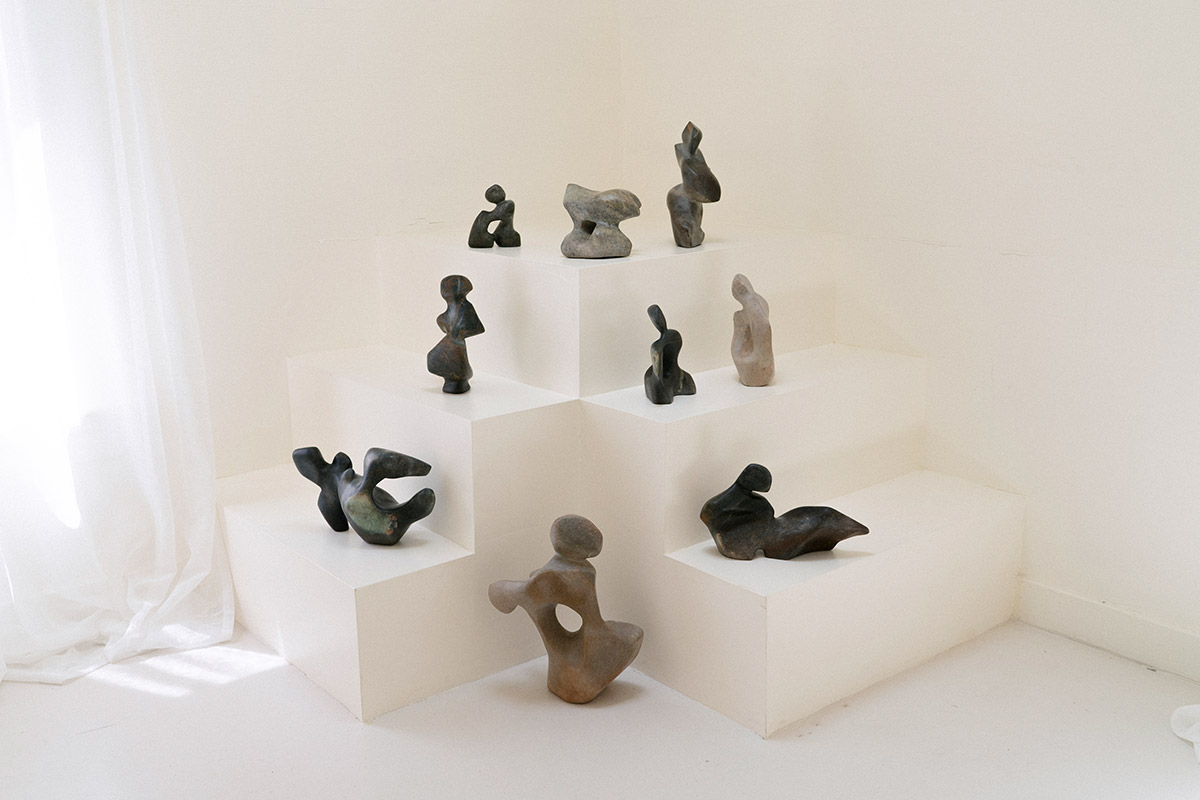 Lisa Dengler says:
"I'm in my head a lot, I'm not sure if it's an occupational hazard or where it comes from, but I do love conceptualizing."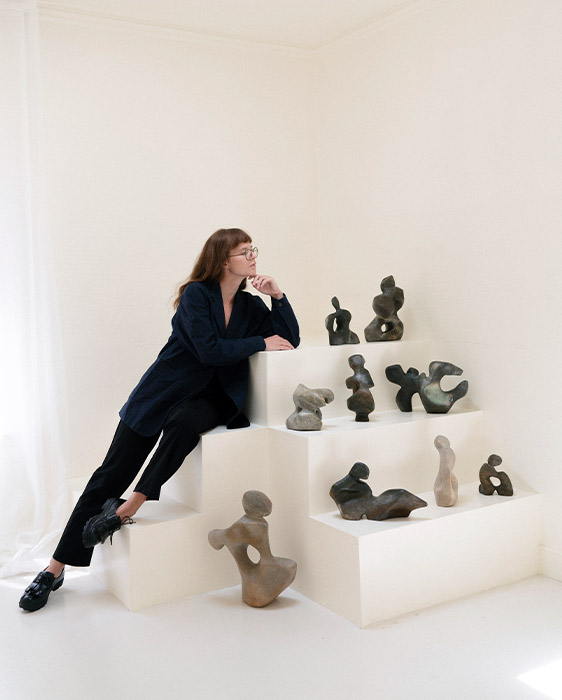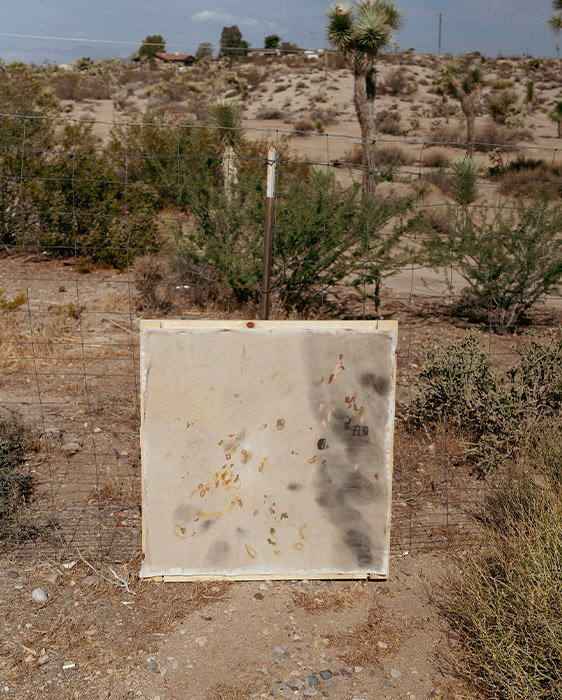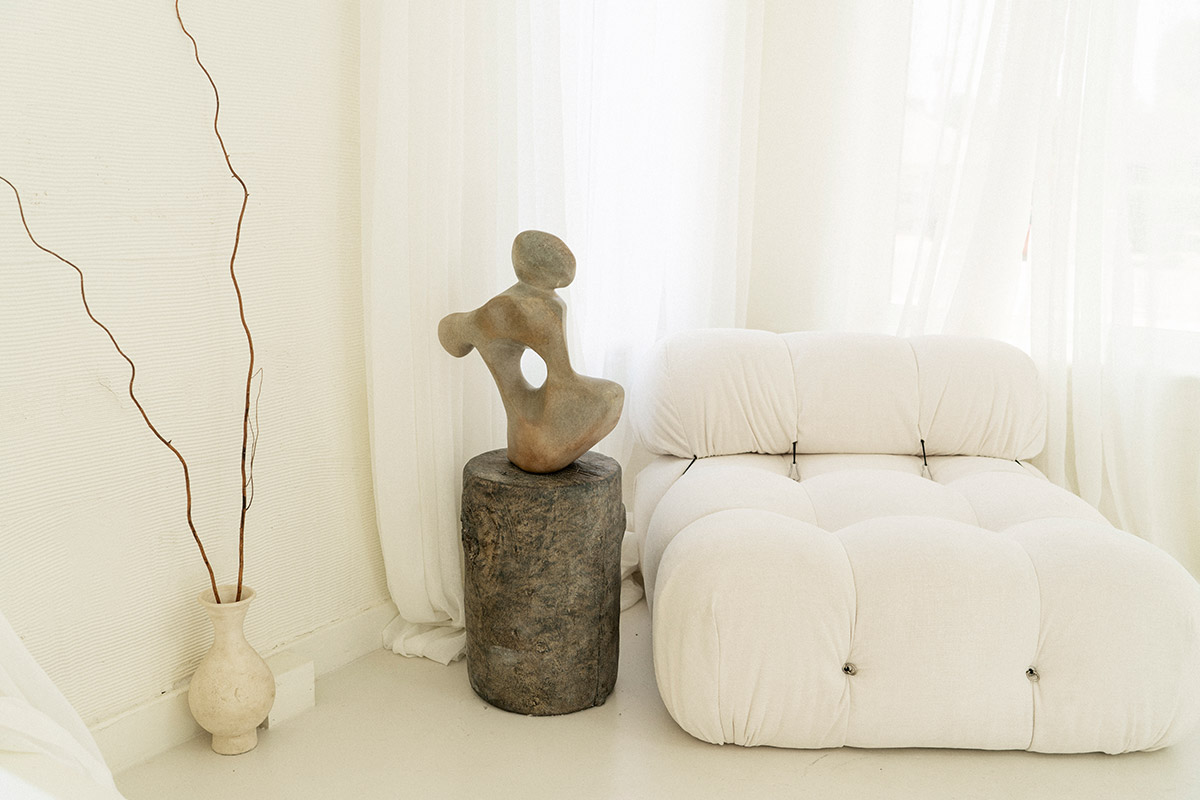 Q.
Tell us about an artist whose career you admire.
A.
Agnes Martin. She explored and explored until the found her style, and she got rid of everything leading up to that point. Actually destroyed it. And then she stuck with her signature grid paintings for the rest of her career. I find that dedication to be very admirable. Meanwhile, I have boxes of terrible art experiments sitting in a storage unit somewhere in Brooklyn, and continue to experiment on a daily basis.
Q.
If you could have a drink with one artist, who would it be?
A.
Barbara Hepworth
Q.
What is the arts community like in your city? Do you spend your time around other creatives?
A.
I moved to Mexico City in large part due to the art scene and artist community. There's a lot of people making really exciting things in different materials. There's also a lot of really great furniture and object design, something which inspires me a lot in my work, because it's also coming from the angle of functionality.
Q.
If you could travel anywhere to create for a while, where would you go?
A.
That's a hard question for me, because I love traveling and I love creating. I end up falling in love with anywhere I go. Earlier this year it was Mallorca where I stayed an extra month, and a few weeks ago, Joshua Tree, and I started daydreaming about building a house and studio there. But, I will say Turkey as they seem to have a lot of beautiful stone and I've never been. I've also always wanted to spend more time in Japan.
Q.
What are your other hobbies?
A.
I love traveling and being in nature - hiking, camping, etc. And I don't think I could survive without art books. And recently I've enjoyed making flower arrangements.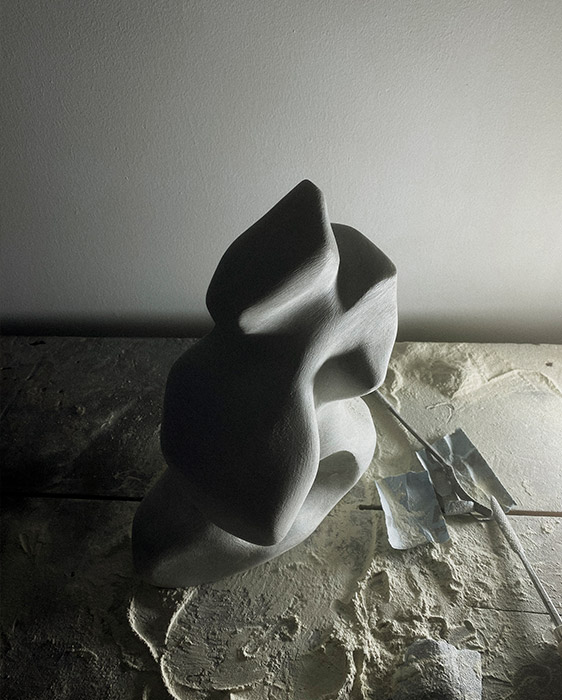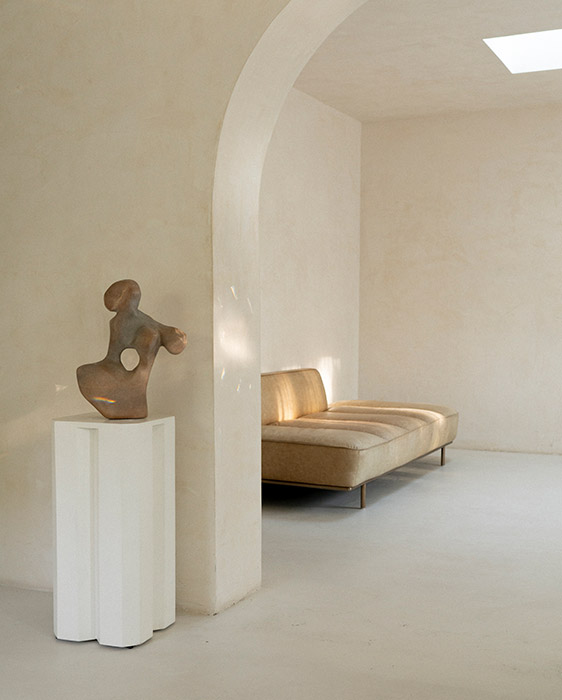 Q.
What influences you?
A.
Hardworking, passionate, and motivated individuals
Q.
What motivates you?
A.
Seeing good art
Q.
Silence or sound while creating? If sound, what?
A.
Definitely music, I'm never not listening to music. I make playlists based on moods, but my studio music ends up being more background noise than anything else. But I will say I tend towards the melancholy.
Q.
Tools or mediums you're dying to experiment with?
A.
Casting metal! I love metal so much, this is a huge dream of mine and am hoping it's something I can make a reality in the next few years.
Q.
Best gift you've ever received?
A.
A month of stone carving classes. Without that I don't think I would have found this path, or at least, it would have taken me longer to get here.
Q.
What's the bravest thing you've ever done?
A.
Moving to New York the same day I handed in my final university project. No job, no friends, just a dream and the passion to make it work.
Q.
What is one artist living or dead you feel a great connection to? Someone whose work has inspired your own practice and what you're creating these days?
A.
Eva Hesse. I love how she would create and experiment with different materials. She's very playful with her sculptures, and they command a room without needing to be materially "expensive". It's something I'm still learning to come to terms with in myself, but I know I will get there.
Q.
What's next?
A.
As I'm writing this...Austin, Terlingua (for a short artist residency), New York, London, Toronto, then to a beach in Mexico, Oaxaca City, back home for a few weeks, Portland, LA....and this is all in a span of just over two months. I'm exhausted thinking about it. But also excited. It will be a period of exploration.
New Arrivals
View new works by Lisa Dengler