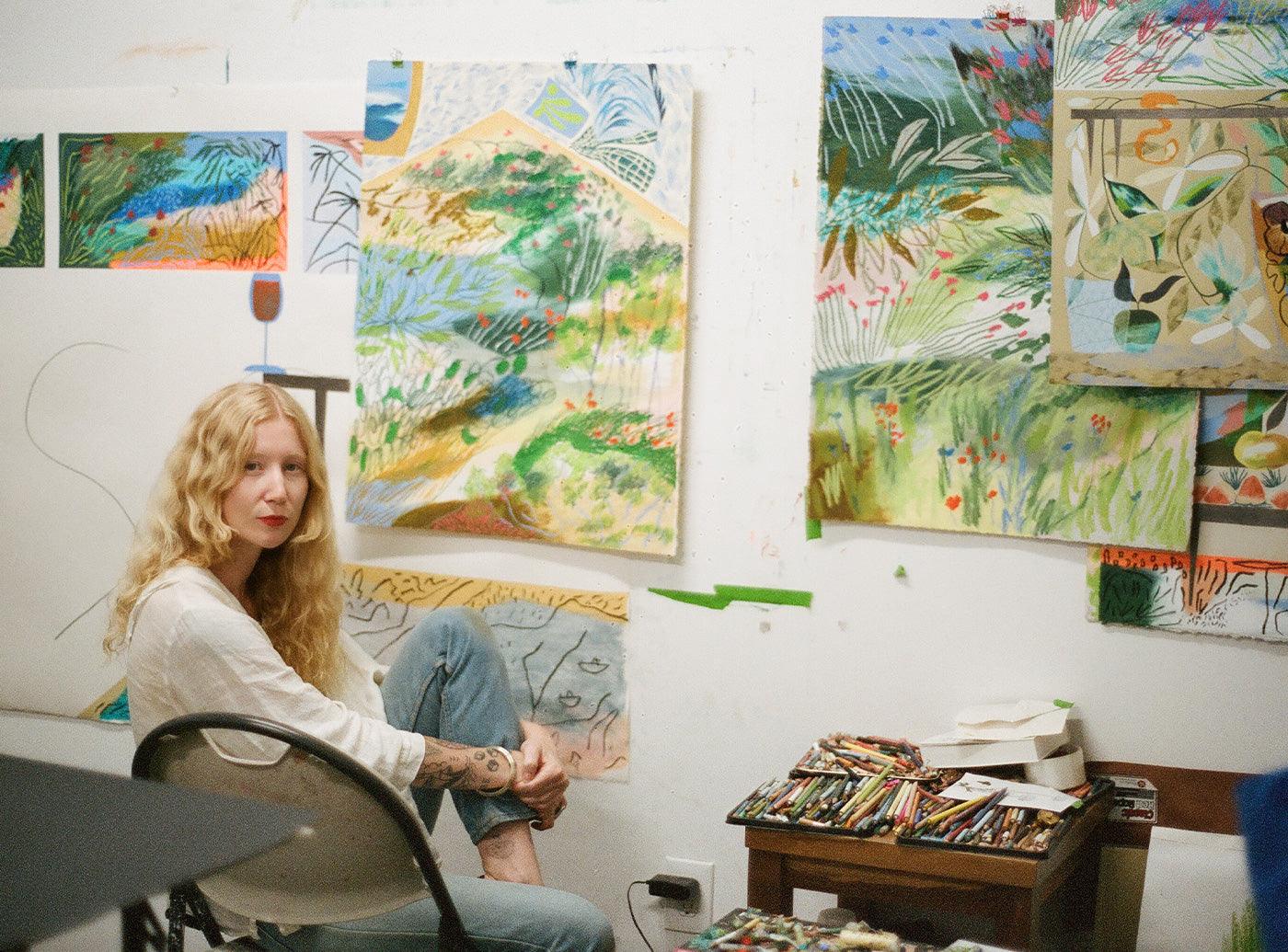 In the Studio | Laura Burke
Laura Burke is a Brooklyn based artist focused around drawing who grew up in Portland, Oregon. Her surreal still-lifes come together through distant memories and references to her fascination with art history. With a love for both painting and pottery, both practices she does not currently partake in, Burke uses both painterly gestures and ceramic subject matter in her work, integrating aforementioned loves in her process. What comes to be in her work is the nostalgic feeling of warm and simple memories, quieter moments and a slight nod to a psychedelic experiences. Read on to learn more about her practice.
TAPPAN
Tell us about yourself and how you came to be an artist.
LAURA BURKE
I grew up in Portland, OR with remarkable working-class parents, who deeply appreciated the arts. Between them putting me in community center art classes at an early age, and my grandmother's sometimes forceful nudging, I knew what I wanted to do with my life fairly early. It hasn't seemed to waver since age seven.
TAPPAN
Describe your work in three words.
LAURA BURKE
Sentimental, colorful, odd
TAPPAN
What is your creative process?
LAURA BURKE
I try to wake up early enough to enjoy the morning, then either go through an archive of images for inspiration, or continue on something I've already started. I will sometimes end up in research holes. Many of my pieces are odes to art history, or practices I wish I could do. I've always wanted to be a painter, but never took to it, so looking at paintings has become a huge part of my practice. Admiration often sparks inspiration. That's largely why I gravitate to colored pencils so much, they can adhere to a similar effect. So much of drawing practice feels like finding a way to begin, and once I've found the object, color, or scenario, the composition becomes a balancing and arranging game.
TAPPAN
How did drawing become your medium of choice?
LAURA BURKE
It feels like the underdog. The history of drawing is so rooted in preliminary steps and an eventual graduation to painting- it feels rebellious to not paint. Aside from general defiance, I love how direct drawing is. There's a continuous line from head to hand that only gets broken by your utensil, and that bridge feels very sincere. There's also something comforting about working on paper and accepting that the end result might be thrown away.
Laura Burke says:
"I view the objects I draw as characters in a scene that the viewer is seeing by accident. They're lovers and friends, playing out intimate moments that I hope can be related to."
TAPPAN
Where do you draw inspiration from?
LAURA BURKE
Mostly art history and, as stated before, things I can't do. I've spent the last year looking at Maiolica Italian Renaissance pottery. This pottery was treated the same way as a masterpiece painting (at least I think so). It combines two things I love most and don't practice - painting and pottery.
TAPPAN
When do you make your best work?
LAURA BURKE
Between 7 AM to 3 PM, when I'm happy, with a large pot of coffee, and oftentimes listening to dad music.

TAPPAN
What influence does modern culture have on your work?
LAURA BURKE
It's hard to separate this question from social media. The omnipresent Instagram has proven invaluable and hindering. I've found some of my favorite contemporary artists on there, as well as judged myself into a corner. Sometimes I wonder if my practice could exist without it. It feels funny to admit this considering how much I struggle with all things electronic. My background is in printmaking, and before shifting to being a full-time artist I worked in two shops and assisted teachers at my alma mater's print shop for three years prior. I was deeply rooted in nostalgia, and making editions without the added help of a computer. Sometimes it felt like I was making work in direct opposition to modern culture, but that mentality can't hold. Art can't help but be a direct reflection of the culture and society it was made in. As much as I love art history, I see my work fitting into a contemporary conversation.
TAPPAN
What is your relationship with social media?
LAURA BURKE
Although it triggers instant gratification which sometimes leads to over usage, it's managed to shape my career.
TAPPAN
What influence does living in New York City have on your work? What messages or emotions do you hope to convey to your audience?
LAURA BURKE
The people have the biggest influence. The friends I've made here, especially in the creative sphere, make a plan and complete it the next day. No one has time to dawdle. I grew up in an incredibly relaxed environment where urgency wasn't exhibited, so moving here and adjusting to a new pace forced my work forward much faster than I had anticipated. It's almost hard to look at the things I was drawing two years ago because they feel so divorced from what I'm making now.
TAPPAN
Who are some contemporaries or figures in art history who have influenced you?
LAURA BURKE
Marlene Dumas, Agnes Martin, Yvonne Jacquette, Pierre Bonnard, Horace Pippin, Monet, Matisse, Jonas Wood, Tim Lahan, Anna Torma... I could keep going.
TAPPAN
Are there any quotes or mantras that you particularly connect with?
LAURA BURKE
"What I hide by my language, my body utters." from Roland Barthes' "A Lover's Discourse"
TAPPAN
What do you listen to when creating?
LAURA BURKE
Sometimes podcasts, I love "Uhh, Yeah Dude" and "Modern Love." But mostly music. I've been on a big Tim Buckley kick. I would say most of the bands or individuals I listen to are dead.
TAPPAN
What makes you laugh?
LAURA BURKE
Bad movies, fart jokes, being uncomfortable
TAPPAN
What makes you nervous?
LAURA BURKE
Being put on the spot, procrastinating, emails

TAPPAN
What makes you excited about the future?
LAURA BURKE
Getting better! I really love where I am with my work, but I know that as I grow so will my practice. It's really exciting to imagine the work that'll exist 5 to 10 years down the line.
In the Studio
From her studio in Mexico City, multidisciplinary artist Lisa Dengler looks at creation as meditation and utilizes her background in design and architecture to create works that explore her exp...
Read more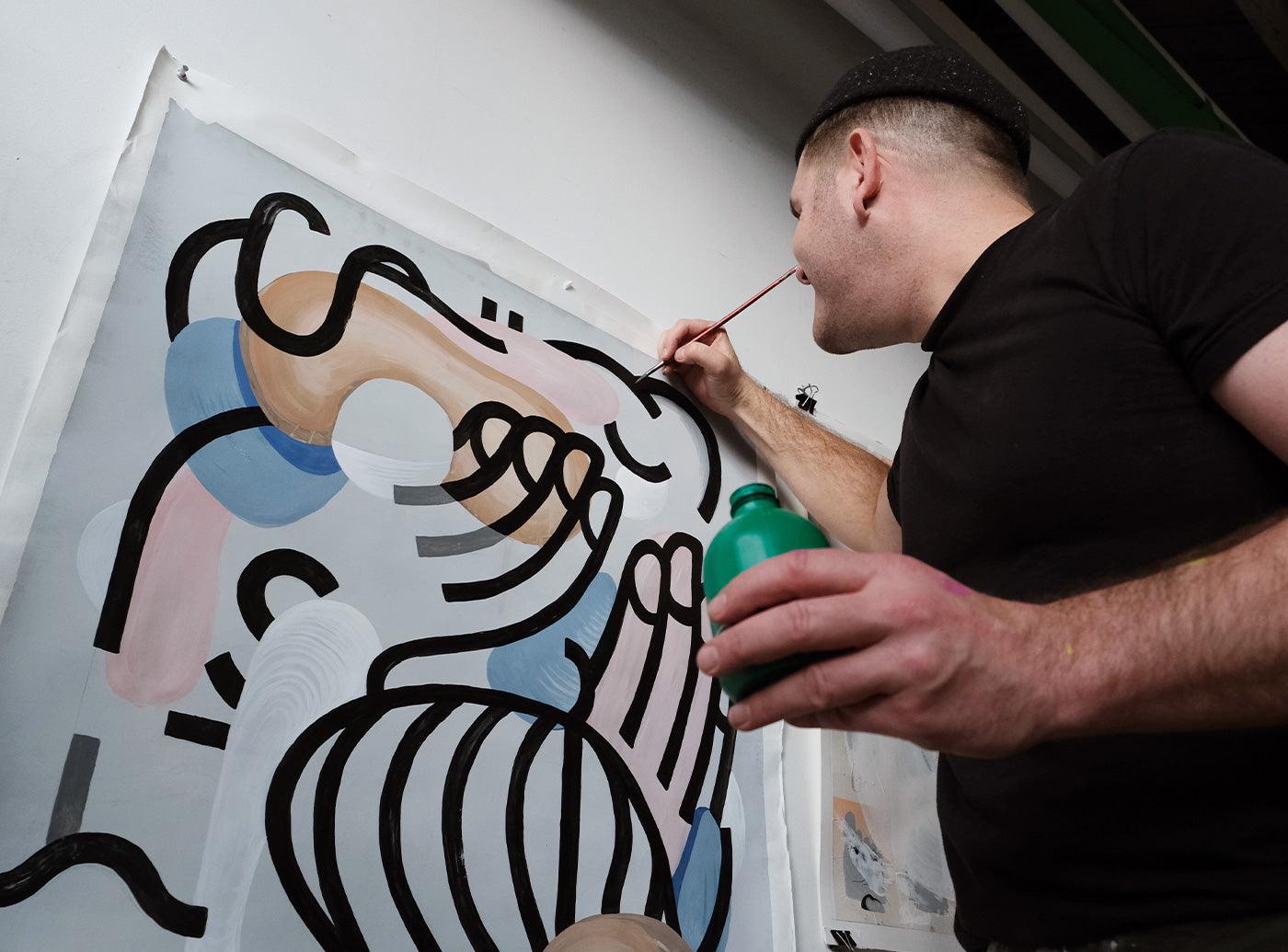 In the Studio
Bryce Wymer is an NYC-based artist with a graphic nature to his work. His influences consist of his upbringing in the DIY punk music scene, as well as 20th century dada collage work. Each work ...
Read more