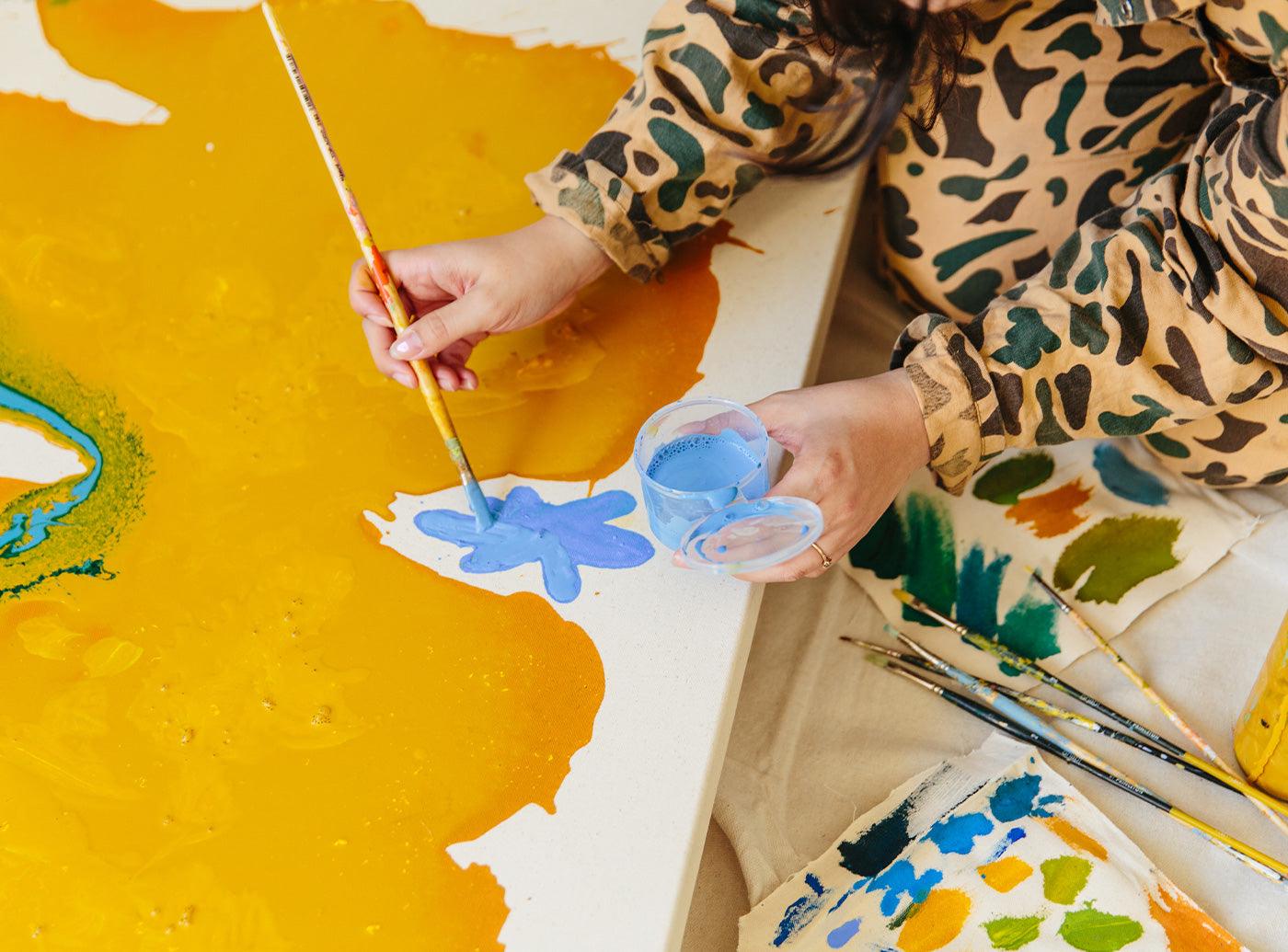 In the Studio | Marleigh Culver
Welcome to the world of Marleigh Culver. This colorful studio reflects the artist's refreshing body of work, exploring themes of beauty, femininity and abstract forms.
TAPPAN
Tell us about this body of work launching on Tappan.
MARLEIGH CULVER
I really love making abstract work. I have a special relationship with color and searching for right shades that may match a specific feeling. Organic shapes and lines really get me, too. There's a lot said with long, wavy lines, or curved and dented shapes. My work is translating my feelings into physical work.
TAPPAN
Is art making therapeutic for you?
MARLEIGH CULVER
Yes. I feel pretty emotional when I make pieces. I really feel this when I'm painting. When I'm drawing on the computer something about it feels a little more cerebral. Like I am trying to figure something out—a puzzle. It's like that game, Minesweeper. I'd play that at my nana's house. Making digital work is like "no that shape doesn't fit there, that color needs more hits of yellow." Painting is freeing and a little more about feeling and seeing how the strokes go. I like being free.
TAPPAN
When do you make your best work?
MARLEIGH CULVER
I make my best work when I have hours of time after work or on the weekends. When I feel free with no time limits. Although, I do make interesting things when I am on a deadline. Taking time between paint dryings to read or do a puzzle while thinking of next steps to make keeps the process a little mysterious and surprising. Being inspired to work gets things done faster.
TAPPAN
What are you most proud of?
MARLEIGH CULVER
I'm proud that it seems I've kept up a very similar train of thought and style for my work. I have a painting I did when I was 17 that looks just like work I do now. It comforts me and motivates me. I also have a messy portrait I did of a young Matisse, and he still influences me today. That might still be my favorite small painting I've done. I'm really proud of the projects I've gotten to collaborate on and all the artists I have met who push me to keep working. I know my greatest work is still ahead of me.
TAPPAN
Tell us a little bit about what you're doing in your work now.
MARLEIGH CULVER
Currently, I'm trying to mature, stretch, and grow as a creative. I get bored easily, I suppose. Personally, I don't want to go through my entire career as an artist pounding the same key. I realized this last year that I can get very comfortable making a certain type of art. If I'm being honest, sometimes I'm terrified that I will never meet my full potential as an artist so I'm taking the time now to sort out new mediums and styles to make my own. My studio has become a mess, and I love it.
Marleigh Culver says
"TO REMAIN TRUE TO MYSELF. TO MAKE WORK THAT IS UNDENIABLY ME AND UNIQUELY MY OWN. I HOPE TO MAKE THINGS THAT MOVE PEOPLE, BUT IF I MAKE WORK JUST FOR OTHERS WITHOUT PUTTING MYSELF IN IT, IT WON'T CARRY."
TAPPAN
Regarding your method of making, is it a case of the material or method dictating the idea of the other way around?
MARLEIGH CULVER
I would say method. I could do my work on any surface or material. Since what I do is abstract, that can inform when I work on. All surfaces are essentially the same. I'll start a drawing on the computer, print it out, project it onto a canvas or piece of wood and go from there. The idea always stays the same going through all of these steps. If anything, a surface may be an obstacle but nothing impossible.

My general ideas when it comes to the piece isn't so much the paint on the canvas, because I don't really premeditate a painting; but rather if I am going to sew that canvas together with another piece of canvas, burlap or denim. I think changing the materials used change the idea of a painting. I like seeing how different fabrics disrupt a painting. Once I have the fabric down, then my methods of painting come in.
TAPPAN
What do you see yourself doing in 5 years?
MARLEIGH CULVER
I've always loved to be a teacher. I want to have a big studio and work on all sorts of different projects and mediums. Moving into designing tiles or wallpaper or murals. More tactile things that affect people daily. Video or film work would be a dream. Maybe art directing some video work.
TAPPAN
When did you start calling yourself an artist?
MARLEIGH CULVER
When I quit my job to paint full-time in May, that's when I really started to comfortably tell people that I am an artist because it is how I make my living. Sometimes, it's still weird to tell people that I'm an artist because I'm afraid of immediate judgement, but that's my reality. I scribble, pour paint on top of more paint and make decorations for a living. No regrets.
TAPPAN
If you could travel anywhere to create for a while, where would you go?
MARLEIGH CULVER
Spain or Los Angeles. I haven't been to Spain yet, but I do love L.MARLEIGH CULVER so much. It has a magical feel, it's not for everyone but I really connect with it. Surrounded by green and happy people makes me feel good. I can imagine myself in a beautiful, airy studio.. That is one of my dreams.
TAPPAN
Describe your work in 3 words.
MARLEIGH CULVER
loving, full, unkempt.
TAPPAN
What work took you the longest to complete?
MARLEIGH CULVER
The two large pieces 'Woman After' and 'Woman Before' took the longest because I had bought the wood to paint on months ago. I had them sitting in my living room trying to figure out what I would want to be strong for my first time working in a larger size. But then one day I started to sketch out with the idea of three colors I had in mind, that pepto pink, muted marigold and Klein blue. After that I sketched it out on the wood, made a quick stencil and went back and forth painting each of the pieces.
TAPPAN
What motivates you?
MARLEIGH CULVER
I've had this longing and drive ever since I was young. Art has always been my first love. I love music so much, too. I just have so many memories of art classes and museums and my mom's art books. It's my innate connection to it. I feel like I have a responsibility to own being an artist and be apart of art.
TAPPAN
Artist whose career you covet?
MARLEIGH CULVER
I think I found him in high school; Anthony Cudahy. I've loved seeing the changes through the years and how he takes some old ways of his work and meshes it into the new. Very smooth evolution. It's just very beautiful. I admire it since I'm not great at painting people, but it makes me want to try. It has the same haunted feelings as some of Alex Katz' work.
TAPPAN
What are your other hobbies?
MARLEIGH CULVER
I love to run, especially outside. This is the most I've read in years. Reading has helped me articulate ideas better and describe experiences and my work better. I'm trying to get more interesting with what I cook. I love a lot of things: puzzles, watching tons of crappy movies and good films, trying to skateboard. I want to make some mobiles and get back into ceramics or screen-printing.
TAPPAN
If you could have a drink with one artist, who would it be?
MARLEIGH CULVER
Does Patti Smith count? Her or Cindy Sherman...
TAPPAN
What influences you?
MARLEIGH CULVER
I've had this longing and drive ever since I was young. Art has always been my first love. I love music so much, too. I just have so many memories of art classes and museums and my mom's art books. It's my innate connection to it. I feel like I have a responsibility to own being an artist and be apart of art.
TAPPAN
Last gallery show you went to?
MARLEIGH CULVER
I was so excited when one of my favorite local galleries, Quirk Gallery, presented Kimia Ferdowsi Kline's work. I've been following her on Instagram for a while, and it was so pleasing and impressive to see her work in real life. Large paintings with messy and layered thick, bright paint strokes. I liked seeing where she would use the paint to create negative space, or to shape a part of a person or animal in the pieces by layering paint in curves.
TAPPAN
Silence or sound while creating? If sound, what?
MARLEIGH CULVER
I don't mind silence, but I need to be totally alone. If I listen to music, I go to a site that has weekly mixes made by the band members of the Allah-lahs. So I love oldies, world music and anything that sounds sentimental or romantic. I like to go back in time.
TAPPAN
Have the cities you've lived in influenced your practice? If so, tell us a bit about that, and what elements in particular steered you in certain directions.
MARLEIGH CULVER
I grew up in Virginia Beach, about two hours south of where I live now. The ocean is a very important physical element to me. It's so symbolic and just amazing scientifically. Every summer when I visit, I like to sit there and let myself disappear into the horizon. It is so phenomenal. So when I incorporate a horizon into my work, the ocean is the first thing I associate that with. Going to a magnet arts school in high school steered me to where I am now. So my education is what influenced me more than where I've lived. I've lived in Richmond for about 8 years and I like the slower way of living here and how it's surrounded by nature. The art scene is great here and that definitely keeps me on my toes when making work.
TAPPAN
Tools or mediums you're dying to experiment with?
MARLEIGH CULVER
I wouldn't mind trying oil painting again. I did an embarrassing painting in high school of a hippie version of "American Gothic" and stopped with oil after that. I didn't give it a chance. I'd love to do a mural within the year and paint an interior space from floor to ceiling. Honestly I'm kind of a mutt. I should probably look into a proper studio space with proper materials. There's a lot I need to learn and follow when it comes to being in a studio. I'd love to build my own canvases, or wooden panels.
TAPPAN
What makes you nervous?
MARLEIGH CULVER
That I will be stuck and won't evolve in my work. I am never bored as a person, but I do get in a rut thinking what I am doing isn't original or interesting and that I will never been this incredible artist. There are so many people I look up to and I want to make the level of work they do.
TAPPAN
What's the first thing you do when you begin formulating an idea for a piece?
MARLEIGH CULVER
I'll draw different versions on my computer, or I'll paint on a canvas until I get it right. I don't like to plan too much, because it loses the spontaneity and fun. I'm working with my paintings as much as I am making them. Sometimes I let them take the reins.
TAPPAN
What makes you laugh no matter what?
MARLEIGH CULVER
My parents. They are so weird and have such a funny sense of humor. They are my best friends. I'm on a family text group and we just send each other memes and gifs all week.
TAPPAN
What's the bravest thing you've ever done?
MARLEIGH CULVER
I moved to Chicago with someone I was in a relationship with after we both graduated from college. I was following my 'heart' and I loved to escape. I went to Chicago for a summer program at SAIC in high school and thought it would be cool to go back. Before graduating and before meeting this person, I was thinking about going to NYC. I had visited some studios there and wanted to be somewhere big so going to Chicago not alone seemed like an interesting move. It turned out to be a sad experience. I was depressed. I made bad decisions. It was winter in CHICAGO. Below freezing. I hated my first job there. There was a lot wrong about the whole thing. But it was Chicago..so there was plenty of drinking and great food and cool stores and museums to maybe distract me. I love the city now, but it was an eye-opening experience for sure.
TAPPAN
What is one artist living or dead you feel a great connection to? Someone whose work has inspired your own practice and what you're creating these days?
MARLEIGH CULVER
Ever since I was little, I remember and love Ellsworth Kelly. I remember going to a museum in D.C. with my parents and seeing his work on the walls. Any kid would love his work, it's so large and colorful and shaped so interestingly. He is the father of making color shapes that are so emotional and mysterious.
TAPPAN
Best gift you've ever received?
MARLEIGH CULVER
I feel like I have had so many wonderful gifts and it's hard to pinpoint which one I felt like I was so grateful for. What stands out is one my good friend gave me: a book on Wabi Sabi. It highlights the subtleties in everyday life.
TAPPAN
Do you have a favorite quote, or a phrase you think about often?
MARLEIGH CULVER
"Things of quality have no fear of time."
TAPPAN
What's one thing you still have from your childhood?
MARLEIGH CULVER
A deer beanie baby. I used to make deer-centric work in high school and thought of them as my mystic protectors and symbols of purity.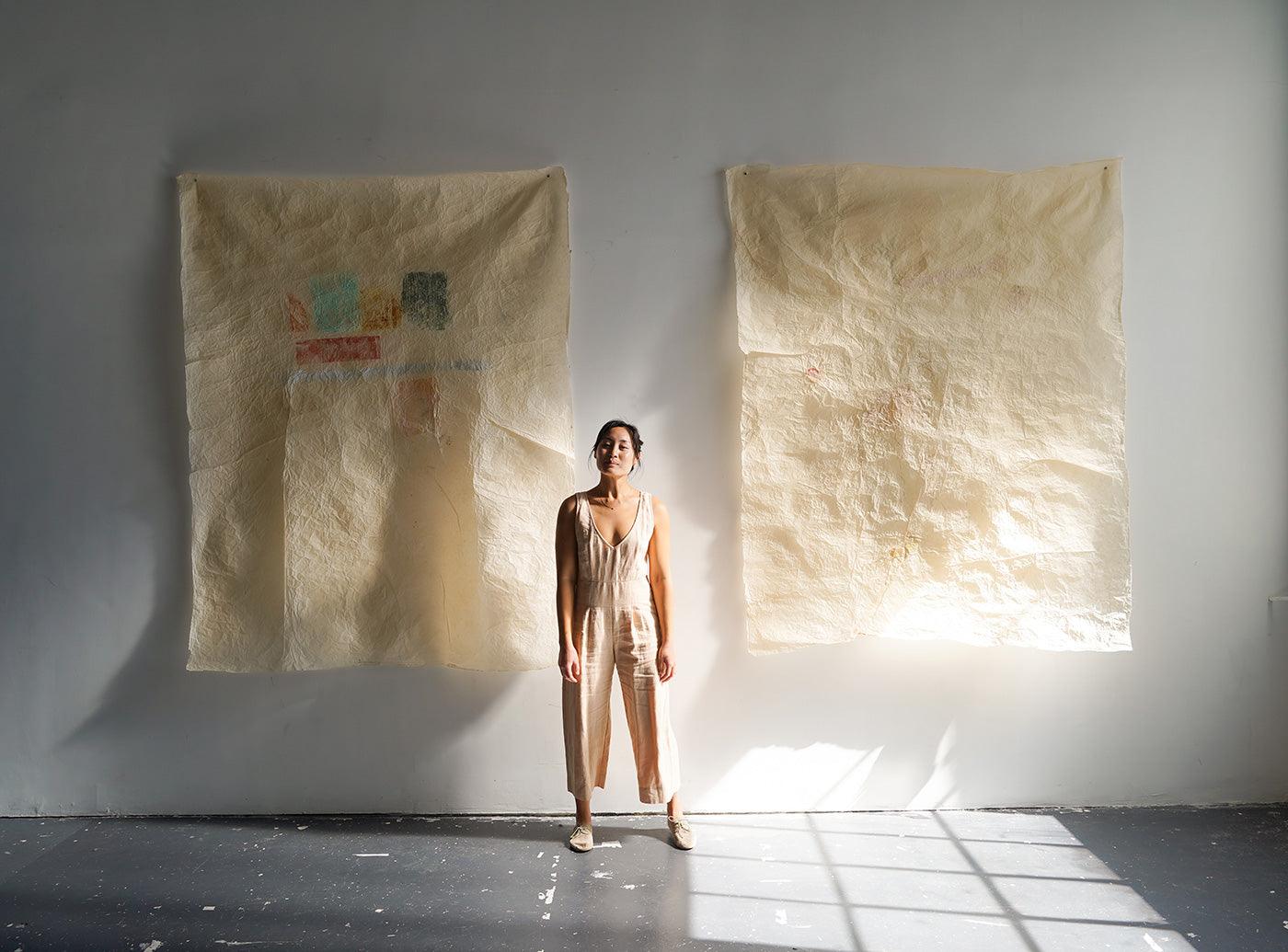 In the Studio
From her studio in Mexico City, multidisciplinary artist Lisa Dengler looks at creation as meditation and utilizes her background in design and architecture to create works that explore her exp...
Read more