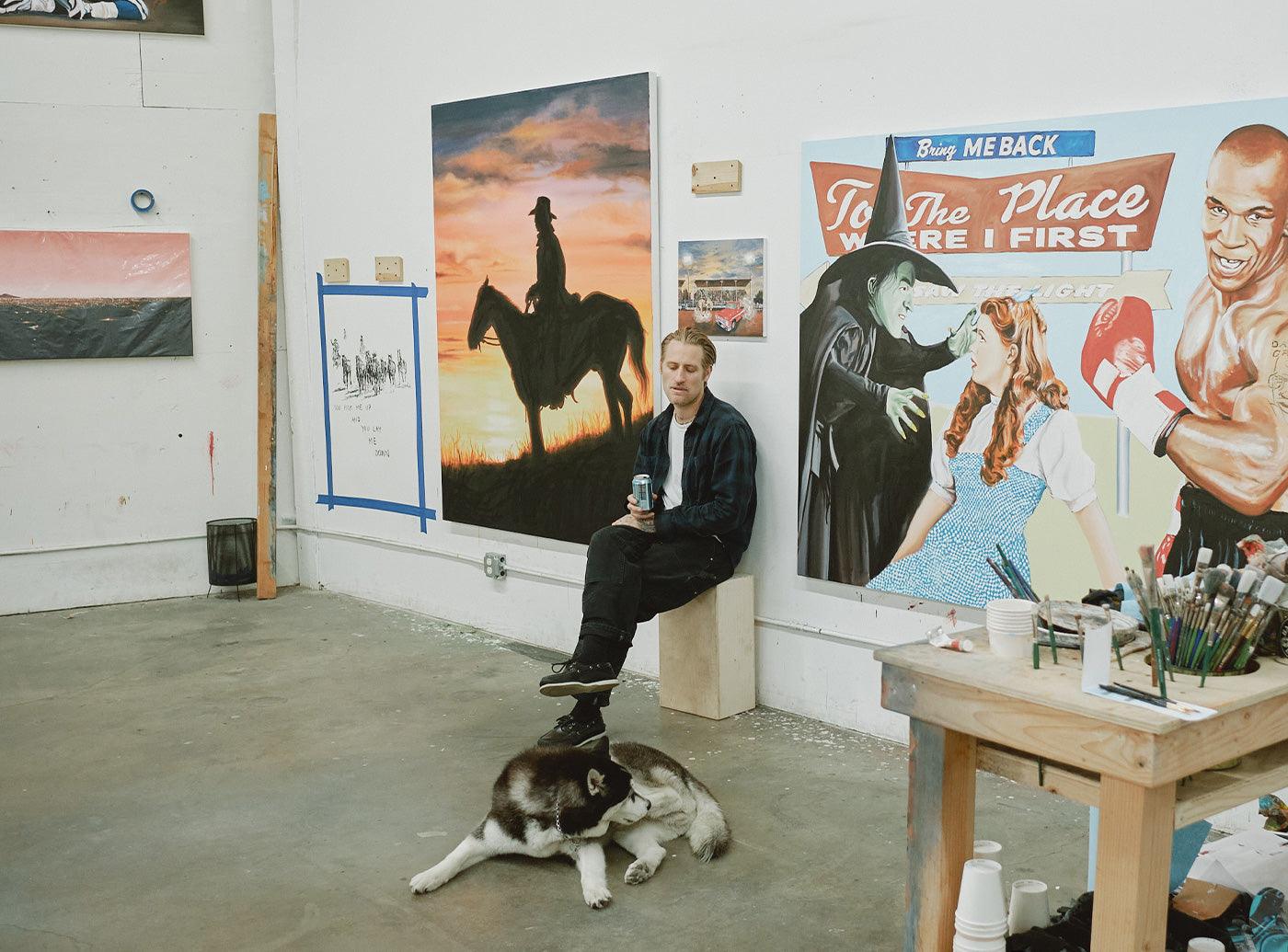 In the Studio | Matt McCormick
Fascinated by the American West, Matt McCormick draws on both the history of his home state and daily life in east Los Angeles. Read on to explore his studio visit...
TAPPAN
Tell us about yourself and how you came to be an artist.
MATT MCCORMICK
31 years old, living and working in Los Angeles. Raised by two artist parents, and never really wanted to do anything else.
TAPPAN
Where do you draw inspiration from?
MATT MCCORMICK
A lot of the work is based on personal memories and idolized daydreams around those memories. The gaps are filled in by the music I listen to and then from there I will pick and pull from artists past and present to help set the stage for the work.
TAPPAN
Describe your work in three words.
MATT MCCORMICK
Comes a time.
TAPPAN
What influence does the notion of the traditional American West and cowboy culture have on your work?
MATT MCCORMICK
On a very basic visual level it has a huge influence, it's a starting point and symbol throughout a lot of the work. Much of my work deals with the trials and tribulations of traversing through life and for me the cowboy and the natural state that they generally exist in is a perfect representation of that.
Matt McCormick says:
"MUCH OF MY WORK DEALS WITH THE TRIALS AND TRIBULATIONS OF TRAVERSING THROUGH LIFE AND FOR ME THE COWBOY AND THE NATURAL STATE THAT THEY GENERALLY EXIST IN IS A PERFECT REPRESENTATION OF THAT."
TAPPAN
What is your creative process?
MATT MCCORMICK
The process jumps around from series to series, but I would say it comes from a lot of experimenting, exploring, and trial and error. A lot of new series have been born out of an element or combination of previous works. I also have the ongoing autobiographical narrative running though almost all of my work so my feelings, mood, and/or personal experiences tend to dictate all of it. From there it comes down to how or what is the most appropriate way to tell said story or express said feelings or emotions. Sometimes it involves painting or drawing individual objects, places, or metaphorical representations from memories. Sometimes it's the use of carefully selected phrases or lyrics that tie into the narrative, and sometimes it's just the continued repetition of an ongoing childhood obsession, like the cowboys for example.
TAPPAN
Both of your parents are also artists. What effect did growing up in a creative household have on you?
MATT MCCORMICK
It's one of those things that takes a while to realize how special and unique that really is, because as a young child you don't understand the difference between being an artist versus other parents' careers around you. At an early age it was just what my Mom and Dad did. That being said, looking back it was amazing! Firstly, it showed that it was possible, even though I had no idea how for a bunch of years and secondly, it fostered so much creativity regardless of whether or not I wanted to listen to them. I spent a lot of years rebelling against everything but somehow still kept creating. Sometimes it was through just having a small studio set up in my room where I would draw and paint, tattooing, or designing stages and props for music tours, and at the very least I would say that I learned that continuous work ethic from them. They both have strengths that combined, allowed them to run a successful business. I've been fortunate to somewhat inherit traits from both of them that have really helped with both creating the work and also handling the more administrative side of me career.
TAPPAN
What influence does modern culture have on your work?
MATT MCCORMICK
I try to keep my themes and overall aesthetic as timeless as possible, but current cultural themes play into the work here and there, especially with my story paintings, which can be built on specific objects that pertain to more modern experiences.
TAPPAN
Are there any quotes or mantras that you particularly connect with?
MATT MCCORMICK
Do you.
TAPPAN
Who are some contemporaries or figures in art history who have influenced you?
MATT MCCORMICK
Right now specifically I find myself heavily inspired by Matisse, Ed Ruscha, Edward Hopper, Richard Prince, Wade Guyton, Steven Parrino, Wayne Thiebaud, Cy Twombly, Robert Bechtle, Dike Blair, Stephen Shore, Robert Adams... I could go on forever.
TAPPAN
What messages or emotions do you hope to convey to your audience?
MATT MCCORMICK
In keeping with the autobiographical narrative I tend to speak to what I am experiencing in the moment. So when I use quotes in the work I will usually be letting what is going on in my head seep into the works. It can go many ways - sometimes sad, sometimes happy, and everything in between.
TAPPAN
What makes you laugh?
MATT MCCORMICK
TAPPAN
What makes you nervous?
MATT MCCORMICK
Getting lost in my own head.
TAPPAN
What makes you excited about the future?
MATT MCCORMICK
Continuous growth.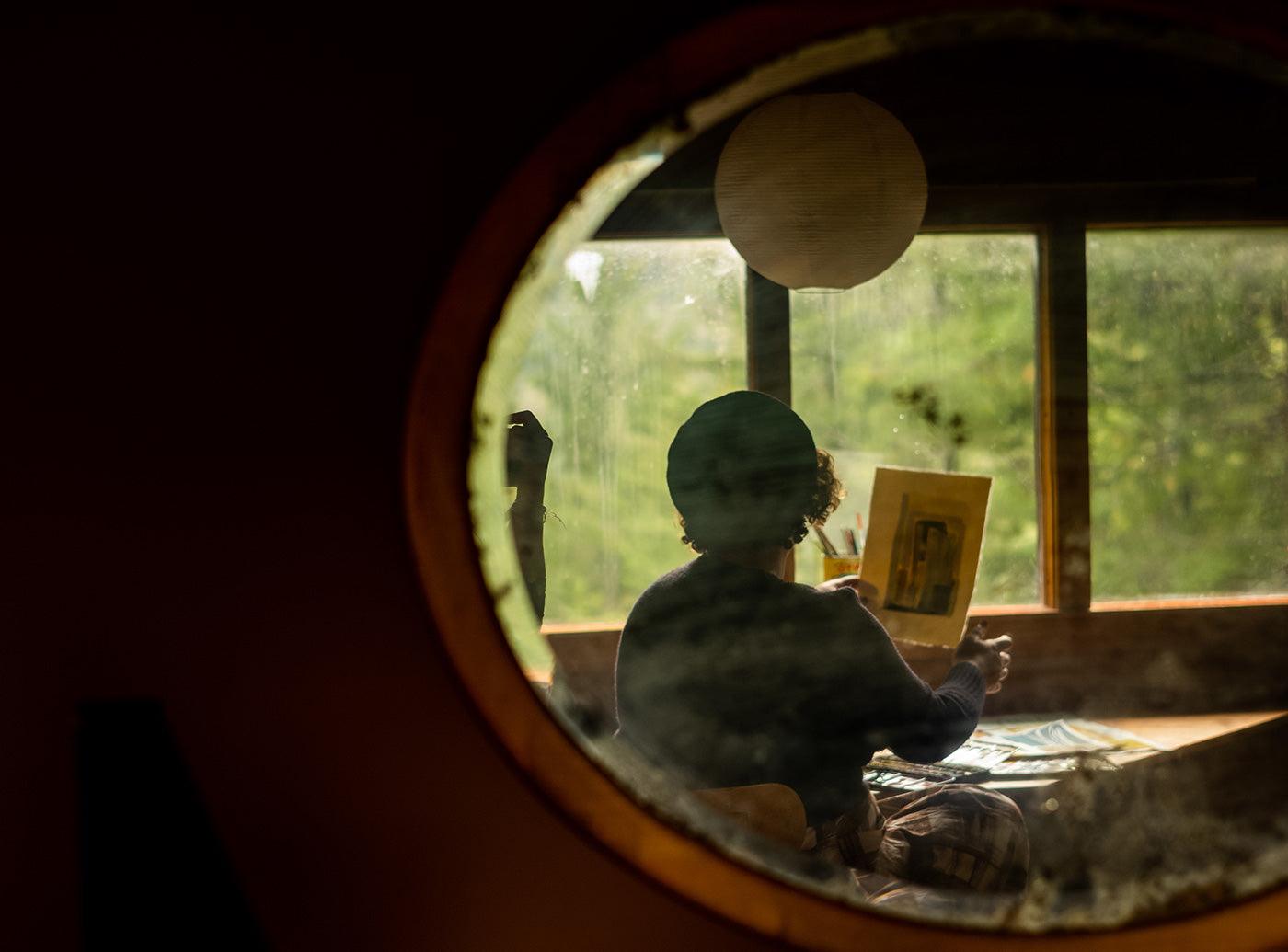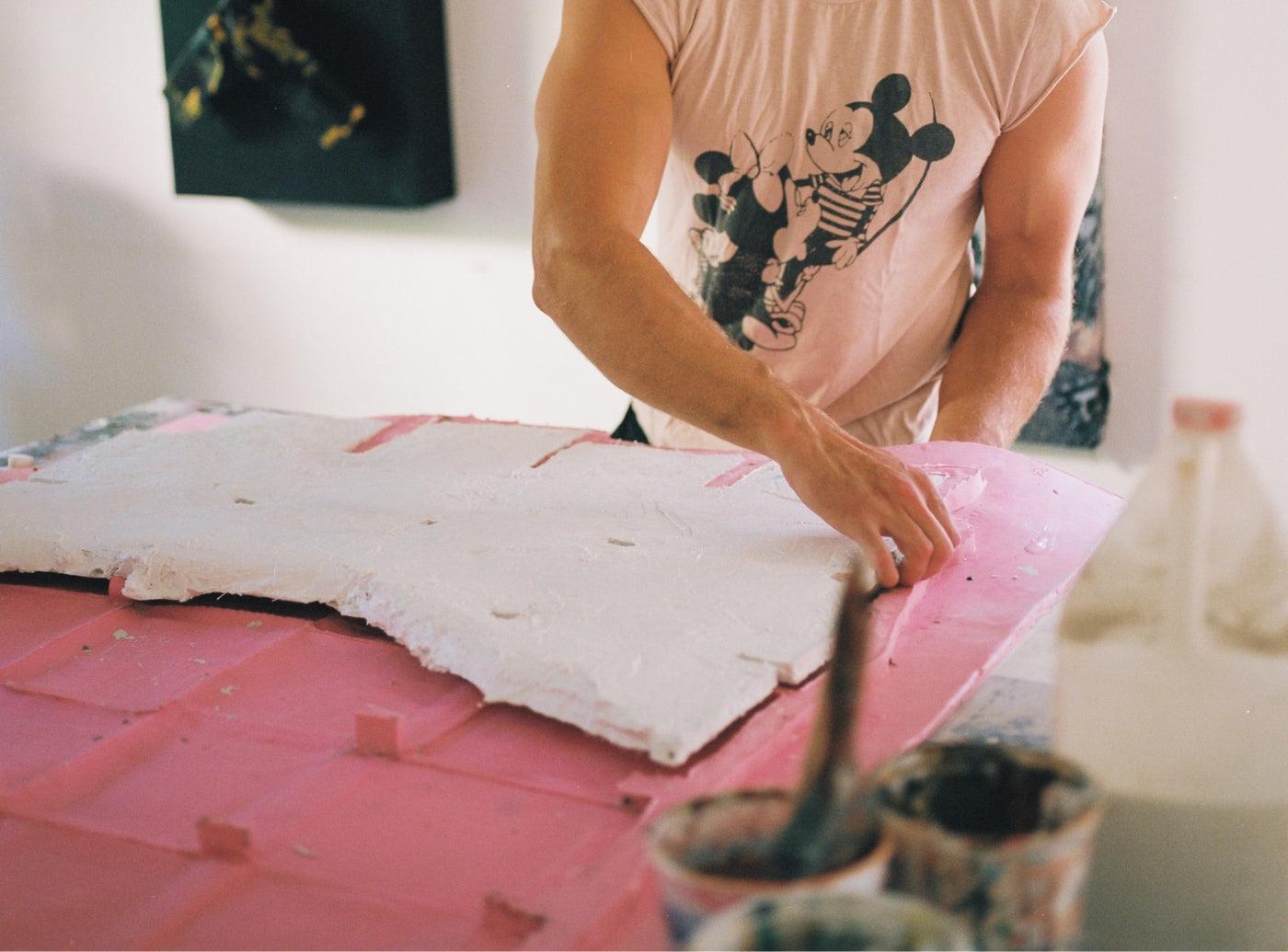 In the Studio
Orrin Whalen's work is informed on the perception of materials and conveying their queerness and sensual nature. In his process, he will sculpt forms from recycled fabrics, creating a woven almo...
Read more