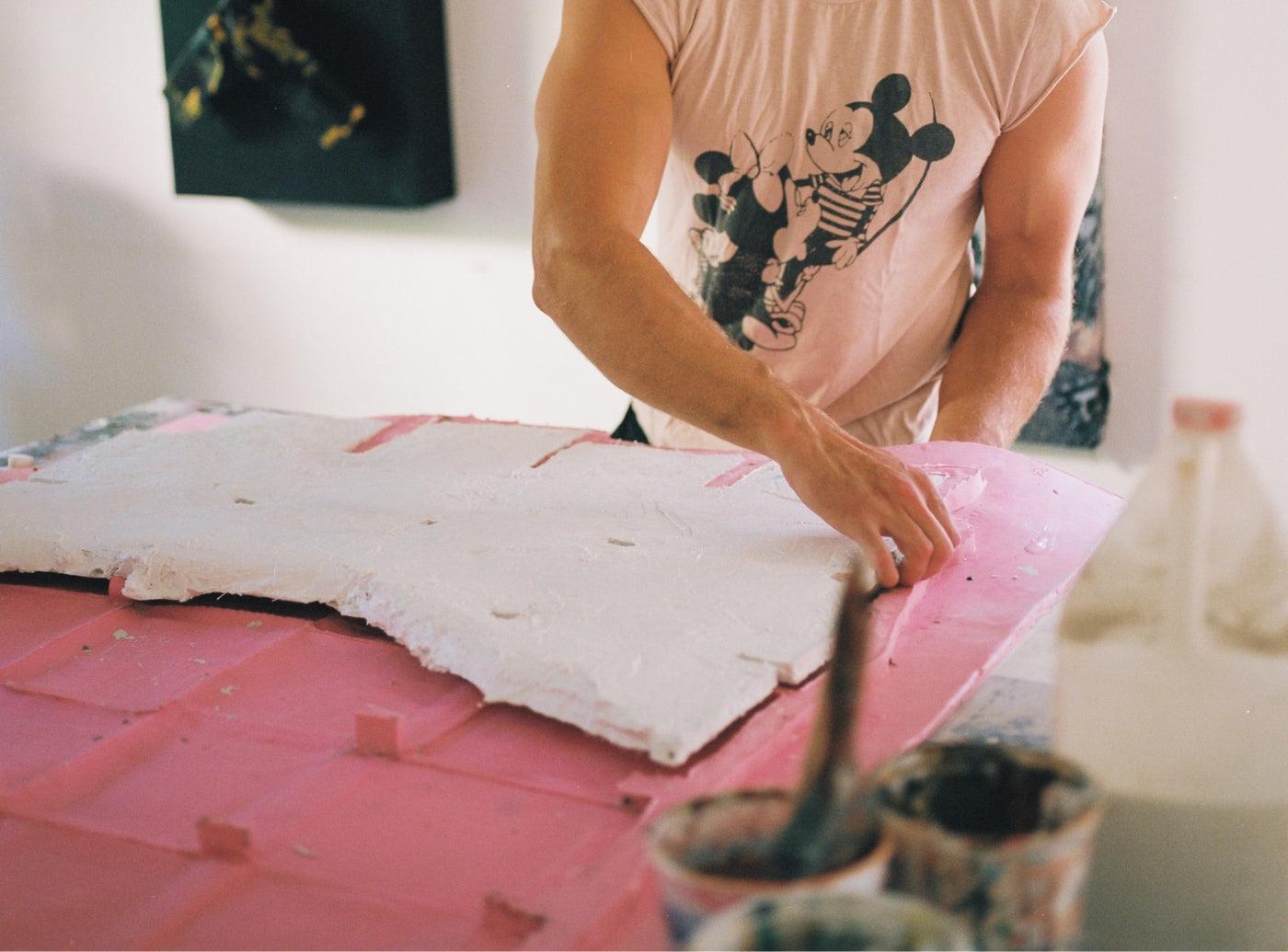 In the Studio | Orrin Whalen
Orrin Whalen's work is informed on the perception of materials and conveying their queerness and sensual nature. In his process, he will sculpt forms from recycled fabrics, creating a woven almost quilted pattern while exploring themes of protection and home. Then, Whalen create a silicone rubber mold to allow me to make castings of materials such as paint skins and resins. The paint in this process explores its materiality in a sculptural form rather than depicting an image, thus becoming something else entirely.
TAPPAN
Tell us about this body of work launching on Tappan?
ORRIN WHALEN
This body of work comes from the dissection and exploration of paint as a sculptural material. In ways, to capture it's essence in a sensual way, to make a material seem like it is something it's not. These paint skins take on forms that are representative of fabric something that brings comfort or protection, a second skin but through a lens of expression with brighter colors or strength like patterns such as weave.
I like to look at these pieces almost as unmade beds or vignettes of sheets post intercourse. To capture that intimacy with a lover. As terribly soppy and romantic as it sounds to capture a sunrise with a lover. That's what I'm conveying in these woven pieces who's shadow casts
TAPPAN
Describe your work in three words:
ORRIN WHALEN
Sensual, curious, intimate
TAPPAN
What is your creation process like, how are you conceptualizing and thinking about each of these pieces?
ORRIN WHALEN
The initial concept behind a lot of these pieces came from the dissection of a painting down to it's materials. I wanted to figure out a way to use paint in a sculptural way expressing its materiality rather than one might use to depict a traditional image. Then as I've started to develop these works I realized there is a real sensualness that can be captured in some of the works that in other words I can only describe as delicious. Through this experimentation there was a discovery of fabric forms which has led me to explore textures of fabric and incorporating them into castings within the paint skins.
Orrin Whalen says
"I wanted to figure out a way to use paint in a sculptural way expressing its materiality rather than one might use to depict a traditional image."
TAPPAN
Would you say you have a studio philosophy?
ORRIN WHALEN
"Get to work you big baby!" - Courtesy of Jerry Saltz. I'm an overthinker sometimes I just need a polarizing slap in the face to get to work and find those discoveries through making.
TAPPAN
Regarding your method of making, is it a case of the material or method dictating the idea of the other way around?
ORRIN WHALEN
I would say that these pendulum swing for me. I'm just a naturally curious person and I'm drawn to materials and new ways to perceive them. I can be drawn to a material but then that influences a new method or discovery in process.
TAPPAN
What's the first thing you do when you begin formulating an idea for a piece?
ORRIN WHALEN
Pull out my sketchbook! I'll usually jot down notes and try to tap into a flow where i can be drawing out ideas and different iterations. My mind works on somewhat of a mechanical level too so I find that i can render an idea and then come back to those drawings and start to elaborate more on what the process might be for creating that specific piece.
TAPPAN
Are there specific colors that you like to use in your work or that you consider signature/favorites?
ORRIN WHALEN
Orange is my current obsession. I see orange as joyous, bold but not aggressive, and also a little queer. Honestly, I used to despise orange. I'd hear people say their favorite color is orange and I would be like "note: They're batshit!", but suddenly the old girl has come around. I think what brought me round is my love for plants, specially California natives. I'm an avid gardener and have redone my garden with a bunch of california natives and some stand outs are the palmers mallow and the the California golden poppy. They're flowers are bright and really act as a helipad for all these pollinators. We see the power the color has when California has a superbloom and droves of people will travel near and far to gawk at the spectacle of orange.

I also love it partly as a response to my name - I'll order a drink at a coffee shop and sure enough they'll be calling out "Orange" for the order. So it's also a play on that. I came across a reading where Kadinsky described orange as "red brought closer to humanity by yellow." Perhaps I'm subconsciously drawn to orange in bringing my work closer to humanity.
TAPPAN
What is a medium you want to explore, but haven't yet?
ORRIN WHALEN
I'm cheating on this answer since I had the opportunity to explore while at the Art House artist residency. I've been fascinated by concretes and ways to incorporate or cast into sculptures. I can see the natural progression of my work starting to use a material that in some ways is pretty mundane but literally foundational.
TAPPAN
If you could travel anywhere to create for a while, where would you go?
ORRIN WHALEN
Anywhere with no distractions and deeply tapped into nature. But first a pit stop into a major city to be inspired by the culture, architecture and museum shows.
TAPPAN
Tell us about an artist whose career you admire.
ORRIN WHALEN
I have an extensive list. Ken Price, Gaetano Pesce, Sam Gilliam, Alex Da Corte, Jan Schoonhoven.
TAPPAN
Silence or sound while creating?
ORRIN WHALEN
SOUND! Starting with The Daily and a list of other podcasts, often glitterbox radio and other house music sets or depending on my mood might get a little more soulful with some Etta James, Aretha Franklin, Dorothy Ashby. I'm a big music person and it's constantly changing.
TAPPAN
What is one artist living or dead you feel a great connection to? Someone whose work has inspired your own practice and what you're creating these days?
ORRIN WHALEN
Ken Price. I had been doing a series of paintings when I started to rediscover my art practice and after a while I found that there was definitely some through lines. There's something about his mind down to his drawings and sculptures I feel a deep connection to. And maybe part of that is his drawings capturing the nostalgia of LA when I grew up here in the 90s. I think of the influence of being a 90s kid a how.