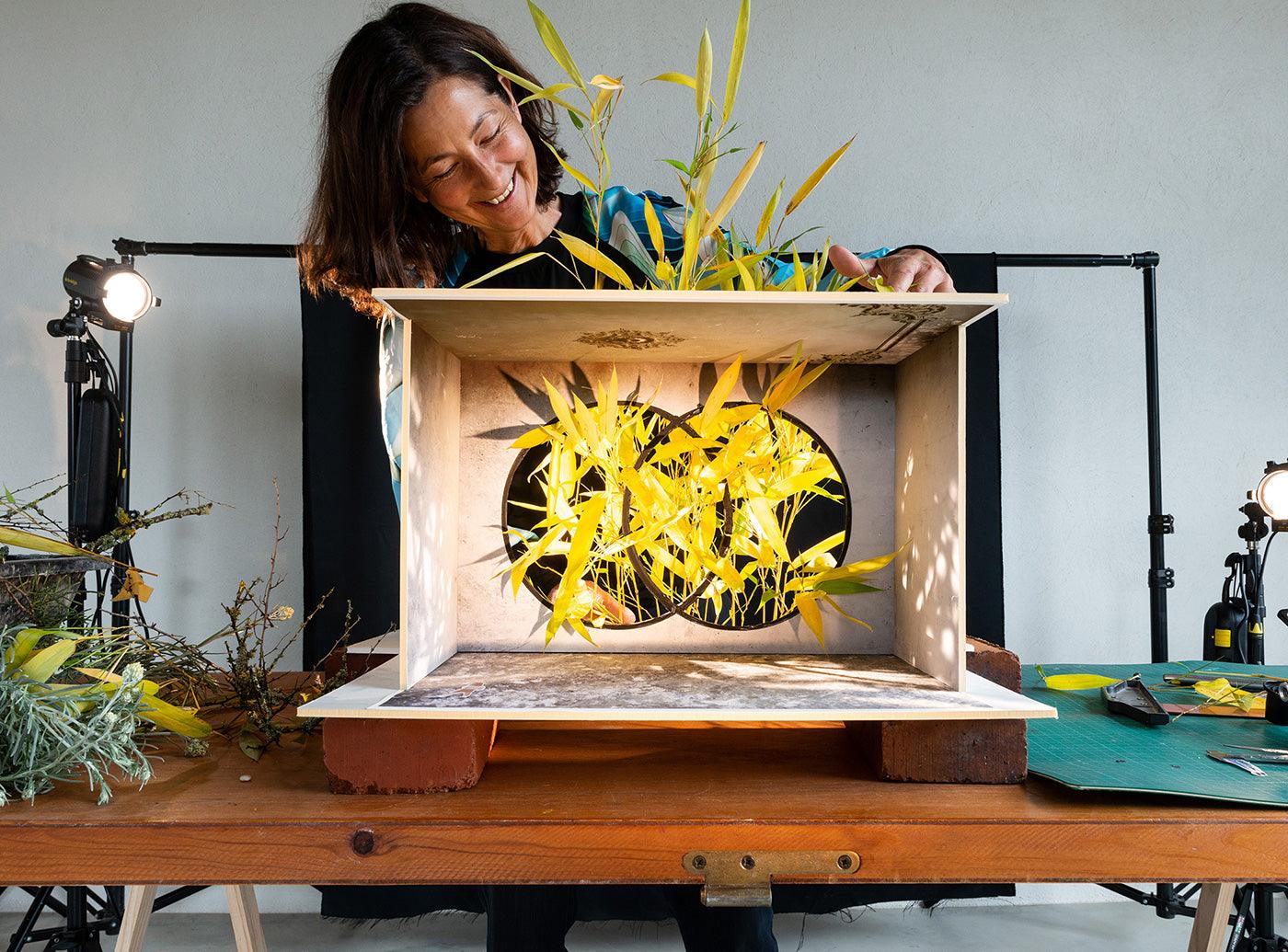 In the Studio I Ilka Kramer
Studio Visit
Ilka Kramer
This photographic series MalaNazar by Ilka Kramer, beautifully abstracts our perception of space and landscape. "In a time where we lose direct contact with nature, we accede to it only by our view. In a car or train, in houses and protected by architecture, nature is 'framed' and perceived like an image. It invites contemplation, but it is no longer a physical experience," explains Kramer.
TAPPAN
Tell us a little bit about this series MalaNazar on Tappan?
ILKA KRAMER
MalaNazar is a name I invented, to mark a new way of working, more conceptual than before. I liked the mystery sound of it, but I ignored what it could mean. This year, on a trip to India, photographing modernist architecture, an Indian architect told me, that in Hindi Nazar means the look/vision, and Mala is a name for a necklace. So the vision hanging around my neck, which is a quiet nice and poetic description for my camera. MalaNazar questioned our perception of space. Normally we don't pay much attention to the zone around us, we react to objects or persons, but we are not aware about the open space in between them and ourselves. And yet, without this sort of 'emptiness' there wouldn't be any movement, or transformation, no distance, no view, no possibility of connection. Space is a condition of live.

In my work I'm interested in this space as a possibility to relay to something we are all part of. The consciousness of our body as a space by itself in connection with the space around it, and therefor in communication with everything else, can create a strong spiritual experience. My work is inspired by architecture and theater as a possibility of creating space, and I'm much interested in the relation between artificial, man-made architecture and nature as an understanding of the place of man on earth. As well, one of the most challenging aspects about photography for me, is the question how to transform a 3 dimensional space into a 2 dimensional surface.
TAPPAN
Describe your work in three words.
ILKA KRAMER
-composing-space-connection
TAPPAN
Where do you source your materials? Tell us about the process: Deciding on your composition, setting the stage, shooting the work.
ILKA KRAMER
Very much influenced by architecture, I get inspiration for my pictures from buildings of, for example LeCorbusier, Tadao Ando, Peter Zumthor, Louis Kahn, Doshi... I do very free adaption of these buildings in small models of paperboards, and cover the surfaces with prints of wall-pictures. These models I photograph either in my studio or outside in nature.
TAPPAN
What does photography do for you? What are you striving for through this series?
ILKA KRAMER
I'm very much concerned about the perception of space, in my work as well as in my daily live. In meditation, the awareness of space can bring me into a here and now, and is a strong, intensive feeling. By creating pictures about the notion of space and working intensely, sometimes I arrive to the same state of presence, and this is just a wonderful feeling, which I'm looking for, always.
Studio Philosophy:
"LEAVE THE MESS AND DON'T LEAN UP BEFORE THE PICTURE IS NOT FINISHED."
TAPPAN
Tell us about where you live now.
ILKA KRAMER
Since 3 years I live in Lausanne, Switzerland. A rather small city but with a strong cultural activity, a lot of festivals, an unique museum of 'art brut' and very good theaters. Nature is close, I see the Swiss mountains from my apartment and swim in the lake of Geneva each day in summer.
TAPPAN
What's the first thing you do when you begin formulating an idea for a photograph?
ILKA KRAMER
I feel excited and should have a cold beer, and I always have a sketchbook with me where I note first ideas and do sketches of possible photographs.
TAPPAN
What work took you the longest to complete?
ILKA KRAMER
When I lived in the south of France, I started a work about the relationship of children towards nature. It was a side project on which I worked for several years and I finally accomplished it in form of a book this summer. In all it took me 7 years, and I realized that it is a heavy weight to work on a project by periods over a long distance, to keep on a good energy and to be able to come to an end. Now I would rather work intensely on only one project and go through it until I have the feeling I have come to an end.
TAPPAN
Last gallery show you went to?
ILKA KRAMER
Some days ago in Berlin the exhibition 'nature and politics' by Thomas Struth, where he explores how human ambition and imagination become spatial, objective reality. The impressive spaces photographed, and the immense sizes of the prints. allowed a strong and physical interaction with the work, very impressive.
TAPPAN
Tell us about some of your favorite artists.
ILKA KRAMER
Abstract painting is the art to which I react strongly, I love the work of for example Pierre Soulages, Nicolas de Stael, Poliakof, Sam Francis, Lee Ufan, Marc Rothko.
TAPPAN
Have the cities you've lived in influenced your practice? If so, tell us a bit about that, and what elements in particular steered you in certain directions.
ILKA KRAMER
I would rather speak about places, I lived downtown in big cities as well as isolated in nature. Having a morning coffee in a sunny, silent garden, walking barefooted through wet grass, gives you another starting condition for work than sitting in an apartment with noise down on the street and a grey, rainy sky above. But the one or the other way I'm inspired to think about our relation to nature, which is one of my main themes.
TAPPAN
What's one thing you still have from your childhood?
ILKA KRAMER
As a child I lived 5 years in Istanbul, Turkey, and found on a beach a skull of a stork, recently an artist friend gave it a gold coating and it hangs as a beautiful object in my studio.
TAPPAN
What's one thing you've always wanted to try but you've been too scared to do?
ILKA KRAMER
Abstract painting, but one day I'll be ready!
TAPPAN
What is one artist living or dead you feel a great connection to? Someone whose work has inspired your own practice and what you're creating these days?
ILKA KRAMER
James Turrell, 'We eat light, drink it in through our skins. With a little more exposure to light, you feel part of things physically. I like feeling the power of light and space physically because then you can order it materially. Seeing is a very sensuous act-there's a sweet deliciousness to feeling yourself see something.'
TAPPAN
What else are you working on right now?
ILKA KRAMER
I work on a series about modernist architecture. I take pictures of buildings of LeCorbusier, Louis Kahn, Doshi…and I decompose the architectural forms by projecting them on other architectural paperforms and re-photographing them.
TAPPAN
What country do you wish to visit?
ILKA KRAMER
Japan, to experience the Japanese gardens.
TAPPAN
When do you make your best work?
ILKA KRAMER
When I'm in a kind of work flow, where my ideas, the materials I use but as well improvisations or unexpected elements from outside, create a strong energy.
TAPPAN
What motivates you?
ILKA KRAMER
Good ideas which give me the urge and energy to realize them.
TAPPAN
Any advice to aspiring artists?
ILKA KRAMER
Everything can be useful to inspire ones' work, even if we don't link it in a first degree.
TAPPAN
Silence or sound while creating? If sound, what?
ILKA KRAMER
Silence while creating, sound afterwards, mainly black music, soul, funk, jazz, dub, reggae...
TAPPAN
What makes you laugh no matter what?
ILKA KRAMER
Spontaneous dancing moments with my 11 year old daughter and our cats.
TAPPAN
What's next?
ILKA KRAMER
Keep on exploring space.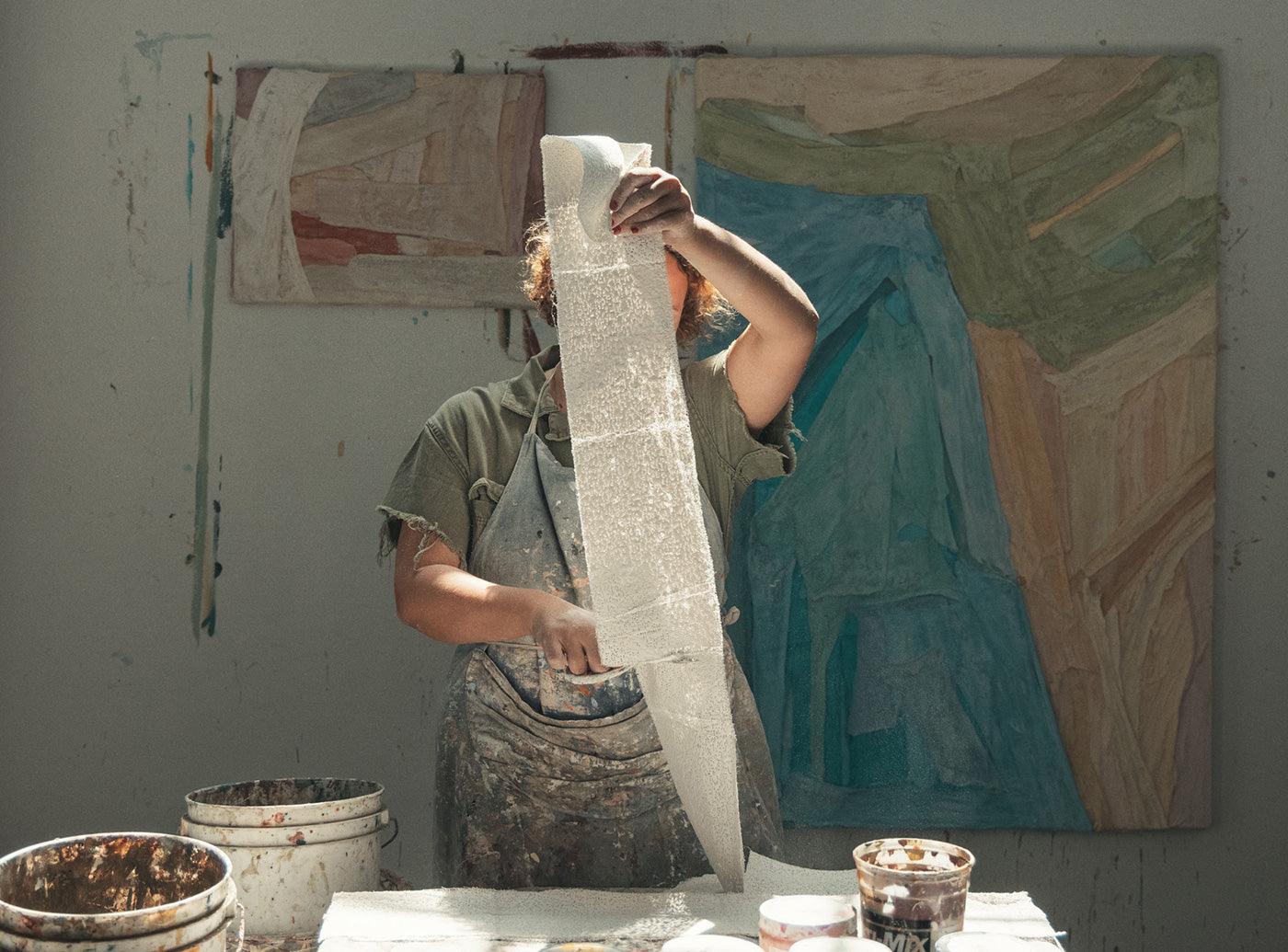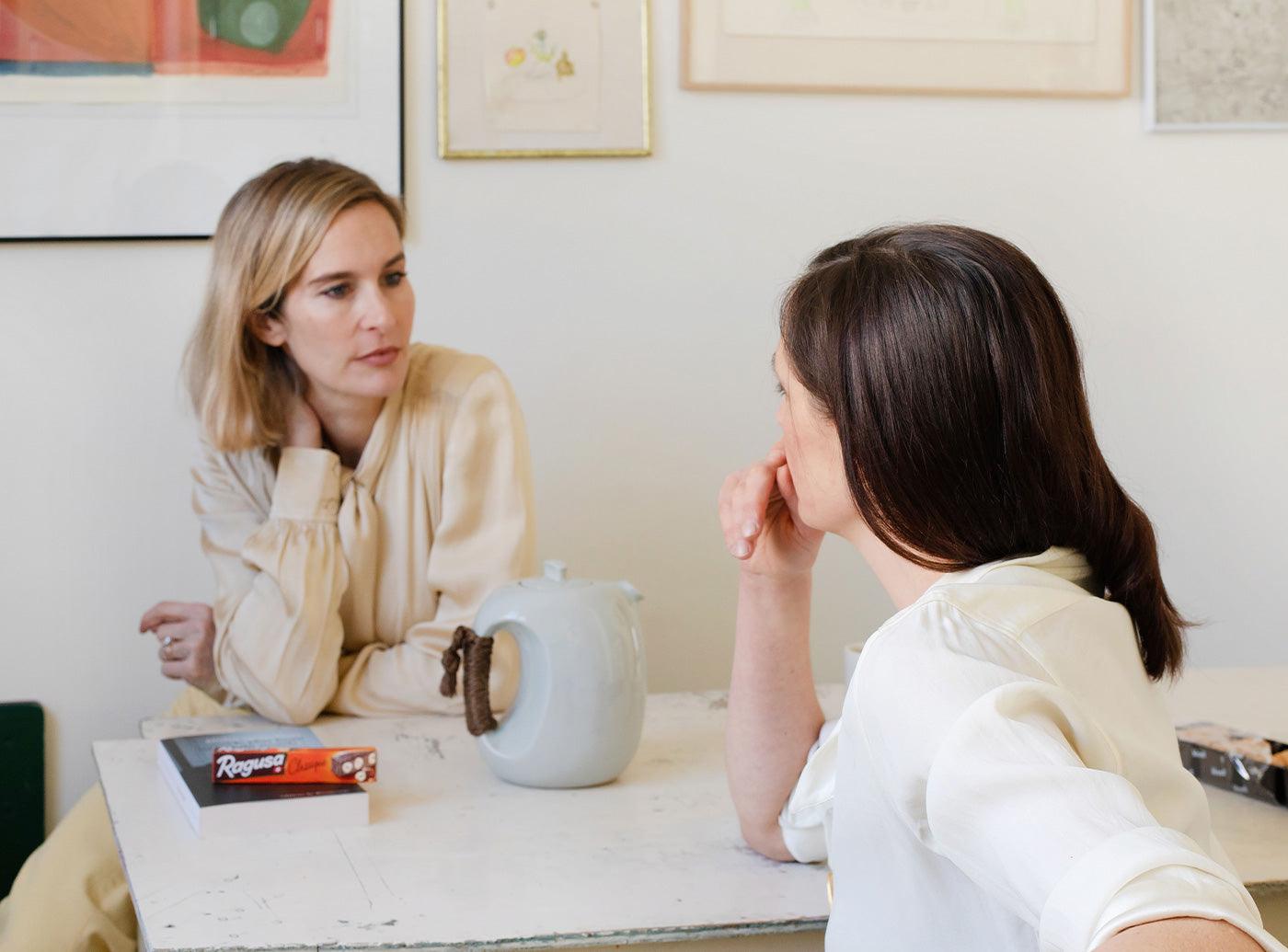 In the Studio
Meet The Heidies. This Swiss bred, Parisian-based duo work seamlessly together to create a fantastical world through photography. Here we explore their joint artistic practice and learn more ab...
Read more