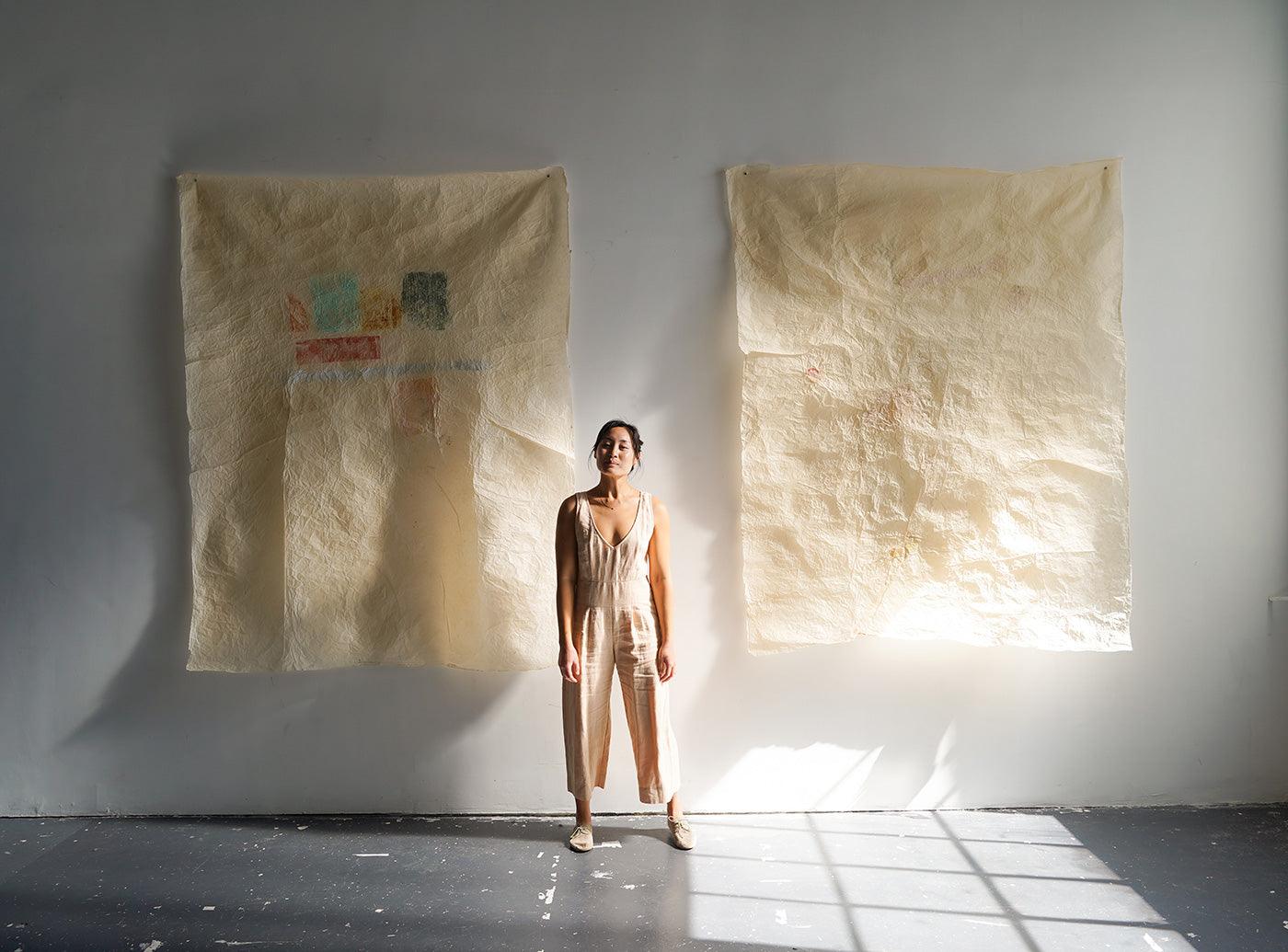 In the Studio | Catherine Lucky Chang
Welcome to the studio of Catherine Lucky Chang, a Taiwanese-American artist and yoga teacher based in Palo Alto, California. Chang's studio practice is a meditative one—she finds inspiration in nature and living in the present moment, and seeks to share love, joy, and wholeness. Read on to learn about her papermaking process, philosophical inspirations, love of Greece, and more.
TAPPAN
How would you describe your creative process?
CATHERINE LUCKY CHANG
Ideas usually spark when I'm in meditation or spending time in nature. I'll either lean into the idea with curiosity, sketching and writing, or I'll hold onto and nurture it until I can begin to work.

I start by making sheets of paper outside, using deckle boxes that I built with the help of some really great friends. The paper is made of unbleached abaca fiber and water, and is air-dried in the sun. Abaca is a natural leaf fiber related to the banana plant. Paper made with abaca is strong and becomes translucent if it's beaten for several hours. I either leave the abaca undyed with its original creamy color, or I naturally dye it with food scraps like avocado pits or peels. The simplicity of making paper brings me into the present moment. I get to play with water, breathe fresh air, and tune into the elements of nature and changing seasons on a daily basis.

Then, harmonizing the image and substrate, I draw, paint, print, and collage on the paper using natural materials. Whenever possible, I work outside in fresh air, embracing the unknown and the surprises that arise. A combination of fast and slow ways of making brings me balance and coherence, which feed into the work. Drawing conveys an immediate, raw experience of feeling, breathing, and being. I often try to work faster than my mind can catch up and analyze, so that I can tap into spontaneity, intuition, and an organic flow. Printmaking invites a slower, playful approach. It presents the unknown through a delayed transfer of matrix to image, which I find exhilarating.

I feel best when I'm able to dedicate several hours a day to my studio practice, while also honoring the rhythm and flow of the changing seasons. For example, my work generates more easily in spring and summer, while winter beckons me to slow down.
TAPPAN
Describe your work in three words.
CATHERINE LUCKY CHANG
Refreshing, light, loving.
TAPPAN
What inspires you?
CATHERINE LUCKY CHANG
Nature, Taoist and Zen Buddhist philosophies, and connection to spirit and the infinite.
TAPPAN
What motivates you?
CATHERINE LUCKY CHANG
To uplift, inspire, and share with love, joy, and wholeness.
TAPPAN
What's your philosophy in the studio?
CATHERINE LUCKY CHANG
Live as generously and in the present moment as possible. Stay open and curious.
Catherine Lucky Chang says:
"The simplicity of making paper brings me into the present moment. I get to play with water, breathe fresh air, and tune into the elements of nature and changing seasons on a daily basis."
TAPPAN
Do materials and methods dictate your ideas, or vice versa?
CATHERINE LUCKY CHANG
Both. My handmade paper coexists with the marks on it, carrying and supporting them. At the same time, the method of working organically, spontaneously, intuitively, and fluidly on the paper drives the making and brings my ideas to life.
TAPPAN
Describe "Awakening Within: The Joy is in the Discovery," the body of work you're launching with Tappan.
CATHERINE LUCKY CHANG
This body of work encapsulates an exploration of awakening inner knowing and wholeness within. Each work is made in celebration of living life with awareness, through joyous discovery in the generous present moment. The series spans drawing, painting, printmaking, and collage on handmade paper.
TAPPAN
Tell us about your upbringing and education. Did you grow up around creative people?
CATHERINE LUCKY CHANG
I grew up in Atlanta, Georgia. My whole family is very creative, so I learned from a young age that making is fun and liberating. My parents provided me with arts and crafts and nurtured my creativity. One of my earliest memories is drawing on the wall outside of my bedroom and being completely elated—until my parents came home and were not on the same page... Luckily now I can make large-scale work again!
TAPPAN
If you could travel anywhere to make work, where would you go?
CATHERINE LUCKY CHANG
Back to Greece. The beautiful water, expansive light, and relaxed vibes make it one of the most inspiring and welcoming places.
TAPPAN
Are there any tools or mediums that you'd like to explore?
CATHERINE LUCKY CHANG
I'd love to try stone lithography because of its ability to capture so many tones and marks. It translates drawings into prints in such a beautiful way. I'd also like to delve deeper into various aquatint methods and experiment more with screen printing.
TAPPAN
What was the last gallery show you saw?
CATHERINE LUCKY CHANG
I went to see a print show at Crown Point Press and it was incredible! I saw prints by John Cage, Richard Tuttle, Wayne Thiebaud, Ed Ruscha, and other wonderful artists. I'm excited to be able to see artwork in person again now that things have begun to open up.
TAPPAN
Who is one artist, living or dead, that you feel a connection with?
CATHERINE LUCKY CHANG
Agnes Martin's art and writing really resonates. I'm inspired by her paintings of delicate color, line, and luminous space, her discipline, and her outlook on living.
TAPPAN
What are some of your interests outside of art?
CATHERINE LUCKY CHANG
Journaling, meditation, reading, eating good food, yoga, swimming, moving my body, exploring new places, spending time outside in nature—though all of these things essentially lead to and/or feed my studio practice.
TAPPAN
Are there any quotes or phrases that you think about often?
CATHERINE LUCKY CHANG
There are many quotes and phrases that I love, particularly by Rumi, Osho, and Mary Oliver. One of my favorites is "Yesterday I was clever, so I wanted to change the world. Today I am wise, so I am changing myself." – Rumi
TAPPAN
What's next?
CATHERINE LUCKY CHANG
I hope to continue making prints, drawings, and collages on handmade paper, teaching yoga and meditation, traveling, and enjoying the evolution of life unfolding.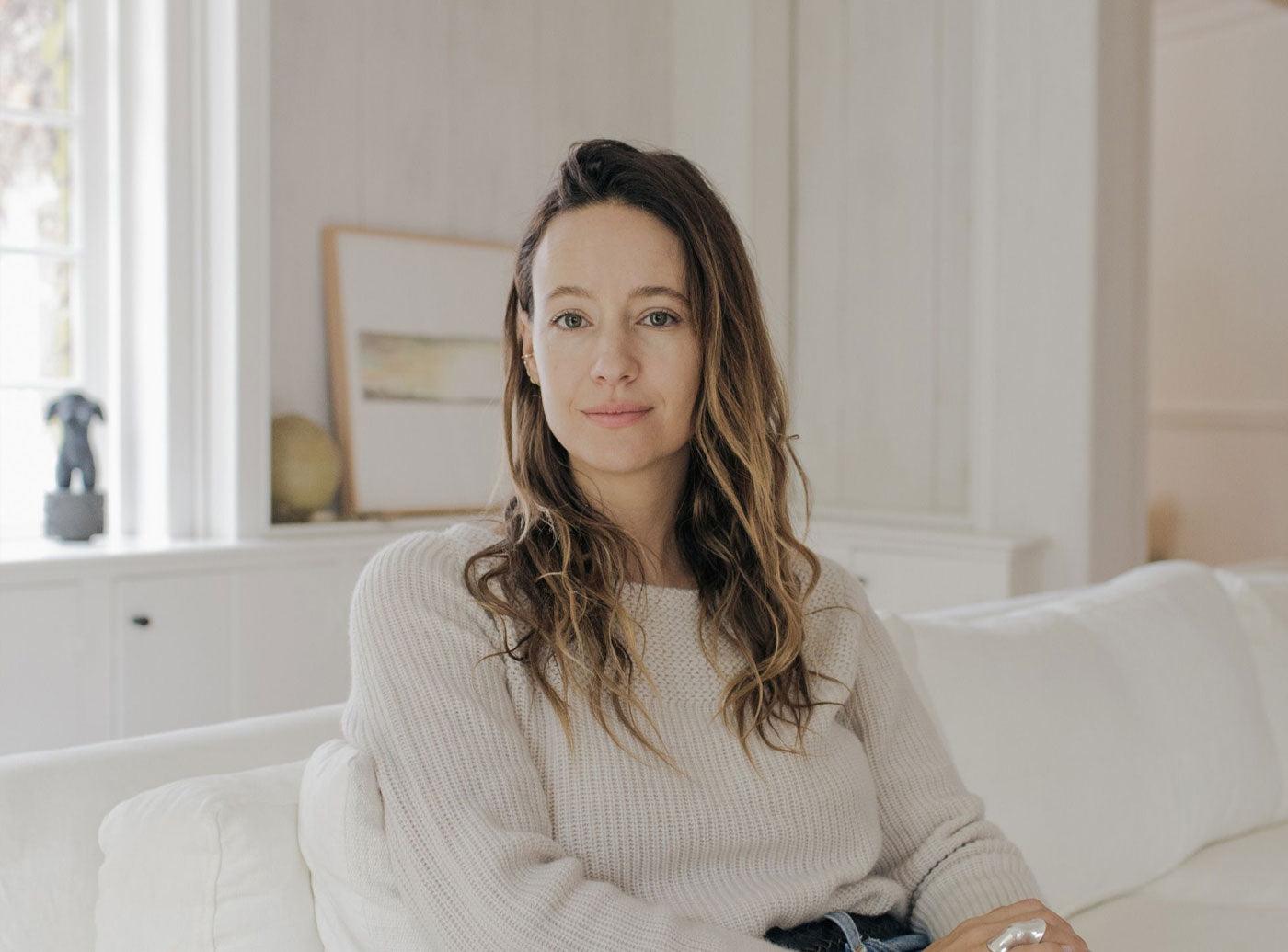 Profiles
Jenni Kayne | Collector Profile
Jenni Kayne is the Founder of a thriving lifestyle brand and an avid art collector based in Los Angeles. Her work has captured a West Coast sensibility of comfort and ease which permeates thr...
Read more
In the Studio
Recently relocating from Sydney to Los Angeles, we sat down to talk to Luke Chiswell about his inspiration, his practice and the influence that skateboarding culture still plays in his life. Re...
Read more