In the Studio I Carla Cascales Alimbau
Tappan is thrilled to welcome Spanish artist, Carla Cascales Alimbau, to the Tappan family. Read on to explore her studio and learn more about her practice.
TAPPAN
Tell us about yourself and how you came to be an artist.
CARLA CASCALES ALIMBAU
Since I was a child, I have always been drawing and building little objects. I was born in a modest and hardworking family where we all shared an appreciation for artistic disciplines. My father creates architectural models for a living, my mother is an interior designer and my sister is a musician.

We lived a very hard time in the family when, with the arrival of the digital 3D design and the laser cutting machines, my father had to close his own studio where everything was made by hand and find a new profession. Following this experience, I began prioritizing a more stable future. I decided to study Advertising at Pompeu Fabra University and later specialized in Design at Elisava University.

For a few years I felt comfortable working as a designer and illustrator. I learned a lot about image composition, drawing, color combination... but something inside me was telling me I was not being true to myself. In 2015, I found myself in a very good career position, working inside a famous design corporation. I was a well respected member of the company and I had a position of great responsibility, but I was feeling completely empty inside. It was time to devote myself to what always moved me, and so I made a decision to quit my job and start on the path I had always wanted.

With a lot of effort and dedication, I started to develop my career as an independent artist. From then on everything began to make sense, I feel at peace even though every day is a new challenge.
TAPPAN
Where do you draw inspiration from?
CARLA CASCALES ALIMBAU
Nature. The essence of everything is in nature, and we ourselves are also nature.
TAPPAN
Describe your work in three words.
CARLA CASCALES ALIMBAU
Essence, minimalist, natural.
TAPPAN
Simplicity is a fundamental theme in your work. Is this something that you explore outside of your artistic practice as a larger philosophy?
CARLA CASCALES ALIMBAU
Sure, I try to apply this simplicity to all areas of my life. I believe that if we remove all the ornaments, we come to the truth of things, their nature. I like people who show themselves as they are, without appearances, although it is not easy many times to show our weaknesses. It is for me the only way to live as our true selves.

I also like to keep this simplicity in spaces, especially in my studio and my home.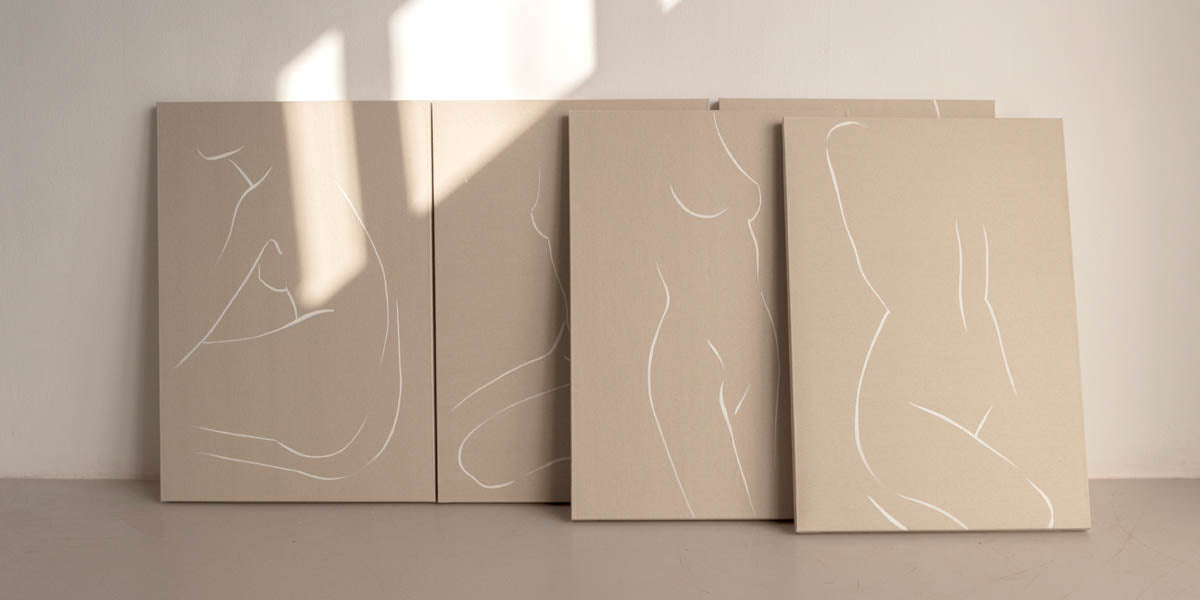 Carla Cascales Alimbau says:
"WE NEED TO ACCEPT THAT TIME PASSES BY AND CONSIDER IT AN ELEMENT OF BEAUTY. SHOWING OUR SCARS MAKE US STRONGER. ALL THESE CONCEPTS ABOUT BEING IN HARMONY WITH LIFE IS WHAT I TRY TO COMMUNICATE IN MY WORK."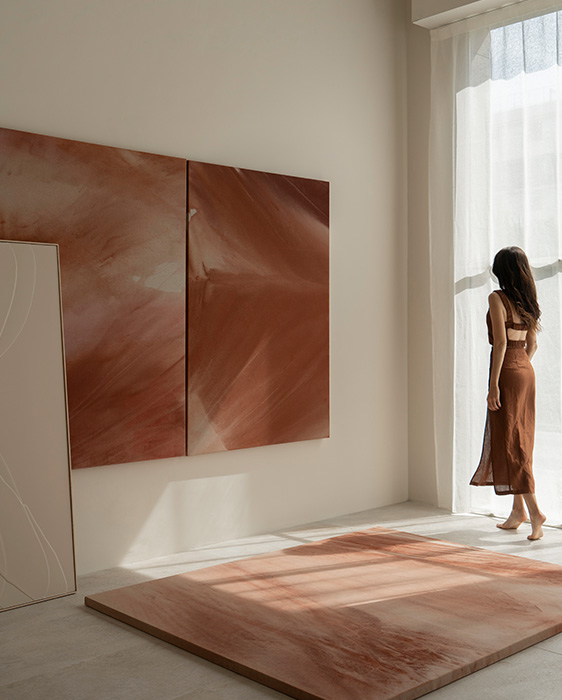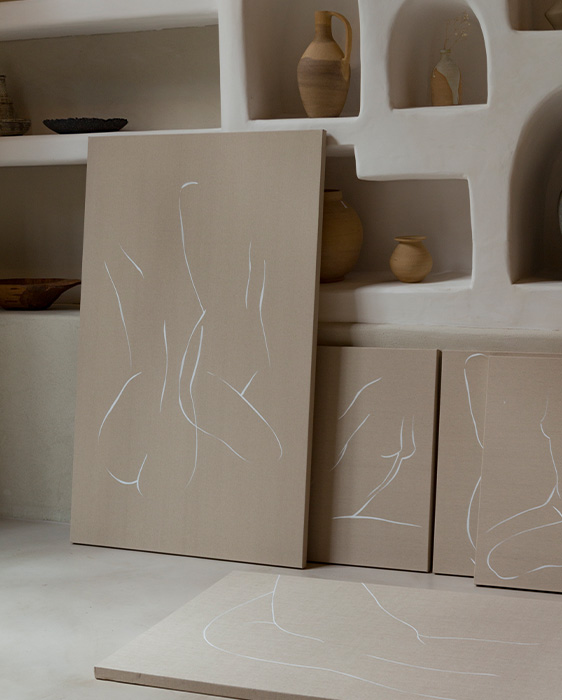 TAPPAN
What is your creative process?
CARLA CASCALES ALIMBAU
I love my work to show values that are important to me and changed things in my life. I am still in the process of learning, so this is a way for me to have these values always present and continue to reach this personal evolution.

The value of simplicity, authenticity, naturalness, the importance of finding beauty in irregularity, the acceptance of the passage of time... I am not good at writing stories or composing music so my way of sharing this is with sculpture or painting. The values are always the same and from there I develop different creations. I work to explore natural materials, combining them and giving them shape while respecting their original form. I find a balance between geometry and texture, simplicity and essence. It is important for me, working with my hands, to put my own personal energy into what I do.
TAPPAN
You recently transitioned from designer to full time artist. What led to this change?
CARLA CASCALES ALIMBAU
I believe that in our current society productivity is highly valued. We are always doing things with an end, occupying our time in something productive. But that sometimes make us forget other very important things like expressing what we really feel or who we really are, or just taking time to look and appreciate what surrounds us. We see things but we don't take the time to look at things and what is different.

I had a hard time accepting this since I come from a profession, graphic design, in which everything has to be very justified, very conceptualized and has to attract a real client. For me, art is freedom and I needed this freedom in my life. I don't mean I don't like design, I love design, but I feel a need for creation that is more pure, more authentic, and in my case can only be found in fine art.

For me art is a vehicle that creates beauty without a specific goal, with the sole purpose to make people think and feel by sharing with them what you do.
TAPPAN
How do modern consumption habits affect your work?
CARLA CASCALES ALIMBAU
I feel deeply sad by the way we consume in our society today, where natural resources are exploited indiscriminately and quality is little valued. Where we prefer to acquire many products that last a short time with the consequences that this has for our planet, which is our home, it is part of us. I want to think we are changing this mentality and I hope my work contributes to making this possible.

I focus all my work on natural materials like wood, rocks, metals and natural fabrics like cotton and linen. I normally use rescued pieces of wood or marble in most of my work, and I try to find beauty in discarded elements, like deformed pieces of metal, and give them a new life.
TAPPAN
Your newest figure drawings are in a beautiful shade of blue. Is this color significant to you?
CARLA CASCALES ALIMBAU
For me the blue color is very special since it combines a duality of vibration and calmness. It is a lively and powerful color, that gives vitality to the very soft and delicate lines that I create, but at the same time it is the color of the sea that brings the peace of the water.

I am from Barcelona so living near the sea has always been very important for me, this shade of blue that I use reminds me of the feeling of freedom I have when I walk near the sea on summer nights, very similar to what I feel when I paint.
TAPPAN
What influences do traditional cultures have on your work?
CARLA CASCALES ALIMBAU
I am fascinated by the Japanese view of beauty, specifically by the 'wabi-sabi' movement and their admiration for imperfect, mutable, and incomplete things. It is so different from the admiration of perfection and the fear of the passing of time we have in western countries. Another concept I love in Japanese culture is 'kintsugi', a technique to repair fractures in ceramics with gold sprinkled resin. It suggests that breakage and repairs are part of the history of an object that should be shown, instead of being hidden.

These concepts apply not only to objects but also to people. We need to accept that time passes by and consider it an element of beauty. Showing our scars make us stronger. These concepts about being in harmony with life is what I try to communicate in my work."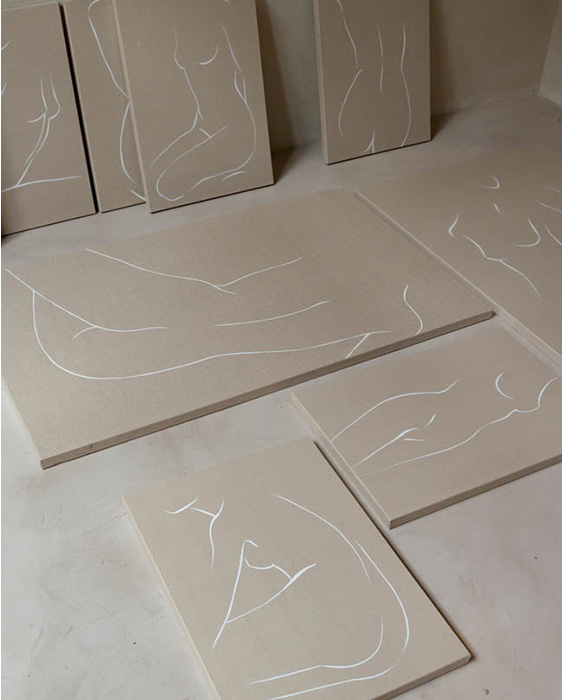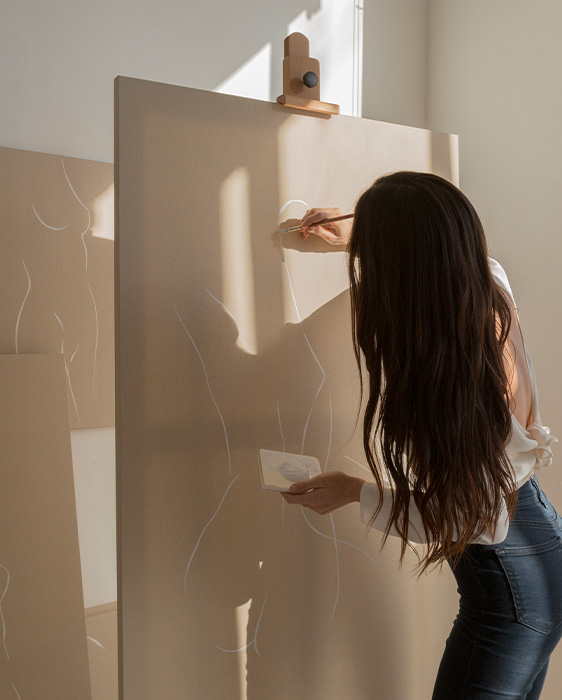 TAPPAN
What are you most proud of?
CARLA CASCALES ALIMBAU
I'm proud that it seems I've kept up a very similar train of thought and style for my work. I have a painting I did when I was 17 that looks just like work I do now. It comforts me and motivates me. I also have a messy portrait I did of a young Matisse, and he still influences me today. That might still be my favorite small painting I've done. I'm really proud of the projects I've gotten to collaborate on and all the artists I have met who push me to keep working. I know my greatest work is still ahead of me.
TAPPAN
Are there any quotes or mantras that you particularly connect with?
CARLA CASCALES ALIMBAU
There are a lot, the ones that come to my mind now are:
"Where you cannot love do not delay"- Frida Kahlo (Spend your time in what you really love).

"Creativity takes courage" - Henri Matisse (We should be brave to do what we feel).

"There are only two mistakes one can make along the road to truth: not going all the way, and not starting." Buddha (The importance of starting what we believe, being patient and perseverant.
TAPPAN
Who are some contemporaries or figures in art history who have influenced you?
CARLA CASCALES ALIMBAU
The artists that leave a mark on me by their impressive ability to me feel something with their creations are Barbara Hepworth, Jean Arp, Constantin Brancusi, Alexander Calder, Helen Frankenthaler, Eduardo Chillida, Pablo Picasso, Ellsworth Kelly, Henri Matisse...

I am also specially inspired by architects of the Modern art movement for changing our conception of a space to be lived in like Le Corbusier, Mies van der Rohe, Tadao Ando, Frank Lloyd Wright and Alvar Aalto.

And finally I admire the Bauhaus way of seeing art a a whole, mixing architecture with painting, design, sculpture...
TAPPAN
What messages or emotions do you hope to convey to your audience?
CARLA CASCALES ALIMBAU
I would love to share with my artwork the importance of getting to the essence of things and not just staying on the surface; the value of respecting Nature and understanding we are part of it; the appreciation of the beauty of imperfect, irregular and simple things and the passing of time; and the importance of being true to oneself.
TAPPAN
What makes you laugh?
CARLA CASCALES ALIMBAU
Honest and natural people.
TAPPAN
What makes you nervous?
CARLA CASCALES ALIMBAU
Waiting for things to happen. That is why the Buddha quote is important to me, to remember the importance of being patient.
TAPPAN
What makes you excited about the future?
CARLA CASCALES ALIMBAU
To invest my time in what I really love, to live from my passion and to pursue my dreams.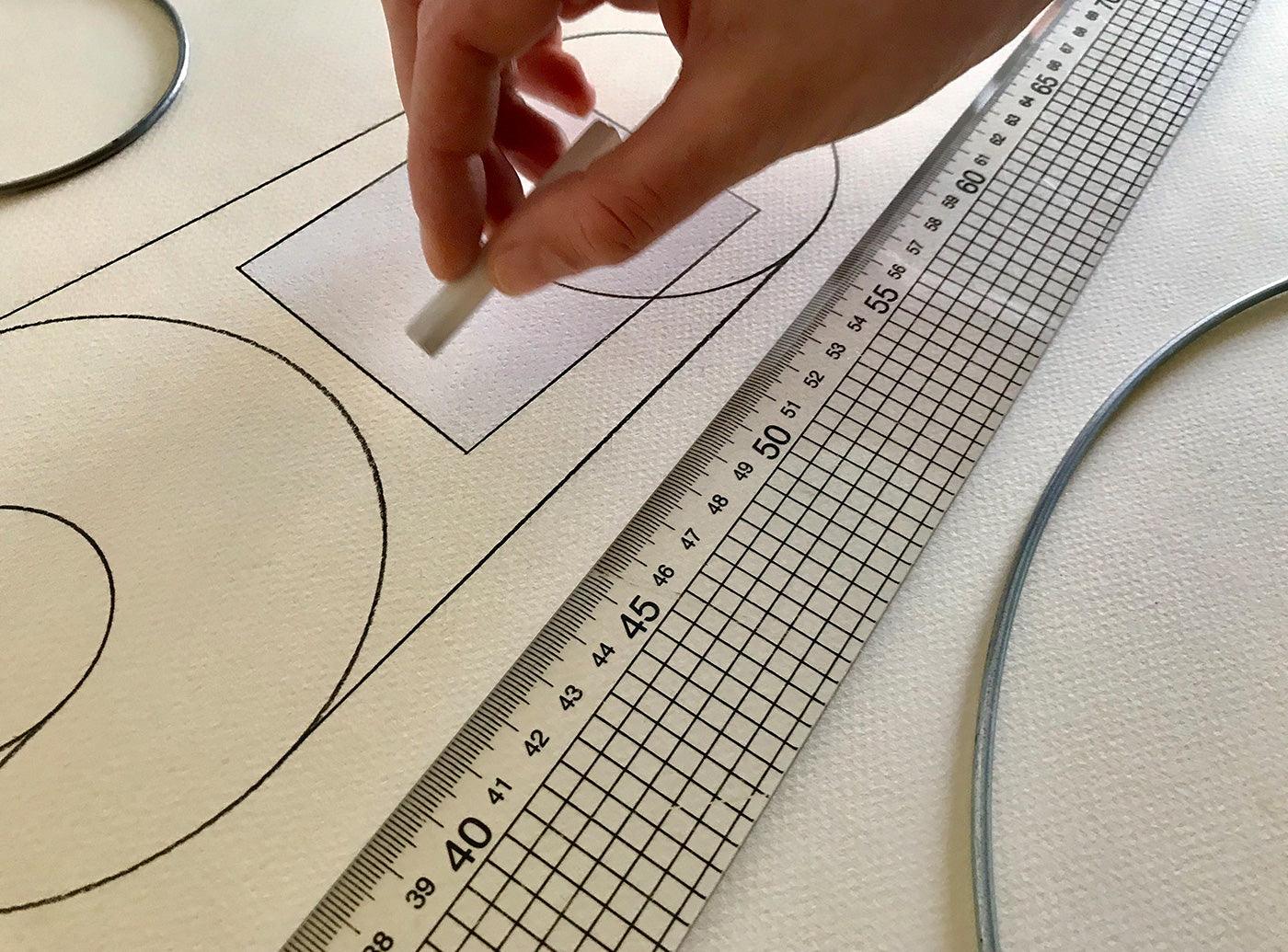 In the Studio
Fascinated by geometry, in particular the circle, Alarah Gee's artistic practice is a methodical exploration of these themes. Read on to explore more of her work and learn about her studio phil...
Read more