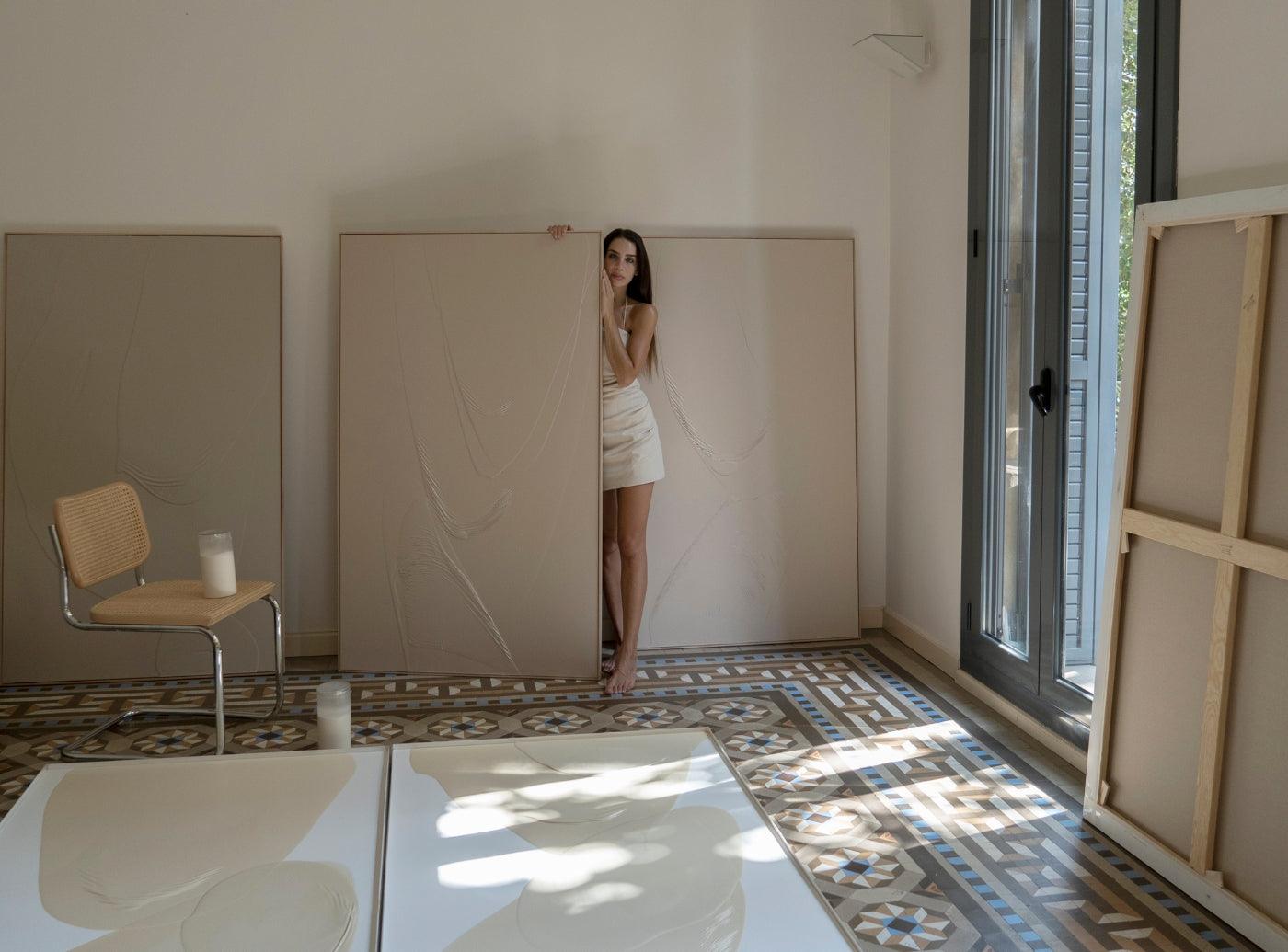 In the Studio I Carla Cascales Alimbau
Carla Cascales Alimbau is an artist living and working in Barcelona, Spain. Her work is based on finding beauty in imperfection and profundity in earthiness and of revering authenticity above all. The internationally renowned artist returns with multimedia works that celebrate nature, change, and metamorphosis — and explores the connections we have with the natural world. Read on to explore her studio and learn more about her practice.
TAPPAN
Tell us about this body of work launching on Tappan?
CARLA CASCALES ALIMBAU
My body of work is a heartfelt tribute to our intrinsic connection with nature. In my Skin series, I reimagine landscapes and question our society's growing disconnect from nature, inviting us to embrace life's changes and our inherent connection to natural laws.

Raku reveals hidden geometric patterns in nature, celebrated in the Raku series that captures the beauty of impermanence.

My kinetic sculptures Chrysalids remind us of the importance of finding retreat spaces for introspection in our fast-paced world.

Lastly, in the Manantial series, I delve into the mysterious power of gravity, allowing it to organically shape my art and highlighting the harmony and simplicity of nature's essential forces. My work aims to inspire others to embrace change, seek refuge, and appreciate the profound beauty of transformation.
TAPPAN
Describe your work in three words
CARLA CASCALES ALIMBAU
Elegantly unfolding forms.
TAPPAN
What is your creation process like, how are you conceptualizing and thinking about each of these pieces?
CARLA CASCALES ALIMBAU
My creative process is a deeply introspective journey. It all begins with my profound admiration for nature, as I seek inspiration from its organic shapes, textures, and color palettes. I am deeply committed to selecting sustainable materials, ensuring that my creations are both aesthetically pleasing and environmentally responsible. In my creative process, I aim to strip away excess to reveal the essential beauty, embracing simplicity at its core, resulting in pieces that exude a sense of tranquility and timelessness.
TAPPAN
Would you say you have a studio philosophy?
CARLA CASCALES ALIMBAU
My studio philosophy is all about merging minimalism, nature, and timeless principles seamlessly. I strongly believe in the power of simplicity and sustainability. Nature serves as my wellspring of inspiration, infusing my work with a profound sense of serenity and balance. I make it a point to prioritize sustainable materials and meticulous craftsmanship, underscoring my commitment to both aesthetics and environmental responsibility.
Carla Cascales Alimbau says:
"WE NEED TO ACCEPT THAT TIME PASSES BY AND CONSIDER IT AN ELEMENT OF BEAUTY. SHOWING OUR SCARS MAKE US STRONGER. ALL THESE CONCEPTS ABOUT BEING IN HARMONY WITH LIFE IS WHAT I TRY TO COMMUNICATE IN MY WORK."
TAPPAN
Regarding your method of making, is it a case of the material or method dictating the idea of the other way around?
CARLA CASCALES ALIMBAU
In my art-making process, it's often a fluid interaction between the materials and the ideas, with each influencing the other. Sometimes, the inherent qualities of the materials themselves inspire my creative direction, while at other times, specific ideas or concepts drive my choice of materials. It's a constant dialogue, where the materials and ideas mutually shape and inform the final artwork, resulting in a harmonious fusion of vision and medium.
TAPPAN
What's the first thing you do when you begin formulating an idea for a piece?
CARLA CASCALES ALIMBAU
I do a sketch on paper, I always like to draw as a first step.
TAPPAN
Are there specific colors that you like to use in your work or that you consider signature/favorites?
CARLA CASCALES ALIMBAU
Natural pigments that we can find in Nature.
TAPPAN
What is a medium you want to explore, but haven't yet? (and why?)
CARLA CASCALES ALIMBAU
I'm fascinated by the potential of glass as a medium, even though I haven't fully delved into it. Glass' transparent and light- transforming properties provide a special platform for art, allowing for delicate or bold creations. I see using glass as a way to deepen my dedication to minimalistic and fluid forms, tapping into its power to blend with surroundings and evoke enduring beauty. Exploring glass opens up an exciting new creative journey for me.
TAPPAN
What was the last gallery show you went to?
CARLA CASCALES ALIMBAU
I went to see Nancy Holt exhibition at MACBA museum in Barcelona. As a contemporary artist, Nancy Holt's pioneering contributions to the Land Art movement continue to resonate profoundly. I was fascinated by her innovative exploration of the intersection between art and nature, particularly through large-scale earthworks and immersive installations.
TAPPAN
What is the arts community like in your city? Do you spend your time around other creatives?
CARLA CASCALES ALIMBAU
Barcelona's art community is vibrant and diverse and despite its richness, it remains quite small, we know each other well and we support each other, But I think it would be interesting to have an organization that would make the art of Barcelona better known internationally and have more presence in the international market. I am very happy to be part of Tappan,, which gives me the ability to be in a larger artistic community.
TAPPAN
If you could travel anywhere to create for a while, where would you go?
CARLA CASCALES ALIMBAU
I would go to Japan, I am inspired by his way of seeing life, the passage of time, the value of natural cycles of growth and decay, elegance and simplicity...
TAPPAN
Tell us about an artist whose career you admire.
CARLA CASCALES ALIMBAU
As a contemporary female artist, Louise Bourgeois is a significant source of inspiration. Her impactful contributions to sculpture and installation have opened doors for women artists to explore complex themes. Bourgeois' honest portrayal of personal and psychological narratives has encouraged me to embrace vulnerability in my own work. Her legacy reminds me of the strength of women in the art world and motivates me to push boundaries in my own artistic expression.
TAPPAN
What motivates you?
CARLA CASCALES ALIMBAU
The feminine creative force and the natural cycles of growth and decay.
TAPPAN
Have the cities you've lived in influenced your practice?
CARLA CASCALES ALIMBAU
More than a city the Mediterranean Sea has a profound impact on my artwork, infusing it with the timeless allure and fluidity reminiscent of its waters. I draw inspiration from the sea's ever-changing colors and rhythmic movements, seeking to capture a sense of tranquility and harmony in my pieces. Reflecting the interplay of light and shadow, much like the dance of the Mediterranean sun, I incorporate subtle gradients and delicate contrasts. Additionally, I explore the sea's symbolism of life, journey, and interconnectedness, often touching upon themes of transformation and the cyclical nature of existence. Through my art, I aim to captivate its essence into visual narratives that evoke a profound sense of serenity and introspection.
TAPPAN
Silence or sound while creating?
CARLA CASCALES ALIMBAU
I like silence and when I listen to music I like something calm or acoustic, I've been loving lately Hermanos Gutierrez, Ólafur Arnalds and Nils Frahm.
TAPPAN
If you could have a drink with one artist, who would it be?
CARLA CASCALES ALIMBAU
Georgia O'Keeffe