Article: Khalid Jones | Collector Profile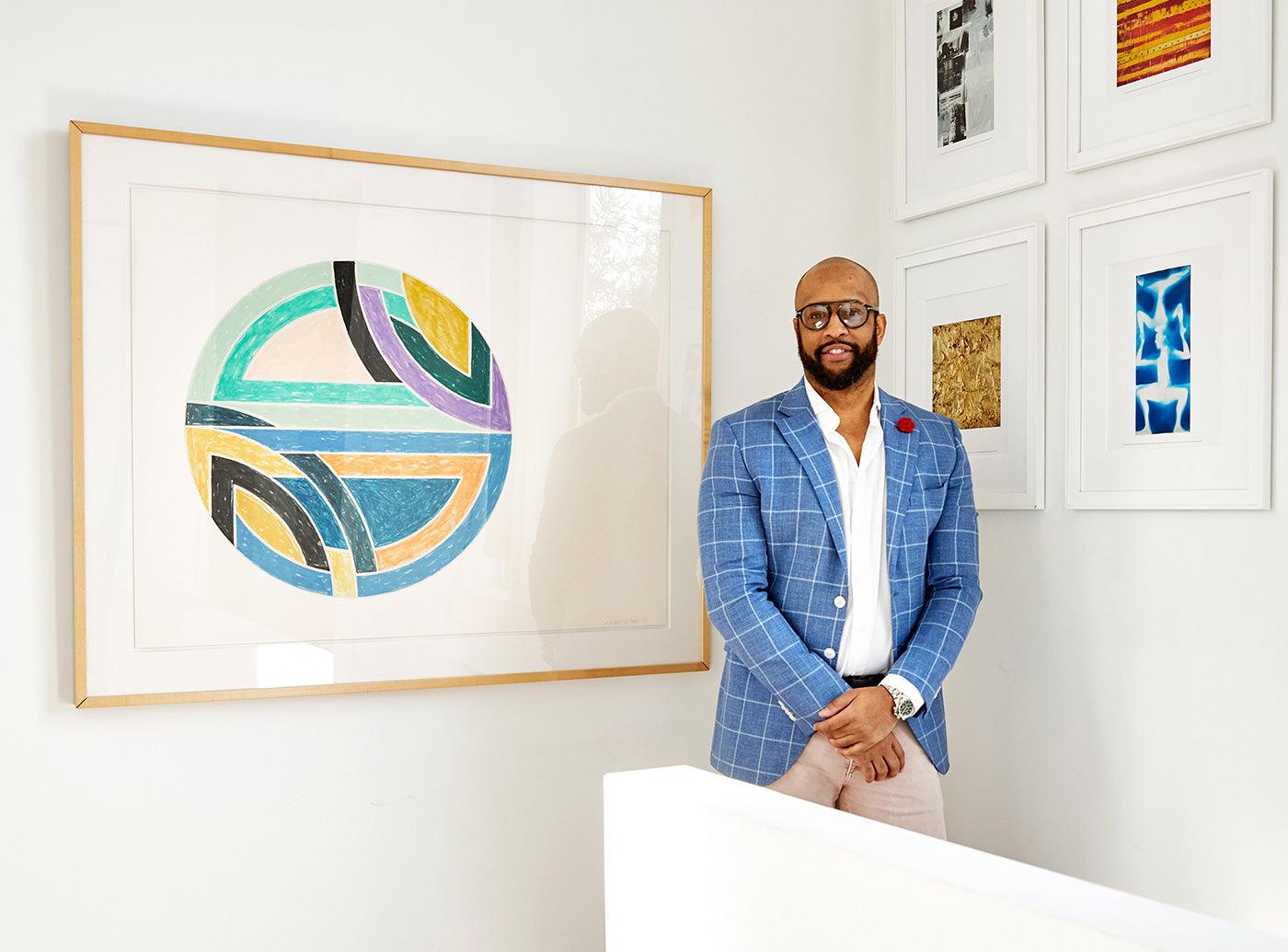 Khalid Jones | Collector Profile
When we sought to get to know the collectors of recent Tappan roster addition James Perkins, we were pointed to Khalid Jones, and for good reason. Growing up with James and sharing similar backgrounds in law and finance, the investment firm partner left his career in law to explore projects he was more passionate about, and along the way began collecting works from emerging artists to fill his multi-story home in West Hollywood, as well as New York City. We got in-depth about Jones' collecting philosophy, his work with multiple emerging artists and the meaning behind the 16 foot long work by Perkins that inhabits the unique space well.
Tell us a little about yourself...
I'm an attorney by education and practiced securities litigation for about 10 years before starting a small investment company with two partners in 2012. I feel like I have too many passions but that's what makes the days interesting. I'm involved in projects across the worlds of politics, film, music and esports. It definitely beats securities litigation.
You have a substantial work by James Perkins in your LA space. What drew you to his work?.
I have known James for many years and have gotten to see the evolution of his practice up close and in real time. His work asks a lot of important questions and is sometimes unconcerned with what the answer is… The inquiry itself is important. The work of his that I'm most drawn to plays on the idea of our built-in biases of value (especially in the materials themselves). So whether that's allowing fine silks and fabrics to commune with natural elements to produce a result where nature and artist work in concert, or using elements of perceived value (Bordeaux wine and fine shirting fabric in the case of the piece your reference) to manipulate, mimic and satirize a result of spilling wine on one's shirt, the value inquiry is clear and the works stand on their own as beautiful and awe inspiring.
When did you first start acquiring art?
I began collecting in earnest in around 2015. I spent probably the two years prior to that learning as much as possible. I spoke with gallery directors and went to fairs, and joined young collectors groups with the Guggenheim in NY and LACMA. I even took an art business course from Christies in New York to understand more, not just about the art itself but the business that undergirds it. I read a book cover to cover called "Collecting Contemporary" that was given to me by a gallery director. Whenever I had the chance to travel I made sure to visit galleries and museums. Before I collected my first piece of art I had developed my idea of what it is that I truly love, and more importantly an eye of my own that I could trust rather than being told what I'm supposed to like based on fads of the time or famous names.
Khalid Jones says
"WHERE I AM NOW AS A COLLECTOR IS NOT WHERE I BEGAN, AND WHERE I AM NOW IS NOT WHERE I WILL BE IN 10 YEARS, BUT THE MOST IMPORTANT PART WAS JUST GETTING STARTED."
What was the first piece you fell in love with, and why?
The first piece I fell in love with is "Elegy to the Spanish Republic 100" by Robert Motherwell which is in the permanent collection of LACMA. It takes up the entire space on the wall and the scale is just enormous; seven feet tall and 20 feet long. If you stand right in front of it you are almost completely enveloped in it in the same kind of way that you feel if you stand in the middle of a large Richard Serra sculpture. I first saw it many years ago when I didn't know nearly as much about art, and I often wish I could look at work in that same way as I did then.
What are some of the most sentimental or meaningful pieces in your collection?
First is a print, "Singerli Variation II", by Frank Stella because for me it represented my first purchase from a gallerist and what I mark as the first purchase that truly made me a collector (in my mind), and it also started a spurt of collecting soon thereafter.

Second is "My Bordeaux is Better than Your Budweiser" by James Perkins. It is a very substantial piece in terms of size, but I was also able to see the process of creating the piece which was made in a studio in Venice a few summers ago. It is a rare occasion to be able to view a piece in the context of creation and then again in the context of your home. In terms of scale it is by far the largest piece that I own and I'm never not in awe of it.

Third is "Runners" by Lauren Halsey. She is a young artist based in Los Angeles and I had the pleasure of meeting her through a mutual acquaintance and was invited to do a studio visit with her last year. I purchased a piece of hers out of her studio prior to her being signed and the piece is particularly sentimental for me because outside of my personal relationship with James, it was one of the first times that I invested substantially in someone that was largely unknown at the time, and felt I was really putting my money where my mouth was in terms of supporting emerging artists.

Lastly in the sentimental category is "Black Book" by Christopher Wool. It has a special place as a piece that when I started collecting I looked at it as a "dream piece" and I finally got the opportunity to acquire it last year.
Who do you want to collect next?
I've had my eyes on a set of prints by Josef Albers called "Formulation:Articulation" but I think the next piece that I collect will be from an emerging artist that I've yet to even hear of. I'll let you know as soon as I find the piece!
Favorite museum or creative space for inspiration?
My favorite museum in the world is Tate Modern. My favorite place for inspiration is the Rodin Sculpture Garden on Stanford's campus. When I was in law school I used to go there for some final meditations before exams.
For new collectors, do you have any advice you wish to impart?
I have a mantra. "Like what you want. Buy what you love. Collect to keep." I think the art world sometimes tells people what to like and mandates (usually through very confusing and esoteric language) the brilliance of what is being presented to the audience. I like to tell people to look at the work first and not the name first. If you know the work is from a reputedly famous artist you are more likely to feel that you don't "get it" just because you may not like it. I know too many people who have started collecting and acquire works by some popular names, but when I ask them why they like the work, they don't really know.

My other piece of advice is never feel embarrassed about asking questions and never feel intimidated by a gallery or fair environment. Also, if you live or are in NY or LA during one of the major auction previews, I encourage everyone who can go to do so…It's free! I remember many years ago I went to one of the Christies auction previews and as I walked out with my friend he said "we just saw a billion dollars worth of art in one hour". There are a lot of opportunities for learning and understanding more about the art world that don't cost a dime and that I believe are the true prelude to being a collector.

Lastly, I tell new collectors that the barrier to entry is not as high as they think. If you think that you have to spend five or six figures on a piece of art can halt someone right in their tracks you're doing a disservice to the industry as a whole. A new generation is already predisposed to living with images (albeit on their phones) and ignores the idea that people can scale in value over time. I have works in my collection that I have purchased for less than $500, and some in my collection that are many great magnitudes higher than that. Where I am now as a collector is not where I began, and where I am now is not where I will be in 10 years, but the most important part was just getting started.
Who are some of your all-time favorite artists?
I have too many to name, so this is a stream of consciousness list of some of my favorites:
Glenn Ligon
Frank Stella
Helen Frankenthaler
David Hammons
Agnes Martin
Ellsworth Kelly
Clyfford Still
James Perkins
Robert Motherwell
Lorna Simpson
Pierre Soulages
Christopher Wool
Tracey Emin
Lauren Halsey
What's your relationship to emerging art? Is it important to you to invest in artists careers from the beginning?
I think that it's important to invest in artists early on when you identify someone whose work you really connect with. All artists want to sell, of course, but I think for emerging artists it is equally, if not more important for them to find people who truly appreciate their work and that regardless of the level of patronage, see value in what they are doing. It is incredibly difficult for emerging artists to differentiate themselves sometimes, and equally difficult for collectors to identify those emerging artists at times. Relationships are obviously crucial, and so establishing them as early as possible in an artist's career can be especially rewarding for both collector and artist. I'm always doing studio visits to see what is out there.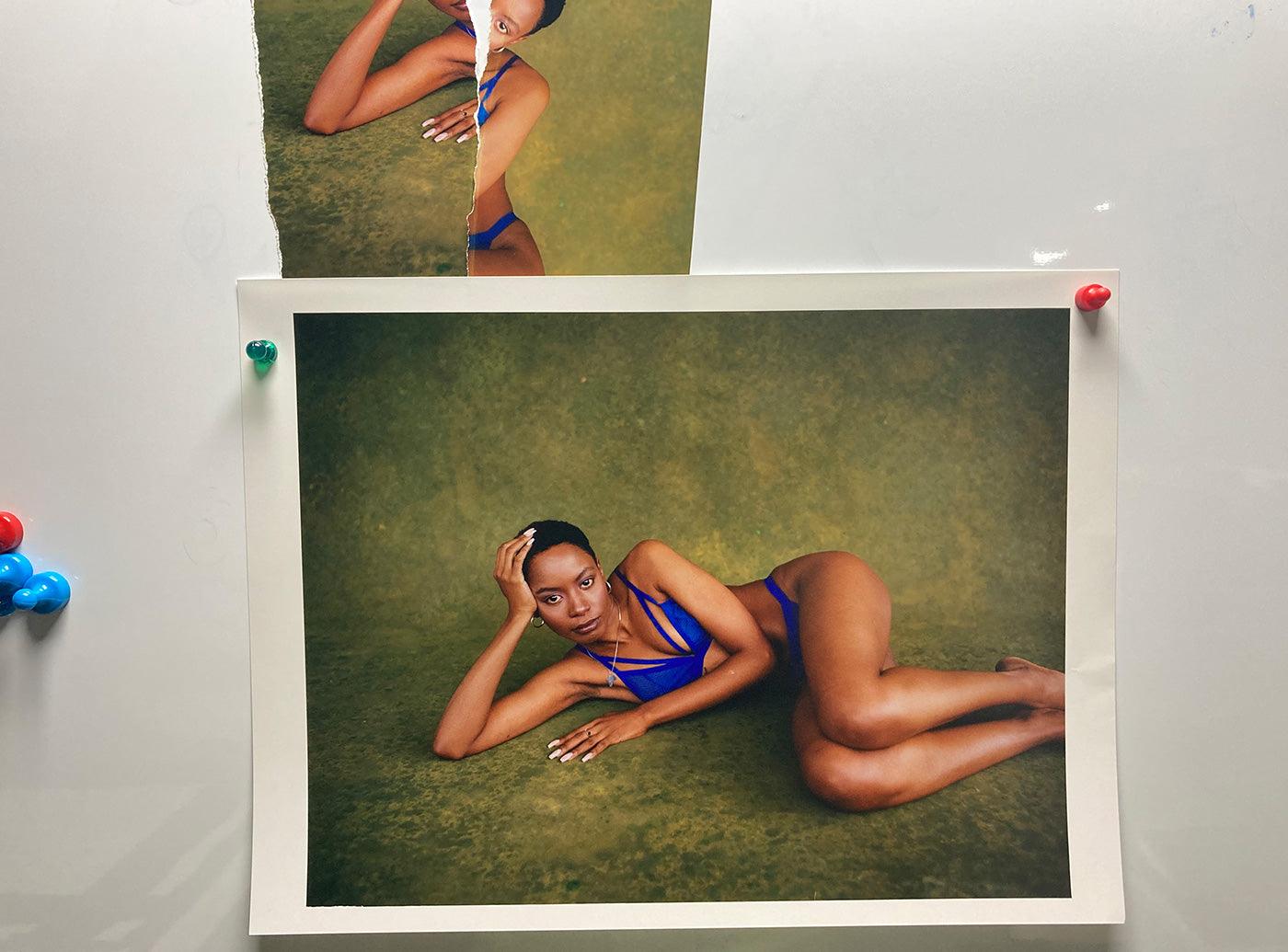 Artist Series
Katie Burdon on her series, SKIN "Love Your Skin is a street-cast project consisting of 14 women. Photographed over the course of two days in a studio that evolved with each character that came ...
Read more