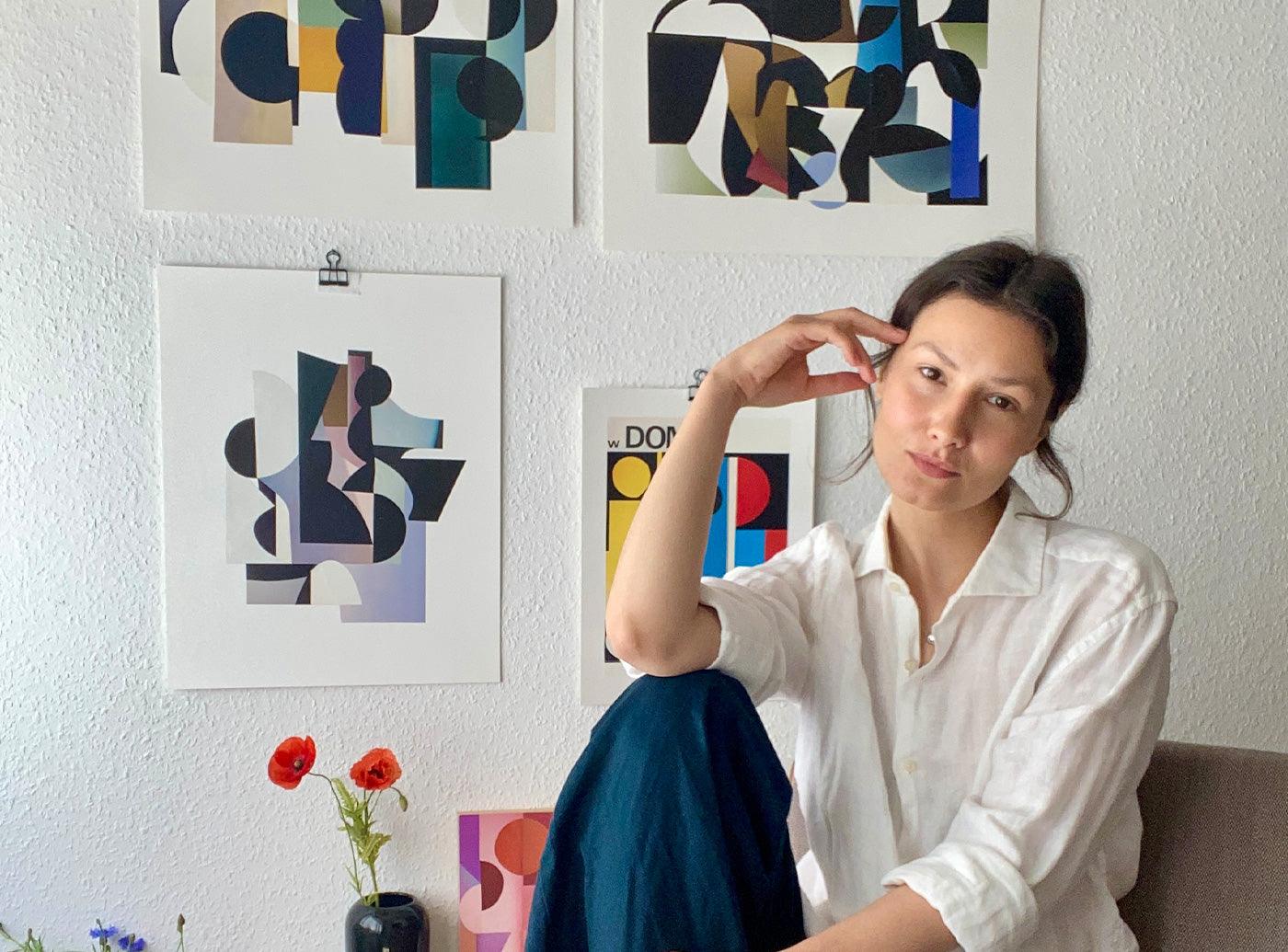 In the Studio | OVSKA
Berlin-based Polish artist, OVSKA works primarily in collage. After studying art history and developing her passion for mid-century furniture and design, she committed herself to fine art. Driven to capture ephemeral moments from the past, OVSKA combines paper cuts of different ages, shapes, and structures including recycled materials to create unique abstract compositions. By memorizing excitement, closeness, touch and scents she chooses those fragile scraps of material reality and connects them with appreciation until the universal meaning suddenly emerges from the flat surface.
TAPPAN
What is your creation process like, how are you conceptualizing and thinking about each of these pieces?
OVSKA
I generally start with two shapes and go from there. I usually work on a few pieces simultaneously. I rearrange them until I'm certain they're finished, which can very well take hours or days. I think my process is based on interactions between shapes, objects, memories, and intuition.

There is an important aspect of my practice that is unique I think. Since my olfactory sense is the strongest one I memorize scents and I associate them with colors which I translate into my collages.
TAPPAN
Describe your work in three words:
OVSKA
nostalgic, pieced-together, intuitive
TAPPAN
Would you say you have a studio philosophy?
OVSKA
I do have some techniques I learned for my practice, namely a working routine and taking naps in between. After a good nap, everything becomes clear and trouble-free. For me, it's very important to stay in the routine and to create every day. Then it comes easily.

Inhale and exhale! That would be my studio mantra. I'm still learning to let go when artwork goes awry, to take a couple of deep breaths and let the piece determine itself.
TAPPAN
Tell us about this body of work launching on Tappan?
OVSKA
This series is all about memories, their accompanying feelings and emotions. By appreciating the ephemeral moments from the past and piecing together paper cuttings which already carry a history I connected those fragments into a new whole. To create this series I experimented with different kinds of vintage paper, various textures, tonality and layering allowing me to create with all senses — cutting, tearing, folding, smelling, and feeling the texture of the paper, which became an essential part of my practice.

With the latest collages I've introduced a new material, a vintage carbon paper that is produced in limited colors, so my current palette is narrowed to those colors. By working with limited colors and bigger sizes of paper I could create simpler compositions with bigger shapes in bolder colors, which I've been wanting to do for a while now and I'm excited to explore this further.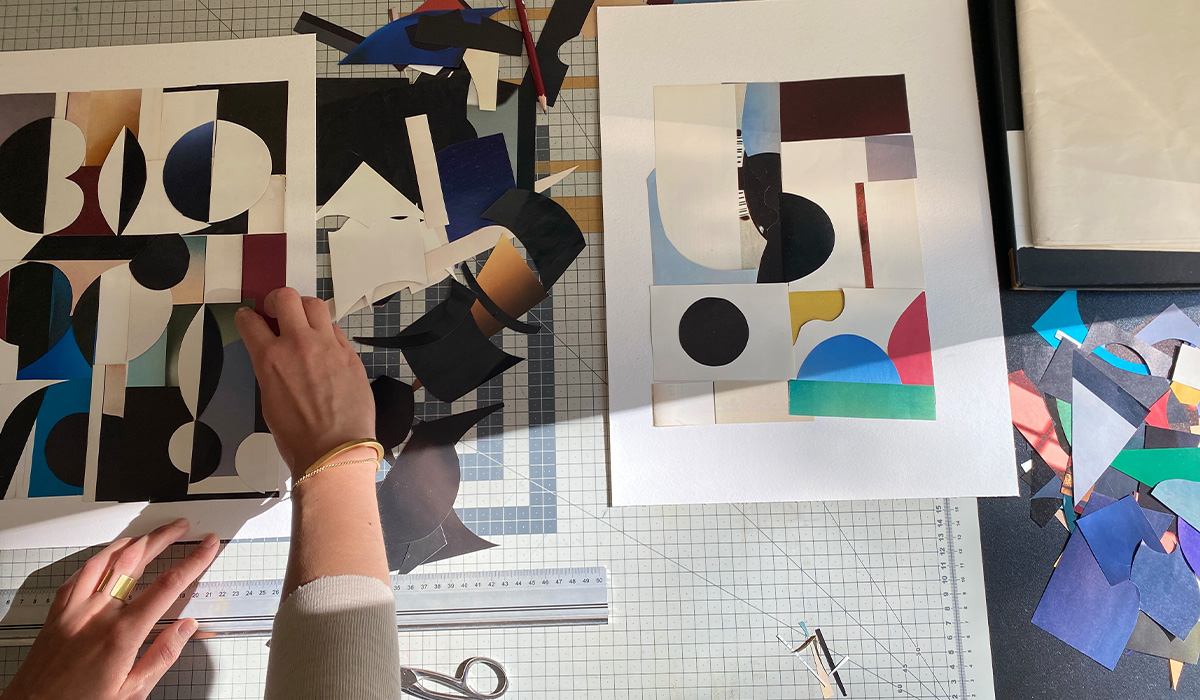 OVSKA says:
"By appreciating the ephemeral moments from the past and piecing together paper cuttings which already carry a history, I connect those fragments into a new whole."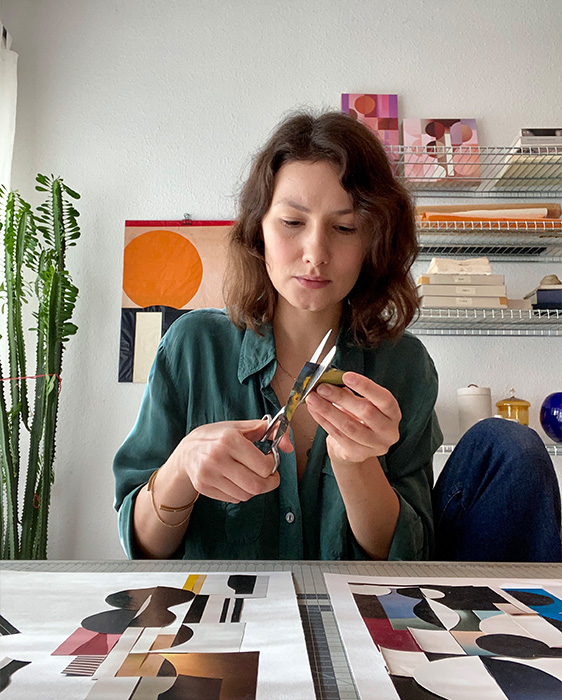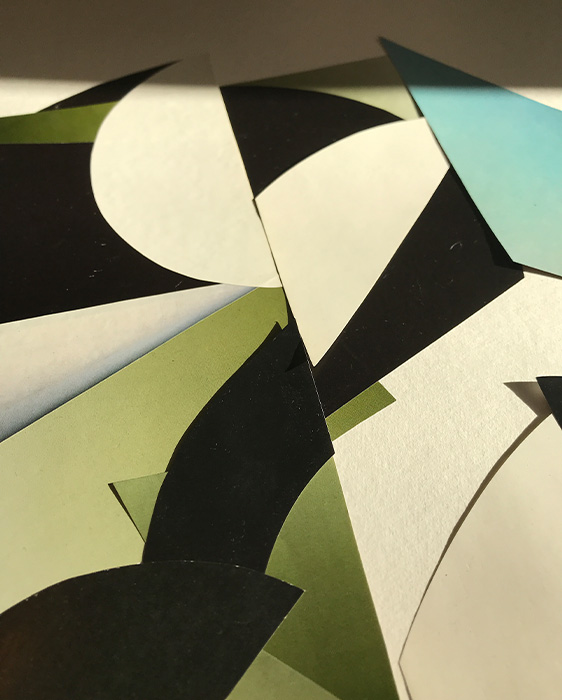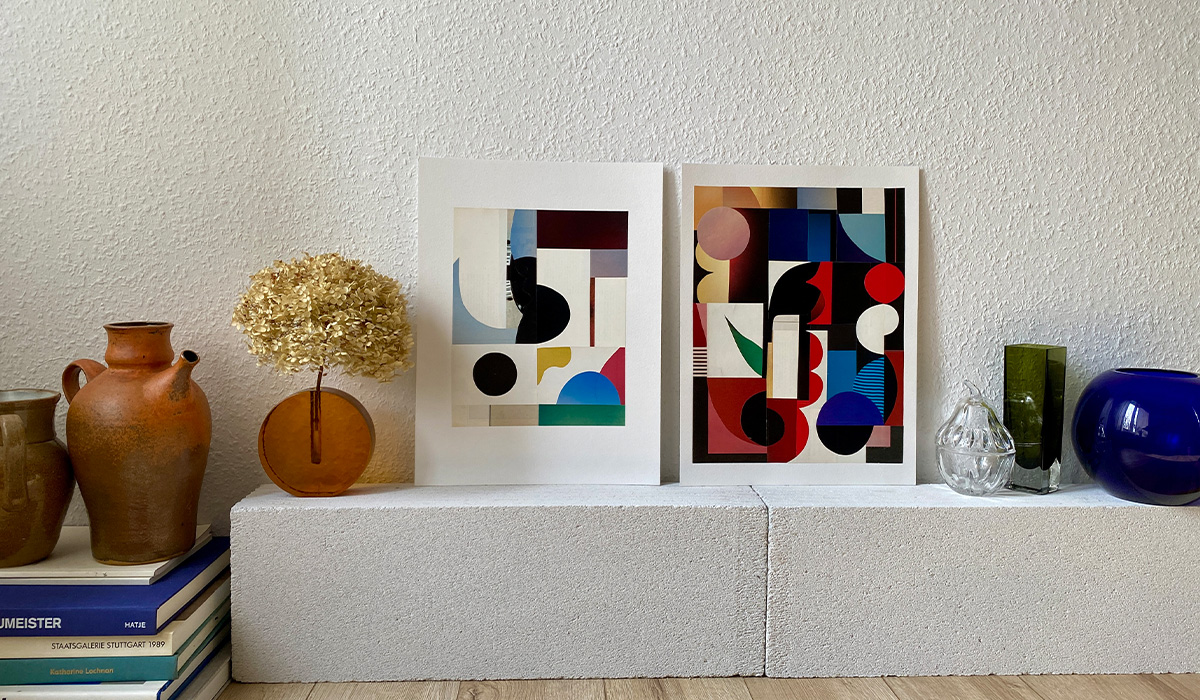 TAPPAN
Regarding your method of making, is it a case of the material or method dictating the idea of the other way around?
OVSKA
Definitely the material dictates the method. Each type of paper has its own properties, advantages and disadvantages and requires a different approach, so I think the idea comes with the material. The recycled materials carry a history of their own, making a character of an artwork. Those subtle imperfections often act as a starting point of the composition of a collage.
TAPPAN
What's the first thing you do when you begin formulating an idea for a piece?
OVSKA
I don't plan and think what to work on next. One work usually leads to the next. I often use cuttings and remainders from previous works to form the basis of each new series. Since I use upcycled materials I usually have a limited amount of a certain paper, so I always try to use as much as I can of it.

A part of my process is making small, simple drawings, writing down short notes on colors and scents, emotions and feelings about a particular event, place or object I had an interaction with, making videos, underlining some lines in books, which at the beginning make no sense to me but eventually it all adds up.
TAPPAN
Tell us about an artist whose career you admire?
OVSKA
Marina Abramovic – as a woman, as an artist, her life story and her work fascinate and touch me deeply. I have just started reading her memoir 'Walk Through Walls' for the second time. Few years ago I also had a chance to see a great retrospective exhibition of her works at the Center for Contemporary Art in Torun in Poland, near my hometown. I remember the feeling when I left as if it were yesterday. I was in awe. I get goosebumps when I think of it. That was an unforgettable experience.
TAPPAN
What is the arts community like in your city?
OVSKA
Berlin is full of creatives and I feel really blessed that so many of my friends are passionate about what they do. Some are music producers or DJs, designers, architects, restorers, pastry chefs but also young entrepreneurs that just try to bring their ideas to life. We help each other along, share our trials and tribulations. It's crucial and interesting for all of us I think. I just wish I would be more attentive to the art community events. That's something I need to work on.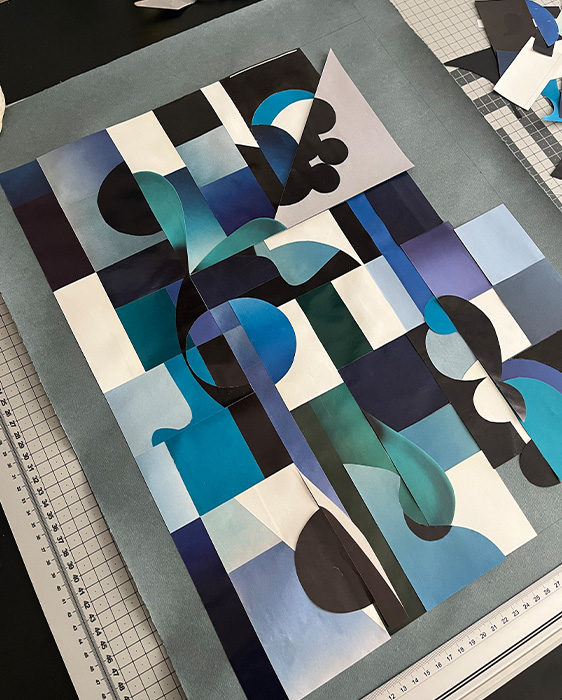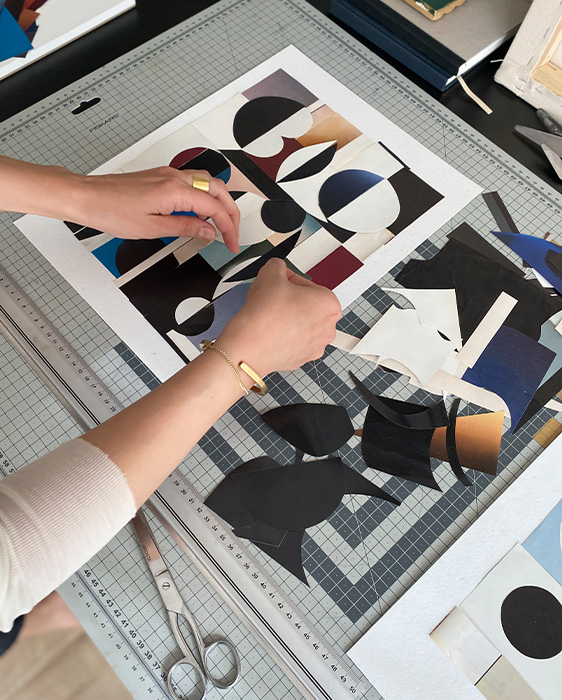 TAPPAN
If you could have a drink with one artist, who would it be?
OVSKA
Georgia O'Keeffe
TAPPAN
What is one artist living or dead you feel a great connection to?
OVSKA
Claire Oswalt, a contemporary abstract artist from Austin. I'm full of admiration for her earlier watercolor collages as well as her painted textile works. Those biomorphic forms in sandy neutrals, blushing pinks, watery blues with emerald greens – I can't describe my awe in words.
TAPPAN
Tools or mediums you're dying to experiment with?
OVSKA
Working with fabrics and wood really fascinates me. I would like to explore it in a different way than I did before when I was running a small business specializing in restoring and selling mid-century furniture. I would love to create a series of furniture or objects. Something sculptural but meant to be used, at once practical and aesthetic.
TAPPAN
Have the cities you've lived in influenced your practice?
OVSKA
I have lived before in Barcelona and Milan. Both cities introduced me to decorative arts, antiques, beautiful interiors, well dressed people and lots of art. The Joan Miro Foundation in Barcelona moved me deeply. I was truly enamored with his paintings, drawings, sketches and sculptures – his playful colors, whimsy shapes and a very deliberate way of using black and white for contrast.
TAPPAN
What's next?
OVSKA
A spacious studio with lots of daylight and paper works in big formats! I'm constantly looking for new ways of expression. I'm curious where it will lead me and my art. I also have work in an upcoming group show in Wiesbaden, Germany. I'm looking forward to it.