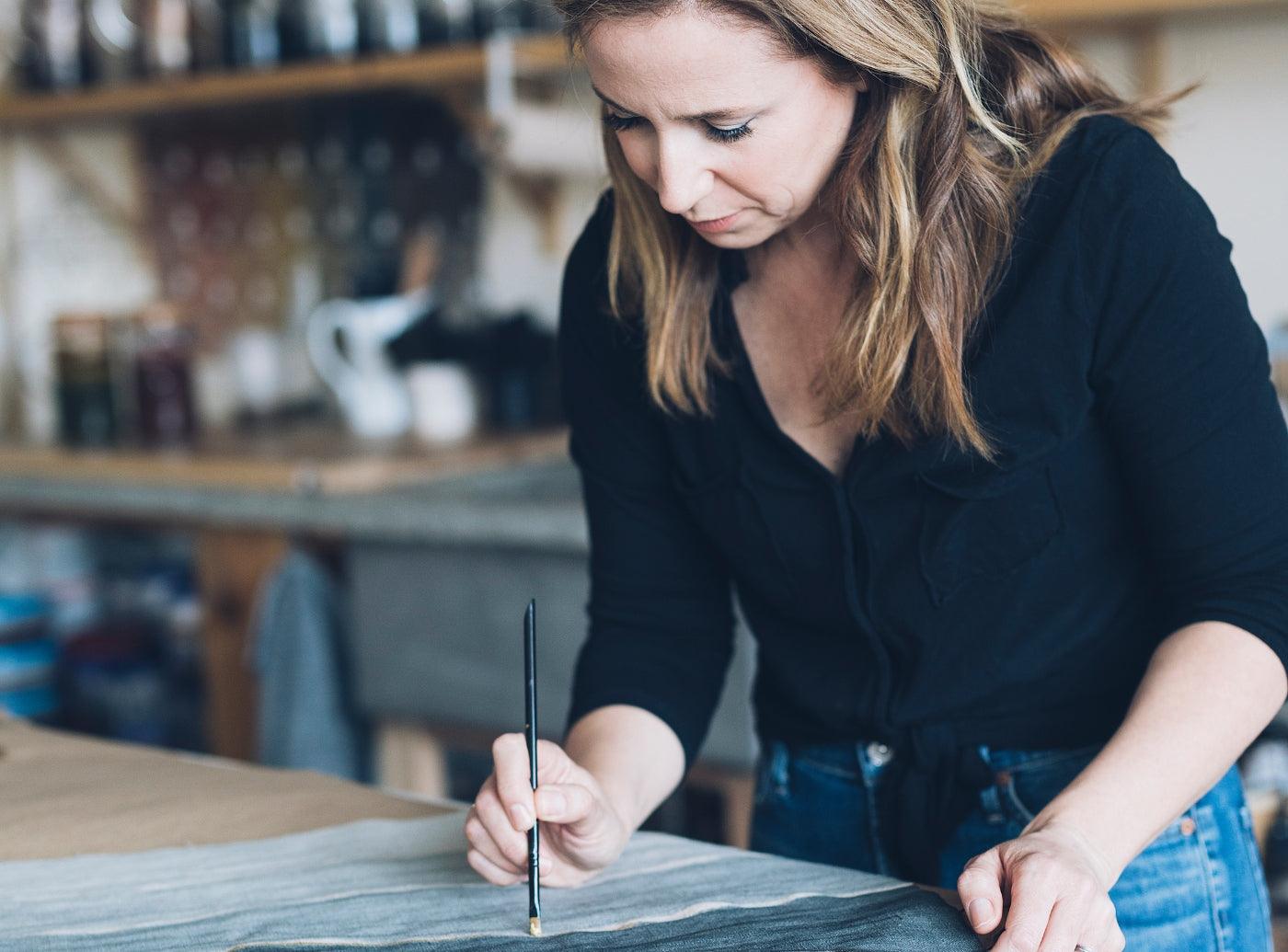 In the Studio | Chanee Vijay
In her first series for Tappan, Chanee Vijay shares her regard for the millennia-old landscape in her California property in textile collages that exude awe and a hard-won sense of joy. Starting with her European hemp offcuts, Chanee plays with tonality, often over-dyeing and painting each piece to bring mood and enhanced character to the fabric. Her attentiveness to the interactions among forms reinforces the arrangement's imperfect lines. The final composition is realized by pasting, then sculpting the hemp together to create movement and texture with raw exposed seams.
TAPPAN
Tell us about this body of work launching on Tappan?
CHANEE VIJAY
I created this series while living alone with my 3 dogs in the coastal redwoods at The Sea Ranch. The combination of a new isolated location, the solitude, and the astonishingly beautiful landscape allowed me to explore and revel in the unfamiliar. I've learned so much about redwood trees, but began to focus my curiosity on how the 1000-year old redwood stumps age and change from their original grand form. The stumps are slowly decaying as their offspring tower around them. They are taking on new forms and purpose — not unlike an aging woman. They're still giving — topped with huckleberry shrubs, covered in moss, and shedding their thick bark now blackened with protective tannins. This is where I found the shapes for my pieces — the exposed flesh, the grain under the bark, and the contours of erosion.

Because huckleberry season is in August and September, I was able to make a huckleberry dye for my natural hemp. The results ranged from soft rose hues to violet and deep indigo. Many of the pieces in the series have a small piece of huckleberry dyed hemp. To me this represents a gift from an ancient ancestor — the mother tree showing us how to embrace change, and forcing me to confront my own fear of aging.
TAPPAN
Describe your work in three words
CHANEE VIJAY
Memory. Hemp. Poetry.
TAPPAN
What is your creation process like, how are you conceptualizing and thinking about each of these pieces?
CHANEE VIJAY
I generally start with color. For this series, I was drawn to brown hues, and layering brown atop more saturated hues. Then I have a "hero" shape in my mind (drawing from the redwood stump form) and place it on the canvas and begin building around it. I layer on deeper shades of the same hue to create contrast, tonal interest, and balance. The forms come together fairly quickly. Pasting them down and trimming the exposed seams is tedious but satisfying. Near the end and sometimes after I think the work is complete, I like squeezing in very small, unexpected pieces where two or three larger pieces connect or along a long, lonely seam.
TAPPAN
Would you say you have a studio philosophy?
CHANEE VIJAY
Slow and sustainable. I strive to have a healthy space and output. I limit my waste, and I keep all of my hemp offcuts. I've always used natural fibers grown and processed without harmful chemicals, and non toxic inks and natural dyes.
"When I piece these works together it feels like a poem. I love language, and to me these works represent the art and design road I strayed from and later revisited."
TAPPAN
Regarding your method of making, is it a case of the material or method dictating the idea of the other way around?
CHANEE VIJAY
My first love is and always has been the hemp fabric. Working with unbleached European hemp for the past 13 years has created thousands of offcuts. I start with those pieces — pulling colors together, sometimes painting them again with deeper shades to create depth and contrast.
TAPPAN
What's the first thing you do when you begin formulating an idea for a piece?
CHANEE VIJAY
It usually begins with color. For example, the color of dried grasses in the meadows and the fallen duff from redwood trees here at The Sea Ranch. These are seemingly dead and generally go unnoticed against the grandeur of the coastline. I find their presence and prominence captivating. It makes me think critically of what we've learned to value in landscape design.
TAPPAN
Are there specific colors that you like to use in your work or that you consider signature/favorites?
CHANEE VIJAY
Natural pigments that we can find in Nature.
TAPPAN
Tell us about an artist whose career you admire?
CHANEE VIJAY
Simone Pheulpin, a French textile sculptor. Her work is magically precise. She folds cotton binding tape and uses pins to create organic and mysterious forms with enormous detail. At 70 years old, she was always skilled as a seamstress, but her eventual fame began late in her life when she started using the leftover binding tape from her curtain projects. Her work is astonishing. I hope to see one of her pieces in person soon.
TAPPAN
What is the arts community like in your city? Do you spend your time around other creatives?
CHANEE VIJAY
I've only lived here for a few months but most of the people I've met work in creative fields. There's a large and supportive arts community in the area. Many galleries that support local artists, annual open studio tours, and the Gualala Arts Center, which has a long history of bringing fine art and craft exhibits, workshops and performing arts to the community.
TAPPAN
If you could travel anywhere to create for a while, where would you go?
CHANEE VIJAY
My initial thoughts would be: the coastlines of New Zealand, Scotland, and Ireland, which now that I think about it have similar landscapes to The Sea Ranch where I live in California. I suppose that's why I chose to live here.
TAPPAN
What are your other hobbies?
CHANEE VIJAY
Most of my spare time goes to caring for my three dogs and my own health. Swimming, hiking, and romping around the bluff and forest trails with the dogs. I'm renovating our home. I read — mostly about architecture and sustainable design, climate risks and solutions. I enjoy maps — weather patterns, wildfire, fault lines, migrations of people and animals and on and on. It's all fascinating.
TAPPAN
What influences you?
CHANEE VIJAY
I find myself cutting, painting or sculpting the same shape for months. Unknowingly etched into my mind, it's often from obscure forms I see — a shadow across the remains of a 1000-year old coastal redwood, or the slope of rocks along the Sonoma coast.
TAPPAN
Silence or sound while creating?
CHANEE VIJAY
Sound, because if there's silence, my dogs will bark at nothing in contagion. Usually I have NPR on in the background, Beyonce when I need a boost, and I've been re-visiting the moody music I liked in my 20s — Fiona Apple and Mazzy Star.
TAPPAN
What is one artist living or dead you feel a great connection to? Someone whose work has inspired your own practice and what you're creating these days?
CHANEE VIJAY
Helen Frankenthaler

Her use of scale inspired me to start painting with ink on hemp and moved me away from screen printing. Her work is abstract yet soft and seems to glow. She's still inspiring me and my work. I don't like living in spaces with a lot of color — I've been this way since I was a child. Helen's heavy use of color challenges me to move away from neutrals and muted hues. I'm trying to lean into the discomfort, and experiment with, even in a small way, using more bright colors for my next series.
TAPPAN
What's the best gift you've ever received?
CHANEE VIJAY
The enthusiastic support I receive from my husband. It sounds cheesy, I know. He's the best human I know. He is the person that told me to "make something." So I did.
Profiles
Olivia Perez | Collector Profile
Olivia Perez is a fashion journalist, content creator, and the host of the style podcast Friend of a Friend. You can usually find her on Instagram planning outfits, sharing trends on the Today S...
Read more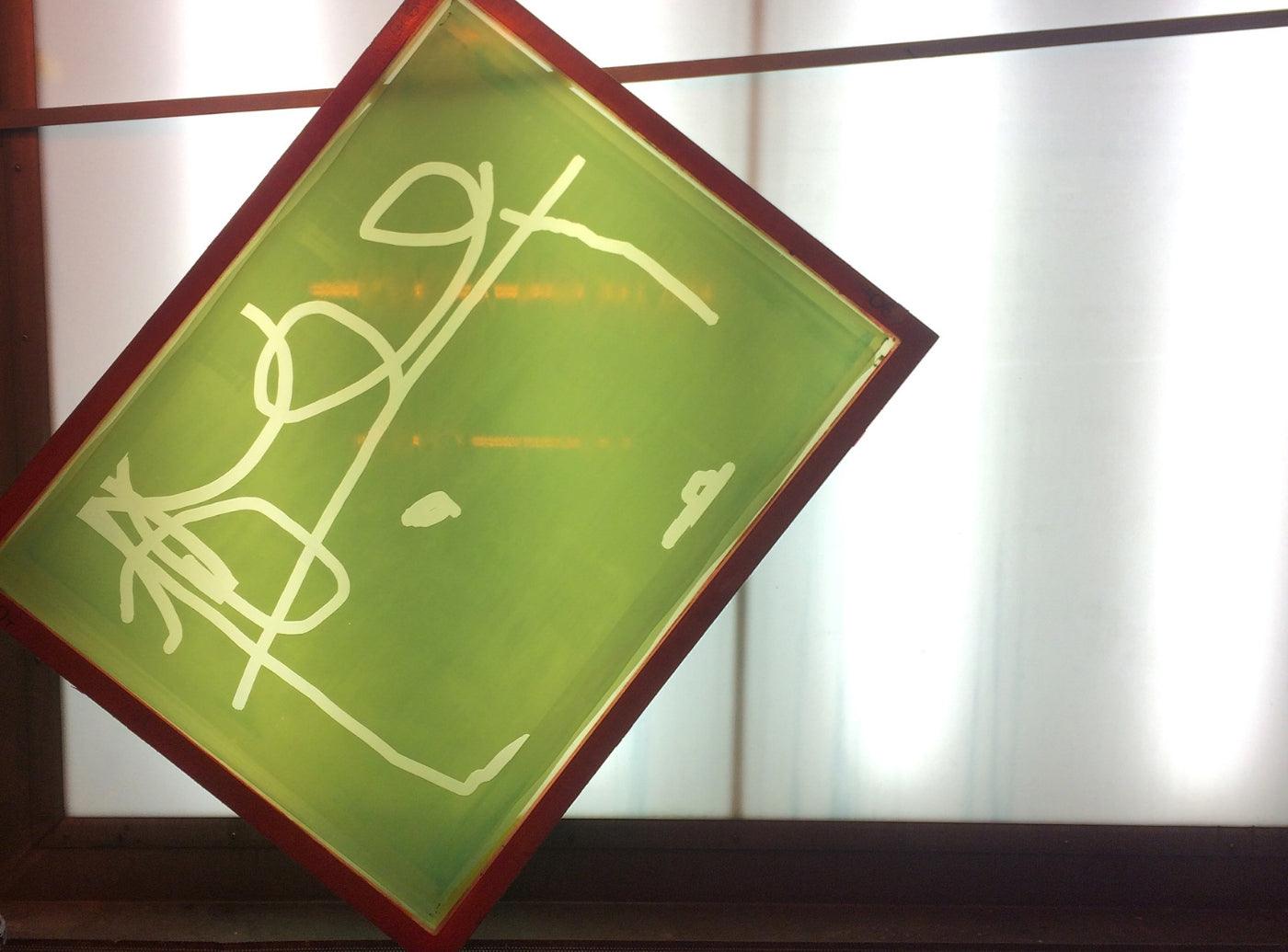 Insights
A silkscreen print, also known as  a "serigraph" or "screenprint", is of print made using a image-making technique that has been employed by artists for over 1000 years.An early form of screen p...
Read more