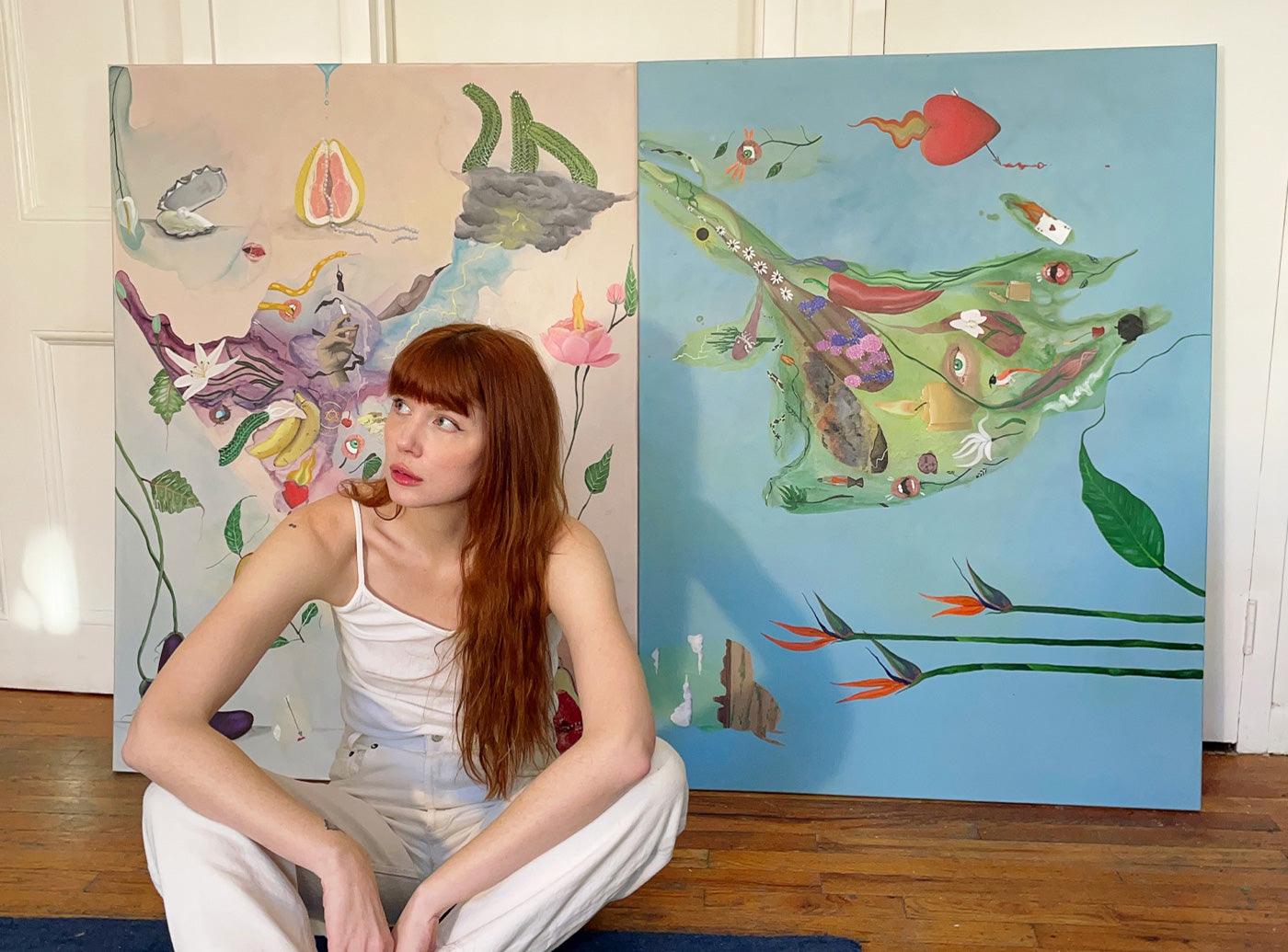 In the Studio | Brianna Lance
Welcome to the studio of Brianna Lance, a painter and multi-hyphenate creative based in New York. Driven to document her ongoing subconscious and spiritual journeys, Lance paints fantastical environments that are rich in detail and spontaneous in form. Read on to learn about her Texas upbringing, love of meditation, interest in spiritual art, and more.
TAPPAN
How would you describe your creative process?
BRIANNA LANCE
Everything that I'm unable to communicate in normal life can be communicated through my work. I try to make work every day, so I'm constantly in a state of formulating ideas. I don't really believe in being blocked; I think you have to work through it and clean out the cobwebs. The process starts with a very instinctual and thought-out underpainting—it's stream of consciousness, without editing. Then I think of the details in meditation.
TAPPAN
Describe your work in three words.
BRIANNA LANCE
Movement, meditation, subconscious.
TAPPAN
Tell us about your upbringing and education. Did you grow up around creative people?
BRIANNA LANCE
I grew up in Texas, then moved to New York. Though both places are so different, their value and quality of art is similar. Art has always been very important—and easily accessible—in my life, so I think that helped push me to create. My parents are creative, my sister paints, and both my grandfathers painted. We went to museums all the time. In Dallas I was surrounded by creators, because they were who my parents liked to be around. My mom's best friend was an incredible photographer who gave me lessons, and another friend of hers made beautiful floral sculptures.
TAPPAN
What's your philosophy in the studio?
BRIANNA LANCE
My work is so instinctual that I haven't really thought of a specific philosophy. But I do believe that connecting with higher consciousness helps me make my work.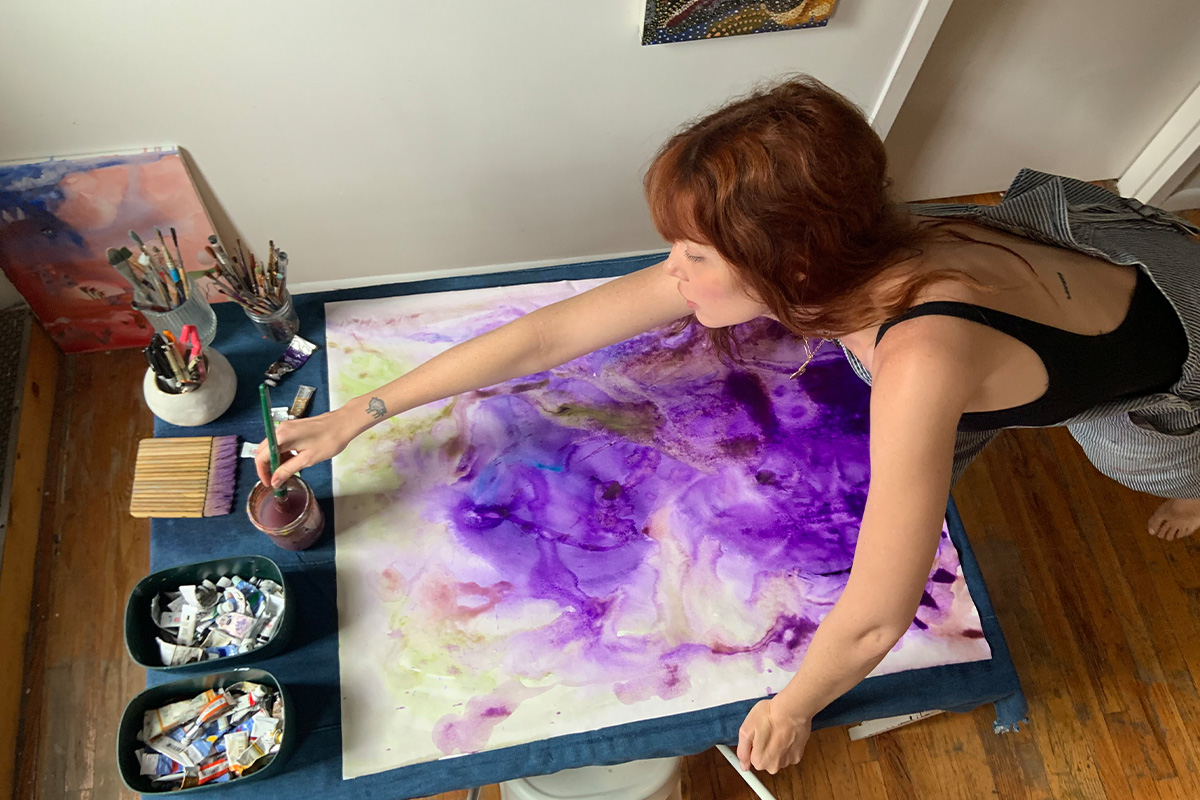 Brianna Lance says:
"I have a very hard time expressing myself in words, so creating work is a way for me to truly and freely express myself. It's the one time I feel capable of saying exactly what I mean."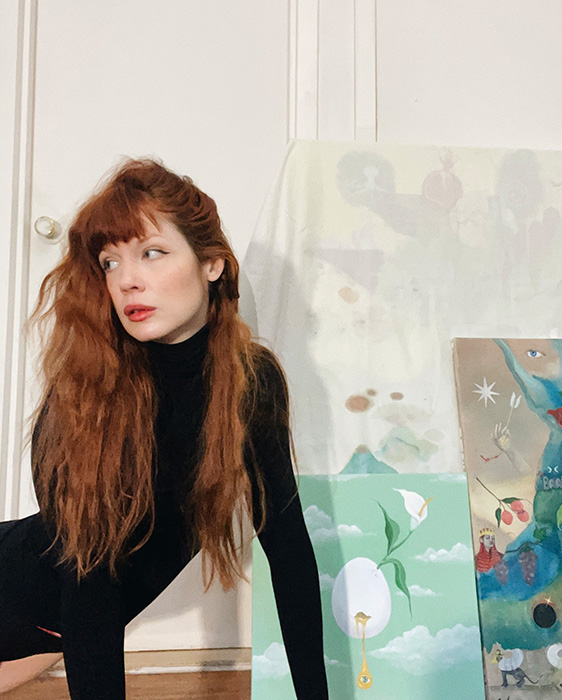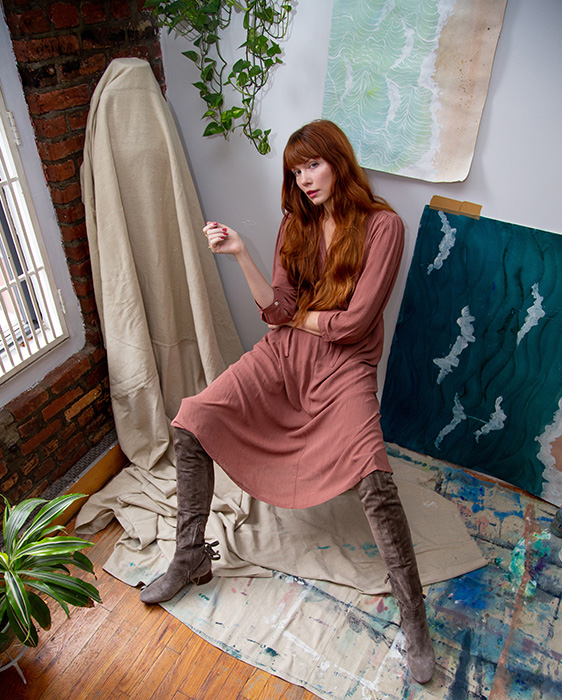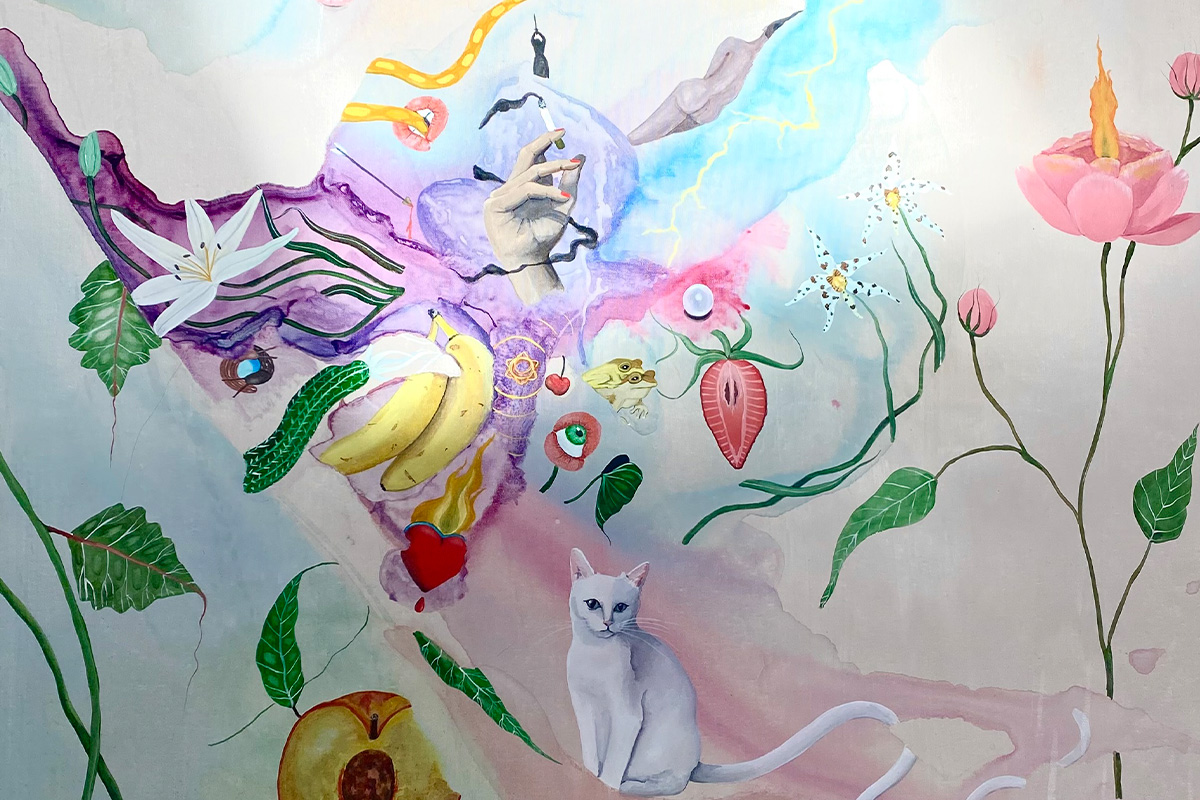 TAPPAN
Do materials and methods dictate your ideas, or vice versa?
BRIANNA LANCE
For the paintings, it's the other way around; I choose the materials based on how I can get the movement I want. For the embroideries, it's the material first. They're made out of old drop cloths, which I recycle into new work after they're done serving their first purpose.
TAPPAN
What motivates you?
BRIANNA LANCE
I have a very hard time expressing myself in words, so creating work is a way for me to truly and freely express myself. It's the one time I feel capable of saying exactly what I mean.
TAPPAN
Describe "Flowers," the body of work you're launching with Tappan.
BRIANNA LANCE
This body of work is all about the subconscious and nature. Each work deals with finding order in chaos and being able to zoom into details to make sense of a whole. Paintings act as diaries of my meditations, giving me a way to express my subconscious that isn't possible verbally. The flowers deal with everything being interconnected. The way nature exists is the way our mind exists—it's all the same and it repeats itself to create new forms. The vision paintings are actual visions from my meditations, which represent a connection to the spirit realm, the rich world that exists beneath the surface.
TAPPAN
Which work has taken you the longest to complete?
BRIANNA LANCE
I made sculptures for Miami Art Week out of paper mache, LED lights, paint, and resin. Those took some time because of all the steps involved, I think it was three weeks that I worked on them. The embroidery also takes a while—two weeks for the big ones.
TAPPAN
If you could travel anywhere to make work, where would you go?
BRIANNA LANCE
I would love to create by the ocean, somewhere warm. I remember spending some time painting in Jamaica as well as on a trip in Long Island—swimming in the water everyday immediately puts me in a great headspace for working.
TAPPAN
Are there any tools or mediums that you'd like to explore?
BRIANNA LANCE
I would love to start working with beadwork and rug weaving. There's a Martin Kippenberger piece called "The Raft of the Medusa" that's the most gorgeous rug. Ever since the moment I saw it, I've dreamed about making a rug. Also ceramics. I've worked a bit in ceramics, but dealing with a six floor walk-up studio and transporting back and forth to a kiln isn't that simple. Once I find a good ceramics studio, I think that will be next.
TAPPAN
What was the last gallery show you saw?
BRIANNA LANCE
Frieze was the last show I went to. I saw a Joyce J. Scott glass and bead sculpture, and was completely blown away. I've never seen so much expressed in such a small sculpture.
TAPPAN
Who is one artist, living or dead, that you feel a connection with?
BRIANNA LANCE
So many artists inspire me, but I feel very connected to women who create feminine and spiritual work. So Hilma af Klint and Agnes Pelton are big influences.
TAPPAN
Tell us about an artist whose career you admire.
BRIANNA LANCE
David Hammons is my number one. The way he is able to express his true vision with so many different ideas and mediums is unreal. He also keeps the same integrity from piece to piece.
TAPPAN
What are some of your interests outside of art?
BRIANNA LANCE
I collect plants compulsively. Every time I get upset, I buy a plant. I also try to dance everyday to lift my vibe. My other artistic pursuits include being a musician, a DJ, and I consult for companies on creative direction.
TAPPAN
What's next?
BRIANNA LANCE
I would love to work with a public space to make an accessible piece—a mural or sculpture, something that can be enjoyed by everyone.