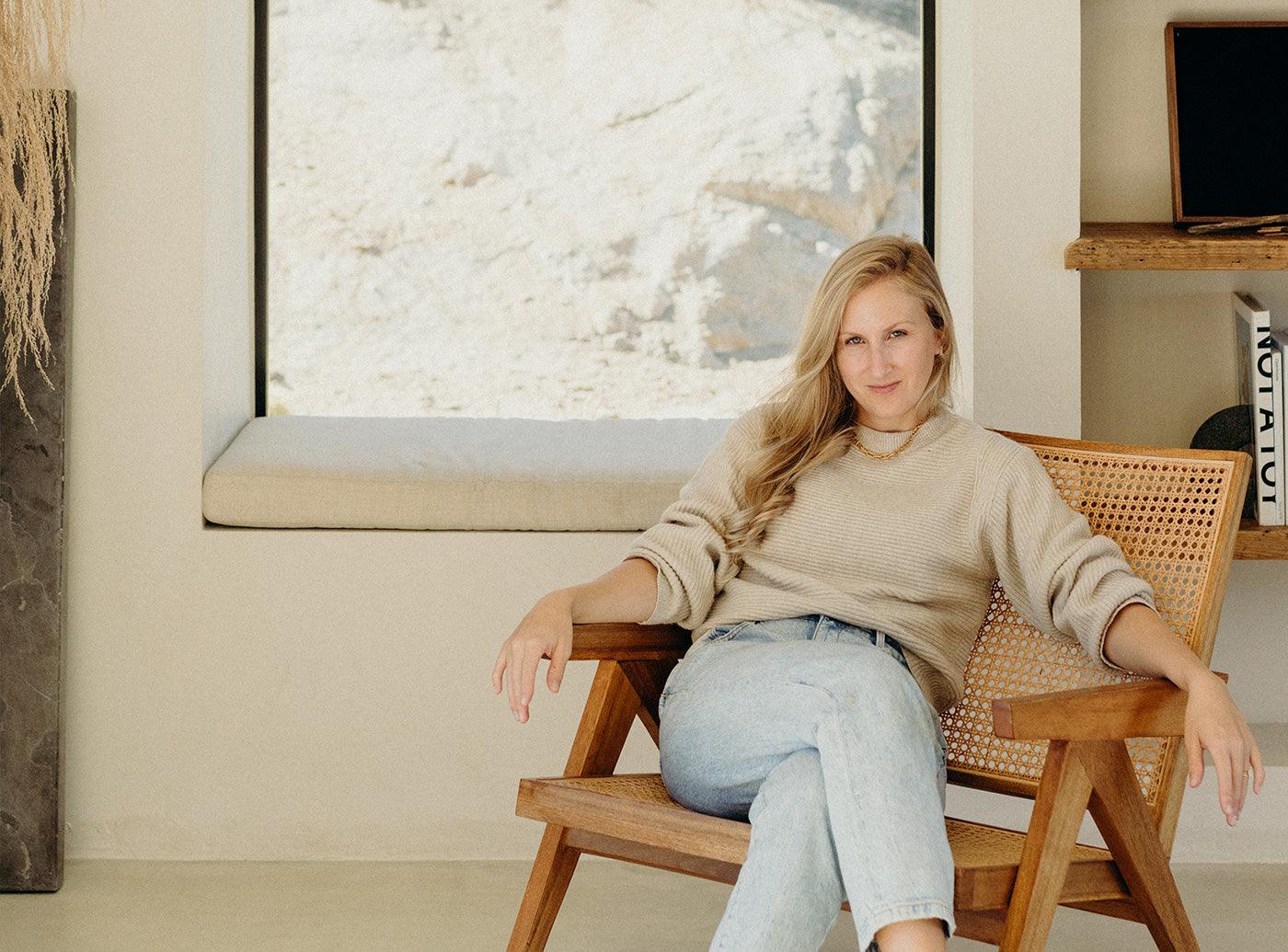 In the Studio | Alyssa Breid
Tampa-born artist Alyssa Breid is no stranger to fear. A classically-trained flutist who has performed at Carnegie Hall, Breid listened to the voice inside her urging her to expand her creative practice, pivoting her path from performance to the practice of weaving. She welcomed us into her studio to talk about what inspires her and what lies ahead for her artistic practice.
TAPPAN
Tell us about this body of work launching on Tappan.
ALYSSA BREID
This body of work is an idea that has been percolating over the past couple of years. I'm very drawn to Scandinavian and Japanese minimal aesthetics; the fact that one simple item, constructed beautifully, can bring so much joy into a home as well as a sense of calm. I've also been really inspired by certain architectural elements that I've observed through living in DC. That and the fact that something about a perfect circle kind of rounds out the senses. Additionally, the pieces are framed in the most beautiful walnut wood frames. The sense of added warmth really rounds out the pieces.
TAPPAN
Describe your work in three words.
ALYSSA BREID
Shibusa (simplicity), sabi and yūgen (profound grace and subtlety)
TAPPAN
What is your creation process like, how are you conceptualizing and thinking about each of these pieces?
ALYSSA BREID
I start by gathering inspiration and making mood boards, interiors often influence my conceptualization a lot, visualizing how a piece would fit into a well designed home, what kind of space can I see this art living in. I then spend a lot of time visualizing in my head and then I reach a point where I just have to go for it—sometimes these pieces are ones I need to create just to get the idea out into the world—then I can start making changes, editing, and improving.
TAPPAN
Would you say you have a studio philosophy?
ALYSSA BREID
My studio and life philosophy meld together: to create the happiest, best life possible and never take a single moment for granted. This applies in the studio to really stay true to my vision and create what brings me the most joy.
TAPPAN
Regarding your method of making, is it a case of the material or method dictating the idea of the other way around?
ALYSSA BREID
For me, it's a mix of material and method. My process is a nod to the traditional process of tapestry weaving but without a loom — everything is hand-woven so when working with a straight thread, your path is often dictated by the materials — all curves are merely an illusion.
TAPPAN
What's the first thing you do when you begin formulating an idea for a piece?
ALYSSA BREID
I mull it over for quite some time, mood board it and oftentimes just dive right in.
Alyssa Breid says:
"My studio and life philosophy are both to create the happiest, best life possible and never take a single moment for granted."
TAPPAN
Tell us about an artist whose career you admire.
ALYSSA BREID
I'm a huge admirer of Sheila Hicks and the groundbreaking work she did to the world of weaving. I really admire that she started as a painter before coming to weaving, and the sense of painting that you can find in her weavings. I also loved that she took time to study different culture's methods of weaving. This is something that I would love to do. I truly think she is a groundbreaking artist, especially in the world of weaving, and her works and use of natural materials greatly inspired and influenced my own work.
TAPPAN
What was the last gallery show you went to?
ALYSSA BREID
I recently attended Blum and Poe's Kazunori Hamana in collaboration with Yukiko Kuroda. I'm in awe of the wabi-sabi elements of these ceramic vessels, of how the installation was curated together and how they allow visitors to really experience the art. The curation of placement was truly astounding and transportive.
TAPPAN
What is the arts community like in your city? Do you spend your time around other creatives?
ALYSSA BREID
I've spent my whole life around other creatives! I'm new to LA but have found the arts community most welcoming and supportive.
TAPPAN
If you could travel anywhere to create for a while, where would you go?
ALYSSA BREID
I would travel to the Italian or French countryside. The change of pace and lifestyle, the richness of history and tradition I think would bring a whole new awareness to my practice.
TAPPAN
What are your other hobbies?
ALYSSA BREID
I love spending time with my husband and our dog—we really enjoy living the outdoor life in California, hiking, and going to the beach!
TAPPAN
If you could have a drink with one artist, who would it be?
ALYSSA BREID
I believe it would be Michelangelo or Rothko. I'm in awe of the magnitude of work that came out of the Renaissance and the life one would have during this giant cultural awakening. I've also always been in love with Rothko's work—I feel he is a true pioneer of minimalism and I would just love to be the one with a drink, watching him work!
TAPPAN
What influences you?
ALYSSA BREID
Well thought out and excellently constructed designs, whether that be in interiors, fashion, literature. I love when you can tell exquisite thought and consideration has been put behind something.
TAPPAN
What motivates you?
ALYSSA BREID
I'm always striving to be better; for perfection. That never-ending pursuit motivates me. Also, the drive to live a life I had always imagined- to continue to pursue what makes me feel fulfilled.
TAPPAN
Silence or sound while creating? If sound, what?
ALYSSA BREID
I'm in both camps! I love listening to podcasts: Second life, Modern House, or Design time are some of my favorites but I can also sit in silence for hours. It depends on my mood.
TAPPAN
Tools or mediums you're dying to experiment with?
ALYSSA BREID
Plaster paint as well as a Japanese bookbinding cloth. I've been eager to use a new weaving base.
TAPPAN
What work took you the longest to complete?
ALYSSA BREID
Obviously the biggest pieces take me the longest to complete. Each single thread is meticulously woven next to the other by hand— since the thread is so thin, each piece can take several weeks to complete.
TAPPAN
What's the bravest thing you've ever done?
ALYSSA BREID
Pivoting paths after dedicating every single ounce of energy for over 20 years to a different path. Also, playing a sonata on the Carnegie Hall stage—that took a lot of bravery.
TAPPAN
What's next?
ALYSSA BREID
I have so many ideas of what I would like to do next! I have collaborations I am striving for—already have thoughts on my next collection and hope to continue working on my paintings as well. Many more plans to come.