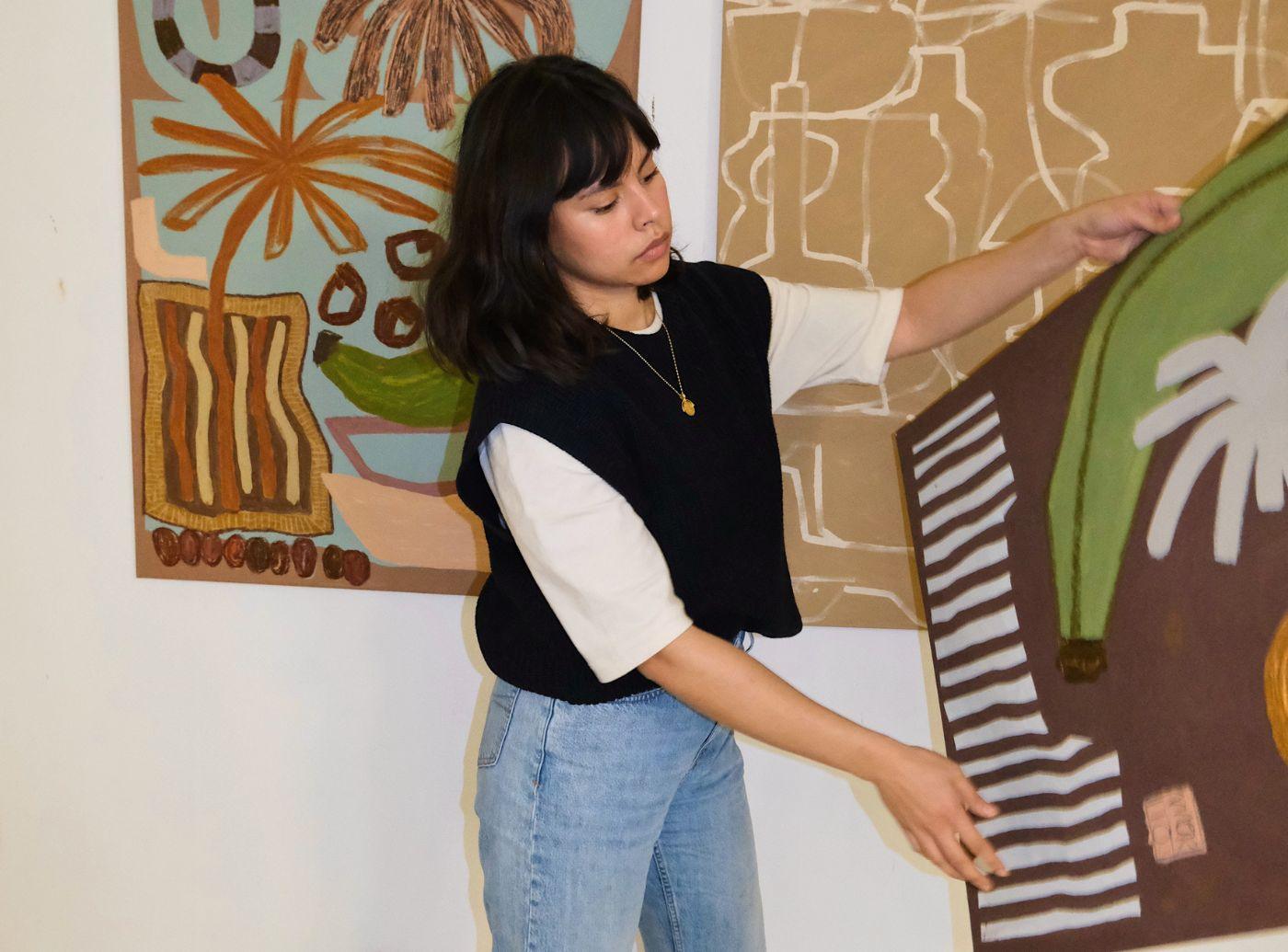 In the Studio | Monika Morito
Exploring captivating contrasts and the interplay of textures and characters, Monika Morito brings abstract shapes, fruit, and swaying palm trees to life as she invites the viewer to embark on a journey through the beauty of her homeland.
TAPPAN
What is your creation process like, how are you conceptualizing and thinking about each of these pieces?
MONIKA MORITO
My creative process has changed since I became a fully independent artist. I no longer pre-sketch my ideas. For me, sketching always created a pressure that I didn't enjoy in the process. Now I just start my work and preferably on several at the same time. Before I start painting, I only have one idea or feeling in my mind and at the end it is always exciting for me to see whether I have managed this initial idea well or whether the work has developed into something completely new. I particularly enjoy this freedom in my work.
TAPPAN
Describe your work in three words:
MONIKA MORITO
Longing, Calm, Joy
TAPPAN
Would you say you have a studio philosophy? Regarding your method of making, is it a case of the material or method dictating the idea of the other way around?
MONIKA MORITO
Since I work very freely and sometimes I don't know exactly what I want to create beforehand, I would say that the material dictates the idea step by step. Often mistakes or things that I couldn't foresee happen to me while creating and that's when it always starts to get exciting. Because through these "mistakes" you actually often develop further, find solutions and discover new techniques, ideas etc
TAPPAN
What is a medium you want to explore, but haven't yet? (and why?)
MONIKA MORITO
I have only used oil paints a few times so far, but quickly switched back to acrylics and the oil pastels I usually work with. I always had the feeling that oil paints were more suitable for artists who paint more realistically, which of course isn't true and the thought has somehow planted itself in my head. But I want to change that in the future and definitely experiment more with oil paints.
Monika Morito says:
"I always try to give viewers a glimpse into my innermost thoughts and feelings toward my homeland. I want to awaken both a longing and an inner calm through my connection to the sea and the sun."
TAPPAN
What was the last gallery show you went to?
MONIKA MORITO
This September I was traveling to Amsterdam and visited the Van Gogh Museum and their current exhibition. It was very fascinating to see his works in real life and to dive into his life in more detail.
TAPPAN
If you could travel anywhere to create for a while, where would you go?
MONIKA MORITO
It would definitely be the Philippines. Since I was born there and spent my first years of childhood there, it plays a very big role in my art. I would very much like to find out what would happen to my art and to me if I lived and painted there for a longer period of time. I have lived in Germany for more than two decades and I am very sure that the connection and memories with the country of my birth could lead to very exciting results if I were to spend some time there again.
TAPPAN
What influences you?
MONIKA MORITO
I'm influenced by everyday things that I discover with all my senses, whether it's my daily walk to the bakery or encounters with different people. Above all, I'm influenced by traveling because there are so many new things that inspire me and it's great to return to your routine with the newly gained impressions and possibly implement them.
TAPPAN
What motivates you?
MONIKA MORITO
I'm motivated by many things, but especially when I can inspire other people with my art and also motivate them to be creative.
TAPPAN
Who is one artist living or dead you feel a great connection to? Someone whose work has inspired your own practice and what you're creating these days.
MONIKA MORITO
I would say that the artist Laurence Leenaert, also known as LRNCE, inspired me a lot in my early days as an artist. Not only her works, but especially her career and courage to move to a foreign country, I find very admirable. It is remarkable how she (unconsciously) motivated me to resume my dream of living as an artist and to have the courage to believe in myself and my work.
TAPPAN
Tell us about your hometown. Did you grow up with creative people in your life?
MONIKA MORITO
I was born in the Philippines and my father is from Germany, so we spent a lot of time in the Philippines when I was young. However, when school really started, we stayed in Germany. I grew up for the rest of my childhood in the Allgäu, in a small town about an hour away from Munich. If I think about it, I didn't necessarily grow up with many creative people in the classical sense. But strangely enough, I always chose the path that brought me closer to art and therefore I was surrounded by creative people, especially during my school years.
TAPPAN
What's next?
MONIKA MORITO
My next goal is to get out of Germany and work and create abroad for a longer period of time. Probably in Europe for now, but in the distant future I also long to live in the Philippines for a longer period of time to develop my art from there.