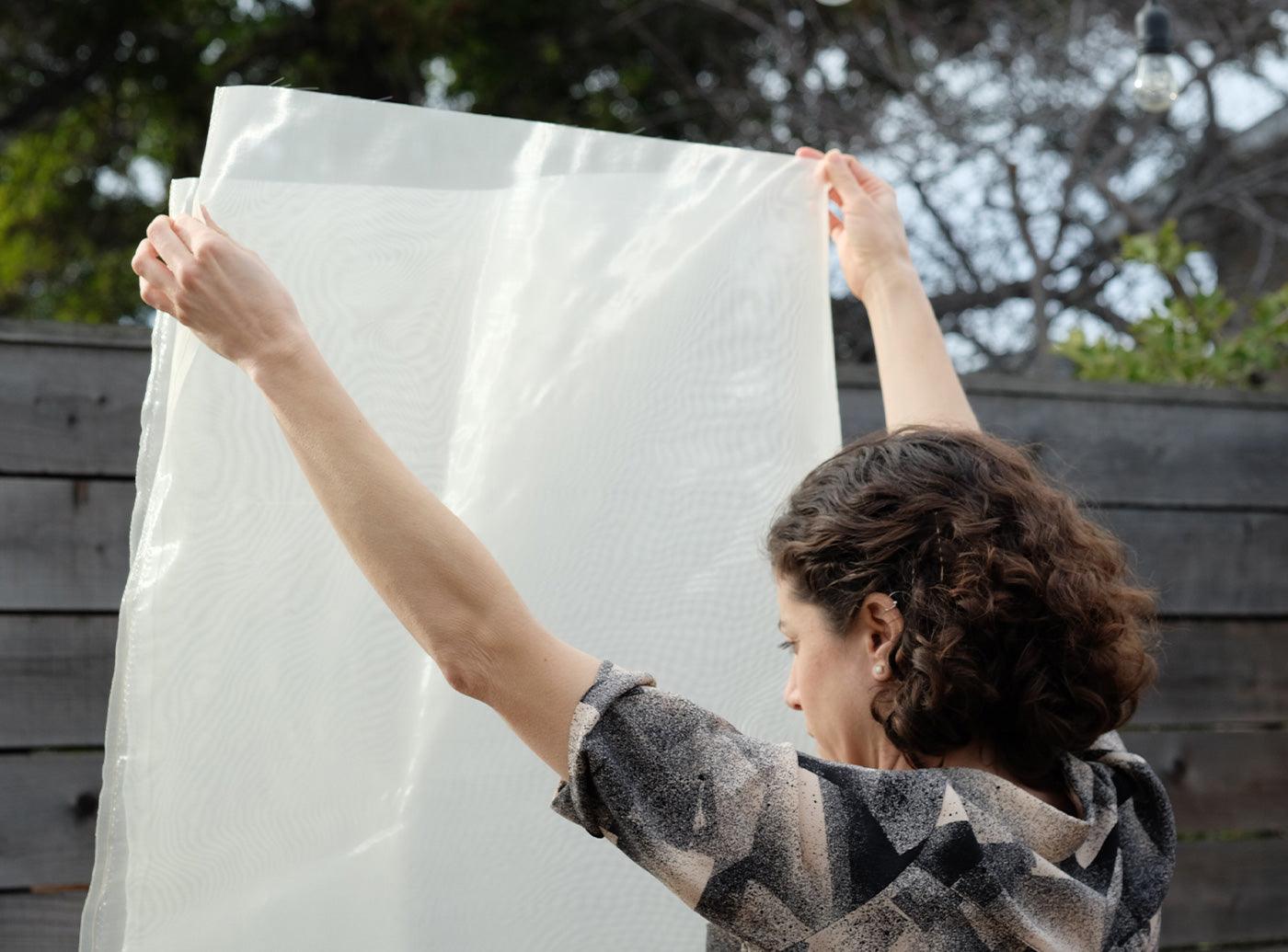 In the Studio | Alexis Arnold
Today we welcome San Francisco-based artist Alexis Arnold to the Tappan artist roster. We first fell in love with her intricate, beautiful crystallized sculptures and learning about her process and inspiration to pursue and continue this series has only made us love them more. Read our interview with her below:
TAPPAN
Tell us a little bit about this series on Tappan?
ALEXIS ARNOLD
My Crystallized Book series began in 2011 in response to the vulnerability of printed media and bookstores, along with repeatedly finding boxes of discarded books. Books hold a great significance as objects, stories, teachings, memories, and more, so they were ripe for investigation with the process of crystal growth I'd been exploring on different objects.

My intent with the series is to contrast the materiality versus the text or content of the book. The crystals remove the text and solidify the books into aesthetic, non-functional objects. I manipulate the books with my hands, water, and salt to transform them into artifacts or geologic specimens imbued with the history of time, use, and memory.

The crystals and book shapes spark a sense of wonder akin to a great piece of literature, like some of the titles I use, but certainly not all, such as an obsolete software manual or old phone book. It's been nice to watch an apparent return to the cultural value of printed media while working on the series over the last 6 years.
TAPPAN
Where do you source your materials? How do you decide which book is just right for the piece? Once you do decide, can you tell us about the crystallizing process?
ALEXIS ARNOLD
The books I have crystallized have come from the sidewalk, my own collection, my husband's collection, given to me, or purchased (mostly used) if I want specific titles.
I have crystallized titles personal to me or others, obsolete books like out-of-date encyclopedias, books that play upon the project (such as the Classics to Grow On series edition of 20,000 Leagues Under the Sea), classic literature, children's books, books I like for how they look or simply because I ended up with them for free. For a recent two-person exhibition with Esther Traugot at Napa Valley Museum, all the titles I used were directly related to both the location and Traugot's work.

To grow the crystals directly on the books, I start by creating a super-saturated solution of borax (sodium tetraborate) in boiling water. When the water boils, its molecules expand, allowing more Borax in. I submerge the book (or other object) in the hot, saturated solution and carefully manipulate the book to my liking before and during the process. As the saturated water cools, the molecules shrink and any excess Borax crystallizes. Once the solution has completely cooled and the crystals have grown on the submerged book, I drain the solution and dry the fragile, waterlogged work without disturbing its shape. When completely dry, the books hold their new, rigid shapes.
TAPPAN
Did you start by crystallizing smaller objects?
ALEXIS ARNOLD
I ended up experimenting with crystal growth in my work after I found crystals growing on the concrete floor of my studio as a result of oxidizing metal with salt, soda ash, and vinegar. The first crystallized objects I made were concrete casts and antique tools related to a specific project at the time.

Other sculptures and installations have included a range of crystallized objects, including bicycle wheels, bundt pans and other used kitchenware, a cactus, insects, eggshells, a wig, crab and mussel shells, copper mesh, steel wool, wood, and more. In addition to the reasons mentioned above, I began crystallizing books as most of the objects I had been using were hard and I was interested in seeing the effect of the crystal growth on porous, malleable objects. The malleability and transformation of soft paper into rigid sculptures, along with the cultural significance of the object, provided the material combination I found most successful out of all the objects I had crystallized.

I've recently explored using crystal growth with window screen and other mesh fabric. The crystals provide material contrast and structure for sculptures and installations that explore optically-active moire patterns.
TAPPAN
Describe your work in three words.
ALEXIS ARNOLD
Material, process, transformation
Alexis Arnold says:
"EXPERIMENT A LOT AND DON'T BE AFRAID TO MAKE THINGS THAT FEEL LIKE MISTAKES. CHALLENGE MYSELF. KEEP THINGS VARIED. MAKE A MESS OFTEN AND CLEAN OCCASIONALLY."
TAPPAN
What's the first thing you do when you begin formulating an idea for a piece?
ALEXIS ARNOLD
If an idea comes before material, I search for the right materials to achieve what I'm envisioning. If the idea comes from specific materials, I start experimenting and making test pieces, which evolves the idea through the process. I make sketches, small paintings, or computer mock-ups on occasion.
TAPPAN
There are interesting references to various laborious tasks-a martha stewart guide, java script. Utilitarian modes of doing things both masked by these crystals... Any thoughts on that?
ALEXIS ARNOLD
A lot of time making art includes repetitive, laborious tasks, often on things that appear quite simple, but I didn't intend that as commentary, other than to provide aesthetics and new purpose to otherwise obsolete objects. Many of the more utilitarian titles were selected for their lack of contemporary relevance as a book, like out of date software manuals. My husband had a good collection of unwanted software manuals for me to use and, not surprisingly, it is the most commonly discarded type of book I come across in San Francisco.
TAPPAN
Have the cities you've lived in influenced your practice? If so, tell us a bit about that, and what elements in particular steered you in certain directions.
ALEXIS ARNOLD
The places I've lived and traveled to, as well as my communities from different places have influenced my practice both consciously and unconsciously. It would be difficult to isolate my history and my present from my work. Regarding the literal elements, I feel pretty influenced by the nature around me, from geologic formations to California sunshine/light. My time in the Bay Area has had the most profound influence on me as an artist, through grad school, a large community of artists, a strong, but navigable art scene, location in both an urban setting and access to an amazing array of nature, and even financial challenges that push creative solutions.
TAPPAN
Tell us about where your community now, is there a strong community of artists there?
ALEXIS ARNOLD
I have communities in different places from moving around a bit and others dispersing themselves. My main art community is in the Bay Area, many people I know from grad school or other art-related things. The community is strong, supportive, diverse, and intimate without being insular.
TAPPAN
When do you make your best work?
ALEXIS ARNOLD
Late morning to early evening hours with reasonable deadlines and just the right amount of coffee.
TAPPAN
What motivates you?
ALEXIS ARNOLD
A desire to see my ideas come to existence, innate impulses, a need to create, get dirty, have my hands on materials, experiment, seeing others interact with my work, deadlines, travel, other artists, etc.
TAPPAN
Tell us about some of your favorite artists.
ALEXIS ARNOLD
The list of artists I like that I keep on my phone is quite long. Some inclusions are Lynda Bengalis, David Ireland, Larry Bell, Thaddeus Wolfe, Ron Nagle, Samantha Bittman, Paul Wackers, Alyson Shotz, Casey Gray, Tara Donovan, Pierre Huyghe, Andy Vogt, Randy Colosky, Diana Al-Hadid, Ivan Seal, Hilda Hellstrom, etc. Of the artists on Tappan, I love the paintings of my dear friend, Anna Valdez, and have been enjoying Kelsey Shultis's work, among others.
TAPPAN
Any advice to aspiring artists?
ALEXIS ARNOLD
Be prepared to put a lot of work into being an artist, which doesn't just mean making art. Build a community. You don't have to always know why you are making what you're making. Don't get dissuaded too easily but also maintain healthy expectations. It's better to be surprised than disappointed.
TAPPAN
What's one accomplishment you're most proud of?
ALEXIS ARNOLD
My work going in the special collections of SFMOMALEXIS ARNOLD
TAPPAN
What's one thing you've always wanted to try but you've been too scared to do?
ALEXIS ARNOLD
Sky diving - I wasn't always too scared to do it, but may be now.
TAPPAN
What's the bravest thing you've ever done?
ALEXIS ARNOLD
Maybe moving to Spain on my own at 23. I don't think i'm the bravest person.
TAPPAN
Best gift you've ever received?
ALEXIS ARNOLD
The love and support of my husband. Education and experience up there as well.
TAPPAN
What makes you nervous?
ALEXIS ARNOLD
Speaking in front of an audience.
TAPPAN
What's one habit you wish you could break?
ALEXIS ARNOLD
I would love to be less of a picky eater and curb my excessive sweet tooth.
TAPPAN
What makes you laugh no matter what?
ALEXIS ARNOLD
My dog.
TAPPAN
What's next?
ALEXIS ARNOLD
Studio time! After back to back two-person shows this summer, I am happy to have time to be in the studio developing a bunch of new projects and completing works in limbo. I am beginning a public commission for a clinic in Antioch, CA, and also have work in a few upcoming group shows in the Bay Area.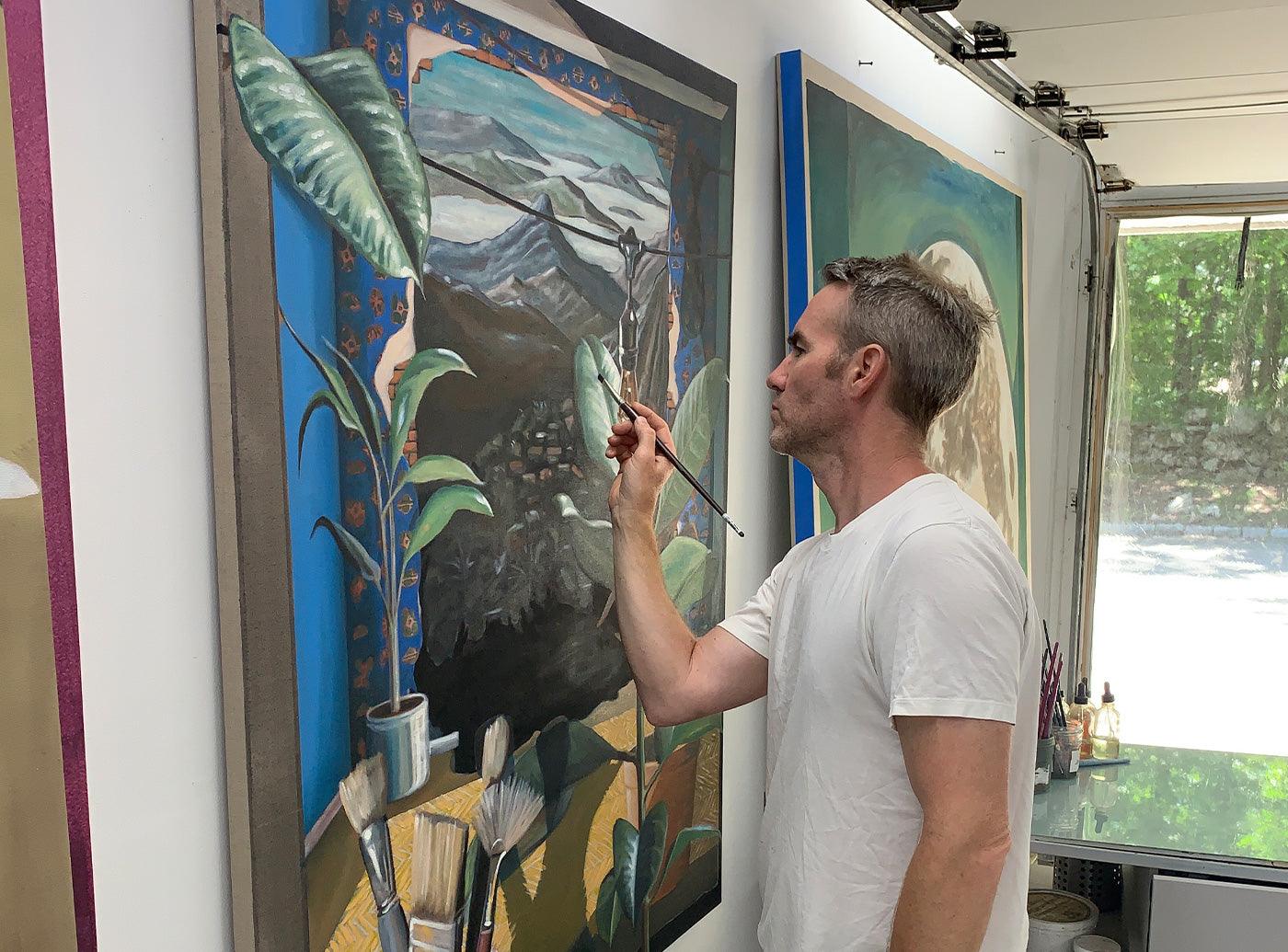 In the Studio
Tappan is pleased to introduce Mathew Tucker, an artist who illustrates the artificial nature of landscape painting. What results is a surreal body of work that is both colorful in concept and ...
Read more