JUST ADDED TO YOUR CART
Qty: 1
VIEW CART (

0

)
Continue shopping
Yellow Little Universe
Sculpture
<!- Product Available -><!- Product Sold Out ->
Be in the Know About Artwork Launches & Artist News
DESCRIPTION
concrete, spray paint, optical glass | 2015 DO NOT DISPLAY IN DIRECT SUNLIGHT (fire danger from glass)
Currently on view at Crystal Bridges Museum
In Little Universes, optical glass spheres are perfectly hugged by concrete pillows. Hidden under the glass and at times invisible, is a galaxy of color that can explode depending on light and viewing position. In addition to an exploration of disparate materials and their individual expectations, Little Universes are part of a series of works that provide chromatic experiences that address individual perception of color and colors intrinsic reliance on light. Several pieces in the series interpret the rods and cones in eyes that are responsible for perception of different colors and can differ greatly between individuals and species. Furthermore, the glass spheres flip any background imagery viewed through them, illustrating what our eyes see before our brains upright the images.
DIMENSIONS
11 x 6 x 8 inches
AUTHENTICATION
The work comes with a certification of authenticity signed by the Co-Founder of Tappan
Arnold's
material and process-driven practice explores the structures and phenomena of the natural world across micro to macro levels.
Studio Visit
Q. What motivates you?
A. A desire to see my ideas come to existence, innate impulses...
Explore
Tappan invites you to explore our curated collection of artworks focusing on art objects.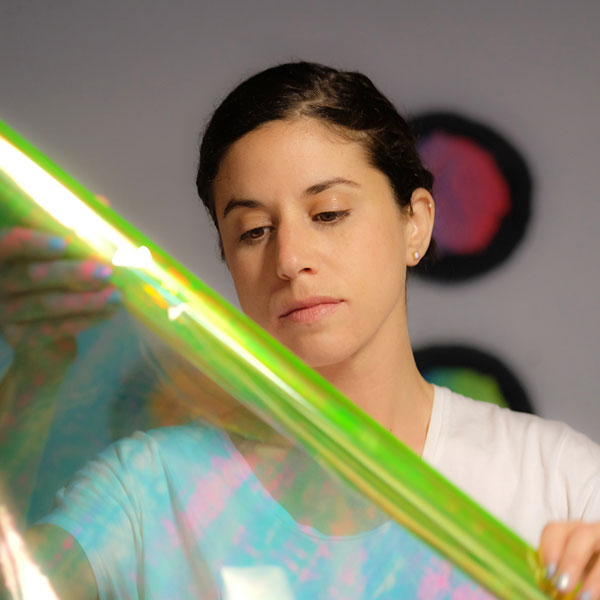 About


Alexis Arnold

Alexis Arnold's sculptures, installations, and mixed-media 2D artworks explore the subjective perception and experience of light, space and color, geology, and the visualization of time. She has exhibited at Crystal Bridges Museum, Aspen Art Museum, Art on Paper, and the Bay Area Discovery Museum and is in the SFMOMA permanent collection. Arnold has also been featured in WSJ, designboom, Apartment Therapy, Colossal, and Hi-Fructose.