JUST ADDED TO YOUR CART
Qty: 1
VIEW CART (

0

)
Continue shopping
Strawberry Kisses
Painting
<!- Product Available -><!- Product Sold Out ->
Be in the Know About Artwork Launches & Artist News
DESCRIPTION
Watercolor and watercolor pencil on paper | 2020
These original works by Shibuya capture her iconic style of tranquil watercolor painting that is meant to be viewed as a meditation; a space to capture the energy between expression and canvas. The artist writes poems as a way to express the motivation and purpose of the works she creates.

Healing in all forms,
not dependent on execution,
but of how it is received into the heart.
Healing,
may not be wondrous,
superior to antidotes or rhetorics,
but simply,
an intention to believe
miracles, possibilities.
All begin with harmony,
of mind, spirit.

Love thyself,
transmute darkness, fear,
for life itself rejuvenates, heal oneself --
through countless errands
becoming forests abound.

You are spectacular beings
bound by nonetheless spiritual miracles.
Remember you are countless beings
wrapped in a sea of suffering to emerge as triumphant
when all subsides
and healing begins.
DIMENSIONS
12 x 9 inches
FRAMED DIMENSIONS
Floated: 16.5 x 13.5 x 1.5 inches
AUTHENTICATION
Signed by artist.
The work comes with a Certification of Authenticity signed by the Co-Founder of Tappan
Studio Visit
Q. What motivates you?
A. To be a catalyst of love, peace, and harmony…
Explore
Explore a collection of watercolor paintings by Tappan artists.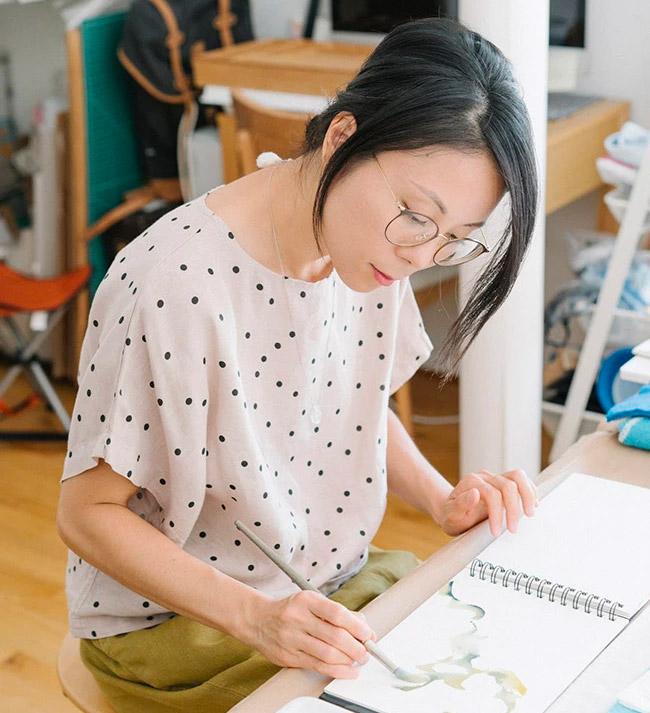 About


Satsuki Shibuya

Featured in Architectural Digest, Vogue, Kinfolk and Cereal Magazine, Satsuki's meditative abstract watercolor paintings and limited edition prints play with neutral tones and elegant brush strokes. Memory and meditation form the foundation of her practice.