JUST ADDED TO YOUR CART
Qty: 1
VIEW CART (

0

)
Continue shopping
Post Haste
Collage
<!- Product Available -><!- Product Sold Out ->
Be in the Know About Artwork Launches & Artist News
DESCRIPTION
Original mixed media work constructed of paper, satin, sandpaper, tulle, acrylic, and thread, sewn to 80lb drawing paper. 
16" x 20" 
"This piece is made from found security envelopes and fabric. The overlapping textures and patterns almost blend together until you take a closer look and realize what the materials are. I wanted to use the security envelopes because they are a thin, delicate layer of 'protection,' both conceptually and physically. I really like that duality within an object," says Drewniak. 
AUTHENTICATION
Signed by artist 
SHIPPING
Please allow 5 - 7 business days for unframed works and 7 - 10 business days for framed works.
His work, brimming with mystery, seeks to document the forgotten corners, empty roads, and nowhere places of America and beyond.
Studio Visit
Q. Where is your ideal life?
A. In a simpler place.
Explore
Tappan invites you to explore our curated collection of artworks focusing on art objects.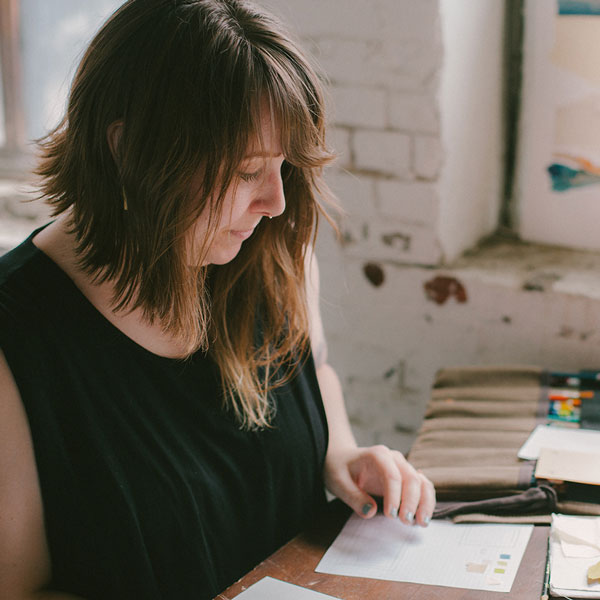 About


Kate Drewniak

Kate Drewniak's, airy, 3d mixed-media works blur the lines between painting, collage and sculpture. Her process includes hand painting paper, cutting, tearing, and sewing to reassemble layered pieces into a sculptural collage. Her work has been featured Full Blede, Boston Magazine, and Gallerie Magazine.