JUST ADDED TO YOUR CART
Qty: 1
VIEW CART (

0

)
Continue shopping
Coy
Painting
<!- Product Available -><!- Product Sold Out ->
Be in the Know About Artwork Launches & Artist News
<!- Product On Hold or On Loan or Jenni Kayne ->
DESCRIPTION
30x22" | watercolor gouache and collage on paper
The Paradise Garden is a recurring theme in Karamallis's works, building off of the idea of a Persian Paradise Garden traditionally created as an intimate and protected space of relaxation. The Paradise Garden correlates in many ways with the Garden of Eden aesthetically, although the Garden of Eden also marks the beginning of patriarchy, an aspect of Karamallis's work which she only subconsciously tends to highlight. The works present female figures in their purest form of leisure while using mixed media collage to incorporate motifs from Persian miniatures and Suzani fabrics, historically created by Middle Eastern women signifying protection against evil, fertility, and courage. Intertwining historical narratives with contemporary ideals, Karamallis works imagines a world in which women 'take back Eden' - rejecting guilt and shame for the celebration of beauty and vulnerability.
Integral to her work, Karamallis's use of mixed media collage incorporates paper of varying textures and thickness created from repurposed watercolors, painted paper and digitally designed patterns inspired by Persian tiles representative of her Middle Eastern heritage. The addition of mixed media of varying texture and thickness, creates a unique depth and intricacy to her watercolors.
FRAMED DIMENSIONS
34.25"x28.25"x1.25"
AUTHENTICATION
Signed by the artist.
The work comes with a Certification of Authenticity signed by the Co-Founder of Tappan
SHIPPING
Unframed works ship in 7-10 business days.
Framed pieces ship in 10-15 business days.
His work, brimming with mystery, seeks to document the forgotten corners, empty roads, and nowhere places of America and beyond.
Studio Visit
Q. Where is your ideal life?
A. In a simpler place.
Explore
Tappan invites you to explore our curated collection of artworks focusing on art objects.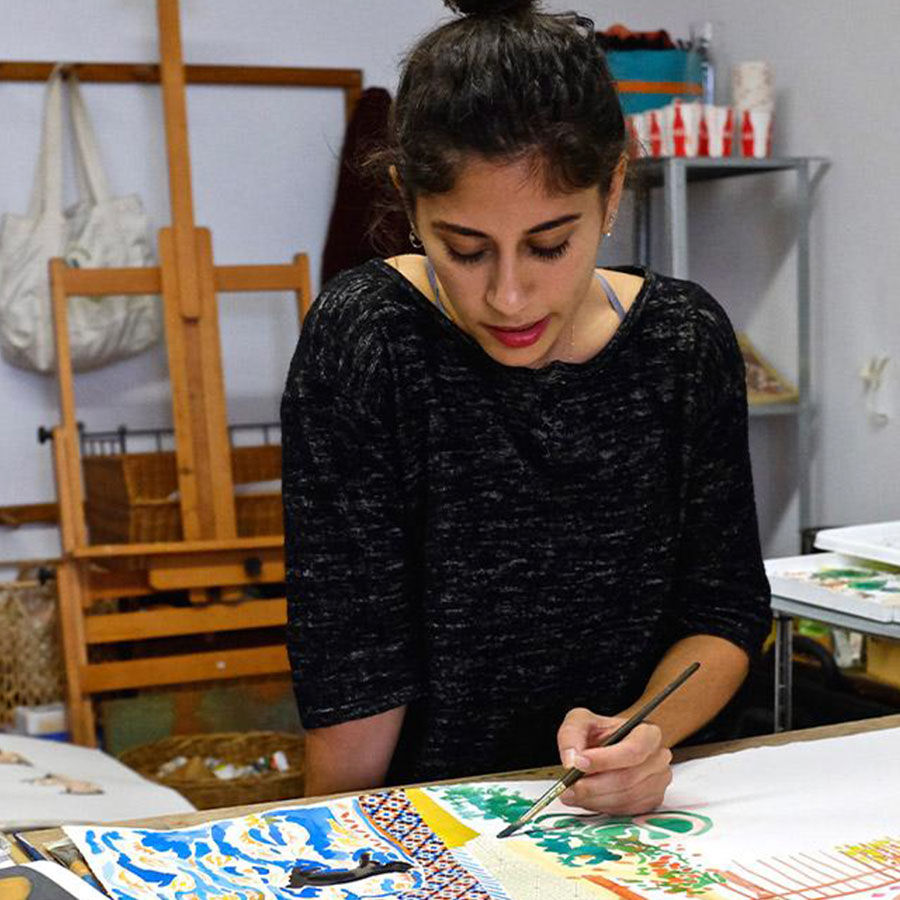 About


Alexandra Karamallis

Alexandra Karamallis is a New York-based artist who earned her BFA from Rhode Island School of Design. Her Iranian heritage is a central theme of her work. Identifying as a member of the Baha'i Faith-an oppressed minority in Iran-she explores themes including the oppression of women, art and minority faiths within the context of oppressive authoritarian regimes.