Studio Visit
Sanaa Gateja
Internationally-renowned Ugandan artist Sanaa Gateja is both an artist and community leader, committed to lifting up those around him by training and employing women to assist in the creation of her multimedia works. Learn more about Gateja's process, philosophy, and plans for the future.
Q.
Tell us about this body of work launching on Tappan.
A.
My new body of work for Tappan is called LOCKED DOWN: "Children Pregnancies in times of Covid." While Schools remain closed for almost two years, the effect on children stuck at home has been disastrous especially in Uganda where more than 75% of the population is below 35 years old. The new Baby boom caused by Covid among the youth as young as 15 years causes an urgent concern. My work addresses this issue.
Q.
Describe your work in three words.
A.
People, Environment, Conservation
Q.
What is your creation process like, how are you conceptualizing and thinking about each of these pieces?
A.
Each of these works is an individual idea born of an inspiration, sketched and directly worked allowing changes where possible all the way to the end.
Q.
Would you say you have a studio philosophy?
A.
My studio philosophy is "UNIT CONSTRUCTION." All the work is constructed using units we make from different materials, hence my wide community production base of trained women producers of these units.
Q.
Regarding your method of making, is it a case of the material or method dictating the idea of the other way around?
A.
Materials will be manipulated to suit the idea and sometimes it's the other way around.
Q.
What's the first thing you do when you begin formulating an idea for a piece?
A.
After internalizing the theme, I look at sketches inspired by it, select the final sketch or directly work from the idea if materials are right.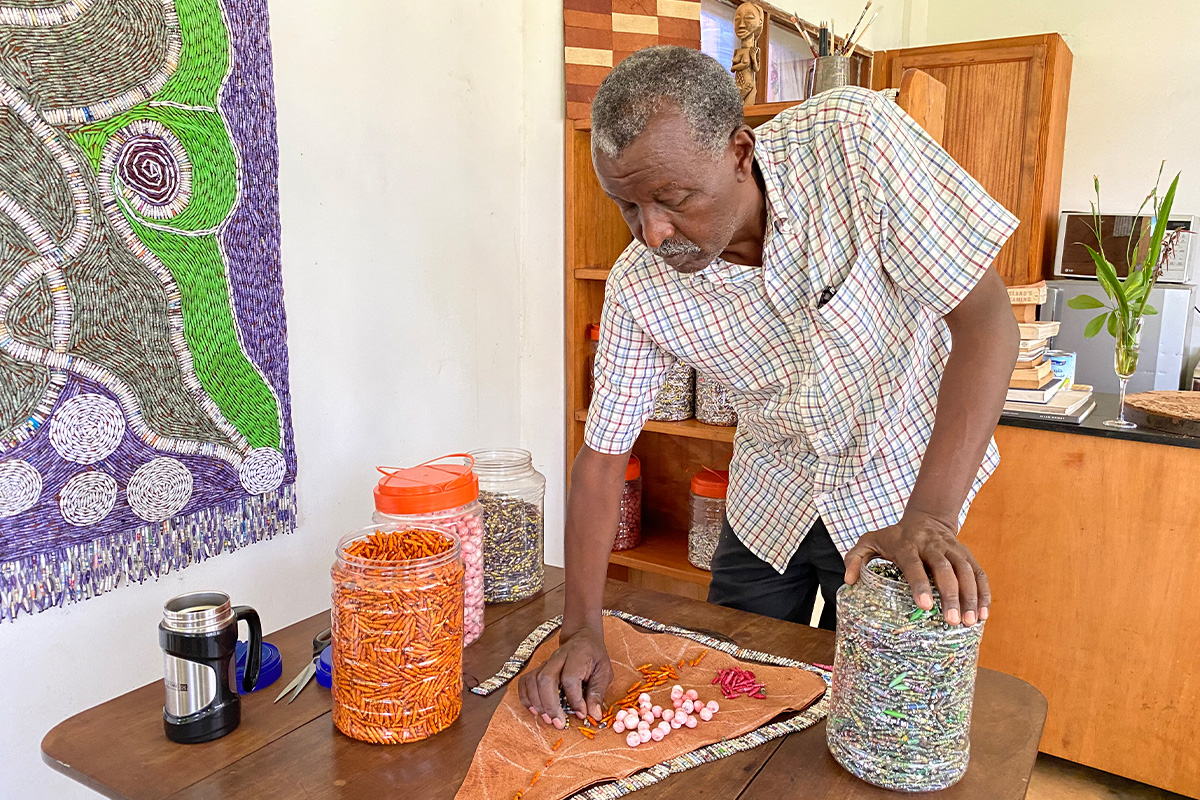 Sanaa Gateja says:
"Each of my works is an individual idea born of an inspiration, sketched and directly worked — allowing changes where possible all the way to the end."
Q.
Tell us about an artist whose career you admire.
A.
Dame Magdalene Odundo DBE, Chancellor of University for Creative Arts in Farnham, Surrey, UK. A Kenyan and a friend.
Q.
What was the last gallery show you went to?
A.
A week ago I visited Xenson Art Studio and Gallery here in Kampala where the Artist Xenson Ssenkaaba performed and showed new works.
Q.
What is the arts community like in your city? Do you spend your time around other creatives?
A.
Uganda has a large Artist Community of all disciplines. Unfortunately I do not have much time to share with my friends but we are on WhatsApp media.
Q.
If you could travel anywhere to create for a while, where would you go?
A.
I would love to visit Lamu Island again and the Coast of Mombasa, where I would experience the ocean, but also visit a forest full of plants like a tropical forest in Congo.
Q.
What are your other hobbies?
A.
My hobby now is to walk with a herd of cattle in the wild and collect driftwood. I also keep bee hives for honey.
Q.
Have the cities you've lived in influenced your practice? If so, tell us a bit about that, and what elements in particular steered you in certain directions.
A.
Seeing Japanese CEOs with Bamboo lunchboxes going to work helped instill a value for natural materials and different cultures. Also, Mombasa, my home for eight years, is a collection of cultures: African, Arabic, Indian, and European but the Kiswahili language binds them all. Finally, London, where I lived for another eight years, started me off recycling paper into beads with colorful glossy waste paper.
Q.
If you could have a drink with one artist, who would it be?
A.
Professor Naggenda is an artist who shares my interest in many aspects of life. We could never get enough of each other's time with so many stories to tell.
Q.
What is a medium you want to explore, but haven't yet (and why)?
A.
I want to explore sculpture more because while beads are very small sculptures in their own right, it is all I have done and I want to make bigger and different sculpture works in diverse materials.
Q.
Best gift you've ever received?
A.
An air ticket and a job in Japan at the age of 19, which was the pillar of what I've since accomplished.
Q.
What influences you?
A.
Rhythm and movement influence my work, hence I love abstract art.
Q.
What motivates you?
A.
I am motivated by constant discovery within the environment, of color and form triggering innovations.
Q.
Silence or sound while creating? If sound, what?
A.
Music is vital and so is silence depending on the mood.
Q.
What's next?
A.
Future installations.
New Arrivals
View new works by