JUST ADDED TO YOUR CART
Qty: 1
VIEW CART (

0

)
Continue shopping
Rose and the Succulent Plant
Work on Paper
<!- Product Available -><!- Product Sold Out ->
Be in the Know About Artwork Launches & Artist News
DESCRIPTION
Oil painting on paper | 2019
These oil paintings on papers have been created to accompany Tagada Hoffbeck's debut novel titled "The Stork and The Scent of the Jujube," first published by Å Journal in 2019. Extracts from the novel is below.

"In France she observed people kissing one another on their cheeks to say hello, and again half an hour later to say goodbye. She had taken to picturing French people's memories as a library of scents, concluding that perhaps it was not simply kisses, but fragrances that were offered to one another."
"One early morning, Naima distinguished a stork building a nest on the highest chimney nearby a satellite. These satellites had for decades had sent news of home. For weeks, as the sun rose, Naima observed the stork. The thin-legged white bird is at once a proud symbol of Alsace and a bird of Algeria, she thought. Unlike Janis it comes and goes, loved on either side of the Mediterranean Sea. Placing her nose to inhale the scent and eat the last Jujube fruit, Naima wondered again "Do the ones who despise her for her origins, know of the voyages of this bird?"
DIMENSIONS
9 x 6.25 inches
FRAMED DIMENSIONS
Floated: 13.5 x 10.75 x 1.25 inches
AUTHENTICATION
Signed by artist.
The work comes with a Certification of Authenticity signed by the Co-Founder of Tappan
Studio Visit
Q. What's one habit you wish you could break?
A. Forgetting to wear my glasses.
Explore
We invite you to explore our curated collection of minimal artworks by Tappan artists.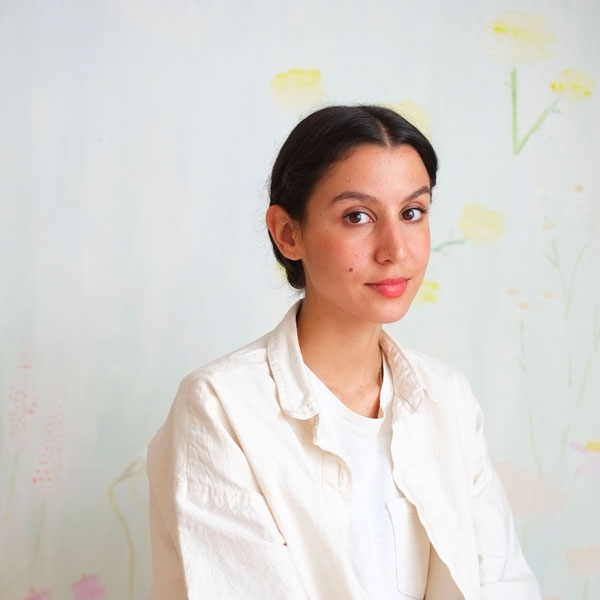 About


Johanna Tagada Hoffbeck

Multi-disciplinary artist Johanna Tagada Hoffbeck's practice includes painting, mixed media, photographic prints, and sculpture. Tagada Hoffbeck shows extensively in Japan and Europe. Select public and private collections include Design Museum (Gent, BE), Booklet Art Library (Tokyo, JP), and Los Angeles Contemporary Archives (Los Angeles, US).