JUST ADDED TO YOUR CART
Qty: 1
VIEW CART (

0

)
Continue shopping
Rosy Fingered Moon
<!- Product Available -><!- Product Sold Out ->
Be in the Know About Artwork Launches & Artist News
<!- Product On Hold or On Loan or Jenni Kayne ->
DESCRIPTION
Aquatint with drypoint, printed on Italian Fabriano etching paper | 2020
"If not, winter," the new series from multimedia artist Ewelina Skowronska, was created during her residency at Shirakino Art Village in Minamishimabara. Inspired by fragments of Sappho, the earliest and most famous Greek woman poet, explores issues connected with gender, identity, sexuality, and the body—particularly what is absent and what is present in the idea of self. Across the limited edition screen prints, Skowronska explores subjects connected with the experience of living within the body, and the ways gender and sexuality intersect to form complex identities. Just as much is left to the imagination regarding history's Sappo, Skowronska's work leaves the viewer thinking about the unseen connections we could take for ourselves — with her work and with each other.
DIMENSIONS
33.5 x 22 inches each
FRAMED DIMENSIONS
Floated: 38.5 x 27 x 2 inches
AUTHENTICATION
The work comes with a Certification of Authenticity signed by the Co-Founder of Tappan.
Studio Visit
Q. Describe your work in three words:
A. Sensual, emotional, body
Explore
Explore artworks of the study and appreciation of the beauty of the human body by Tappan artists.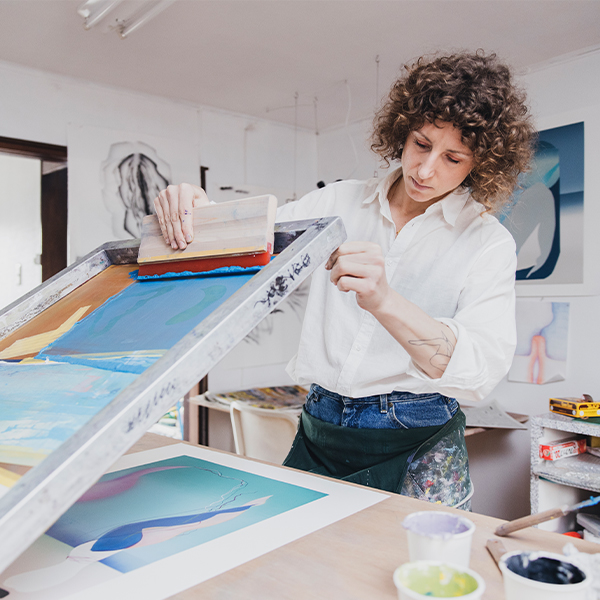 About


Ewelina Skowronska

Drawing from history, mythology, and culture to explore concepts of body, gender, and identities across a variety of mediums, Ewelina Skowronska's works have been exhibited globally in London, Ireland, the USA, Canada, Poland, and Japan.