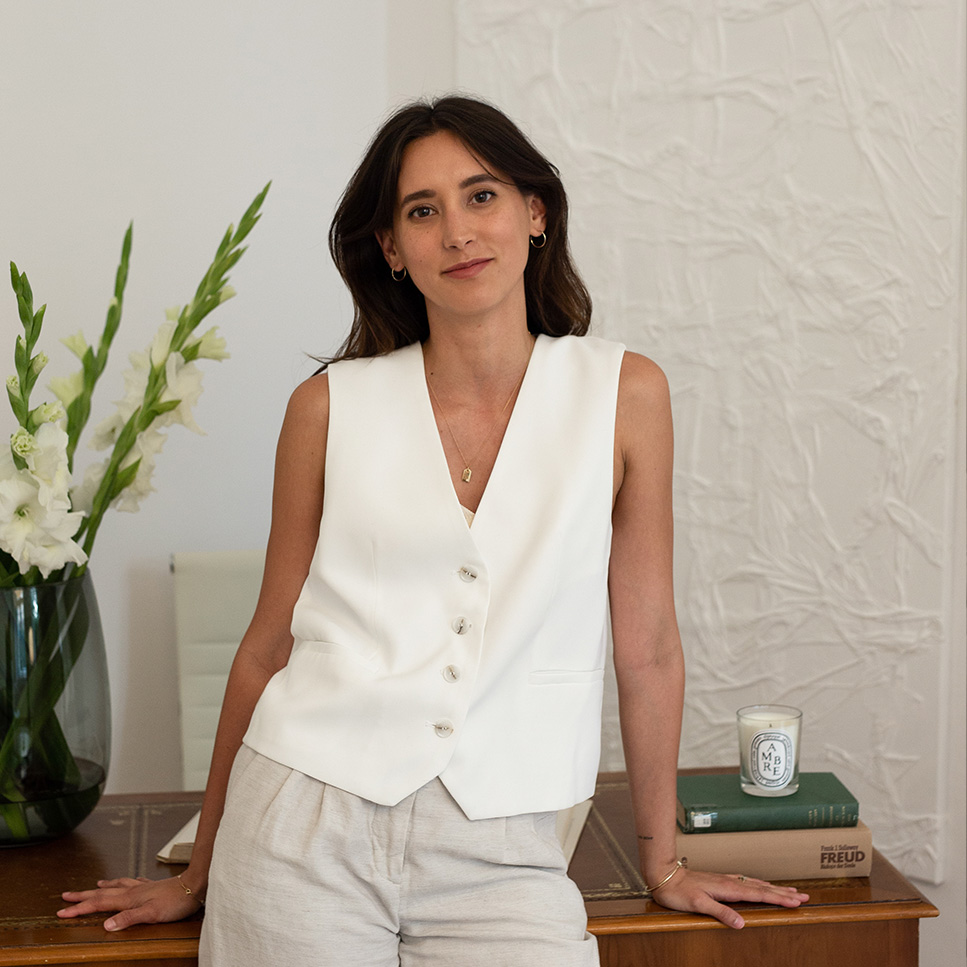 Chloe Marten is a digital creator, artist, and model living in Berlin, Germany with her partner Jon and mini schnauzer Joey. Prior to moving abroad, she worked as a product manager and UX designer for over six years in New York City. Ultimately, COVID was the catalyst for switching careers and countries. While Chloe and her partner still maintain their Brooklyn apartment, Berlin is starting to feel more like home thanks to the slower pace of life. On any given day, Chloe can be found creating in her Berlin apartment/studio or chatting with new friends at a local coffee shop.
"There is a lot of personal sacrifice that goes into becoming an artist, especially in those early days. That sacrifice is not lost on me, and that is why I support emerging artists."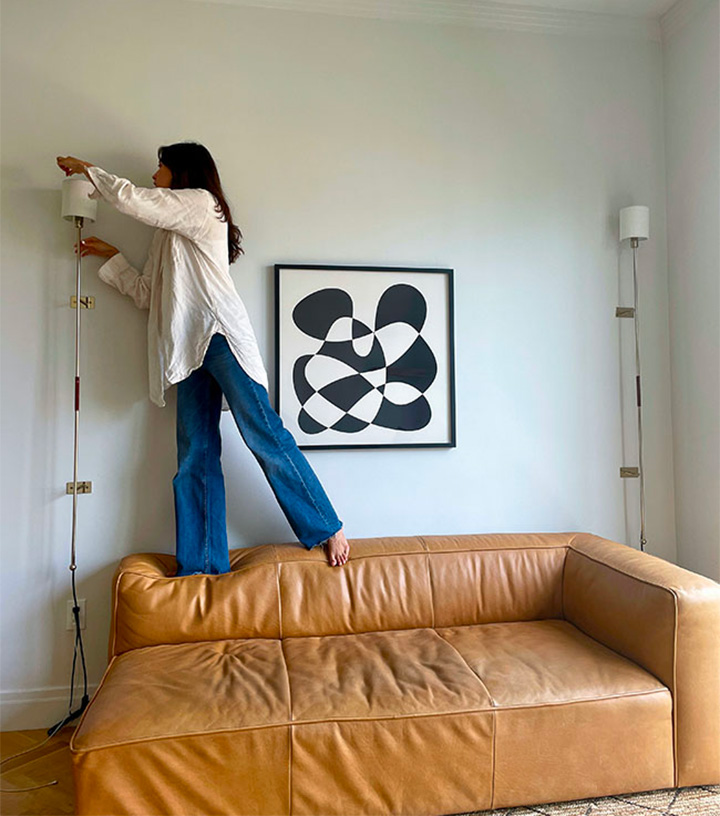 Q&A:
Describe your collection in three words.
Minimal, intuitive, personal
What is your earliest memory of art, and what led you to start collecting it?
Art has always been a part of my life. My mother is an artist, and she encouraged my siblings and I to embrace our creative side as kids. I think I started collecting sometime in college, but it wasn't intentional. My mother would gift me her works of art to hang in my apartment. So, I guess that is when my collection began.
What are some of the most meaningful pieces in your collection?
I have several pieces from friends and family. I always find those pieces the most meaningful because it is like having a part of them in my space.
What was the first work of art you fell in love with?
When I was little I was obsessed with Vincent van Gogh. Not only did his story fascinate me, but I was also mesmerized by the color and movement of his paintings. For my 3rd grade art class assignment, I chose to reproduce Van Gogh's painting Vase with Irises. That would probably be the first work of art I fell in love with.
How has the sentimentality of your collection evolved over time?
Over time I am less logical about collecting. Rather than overthinking about what looks good or what will match my decor, I choose pieces based on feeling and intuition. After purchasing our Brooklyn home, I selected Sepideh Ilsley's work Togetherness for our living room. At the time I couldn't tell you why I connected with it so much, but looking back it is clear why this specific piece resonated with me. It was 2020, in the midst of COVID, when my partner and I were isolating in our new home uncertain about the future. Now, every time I see the piece I feel a sense of nostalgia for Brooklyn and a hope for what's to come.
What is the most recent piece of art you added to your collection and why?
The most recent piece I added is a work by my brother titled True Faces. The work is about the complexities of identity, which is something I also resonate with having grown up in a rather confusing environment. It also represents three faces, and I cannot help but see my brother, sister, and me in those faces.

I am also currently working with artist Alli Conrad on a custom piece, which will be a nod to my own work but through her interpretation. I am excited to see how it turns out!
Is there a particular type of art you collect?
Not really, but I tend to be drawn toward minimalism, abstractions of the human form, and textural works.
What or who has influenced you as a collector?
Definitely my mother, who is a mixed media artist. She instilled my collecting ethos, which is to select works that you connect with on an emotional level rather than what fits your current aesthetic. As you evolve your aesthetics may change, but if you deeply connect with a work then you will never tire of it. It will also forever represent how you were feeling at that moment in time.
Who are some of your all-time favorite artists?
All-time favorites would have to be Vincent van Gogh, Pablo Picasso, Alberto Burri, Joan Mitchell and Mark Rothko.
Where and when do you feel the most creative?
I feel most creative at home. It is my safe space. That's why decorating and curating my space is so important to me. It needs to be open, airy, and flexible. The decor in my Brooklyn and Berlin apartments is intentionally minimal and neutral so that I can easily change the setting depending on my needs. I also love white walls to showcase and rearrange my collection. My spaces are never static.
Where do you draw inspiration from?
Currently, I am inspired by the city and people of Berlin. It's a very creative city with people from all over who seek a better quality of life and a place to fully express themselves. The overall atmosphere feels more authentic and inclusive.

But in general, travel always inspires me. So I am definitely taking advantage of being in Europe!
How do you go about finding new pieces to expand your personal art collection?
I am never intentionally looking for new pieces, except when I move into a new space. Then I might be on the hunt for something new. But in general, my search is spontaneous. A work or artist might catch my eye on Instagram, or I may find something while attending an exhibition or art fair. It's all about timing, how I feel, and what I can reasonably afford.
What inspires you to collect the work of emerging artists?
Growing up I watched my mother become a professional artist. From getting her BFA, MFA, and her first gallery representation, I witnessed it all. There is a lot of personal sacrifice that goes into becoming an artist, especially in those early days. That sacrifice is not lost on me, and that is why I support emerging artists.
For new collectors, do you have any advice you wish to impart; Do you have a collecting ethos or philosophy that you want to share?
Collect based on your intuition. I don't believe creating or collecting art should ever be forced. If it's forced, then it won't feel authentic to you, and you probably won't like the piece later on.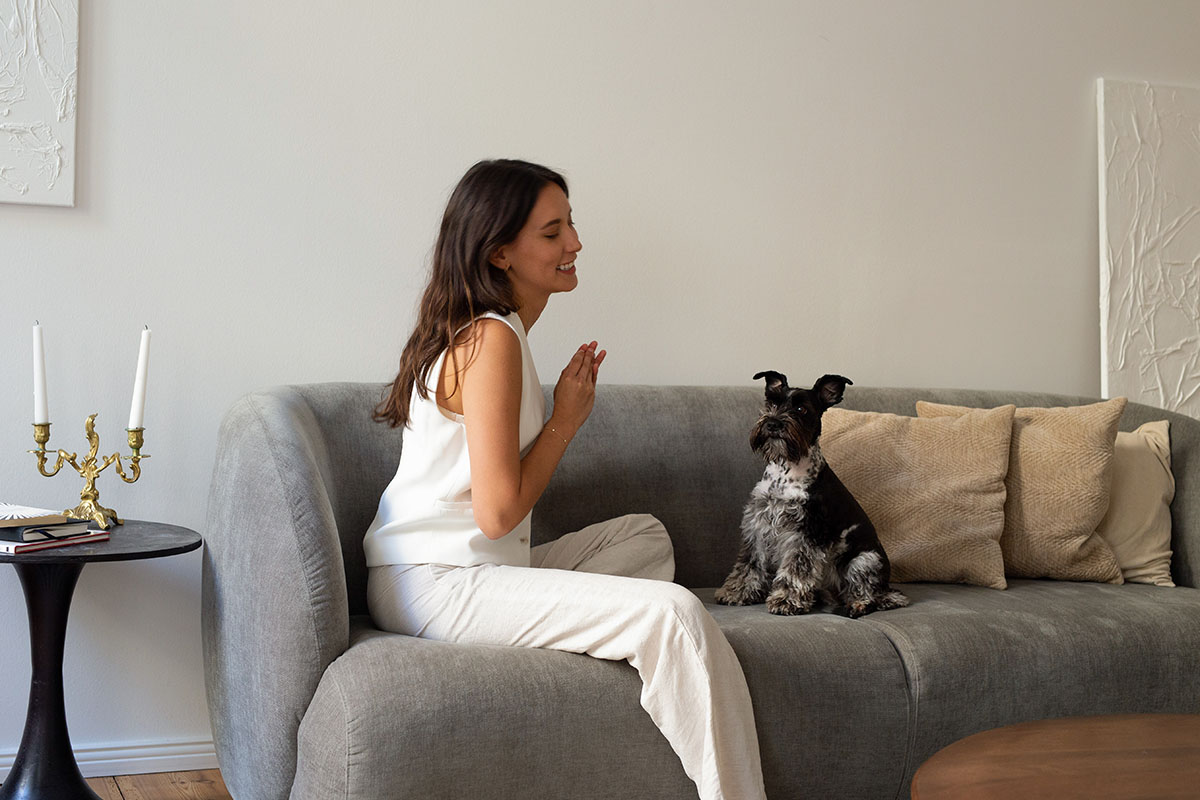 "Rather than overthinking about what looks good or what will match my decor, I choose pieces based on feeling and intuition."